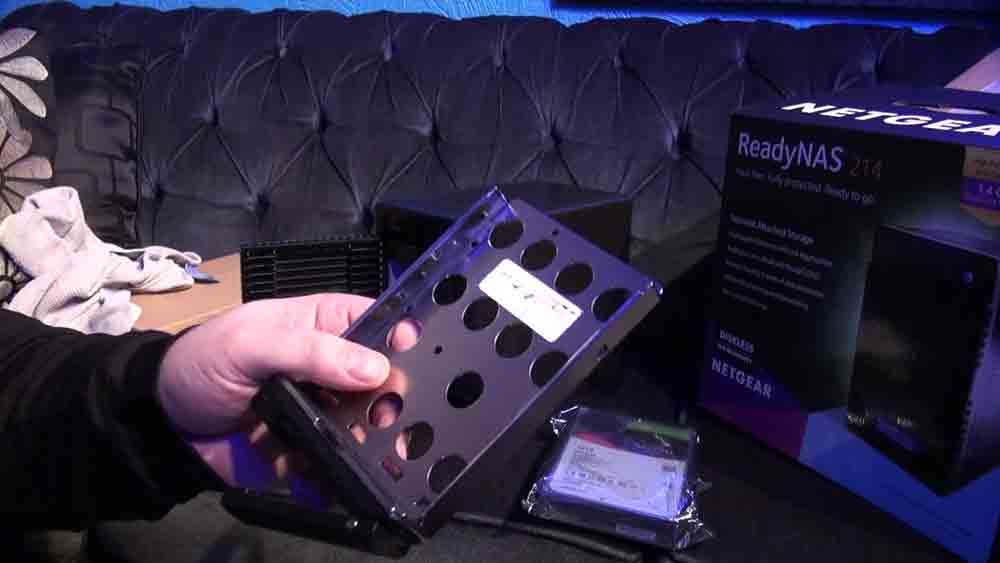 What we want now is to review different 4 bay NAS Storage thoroughly so we did this review today. In the past 4 bay NAS reviews that we had, there are several times that we included 4 bay NAS server storage. Yet we didn't have the chance to compare which 4 bay NAS has an advantage on this or that. For that reason, we came up with this top 3 NAS that we think are worthy of your interest. Let's take a look at their specs.
Synology DiskStation DS918+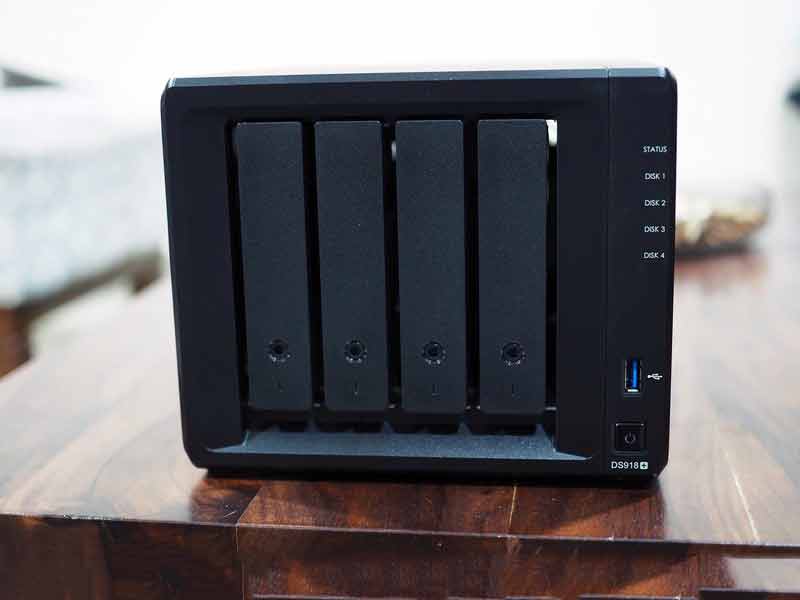 For small office or home office storage, the Synology DiskStation DS918+ is quite desirable especially that it offers 4 bay NAS drive slots. We can say that a small office only needs centralized storage to share documents and other small files. If that is the case, the scalable capacity of this storage is just right.

Besides, you can expand up to 8TB to 16TB and up to 24TB if you want. It delivers two times faster than other 4 bay NAS server due to its enhanced Gigabit Ethernet combined with its high-performing quad-core processor that can reach up to 2.3GHz frequency. Moreover, it boasts 3.0 USB slots and US 2.0, dual LAN, and expandable 2BG RAM that you can upgrade up to 6GB.

Since data protection is extremely important for a NAS, it is good to know that Synology DiskStation DS918+ is run by Synology DiskStation Manager. It offers great security measures as well as reliable protection that fights unexpected data loss. Actually, it includes sleek security features like AppArmor, Security Advisor, 2-step verification, trust level, and AES 256-bit encryption.

If I were to choose, I will pick a NAS that offers a balanced performance and capacity excellence than massive storage alone. This combination is essential in providing efficiency, especially for data transfer and copying. For this reason, I think Synology DS918+ is satisfactory due to its combination of specs and features. So, the next time you purchase a 4 bay NAS storage for your small business, consider buying this sleek and stealth storage solution because it is highly recommended.

[amazon box="B075N1Z9LT" title="Synology DiskStation DS918+" image_alt="Synology DiskStation DS918+" rating="4.5″ image_size="medium" description="4-bay NAS with Quad-Core CPU"]
WD My Cloud Pro Series PR4100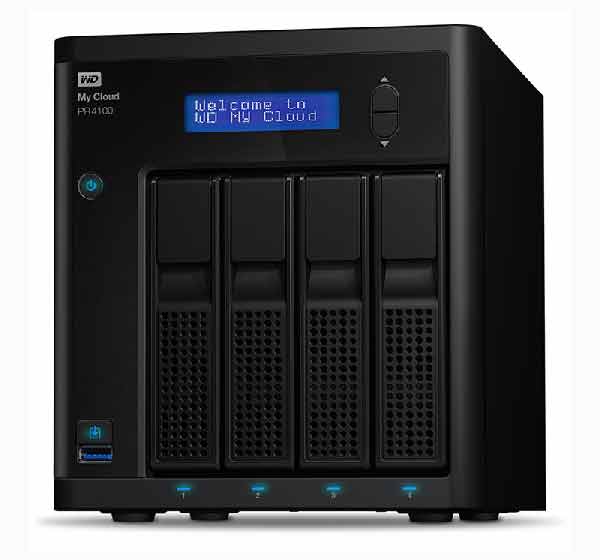 Centralized storage can either make collaboration better or worse. This thought triggered my curiosity over WD My Cloud Pro Series PR41004 which is a 4 bay NAS drive that claims to be the core of team collaboration.

One of its notable features is its one-touch copying that provides the ability to data copy in a faster and extremely convenient way. With this, you can now backup your USB drives and protect all your files in just one move. On the other hand, this 4 bay NAS storage solution is great in handling workloads. This is the reasons why small business and creatives love it.

The flexible features it has been beneficial let alone that it has multiple RAID management, 256-bit AES volume encryptions, password protection, and scalable storage capacity that can reach up to 32TB. You can actually remotely access your projects that are stored in this private cloud to edit and share it whenever and wherever you want.

If I were to drop a single ray of compliment on it, I would definitely say that it is its great potential and flexibility for customization. Besides, it is compatible with exFAT as well. This means you are allowed to transfer and copy data in your camera or external hard drive using its USB 3.0 port for faster and easier backup.

In terms of design, the most common characteristics that you can observe on WD NAS solutions are simplicity and functionality. It is 4.28" wide and 5.82" tall that you can mistake it for EX4100. The only difference is that it is loaded with more functionality that is located on its front panel. Yes, it includes a helpful LCD in front where you can see the status of the drives.

[amazon box="B01GLRX6C4″ title="WD My Cloud Pro Series PR41004″ image_alt="WD My Cloud Pro Series PR41004″ rating="3.8″ image_size="medium" description="4-bay NAS with Quad-Core CPU"]
NetGear ReadyNAS RN214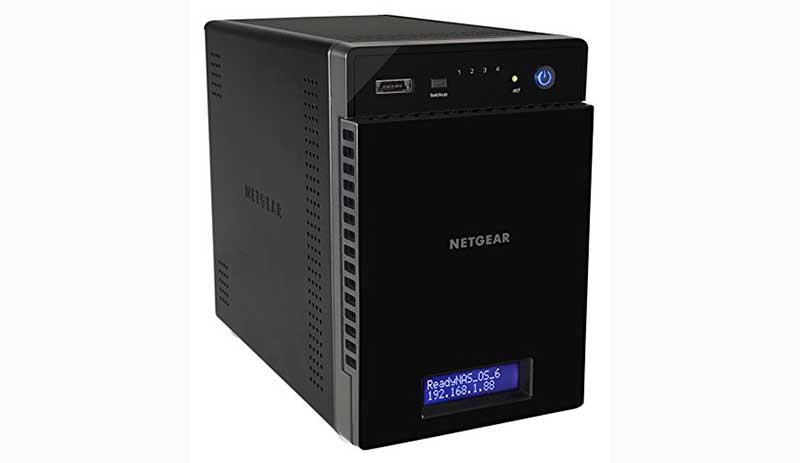 If you are after a robust and sturdy personal cloud storage, this 4 bay NAS drive is the best choice. The first time you utilize NetGear ReadyNAS RN214. The very first thing you'll notice about it is its easy installation process and simple user interface. As a matter of fact, after you finished setting it up, everything will afterward fall smoothly and perfectly in place.

Among the 4 bay NAS server we included on this list, NetGear RN214 only has Play Plex on ReadNAS. That you can easily setup using their provide step by step guide. Also, if your main problem why you are still not utilizing a NAS for your business is the risk of losing data. Try Netgear's powerful data protection that guarantees no more sleepless nights. To prove that it provides 5 levels of data protection which is through its RAID configuration that helps you escape the risk of drive disk failure.

In line with this, it also includes what so-called Snapshot technology that can help in restoring your lost data. It also has real-time free antivirus that can fight against the malicious attacks of malware. Besides, whether it is only for home or small business. You still need to make sure that the one you is really capable of handling important files. Choose a long-lasting and secured NAS storage that provides a strong wall for your libraries against several factors that might affect their quality or worse corrupt them.

[amazon box="B015S0Y50C" title="NetGear ReadyNAS RN214″ image_alt="NetGear ReadyNAS RN214″ rating="3.9″ image_size="medium" description="2-bay NAS with Quad-Core CPU"]
Final Thoughts
In choosing a 4 bay NAS drive storage, consider buying the one with balanced capacity and functionality. In contrast with other consumers who only look at how massive a NAS storage is. I think it is better to get things done faster than thinking about where to allocate the existing space I got. Well, I know that in buying a NAS you must also consider the future. Since we exclusively reviewed 4 bay NAS drives here, we mainly emphasized their features and specs that can help in a specific use. Moreover, you never know if your storage needs will already take up all the remaining storage you have or worse it's not enough. But still, stick on looking for  the NAS that can provide you with efficiency along the way.