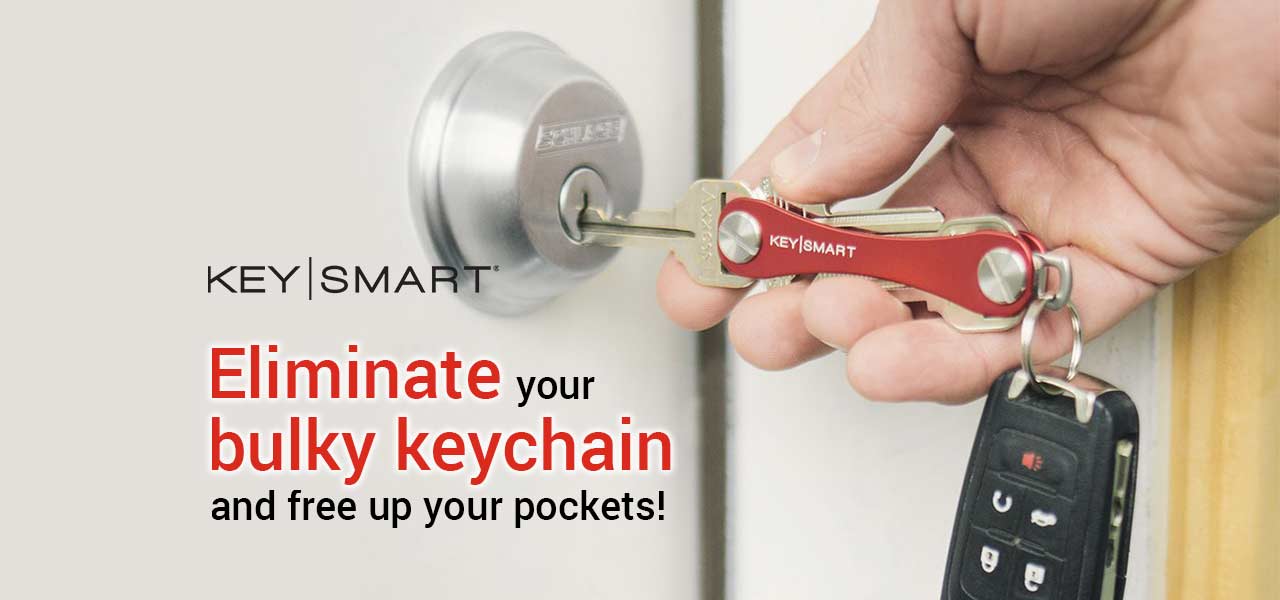 Not all of us have digital door locks in our apartments, condos, or houses. And that's fine until all of your keys add up and you end up looking like a jail warden. Bulky and noisy keys are the bane of our existence. It's so difficult to find a keychain that's sturdy and holds all of your keys together. But what if I tell you that there's a key organizer that doesn't jangle your keys, but stores all of them neatly? Behold, the KeySmart keychain.
Get It Now
Easily keep your keys organized with style!
Over 2 million users have already switched for this compact, comfortable, and quiet key organizer. Try it risk-free for 30 days.
No more jingling keys with Keysmart key holder
I recently discovered this gadget and I first mistook it for a small Swiss knife. When I tried out how it works, I was amazed. I didn't know you could organize keys the way this one does! It doesn't use a traditional ring to keep all the keys together. Instead, it neatly tucks in the keys so all you can see is the  S-shaped key holder. And it works so well that it was even featured in Business Insider, Entrepreneur, Cult of Mac, Examiner, and Android Central.
In this KeySmart review, I will point out its features and share my insights on this nifty organizer that will change your life. If you're tired of lugging around your bulky and noisy keys, this KeySmart compact key holder is perfect for you.
KeySmart key organizer comes with the patented S-shaped design. The sleek look is a fresh divergence from the bulky key chain holder. As I've said before, it resembles a Swiss Army knife and it kind of works like it too. You just attach the keys by their holes on either end of the holder. If you're not using it, simply tuck in the keys like you would with a Swiss Knife. If you're going to use it, just slide out the key. It's easy-peasy!
You can also personalize it by choosing your preferred color. And for an extra charge, you can also opt to add accessories such as a bottle opener, nano light, flash drive, or a pocket clip. So it's not just organized but also multi-functional and handy. I love it because it prevents the keys from scratching my phone's screen whenever I put them together in my purse. It's such a practical tool for people who have to bring a lot of keys for home, office, or work.
KeySmart keychain Features
I tried using the KeySmart key holder to write this review and I love it. Here are the features that make it a must-have for everybody:
S-shaped design. The design is unique because it's patented, so no other key organizer looks like this. The S-shaped design gives it a sleek and stylish feel without looking bulky, even though it can hold up to 14 keys. The keys fold in and are tucked away to prevent you from getting jabbed whenever you put it in your pocket, or from jingling and making noises whenever you walk. Imagine keeping 14 keys in a key chain — it won't fit in your pocket, right? But with this, you can easily put 14 keys in your pocket comfortably.
Durable material. Unlike ordinary key chains that are made of cheap metal, this keyholder is durable and made to last for a lifetime. It's made of aircraft-grade aluminum and stainless steel hardware. Despite being made of high-quality materials, it's very lightweight and classy-looking with its laser-engraved logo.
Multifunctional. Another amazing feature is that it's not just a keyholder, but also a multifunctional tool. It's almost like a Swiss Knife, except it doesn't have a knife. But you can add useful tools if you purchase it, such as a flash drive, nano light, bottle opener, pocket clip, quick disconnect, and titanium upgrade.
Personalizable. This key holder comes in eight colors so you have a variety of options. There's red, black, blue, green, purple, pink, gray, and yellow. You can also have your name engraved at your local jewelry or watch shop.
Fits any key. It fits any kind of key you may have, whether it's small, big, long, or foreign. It also comes with a free loop piece to attach your car key and key fob in. So you won't have any problems with extra long or bulky keys because it will all fit in.
Perfect for anyone
This is the best key organizer that anyone must-have. It's perfect for people who are very organized and want to avoid clutter at all times. It's also a great gadget for people who carry around lots of keys as parts of their job, such as janitors, custodians, superintendents, managers, or administrators.
And lastly, it's a must-have for basically anyone who wants to have practical gadgets that save up space and make life easier. It's not an accident that you read this KeySmart review. If you want a life-changing gadget, then I guarantee you this will minimize your clutter.
Pricing and where to buy KeySmart keychain
For such a nifty key holder. it's priced reasonably considering that it has plenty of features and it lasts a lifetime. It retails at $19.99 each plus shipping and handling. But why buy only one? It's the perfect gift for your family and friends. Which is why we have a special deal just for our readers.
If you buy 2, you get 1 free and pay for only $13.33 each. If you buy 3, you get 2 free and pay for only $11.99 each. And if you buy 4, you get 3 free and pay for only $11.42 each. All deals include free shipping across the US.
Can you still stand the bulk and noise of your old key chain? Click that Buy Now button and purchase your first smart key holder now!
Overall Review
I love the KeySmart keychain! I'm completely sold on this smart key system and I have no idea where it has been all my life. My days of lugging around rattling keychains are over. I like that it's compact and neat but also stores a lot of keys at the same time. Plus, it doesn't look cheesy or cheap, and it comes in my favorite color. Overall, I love it and I'm getting one for my family. If you're looking for a gadget that will minimize your everyday life clutter, then this key organizer is the perfect one for you.
Liked this KeySmart review? Like our Facebook page to be updated on the latest tech news, reviews, and tutorials.
KeySmart Review: Indispensable!
KeySmart Review: Indispensable!
PROS
Stylish design
Resistant
Customizable
User-friendly
FREE loop accessory