When I was a kid, traveling to the toilet at night is the worst nightmare of my life. It is even more if upon opening the door of the comfort room, it will give me a cold and very dark inside. I could just dream about a magic wand or to be more realistic, a small flashlight to carry with me every single time nature calls me at night. The only trouble that has me calling someone for help back then. Today, kids can now AVOID this trouble with GlowBowl. It is a truly excellent innovation that transforms a SCARY TOILET into a FUN and GOOD SMELLING place.
Using this fancy toilet bowl light, you can now freshen up your toilets without using the old fashioned toilet fresheners you use in the past. It provides a refreshing fragrance that can make you forget for a moment that you are actually inside a comfort room. More so, the best feature of this toilet seat light is that it comprises a LED light which is designed to place in the spot you need to be illuminated the most. Likewise, you can experience 5 different scenes using its 5 dimmer features that can allow you to personalize the experience you want to get. With the different level of brightness, you can own the light yourself. Now, who still says all toilets are boring?
Explaining GlowBowl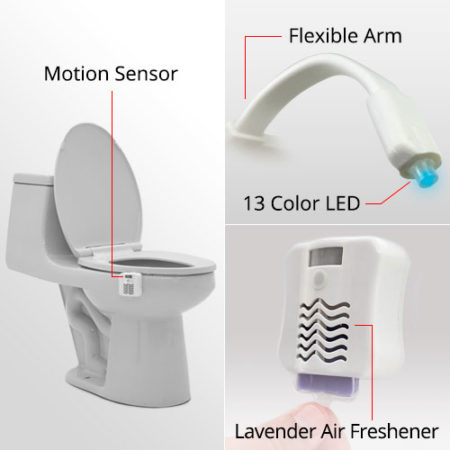 If you're still not sure with this fun toilet lighting, then complete this GlowBowl review in one sitting. GlowBowl is the coolest and the newest comfort room gadget that can make an ordinary boring toilet bowl into a smart vibrant nightlight. Plus, it is equipped with a replaceable air freshener inside so you can get a lovely scented fresh cubicle every time you enter the place.
Through this useful innovation, you can now keep your bathroom fun and fresh all the time. In fact, you can have it this way all the hours and days of the week. It is also effective to keep you sleepy still if you happen to need the toilet in the middle of your night sleep. The thing is, a regular light bulb is too bright for you that it can make you wake up fully the moment you open it in a totally dark room. On the other hand, GlowBowl offers a better way to keep the toilet bowl visible without surprising your eyes with a very bright light. Good deal, you can also choose from 13 different colors in just one device. It includes purple, blue, aqua, red, yellow, green, white, and many more. This is a great idea to make your kids enjoy toilet time better than before. Furthermore, no to scary night toilet time from now on. Have them yours today.
What Makes It Different From Other Toilet Lights?
In this GlowBowl review, we can discuss how this integrated useful product differs from other brands that also produce LED toilet lights. First, it is produced by the ORIGINAL makers of toilet lights that include 13 fun and beautifully vibrant colors that help the toilet become more visible in the dark. Like so, it features a built-in air freshener inside in which you can easily replace to keep your toilet fresh and fragrant. Utilizing a traditional air freshener is not the trend now. It is the MORE IN ONE power that people today asks for. Most of all, this amazing toilet night light can fit ALL kinds of toilet bowls. You can actually install it in just a few seconds.
Check more of its unique features below and see a clear difference:
Automatically Lights Up
GlowBowl is actually a toilet light sensor capable of advanced motion detection. With this feature, you can save more battery and ensure safety because automatically, the LED light only turns on when the environment gets dark. It is indeed a smart cost and energy efficient led toilet light worth buying.
Keeps Bathroom Smelling Fresh
No more pee and poo smells in every bathroom. With this motion activated night light, you can now throw those old fashioned air fresheners away. In our generation today, air-fresheners also need an upgrade. More so, enjoy the advantage of its replaceable lavender air freshener that can last for many months.
Enhance Toilet Visibility
Surely, this fun LED toilet light increases the visibility of every toilet. With it's 13 automatically rotating colors that change every 4 seconds with its CAROUSEL MODE, you can now AVOID missing your target from here on. Also, if you prefer to get a single color of light at the time, you can always lock it on your favored choice. Choose from green, red, yellow, purple, and many more fun colors.

Perfect as a Gift
Do you remember your brother who hates toilet sessions way back on your childhood? Well, with this LED toilet light, you can both laugh about it and reminisce those days together. As you soon as you give this fun but useful stuff to them, it will always be a definite laugh time and thanks time. However, it may be odd to give a toilet light as a gift but, if it is as excellent as GlowBowl who would feel bad about it?
Easy To Install
This fun night light is so easy to install. In just ONE MINUTE your perfect set up will be complete.
Easy To Clean
One of the best features of this colorful toilet bowl light is that its casing is absolutely water resistant. For this reason, you can use any household cleaners to keep it clean and hygienic.
Controlled Brightness
Unlike any other toilet lights, you can enjoy 5 different scenes using the dimming feature of this cool toilet bowl light. This means you can also experiment and to personalize the brightness of your bathroom.
Hands-Free Activation
No, it's not through voice command. This outstanding toilet seat light is motion activated via motion sensors. What it does is that it detects your movement to turn on and off the LED lights automatically. This way, you can also save time, energy, and money.
Better Sleep
Well, not the way you imagine. Better sleep using this toilet LED lighting means it encourages you to keep your sleepy mood longer. Consequently, bright toilet lights can surprise our eyes at night especially if we are in the middle of a deep sleep then nature suddenly calls us in. Good thing, this smart lighting innovation provides an efficient night light that can keep your eyes half closed.
Every Toilet Can Have It
Yes, it is absolutely flexible. The universal fit feature of GlowBowl is made possible by its amazing 3.5 inches flexible arm that allows any toilet to have it. Take note, this design is patented and it stays in place the moment you fix it there.

Let us clear the Most Common Thoughts about Toilet Lights
There are some individuals who object the idea of purchasing toilet lights, especially the moment they see a fun looking toilet seat light like GlowBowl. Some say it is far more expensive than other toilet lighting options. Meanwhile, others refuse to put lighting like this because it might only get in the way while cleaning the bowl. Furthermore, some say it is just a novelty that they don't really need it. Yet, we say it is definitely WORTH IT.
With this simple toilet bowl light, you can transform an ordinary bathroom into a more comfortable place. Like so, it will enhance your family's experience. It is definitely a must have that can never equal any price. Which is why it is your time to make your way to get this toilet bowl light for you and for your family today. More and more people are also conducting GlowBowl review and this provides a more established proof that this smart product is relevant to everyone up to this date. Not mentioning that it is also introduced in some of the reliable sites over the web. It includes KICKSTARTER, USA TODAY, HOTHARDWARE, WNDU, and more.
How to Use It
By following the 3 Easy steps below, you are set to turn your boring toilet into a fresh and fragrant nigh light.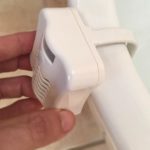 Step 1: To insert the lavender air freshener, open the said led toilet light and then easily insert it to the GlowBolw Fresh.
Step 2: In order to install the nightlight, put the device on your toilet bowl. And as the Carousel Mode starts, choose from the 13 different LED colors it projects then lock it in your favorite choice if you want.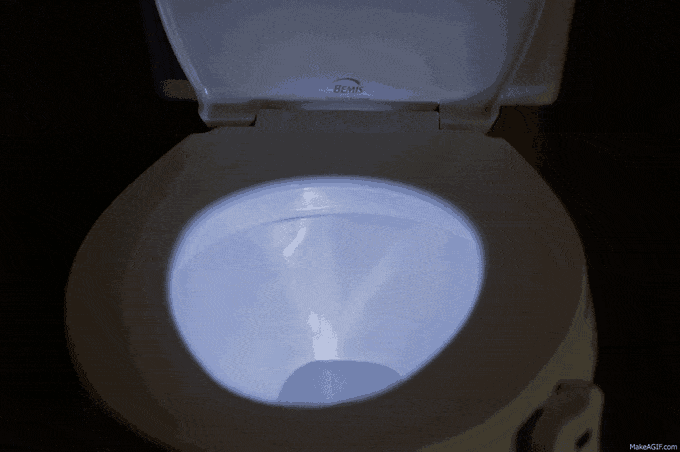 Step 3: Lastly, be illuminated with a great smelling toilet bowl the next time you visit the bathroom again. You can now say no to scary dark toilet times with this revolutionary toilet light.
Now To the Best Part
In every GlowBowl review, the best part is when you can finally know where to find this amazing led toilet light, right? And we won't keep you waiting any longer because you can always visit their official website anytime and anywhere online. One unit of this fun toilet light cost you $19.99 ONLY. Well, this might surprise you but this useful toilet bowl light is actually affordable and it comes with great deals too. So, what are you waiting for? Enjoy fun toilet lighting today using this revolutionary toilet LED lighting device.