Are you a netizen that loves using the internet day to night? While there is nothing wrong with visiting your favorite blogs, social media accounts or searching online through Google, you're actually feeding these sites personal information. So, why not learn about ways to protect your online reputation and how to remove yourself from the internet instead? In this review, we will learn if DeleteMe, can truly defeat the keen eyes of those nosy snoopers online.
The internet has gradually become a hub for fake advertisements, scams, hackers, identity thieves, and most of all, vicious data brokers. This is the reason why people are now becoming more cautious online now more than ever before.
The issue of privacy online has already spread like wildfire all over the world. Therefore, everyone must be equipped with an effective solution to avoid cyber-attacks. Because even the safest looking online platforms trade your personal information for cash. BUT, there are ways to protect your online reputation.
Do you want to know how to remove yourself from the internet today? Here's the thing you need!
What is DeleteMe?
In a nutshell, DeleteMe is a company online that develops and provides easy to use tools that help their users control the personal information they allow online third-parties see. In other words, it is definitely one of the best ways to protect your online reputation.
Rob Shavell, Eugene Kuznetsov, and Andrew Sudbury are the founders of DeleteMe and they worked together years ago to develop Abine. They already knew that privacy was already a major concern in the World Wide Web. So, people need something that can add a layer of personal protection.
Aside from that, all the third parties who want to collect your personal information are constantly changing their modus. So, you will fall on their traps one way or another. As a matter of fact, there is a great possibility that you are already being victimized by one of these traps right this very moment. This is the reason why Abine commits itself to address these issues by coming up with a way on how to remove personal information from Google and other search engines.
Today, millions of internet users are using DeleteMe in order to protect themselves from all kinds of risks that involve their privacy. The people behind this security service consists of a team of passionate individuals that are being supported by top tier investment firms. They are strongly driven by a fortified mission that seeks to empower users with ways to protect your online reputation.
The service they promise to provide is simple: to remove the information of their customers from all search results. DeleteMe claims that privacy is so important to them, that it's already a part of their DNA.
Why Should You Trust Them?
In this DeleteMe review, we are surprised to find out that the people behind Abine are also the ones behind Blur. This is another security program that works as an excellent password manager. But that is not the only surprising thing about it. DeleteMe is actually backed up by premium investment firms and amazing people which makes this privacy solution stand out.
With their trusted and guaranteed data removal, DeleteMe became one of the best in the industry of online security with a 100% satisfaction rate. Their polished service implementation allows users like you to know how to remove yourself from the internet.
Driven by a great passion, Abine DeleteMe stands out among other similar services you can find online. Check them out today and enroll under their stealth protection!
How to Remove Yourself from the Internet?
DeleteMe works as a personal information remover that allows you to know how to remove personal information from Google (and other online sites) and avoid being victimized by data brokers. Some of the things that might be exposed while you browse online are your biometrics, phone numbers, name, addresses, technology asset information like IP addresses, and your Personal ID Numbers. If this information is obtained by cybercriminals you are vulnerable to numerous risks such as identity theft, robbery, and more.
The answer to all your problems is to avail DeleteMe. It is definitely the best solution to keep your privacy.
How does it work?
To remove yourself from the internet, here's how DeleteMe does it:
First, you need to submit your personal information so they can track it.
And then, their experts will find and remove all your personal information from search results.
Afterward, you will receive a detailed report from DeleteMe after 7 days. This will allow you to monitor how things are going with your privacy protection.
Lastly, they will guarantee that your personal information is safe and secured online by implementing intensive removal every 3 months.
With DeleteMe, your privacy is guaranteed to be secured. Up to this date, there are more than 20 Million personal listings removed. This is done to protect customers from being exposed to data brokers and other malicious entities. Their service definitely helps you on how to remove personal information from Google, other search engines, and any website you can think of.
If you decide to get the privacy protection you deserve, you can visit their official website by clicking the button below.
Do I Need to Use DeleteMe?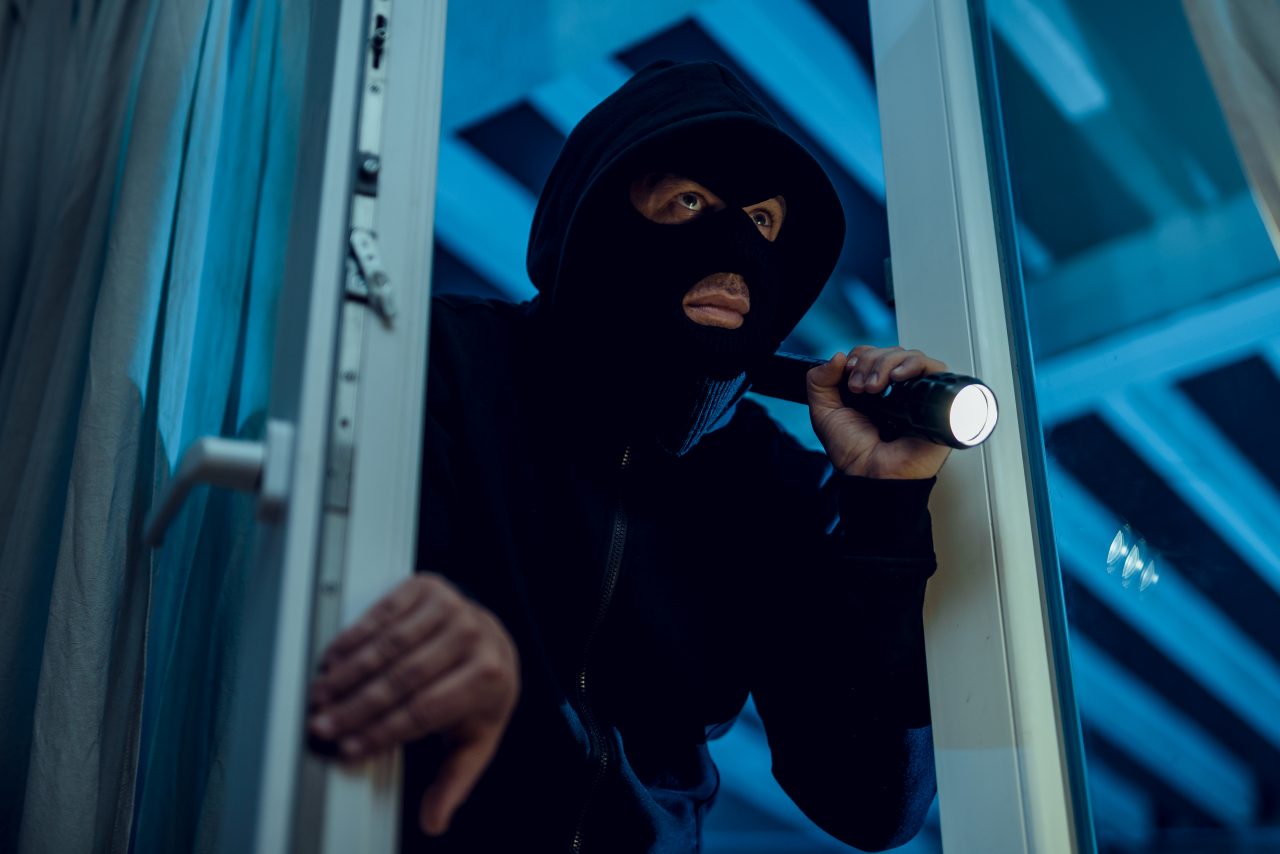 Even if you utilize the strongest pin on your bank accounts, or set your social media into private, there is still a big chance that spies are peeking on your personal information. And this is not something to take lightly. These thieves can either sell it or use it for fraudulent activities to destroy your online and business reputation.
Good thing that you can now learn how to remove yourself from the internet using DeleteMe. In fact, it offers a clean service that shows a list of sites where it removes your information. And on top of that, they have a continuous clean up every three months. While it can't hide you actively from Google search results, it protects any form of your personal information away from the hands of data aggregators.
Here is a list of data brokers and search sites where your personal information could be at risk:
| | | |
| --- | --- | --- |
| Addresses | advanced-people-search | BeenVerified |
| archives | anywho | DexKnows |
| easybackgroundchecks | advancedbackgroundchecks | EmailFinder |
| people.yellowpages | FreePhoneTracer | identitypi |
| PeopleLookup | Nuwber | PeekYou |
| PeopleSmart | Intelius | Peoplefinders |
| peoplelooker | premium.whitepages | |
| PrivateEye | PublicRecordsNow | phonesbook |
| Spokeo | TheIdentityPages | PublicRecords |
| USA-People-Search | ThePublicRecords | |
| ZabaSearch | whitepages | USSearch |
Getting Started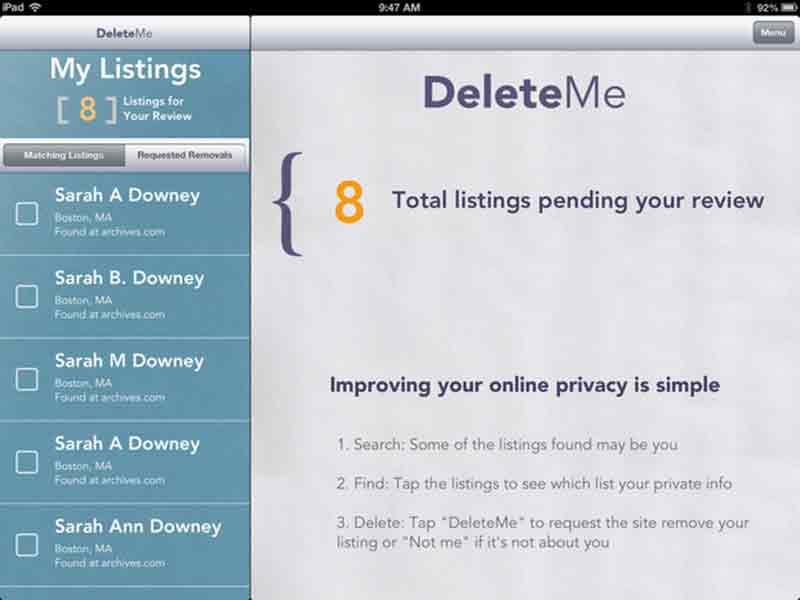 After signing up, you have to give them your personal information which is a bit ironic but wait, let me explain. Your personal information is necessary in order for them to track your existence across the web and remove it. If you doubt their process, you can go ahead and read the privacy policy of the company to review.
To begin, you will be required to enter your full name first. Then, you must enter your birth date, gender, and etc.
Next, you will have to enter your current address as well as the past addresses you've lived in before. Whether you put them all down or not, it's your choice.
This last part might raise your brows but IT IS NECESSARY. You have to upload a scanned copy of any of your government-issued ID. Make sure that it includes your clear photo and your license number completely blacked out.
I know you are curious about why you have to comply with this part. This is because some data aggregators or sites also use this information in stealing your identity. So to combat this, DeleteMe needs your real identity in order for you to know how to remove personal information from Google and other search engines.
What's best about DeleteMe is that they will immediately send you an initial report after you sign up. This report will show if there are aggregators who already have your personal information. They even include the details of their request to opt it out. This is one of the reasons why it is one of the best ways to protect your online reputation.
Don't get the wrong idea. DeleteMe does not perform an automated process to protect your privacy in a lousy way. They employ expert operators to handle all the steps of the removal process.
Is This What I Need?
If you don't have a thick level of protection, you can be a great candidate for data brokers and digital thieves. Therefore, you strongly need to know the best way on how to remove personal information from Google search and other sites where malicious entities can attack you. And DeleteMe, is the best solution.
While you can send 'opt-out' requests to aggregators yourself, this can cost you so much time and effort. For this reason, we recommend that it is best if you sign up with DeleteMe instead and they will effectively clean it up for you. You don't need to study up on how to remove personal information from Google anymore! Besides, removing your personal information yourself might even cost you more than signing up with DeleteMe.
Is This Privacy Solution Expensive?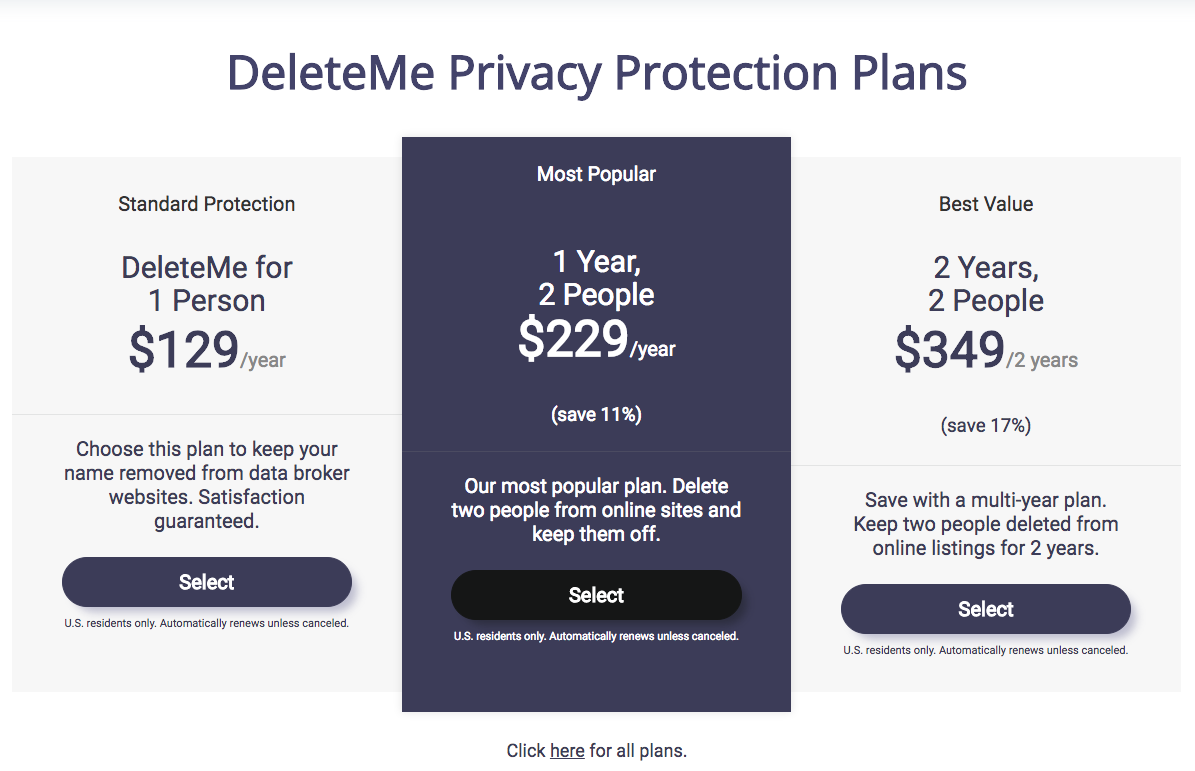 You can avail of total privacy protection by signing up with DeleteMe. They provide a high level of privacy protection at a very reasonable price! So, if you want a Standard Protection for yourself, you can avail it for $129 per year. This is definitely worth it if you want to keep your personal data away from third-parties' reach.
Their most popular package is the 1 year 2 People bundle that only costs $299 per year. This package is most ideal for those who want to save more. As a matter of fact, subscribing to this package can help you save 11% compared to its original price.
Above all, they also offer the Best Value which includes 2 years protection for 2 People for only $349. This is one of the best ways to protect your online reputation.
With DeleteMe, a privacy solution on how to remove personal information from Google is not expensive at all. As a matter of fact, you can save more as you include more people to its protection!
Our Final Verdict
Even when you're casually browsing on the internet, you're exposing yourself to so much danger. Entering your personal information on various sites can allow snoopers to steal your profile. Some can even sell it to creeps trying to stalk you. If this doesn't make you concerned yet, at least know how to limit exposing the information you provide on the web with DeleteMe.
DeleteMe is an essential partner that you can trust. It is one of the best ways to protect your online reputation. With this program, you will know how to remove yourself from the internet effectively and leave no trace. Sign up with DeleteMe now by simply hitting the button below.