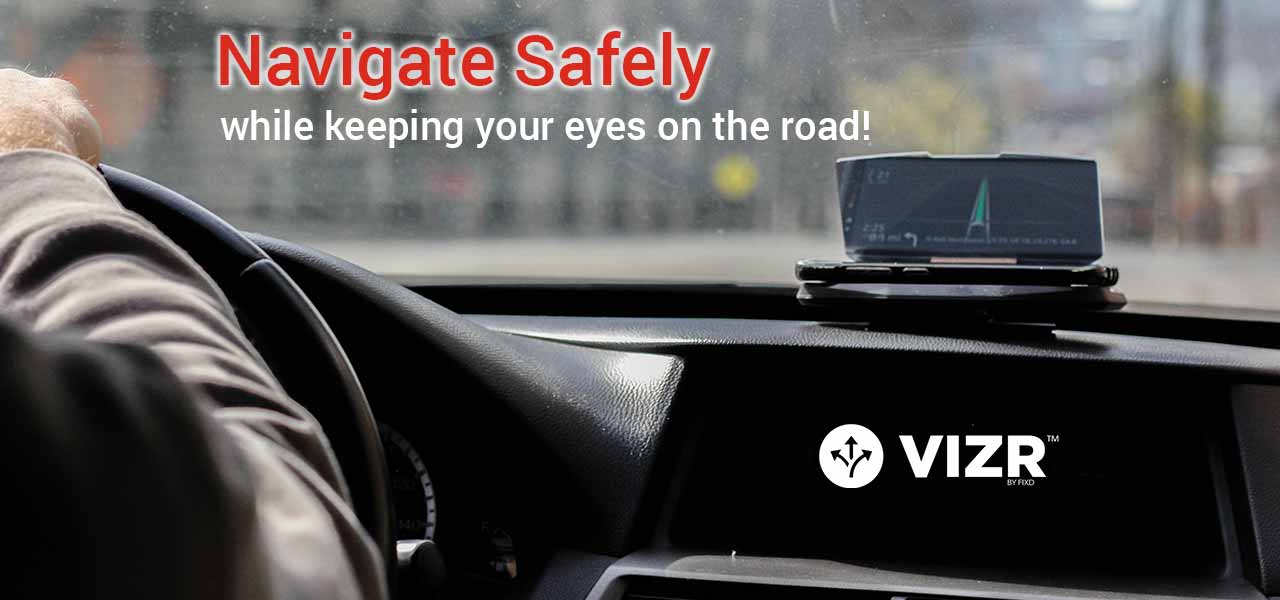 Although we're still a long shot from having touchscreen windshields in our cars, FIXD is getting us closer to that. A heads up display, also known as HUD, is not only futuristic but also useful in helping you drive safely. The car health monitor gadget created by FIXD is called VIZR heads up display. This handy piece of technology helps you drive safely because you don't need to take your eyes away from the road just to check for directions anymore.
Buy Now
VIZR HUD helps you not being distracted while driving
It reflects your phone's screen so you won't have to look down to check it. And it allows you to use your phone as a GPS with an unobstructed view. Try it 30 days, risk-free.
Updated on 27 November 2023
You Should keep your eyes on the road
Driving helps us get to different places easily, but it's also one of the leading causes of death. When driving, we need to be focused on the road at all times. But there are times when we need to use our phones for navigation too. So how do you do that without having to look away from the dashboard from time to time?
The solution is by using a heads up display. It keeps you safe and secure by projecting the screen of your phone on the windshield, so what you need to see is always in your line of sight.
As a car owner who drives with kids all the time, I want to be as safe as possible. So I tried it to see if it really works. Here is my Vizr review of the product (plus, keep an eye out for special deals).
What is VIZR HUD and how does it work?
It is a dash-mounted heads up display that reflects your phone's screen on the transparent display so you won't have to look down to see your phone. Its purpose is to help you make turn-by-turn navigations with an unobstructed view.
Keeping your eyes on the road and not on the dashboard means lesser accidents. You can still check notifications or see what's happening on your phone screen, but you don't have to take your gaze off the road.
Although there are in-car HUD displays in brands such as Audi or Mercedes Benz, there are also car HUD models that you can install yourself. It doesn't matter if your car is 5 years old or 12 years old, this heads up display is compatible with any car model.
More importantly, it won't cost you a fortune.
And if you're already a FIXD user, you can use it with the FIXD app so it will display your car speed, traffic conditions, navigation directions, and more.
What are some of the VIZR features?
When I was testing it out to write this VIZR review, I wasn't expecting much. However, it amazed me with how much it can do. Here are the features that I like the most about this car HUD.
Universal design
Perhaps the most important feature of this car HUD is its versatility. It can function for any car brand and model.
Whether you're driving a truck, SUV, muscle car, or crossover, you can mount it on your dashboard easily. I know that the latest models already have built-in HUDs, but if a new car is not an option, then getting the best heads up display is an excellent alternative.
Works day and night
Worried that the resolution might be affected by the time of the day? Fret not! This heads up display perfectly works during day or night, regardless of visibility conditions. So, you can use this no matter what the weather may be.
Multilayered coating
The screen is protected with a multilayered coating so it doesn't get scratched or smudged. And if you take care of it properly, it will remain crystal-clear for a very long time. Just use non-abrasive screen cleaning tools to make sure that your display won't get scratches.
Works with all smartphones and HUD apps
While it has its free app with plenty of features being added all the time, this HUD can work with others too.
FIXD app
Hudway Go
Sygic
Speedometer
Navmii
You just have to make sure that it's configured to the HUD Mode so you can continue using the app that you want.
Wireless installation
It may look fancy and high-tech, but this heads up display very easy to set up. Once you take it out of the box, just simply follow the mounting instructions and app setup, and you're good to go! No need for extra wires or complicated procedures.
Non-slip surface
The phone holder is made of non-slip material so it doesn't slide off whenever you're driving. You can put it on in two ways: mounting it on the dashboard or just simply placing it on top.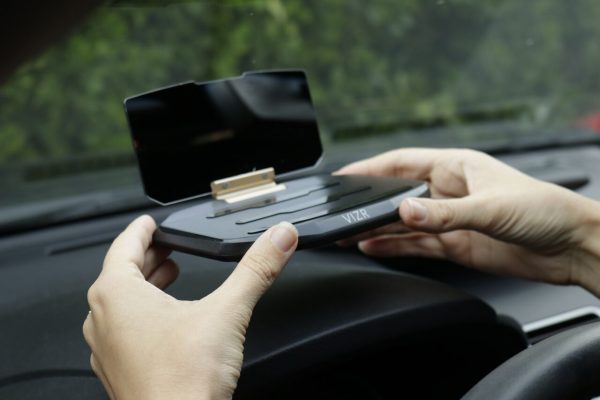 Adjusting the screen will help you find the best angle that works for you. It's also portable so you can conveniently remove this heads up display and use it in another car.
How much does VIZR cost?
VIZR by FIXD retails at $39.99 plus additional shipping and handling if you only buy one. But for our Digitogy readers, we'll give you a special deal! Buy 2 and get 1 free for only $26.66 each. Or you can buy 3 and get 2 free for only $23.99 each. Both deals include free shipping across the US.
This can also be a great gift for your family and friends. It isn't only convenient, it also adds to your safety on the road. Plus, it will look really sophisticated and sleek on your dashboard. Get this exclusive deal only here in our VIZR review by clicking here.
And, if ever you're not satisfied with this product, you can return it within 30 days, thanks to their money-back guarantee!
Conclusion
My verdict: highly recommend! It works well for me and I don't need to fumble for my phone whenever I'm using Waze to go around the city.
I like that this car HUD makes my 5-year old car look modern without having to go broke over adding modifications. It looks so great on my dashboard and it doesn't even seem that I just spent less than $40 on it! I like the fact that I'm getting a good product at a very affordable price.
Enjoyed this VIZR review? Like our Facebook page for the latest tech news straight to your timeline.
VIZR by FIXD: Highly recommend
VIZR by FIXD: Highly recommend
PROS
Easy to use once it has been set up
Can be mounted easily
Clear and visible screen
CONS
Instructions in the manual could be improved