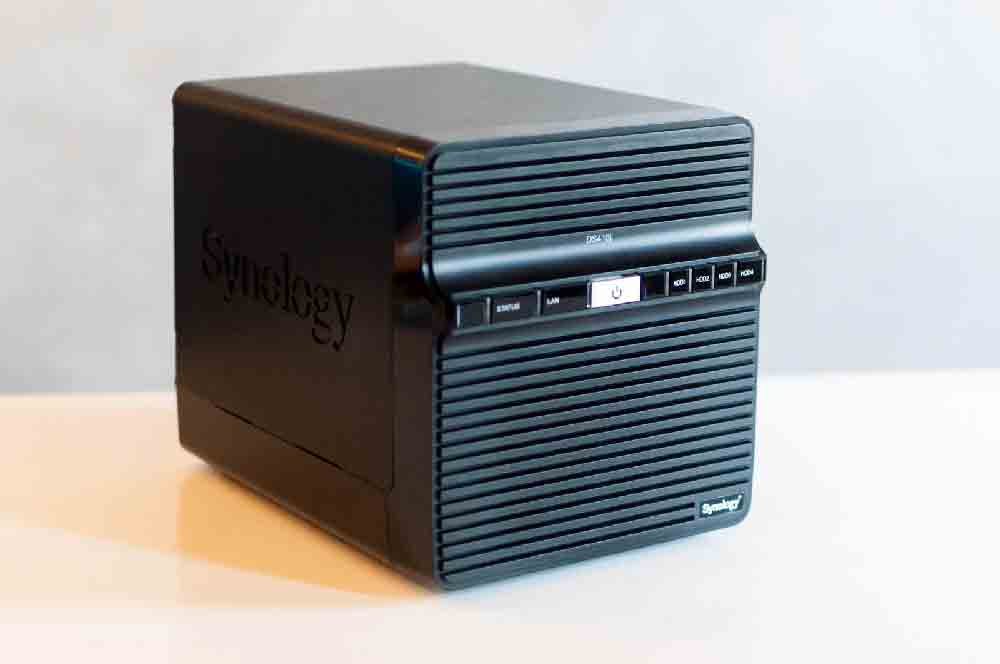 Since we want to explore the world of Network Attaches Storage here in Digitogy. We have here three of the best top rated NAS 2019 that might catch your interest. We have reviewed the number one product on the list as well as the other two that ranges from 2-bay to 5-bay NAS devices. Take a look and learn the reason why Amazon consumers rated them generously.
Synology DiskStation DS1019+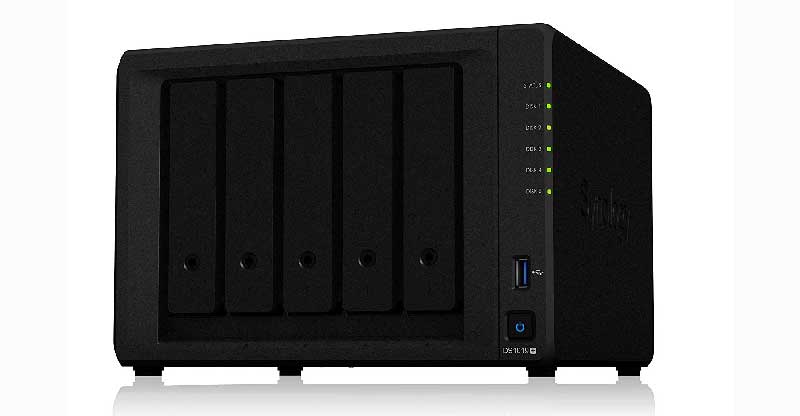 The number one Top Rated NAS in Amazon this year is none other than Synology DiskStation DS1019+. This 5-bay Synology NAS managed to reach the top network attached storage products list which a list is automatically created by Amazon according to which product gets the most ratings from customers.

So lately, we have been looking for the top categories of NAS products on Amazon and we came to find this Top Rated category. And since DS1019+ is placed at the very top, we have decided to begin our Network Attached Storage device Amazon review with this Synology product.

Looking under the black and firm chassis of this NAS is a stealth quad-core CPU processor enhanced with a security feature which is the AES-NI encryption engine. Not only that it can deliver an exemplary reading and writing performance that can reach over 225 MB per second for encrypted data. But also, it delivers strict protection for your stored files.

And in terms of memory, this number one top-rated NAS carries two 4GB DDR3L memory module that can provide a huge memory capacity of 8GB in total. It also has two built-in M.2 NVMe SSD slots that are intended to support system cache as well as a Dual 1GBE RJ45 ports that have Link Aggregation and failover support.

This Synology network attached storage devices for business provides users with highly-flexible built-in apps that enable collaboration, virtualization, as well as sharing for all users. We can see that the most obvious reason why this NAS is rated generously by Amazon customers is due to its astounding performance in terms of security, storage, and efficiency. You can actually use it as a centralizes multimedia server if you have a massive digital content collection out there.

[amazon box="B07NF9XDWG" title="Synology DiskStation DS1019+" image_alt="Synology DiskStation DS1019+" rating="4.5″ image_size="medium" description="5-bay NAS with Quad-core CPU"]
TerraMaster F2-220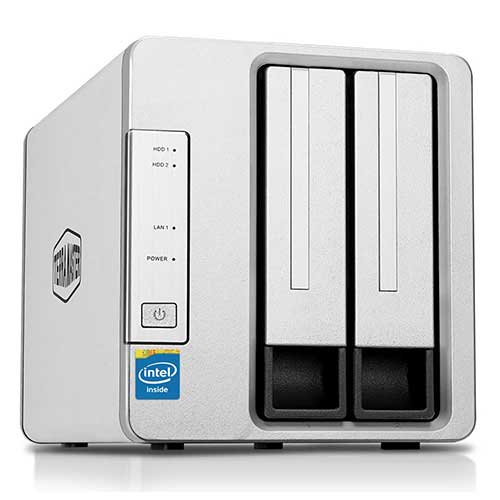 There are times when the least device you expect to excel turns out to be a top-rated Network Attached Storage device Amazon. This includes the number two in Amazon's Top Rated list which is the TerraMaster F2-220. Consequently, this 2-bay NAS has everything that can satisfy users. Most of all that it incorporates a 2.4GHz Intel dual-core processor that provides more than enough kick for a 2-bay NAS.

TerraMaster has been focusing on developing, manufacturing, as well as upgrading storage solutions for different levels of scalability and functionality. This is to provide the different needs of unique entities. As a matter of fact, the F2-220 has notable powerful hardware which makes it one of the ideal Network Attached Storage devices for music especially for massive music libraries.

In addition to that, it has an efficient user management interface that is incredibly useful as well because of its additional features. This only proves that TerraMaster F2-220 became the number two top-rated NAS product in Amazon for a great reason. And that is efficiency and convenience.

This compact and lightweight storage solution also integrate advanced features. Like Btrfs file system that offers 8,192 system-wide snapshots as well as 512 snapshots in every shared folder. This makes it an effective backup solution for small business and home office. Even better for professionals who require massive storage capacity for their growing libraries.

Another reason why it is ideal for data backup is that they include incredible features. This includes USB, remote Backup, Rsync, and Time Machine. Like so, you can utilize the Cloud Sync application that it also includes. This is to synchronize NAS data along with your personal cloud account. This allows you to access your data and files even if you are away from your office or home.

For those who are curious about the best thing about this storage solution, one Amazon reviewer says that the F2-220 has a well-built unit case, shows NO crashes, and Low fan noise. The list can actually go on but I think you it is better if you try it yourself.

[amazon box="B01M4IQ506″ title="TerraMaster F2-220″ image_alt="TerraMaster F2-220″ rating="3.8″ image_size="medium" description="2-bay NAS with Dual-core CPU"]
Synology DiskStation DS418j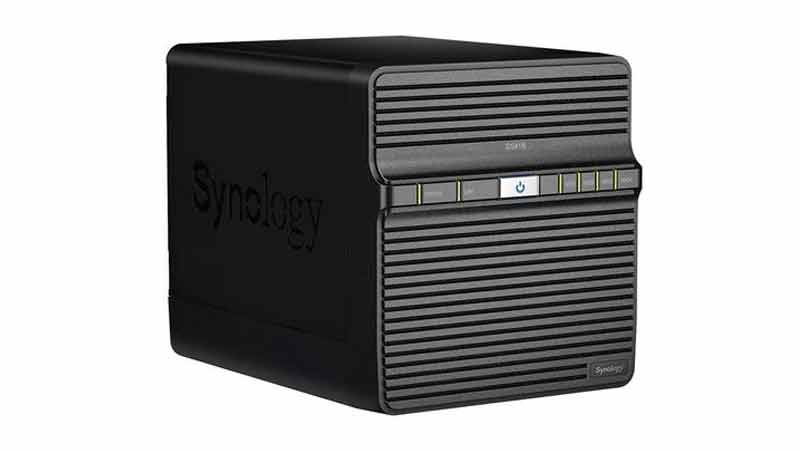 Another Synology product is included as one of the top network attached storage products on Amazon. This time, it is Synology DiskStation DS418j.

The DiskStation DS418j is a 4-bay NAS that has a unique look. It is compared to other Synology products that have the same number of drive slots. Looking at its chassis, you can see the same matte black finish but with no visible drive slots or ports. It turns out that all of the ports are present at the back of the storage device.

Moreover, it has a 64-bit dual-core CPU processor that can clock up to 1.4GHz. It can perform over 112 MB per second encrypted sequential reading. It is along with 87 MB per second encrypted sequential writing output. This means a great effect for better performance in terms of transfer and copy speed.

One of the great things about this 4-bay NAS is that it can provide a huge 40 TB raw single volume storage capacity. This is essential for small to mid-size businesses who require a reliable solution for their growing storage needs. Let alone that it produces a very low Noise level that is only 20.6 dB (A). It is also ideal for surveillance systems especially that it supports about 16 IP cameras.

Furthermore, the Synology DiskStation DS418j is a robust storage solution that can work as a private cloud for you. It also has the DiskStation Manager operating system of Synology that simplifies the whole process of backup up your computer. As well as accessing your data and files remotely, streaming your favorite multimedia contents, and a whole lot more. And did I mention that you can actually do it anywhere?

[amazon box="B074VB8DY7″ title="Synology DiskStation DS418j" image_alt="Synology DiskStation DS418j" rating="4.2″ image_size="medium" description="4-bay NAS with Dual-core CPU"]
Final Verdict
While Amazon's list of Top-Rated NAS products can come quite handy especially when choosing storage solutions that really satisfies consumers. You might stumble on the wrong one if you don't actually consider your needs. As well as the specs and functionality of the particular NAS. Therefore, take time to see these three Top Rated products if they can meet your needs. And let us know which one is your most favorite in the comment section.