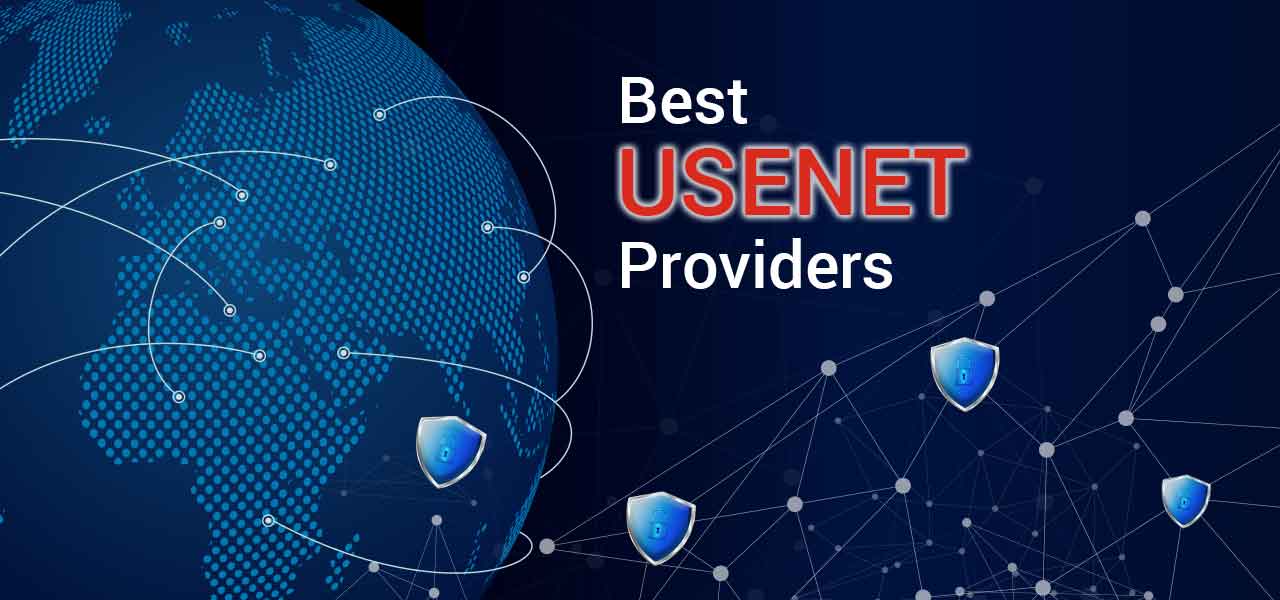 If you're reading this because you have read our previous article about Usenet, then good for you! You have acknowledged the fact that the predecessor of all newsgroups is not dead and that it's actually very useful. To help you become a certified Usenet groupie, we have compiled a list of the best Usenet providers here plus deals and discounts.

Updated on 25 September 2023
This article discusses the pros and cons of each one as well as the cheapest Usenet provider deals just for you. If you want to know the factors that make up an excellent Usenet provider, you can read the article all about Usenet. It also includes a tutorial on how to set it up.
For new readers who still have no idea what Usenet is, it's a file-sharing platform using binary files. If you're familiar with BitTorrent,  then you'll get the hang of it immediately because they work the same way. This means that you can download music, movies, software, games, and other cool stuff from Usenet.
However, you can't just use the full features of Usenet just as easily as the usual torrent sites. You'll have to download a server that can handle a large amount of bandwidth and retain the binary files for a long time. Also, please make sure that you're using a VPN service so you can remain anonymous while utilizing Usenet.
That being said, here are the best Usenet providers as well as Usenet provider comparisons to help you get started.
1. Giganews
Top Features:
15+ years of text retention
50 connections
Unlimited speed/no capping
100% newsgroup completion
Free VyprVPN
Live chat customer support
Special Discount: Get the Giganews Diamond Membership for only $10.99 when you sign up using our link!
We're hailing Giganews as the champion among the best Usenet providers we have listed here in the article. It has been operating since 1994, making it a trusted brand. The features are pretty much similar with the other providers, but they're upgraded so you get more with what you pay for. Giganews offers 50 connections plus unlimited speeds – imagine how much content you can download with that!
Giganews also retains binary content (music, movies, games) for 3+ years and text content for 15+ years. It really does live up to its name because it's actually a gigantic Usenet provider that features multiple copies of each article. They also claim that their servers in North America and Europe never experience any downtime so it's always on.
If you subscribe to Giganews using this link, you'll get the Diamond Membership for only $10.99 (originally $29.99). It's one of the greatest Usenet provider deals that we're offering and it's only for our readers. Click the link above and get a free VyprVPN Premium when you sign up!
2. Newshosting
Top Features:
3,657 days of content retention
Unlimited downloads
No capping of speeds
30 connections
Free newsreader with the Search feature
Free zero-log VPN
Special Discount: Save 58% off when you sign up with Newshosting using our link!
Ranking second in our list of the best Usenet providers is Newshosting. It has a whopping 3,657 days of content retention across all newsgroups so even if you're looking for old files, there's a higher possibility that it's still up. You can use the free browser that comes with your subscription and be able to access multi-gig servers in North America and Europe.
Another feature that makes Newshosting stand out is the number of connections that they offer. You can have 30 simultaneous connections to maximize your bandwidth – it's the highest number of connections available. And to protect you from cybercrime, all Newshosting plans are secured with 256-bit SSL encryption.
Lastly, Newshosting lets you access all 100,000 (and still growing) newsgroups that let you find whatever you're looking for. Their 99% completion rate is proof that this is one of the best Usenet providers. We think all of these features make it an excellent and top-rated provider, but don't take our word for it. Go click that link that we provided above and try it out for yourself.
3. UsenetServer
Top Features:
3,657 days of content retention
SSL-secured connection
Unlimited downloads
Free unlimited Usenet search
Free zero-log VPN
Special Discount: Save up to 60% off when you subscribe to UsenetServer using our link!
Another one of our favorite Usenet providers is UsenetService. Like Newshosting, the feature that makes it stand out from the rest of the providers is that they have a 3,657-day retention of all files. That means you don't have to go in a frenzy because the files you're looking for might be deleted already.  The Global Search feature is also a plus because it lets you search anything as much as you want with the US and European server access.
If you think that's not great enough, UsenetServer allows unlimited downloads with 99.99% completion. There are over 10,000 newsgroups that you can join based on common points of interest, so you can interact with millions of users from around the world. Lastly, all connections are secured with 256-bit SSL encryption. You can divide it into 20 connections to maximize your bandwidth, but this is a downside because some providers offer a lot more connections than that.
A one-month subscription to UsenetServer costs $10 including all the features mentioned above. If you want greater savings, you can get a 12-month plan for only $7.95 per month. It includes a free, zero-log VPN that can add an extra layer of protection while you're downloading.
4. Easynews
Top Features:
150 GB allocation per month
Rollover Gigs
3,243 days of content retention
12 GB loyalty
Unlimited NNTP access
Free zero-log VPN
Special Deal: Save up to 67% when you sign up with Easynews using our link!
Easnews is just like the other Usenet provider when it comes to features. However, they only offer 150 GB of downloads per month, but it comes with the Rollover Gig feature. It means that you can keep whatever remaining gigabytes you have and use it in the next month. It has big savings and gives you value for your money.
Another advantage that Easynews has is that they don't rely on your internet service provider. Instead, they are the ISP, which means that they handle their own servers and the speed of your downloads is completely up to them. So they came up with the NNTP header compression, which compresses all newsgroups so you can download way more faster.
If you want a minimal Usenet usage and want something that you can test out first before fully committing, Easynews is perfect for you. They offer a 14-day free trial when you sign up with them using the link we gave above. Plus, if you decide to subscribe to Easynews, they will reward you with 12 GB for every continued year of subscription. Cool, right?
5. Pure Usenet
Top Features:
2,000 days of content retention
12 connections
Unlimited speed
1-week free trial
Special Discount: Get the Pure Usenet XXL r only €6.63 using our link!
Netherlands-based Pure Usenet is a more affordable option with almost the same feature as its competitors. It retains content for up to 2,000 days, which a fairly long time. The XL package that we linked above provides unlimited speed and allows up to 12 connections. Furthermore, you can try it for free for 1 week and see if you like Pure Usenet or not.
6. XLned
Top Features:
Up to 120 MB/sec
12 connections
2,000 days of content retention
120,000+ discussion groups
Special Discount: Get the XL Gold package at only €7.49 per month when you sign up with XLned using this link!
Also based in the Netherlands, XLned is another Usenet provider with much more lightweight features. The XL Gold package offers the best options and has the best value for your money. Its speed can go up to 120 MB, which is a downside because most Usenet providers have greater, if not unlimited, speeds.
Nevertheless, if you want something light, XLned will suit you alright. The wide array of discussion groups (120,000 and still growing) will make up for the speed.
Thank you for reading this article: We hope you've found the best Usenet provider. Stay up to date and visit our tech news website regularly!