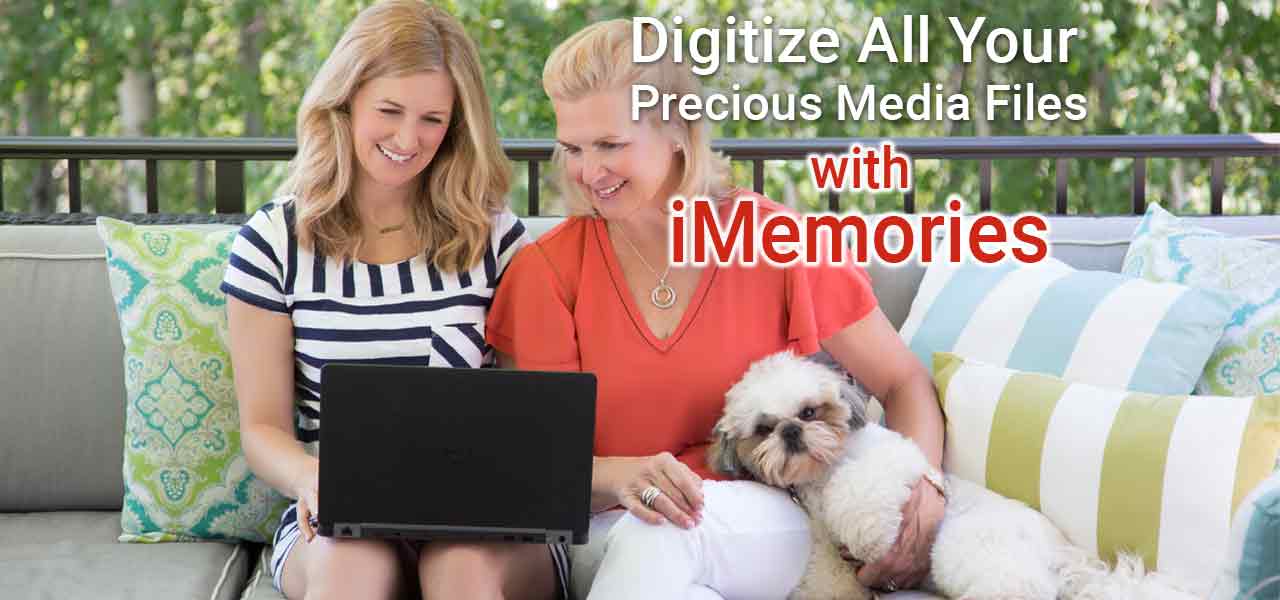 If you have a stash of old films and photos from decades ago, you may be looking for a way to preserve them. While high-quality photographs, videotapes, and film reels are designed to last, they won't last forever. Digitizing your family memories is the best way to preserve them. And I'm thankful that I discovered someone who invented iMemories. This's what we called 'Innovation' in this digital world.
So, what about it? Does iMemories really work? Is this service worth paying? Let's find out in this iMemories Review. 
Order Now
Preserve your Precious Videos and Photos Forever with iMemories
A New Way to Keep the Best Years of Your family's Life Memories Close, Secure, and Shareable. Digitize your old photos and videos with iMemories. GET 50% OFF NOW
Updated on 4 December 2023
iMemories Reviews: Digitizing Your Memories
When I was a kid, my parents loved taking lots of pictures. They'd got a stack of photo albums on the showcase shelves in our living room (proudly to show up!). So, when time passed by, year after year, photos got yellow and my parents had started to collect them in cardboard boxes because they wanted to free up space for books they bought. So, unfortunately, no space was left for those photo albums on our shelves any longer.
So, I thought: "Can I find a way to keep these precious photo albums in a better way?" I felt like keeping them in a basement was not the best way. And, lucky me, I discovered this solution, a service that allowed me to convert them into a digital format.
Digitization of old formats is the best way to make sure that they stand over time.
You may do the digitization yourself, but this process takes considerable time and effort. But if you send your tapes, slides, and negatives to iMemories, they will do the work on your behalf and convert all of them to become your precious digital yearbooked iMemories. You just download them, and then you can view your videos and photos on your PC or smartphone. You can even share them with your friends and family over the Internet. Plus, iMemories cost is also reasonable, as you will see later on.
What is iMemories?
iMemories is a service that converts analog media into digital formats. They work on the most old-school kinds of videotapes, such as Hi8, Mini DV, VHS, VHS-C, and Betamax. They even accept 8 mm, 16 mm, and Super 8 film reels. iMemories offers digitization of photographs, film negatives, and slides as well. The payment of iMemories cost depends on the type of your original memory.
Once iMemories has finished converting your media, they upload the digital copies onto their cloud storage for you to download. You can also opt to have your yearbooked iMemories saved to a disc, hard drive, or flash drive, which will be mailed to your home. iMemories will likewise return your original media.
iMemories Reviews: How to Use it
To be honest, this product is unexpected. It's not like a camera, a scanner, or a printer that can capture photos as we're similar. So I'm skeptical about how to use it or how does iMemories work? And here's the answer.
First off, you will need to mail in your films, tapes, negatives, slides, and other media. You may mail them yourself or order a SafeShip Kit. With the latter option, iMemories sends you a box, bubble wrap, and waterproof bags for packaging your yearbooked iMemories safely.
Once iMemories has received your package, it takes them approximately two to three weeks to digitize your media. Afterward, they will be available on the iMemories cloud for you to view and download. Your yearbooked iMemories will stay uploaded for one month, but if you want, you can pay an additional fee to keep them in the cloud for longer.
You can also ask iMemories to save your files onto a DVD, Blu-ray disc, or USB flash drive. You have to pay extra for these options, and they will arrive after a few more weeks.
iMemories Reviews: Benefits and Advantages
This iMemories review discusses how the service stands out from the competition. First, it has a solid reputation. So far, the company has never lost or damaged a single piece of original media. In case the films or tapes you send are not in good condition, iMemories will give you a heads-up right away, and they would even offer to repair them, but for an additional fee.
Their turnaround time is also faster. You can have digital copies of your yearbooked iMemories in as short as two weeks. Even if you opt for saving to digital storage media (DVD, Blu-ray disc, or flash drive), the most you would have to wait is one month.
Perhaps the best part of iMemories is its cloud storage. With this, you no longer need to keep lots of discs and other media at home. The iMemories cloud lets you access your memories from any device, anywhere, and at any time.
Some people may find the iMemories cost too steep. The good news is you can get it cheaper if you use iMemories promo codes.
iMemories Reviews: Customer Reviews
Users featured in other iMemories reviews positively rate the service. Here's what they say.
I had 19 mini VHS tapes that had videos of my kids. The tapes were just gathering dust in the closet, so I mailed them to iMemories and used iMemories promo code to get a discount. I was even afraid that the tapes would turn out blank. But once I got the email that they were done, I was able to watch hours of those videos! The Best investment I ever made.
The video quality was not as great as I expected, but that could be because they're really old. As to the cost, I find it a bit expensive. I did love the convenience of the service, though.
I hoped for a better quality of the videos, and they don't really fit our screen perfectly. But all my memories are now in one place, and we can even share them easily, so that's a great thing. Always use the iMemories promo code!
iMemories Reviews: iMemories Prices and Money-Back Guarantee
Now, for you who are wondering about iMemories cost. Let's see how much is iMemories you have to pay?
iMemories cost charges a flat fee for videotapes like VHS and Betamax. The flat fee is set at the same price, but they charge for every 50 feet of tape. Photographs, on the other hand, are charged by a piece. Tape repair adds several dollars to the total cost. iMemories cost can be considerably lower if you use iMemories coupon codes and iMemories discount codes.
If you opt to save your yearbooked iMemories to storage media, extra charges apply for DVD, Blu-ray, Flash drives depending on the capacity (8 GB, 16 GB, or 32 GB). They offer a monthly subscription to the iMemories cloud at $5.99 per month if you choose to keep your files there.
Unfortunately, in iMemories cost, no money-back guarantees are offered.
Order Now with an Exclusive Offer
iMemories Reviews: FAQ
Q: Will iMemories keep my memories safe?
A: I understand that you and other people can be concerned about your memories when shipped to iMemories. But we strongly believe you can trust them. They safely handle millions of home movies and photos every year, and they have never had any customer complaints. This's a firm promise that iMemories give to its customers.
Q: How long does the process take?
A: After you have completed the payment process and shipped your memories, the process takes 2-3 weeks.
Q: If a home movie film is broken, will iMemery fix it?
A: Sure, they will fix your broken home film without any loss of the footage. And, the best thing is no extra charge for this service.
Q: Do I get the originals back?
A: Of course, you do. Everything you delivered will be given back to you when the production of your yearbooked iMemories is completed. However, you don't have to send adapters, cameras, or envelopes along with your memories to get back the originals.
Q: If I have SD cards, can I send them to iMemories to convert them into DVD or Blu-ray format?
A: Yes, you can. Just upload your digital files on your iMemories Account and you can easily convert them into DVD or Blu-ray format.
Q: Is iMemories legit?
A: iMemories is a reliable service and nothing is illegal. So, yes, it's legit. You can trust them on their service and rely on them to convert your original memories into a digital yearbooked iMemories.
Q: Is iMemories a scam?
A: They have received many customers positive reviews. In addition,I tried it and can guarantee that is trustable and it's not a scam. 
Conclusion
We're here at the end of iMemories reviews, and I hope my review provides all the useful information for you.
However, this is a service. So, you may feel like it's intangible, let's wrap up again about this service as if it's worth paying.
To keep your memories in good quality, the iMemories offers you their service as a choice for digitizing your old media, with their quick turnaround time, convenient service, and reasonable iMemories cost. They convert all of your originals to become your cherished yearbook iMemories on their account which is available and convenient to upload them on social media or other online platforms.
Their cloud storage solution is also a convenient way to relive and share moments from the past. But that's not their only option. You can even have your memories saved onto durable storage media like USB flash drives and DVDs.
All in all, based on this iMemories review, the service is a worthy investment. If you want to preserve the best moments of your life, go for the digital option.
iMemories Review
iMemories converts all of your analog media files into digital ones to let you store them on DVDs, Blu-rays, or cloud servers!
PROS
Easy to send through the mail
Can view, preview, and share photos and videos
Able to work with several old formats
Lots of options
CONS
Not an inexpensive service
Some customers aren't satisfied with the finished quality
Delivery & service times can be longer