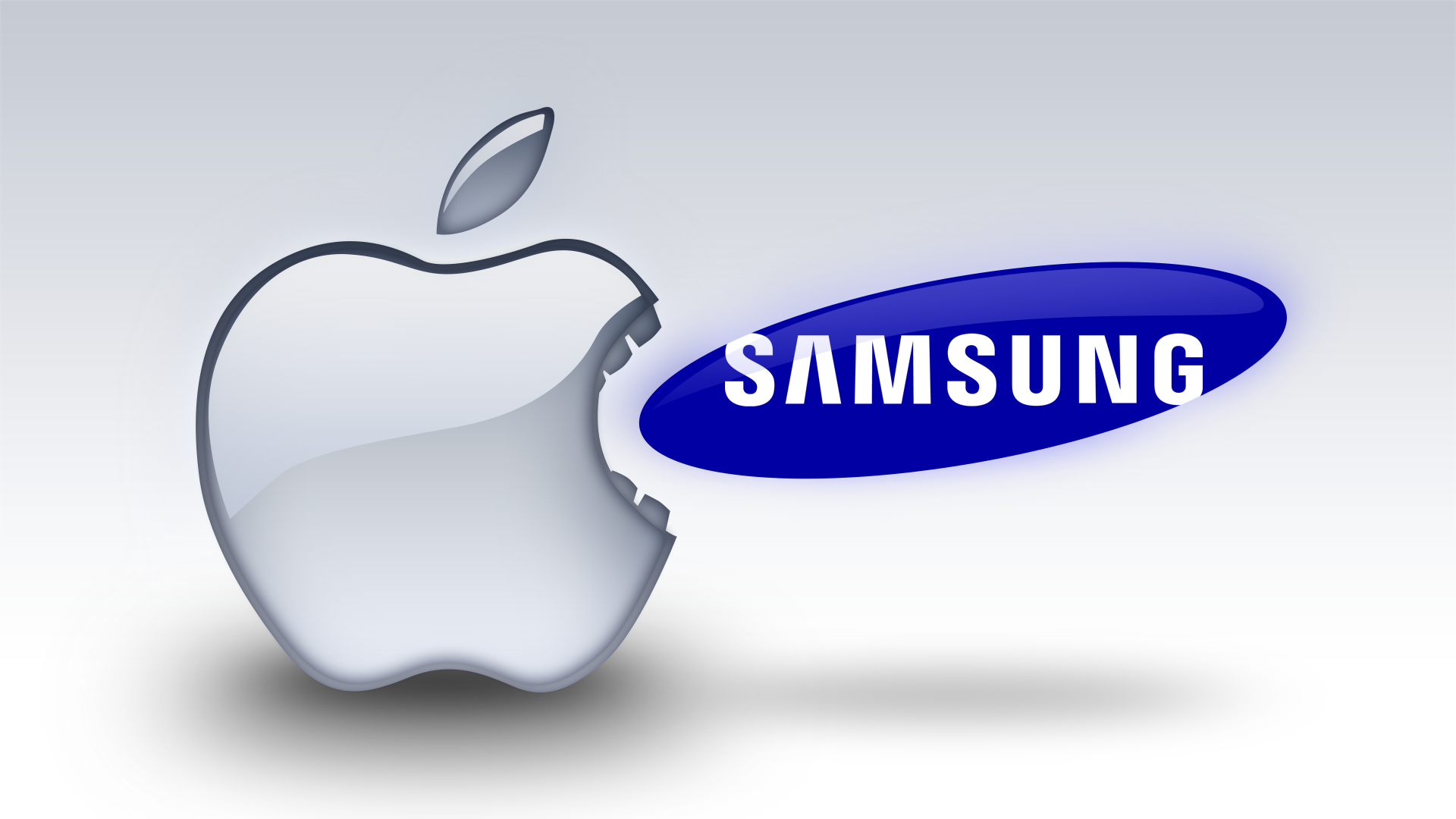 Both Samsung and Apple rule the world of smartphone. Some years Apple is up, but sometimes Samsung is also on top. Apple and Samsung have a long-term rivalry and continuously trying to reach each other. Basically, the battle between these two smartphone manufacturers will have no end. Recently, Samsung has released a smartphone with a bigger display or also known as Galaxy Note 8. And after the releasing of Note 8, Apple also released their iPhone X, so far this smartphone is Apple's biggest smartphone. On the other hand, Apple finally incorporated the edge to edge display that is popularized by Samsung.
But how other do the smartphones compare?
Updated on 6 December 2023
Specifications and Battery: Galaxy Note 8 versus iPhone X
Both Note 8 and iPhone X has a storage capacity of 64GB and 256GB, but only Note 8 offers 128GB storage and supports microSD card for additional storage. If you will going to choose between these two smartphones in terms of storage, probably you will choose the Note 8. But, Note has 6GB of internal memory while iPhone only comes with 3GB RAM. But when it comes to processor, there is no doubt that iPhone X will stand out since it is powered by an A11 Bionic processor that has a neural engine. This engine may possibly destroy the Snapdragon 835 found in Note 8.
When it comes to battery, both Note 8 and iPhone X features wireless charging, but Note has a bigger battery (3300 mAh) while iPhone X has 2716 mAh.
Display and Design: Galaxy Note 8 versus iPhone X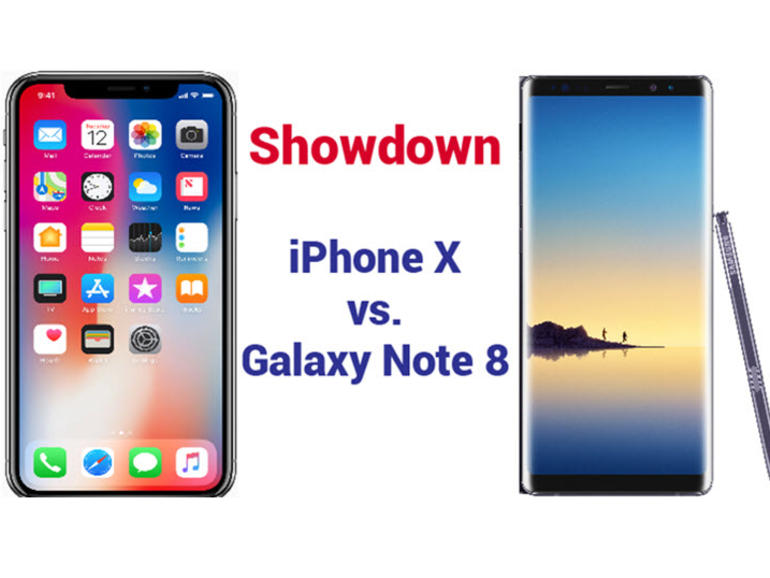 As what mentioned above, iPhone X also features edge to edge display. So if that is the case, these two flagships have similar displays. But, Note 8 (6.3 inches) is still bigger with higher resolution compared to iPhone X (5.8 inches). However, the latest Apple smartphone has a beautiful screen and features real tone panel, it means you can adjust the temperature of color and making it more comfortable on your eyes.
Camera: Galaxy Note 8 versus iPhone X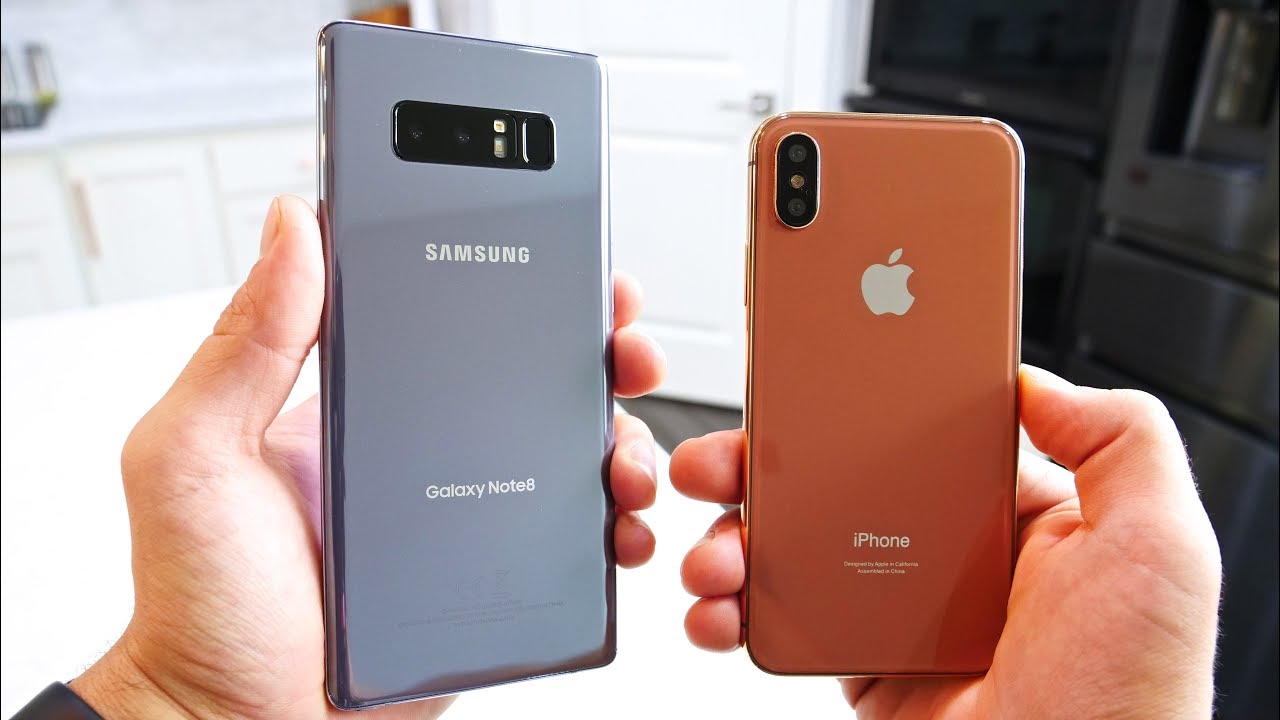 Both smartphones feature an 8MP dual rear camera with 12 megapixels wide-angle and telephoto lenses. But the Galaxy Note 8 still hits the Apple's smartphone since it has 8 megapixels front camera. Because of their systems (camera) software optimization, both smartphones can offer better and quality images. But honestly speaking, if the camera lenses are close you would not able to determine their differences.
Cost and Verdict: Galaxy Note 8 versus iPhone X
The cost of a 64GB model of Note 8 will be £869. While the 256GB will cost £1149 and £999 for 64GB. The Galaxy Note 8 display is stunning as well as iPhone X. As for wireless charging and cameras, these two smartphones are equal. However, choosing between these two big screen smartphone is very hard. Moreover, if you are looking for a smartphone that has bigger display and stylus support, probably you will go for Galaxy Note 8, but if you are looking for recent biometric security then choosing iPhone X would be the best decision.