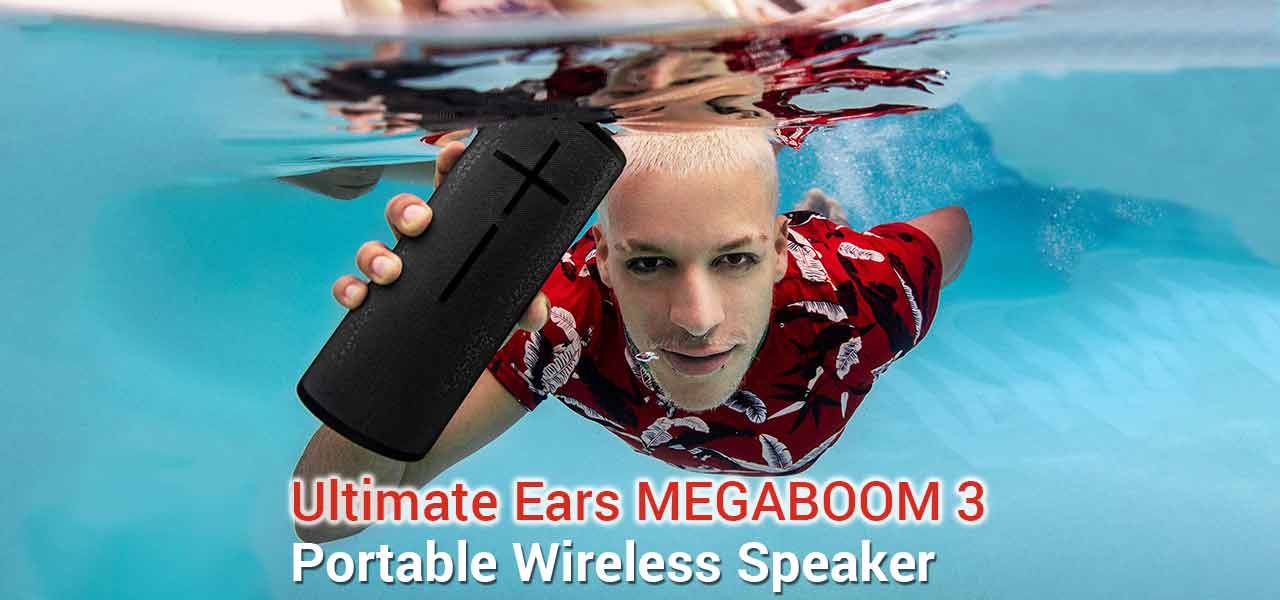 The first Ultimate Megaboom speaker was an audio landmark product when it was announced back in the year 2014. During the time where the speakers were just flooding in the market, the Bluetooth speaker stood out with its 360 degrees sound and has a rugged form factor. Soon after that, manufacturers have created bigger and tougher Megabooms. With that said, the latest version of the speakers is the Ultimate Ears Megaboom 3.
This is technically the same product, but with a more upgraded in performance, build, and functionality. Another benefit of the product is its low price, in which $217.53 USD instead of $ 319.90 USD. It is clear that the speaker tends to remain as the number one speaker in the world of portable audios.
Updated on 4 December 2023
An already-great speaker
With the portable speaker, Megaboom 3, the Ultimate ears would still continue its desired goal to be one of the 5-star rated products. In addition, it also builds on an excellent reputation, and its sonic boosts, design tweaks, and great new features make the speaker more enjoyable to be used.
Below are the pros and cons of the new Megaboom 3:
Pros
Long battery life
Punchy sound
Produces loud sounds
Excellent design
Fun features and is easy to use
New play or playlist button
360-degree delivery
Cons
No 3.5mm input
Recessed mids
Charging dock was not included
The bass sounds kind of loose at high volumes
DESIGN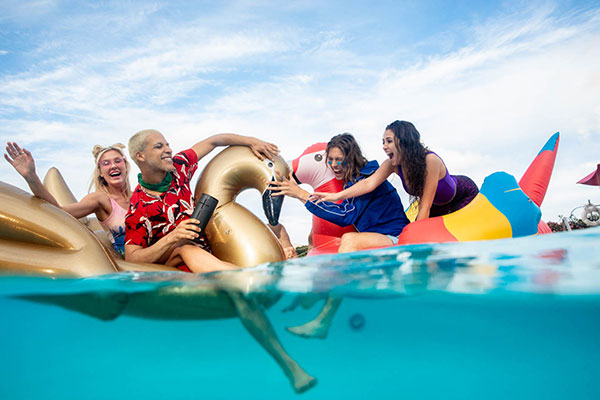 This portable speaker has always been designed to be used outdoors, such as camping, pool party, at a festival and other exciting outdoor activities. Therefore, the speaker's high-density fabric, which works as its protection, has also been recreated for this purpose.
Also, it is now IP67 rated, which means that it is waterproof to up to 3 ft of water for about 309 minutes and dust-proof. Not only is the speaker sturdy, but it can also float in the water. Quite similar to the small Wonderboom speaker, this 3rd generation speaker can also float in the pool with you while playing music, just make sure that it doesn't stay too long in the water.
The Megaboom 3 has an overall sophisticated appearance, which is thanks to its dual-tone and flatter top panel finish of its new fabric. You can now get the Bluetooth speaker in a variety of optional colors, which includes blue, red, black, ultraviolet, and two Apple-exclusive colors, which are the light blue and deep blue colors. Its shimmery and iridescent sheen of the fabric would surely be loved by most users, which actually surrounds its cylindrical trademark design.
[amazon box="B07DD3W154″ title="Ultimate Ears MEGABOOM 3″ image_alt="Ultimate Ears MEGABOOM 3″ rating="3.8″ image_size="large" description="Waterproof Bluetooth enabled wireless portable speaker."]
The speaker feels indestructible and tough as ever, but it is still light enough to bring everywhere, or just let it sit around the house. One of the unnecessary features of the older Boom and Megaboom speakers has been finally changed where the charging port is repositioned, which now allows you to charge the device in an upright position.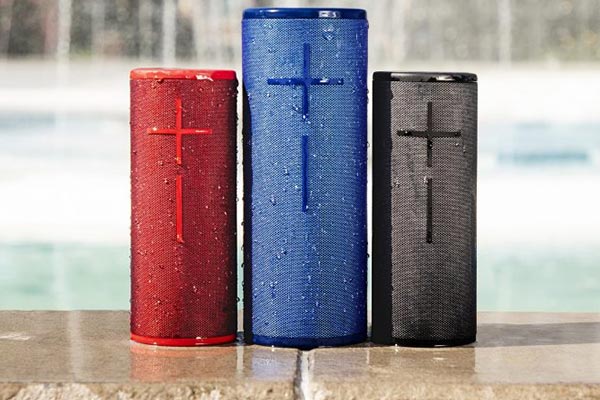 You can also dock it up on a charging stand as another alternate way of charging. The stand is a little bit pricey, but it is quite helpful when storing the speaker. Moreover, the device can last for up to 20 hours on a full charge, which is a decent amount that hasn't been changed from the previous model of speakers.
FEATURE
The redesigned top button, which is also known as the "Magic button", has learned a couple of new tricks. You can now pause and play songs with a just single tap, skip music tracks with double taps, and with a long press, you can call for a playlist.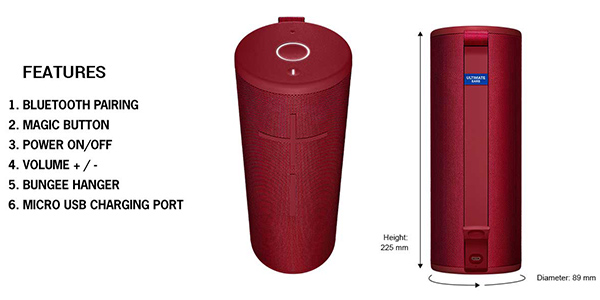 The speaker can let you play your favorite songs without even touching your smartphone, in fact, the Megaboom 3 doesn't even have to be turned on to play, all you have to do is to just connect it to your smartphone.
However, you will need to install a certain app to prepare multiple playlists, and with longer presses, you can skip through the playlists. This is a nice addition of features, which allows you to have an easier access to your music without tapping around your phone.
The new feature sounds fun, but it does have a limitation. For now, if you are an iOS user, you can import playlists that are from Apple Music, and as for the Android users, you would have to use a Deezer to play your music. How about Spotify? Nope, the speaker doesn't support it which is quite a bummer.
You can control other basic UE features, such as Stereo and PartyUp, through the free downloadable app. You can also link to up to 150 speakers of any of the generations, for a more amazing party, you can also pair up two Megaboom 3 speakers when it is in stereo mode. The speaker's Bluetooth range has also been improved from 30 to 45 meters as well.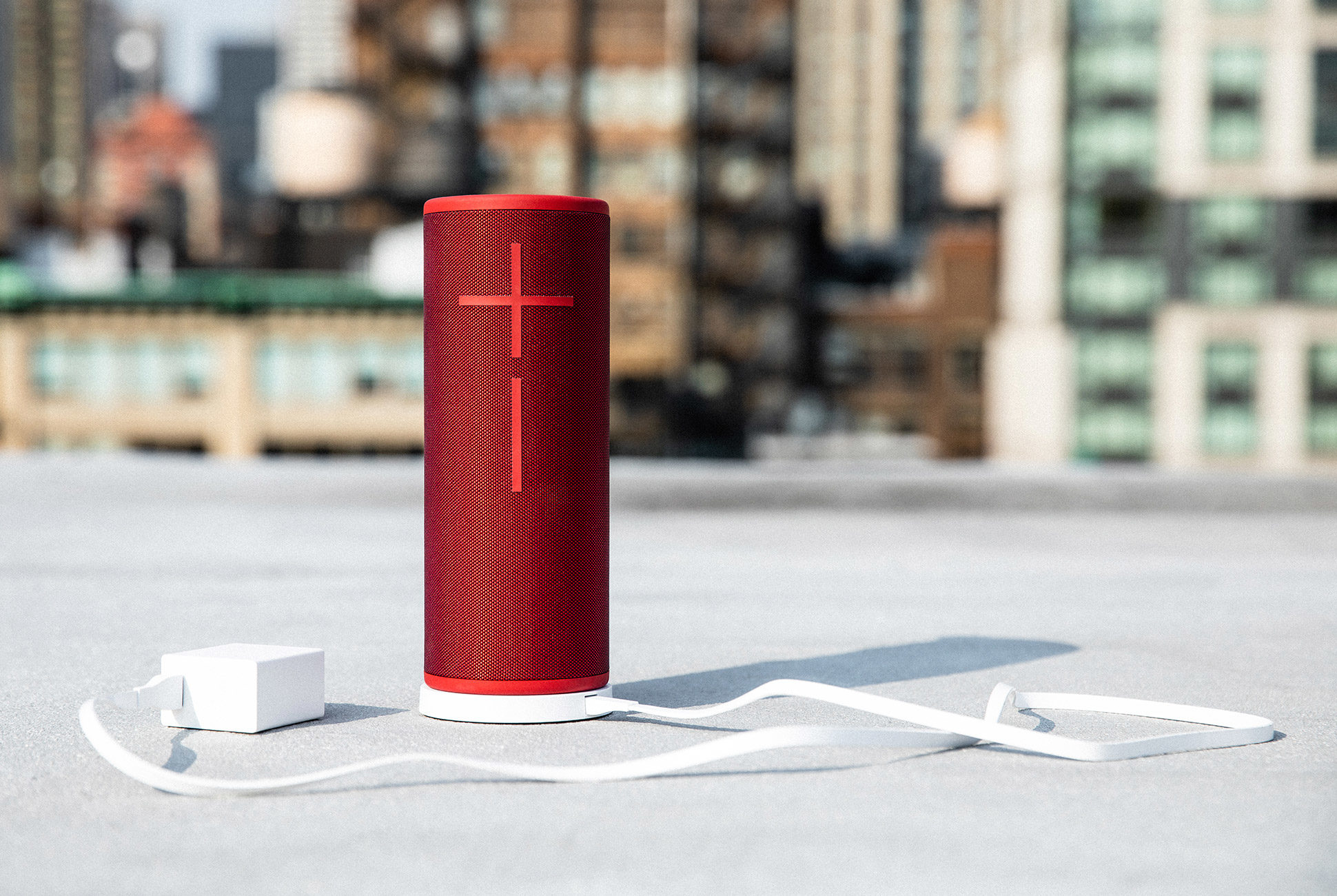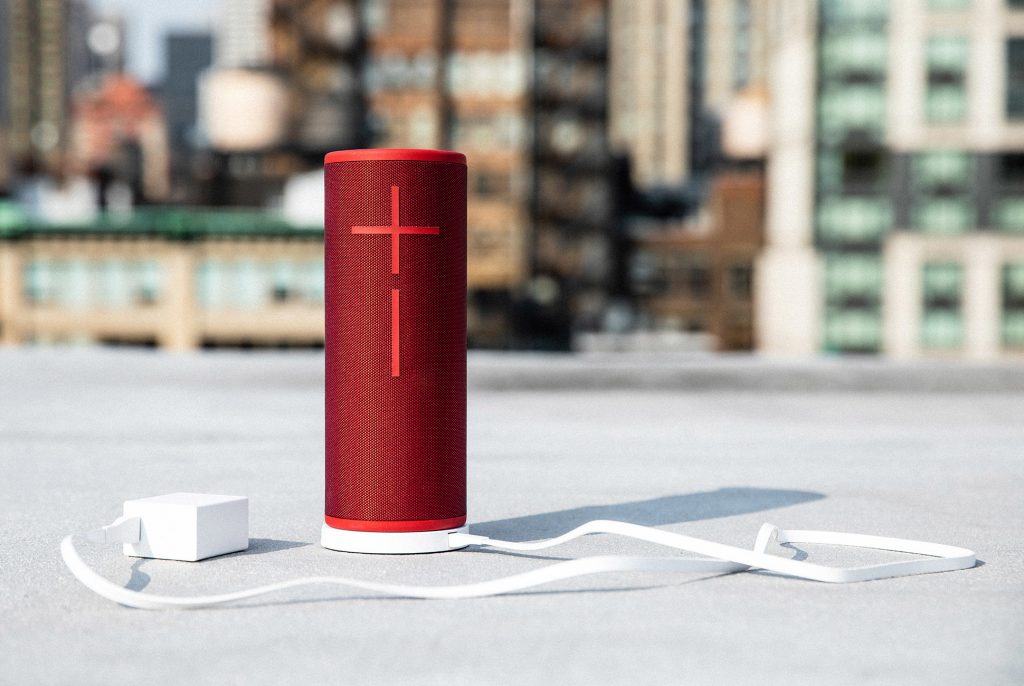 PERFORMANCE
The first thing first you would notice on the Megaboom 3's performance is how loud its speaker gets. In which, a volume at half would be enough to fill-in a medium-sized room. Put the speaker at full volume and you would definitely go outside your house just to compensate for the circulating noise. This amazing speaker can really keep the party going.
In fact, the speaker is not only loud, but the sound quality is also good too. With a boosted bass that have a great impact and highs that never sound painful to the ears, you would surely love this Bluetooth speaker. Moreover, we found the midrange to be recessed than most users would like. In comparison to the JBL Pulse 3 – had a similar price – the JBL has the ability to produce a sound that is much wider, punches harder, and make the vocals stand out. But, the Megaboom 3 headed in terms of its durability and amount of battery life.
WHY BUY THE ULTIMATE EARS MEGABOOM 3?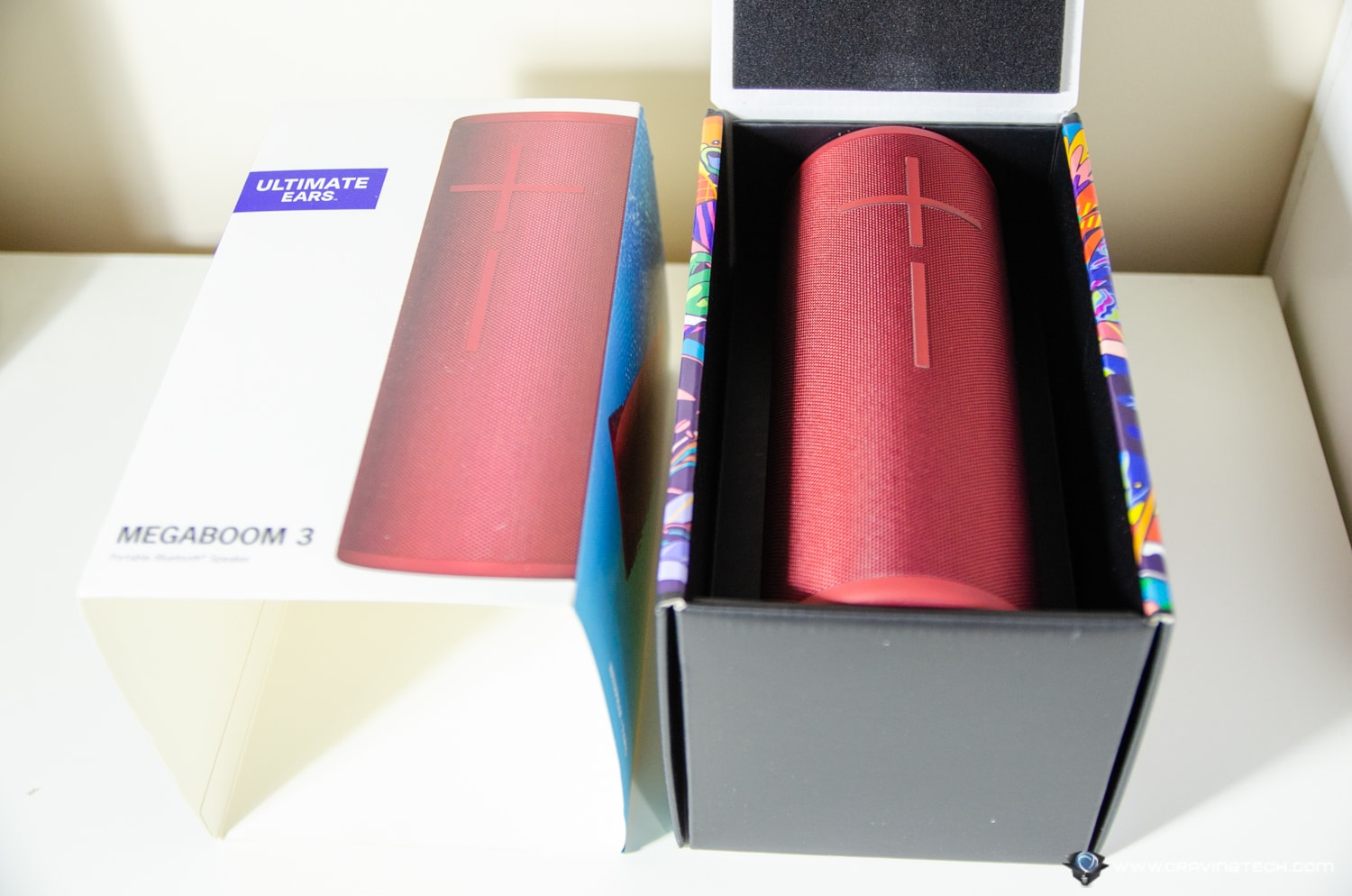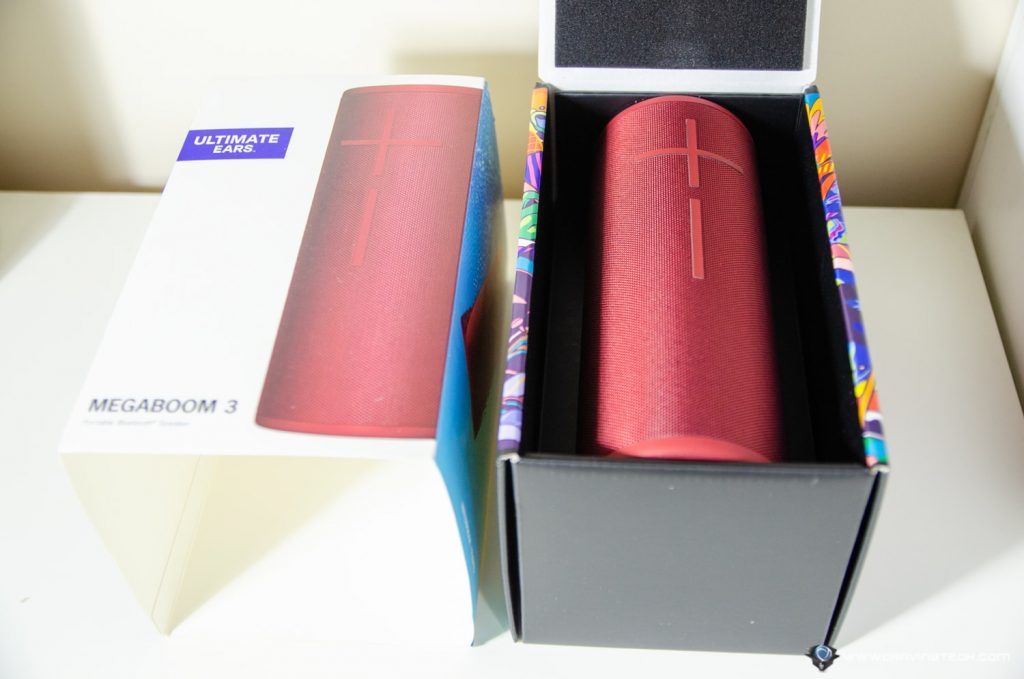 The original Megaboom speaker was great, but it does have a few defects. The new Meagboom 3 has focused on these flaws. Moreover, it has made up for it by adding useful features. Like a greater wireless range and a play or playlist button, and not to mention its long battery life.
Aside from improved flaws, the company has also lowered its price for their customers. The Megaboom 3 has a competitively price at only $216.25 USD. You would definitely have a hard time looking for another speaker, which is as rugged and as good as this product.
If it's still too pricey for you, don't worry. There are still other options that you can choose from the Boom family. The boom 3 is the smaller version of the Megaboom 3, and its price is about $165.07 USD. As for the Ultimate Ears Boom 2. For a few years now, this astounding device is now out in the market  and can usually find it today under $100 USD.
Moreover, for those who want a Bluetooth speaker with a smart functionality. Consider checking out the Megablast and Blast speakers. These products support the Amazon Alexa.