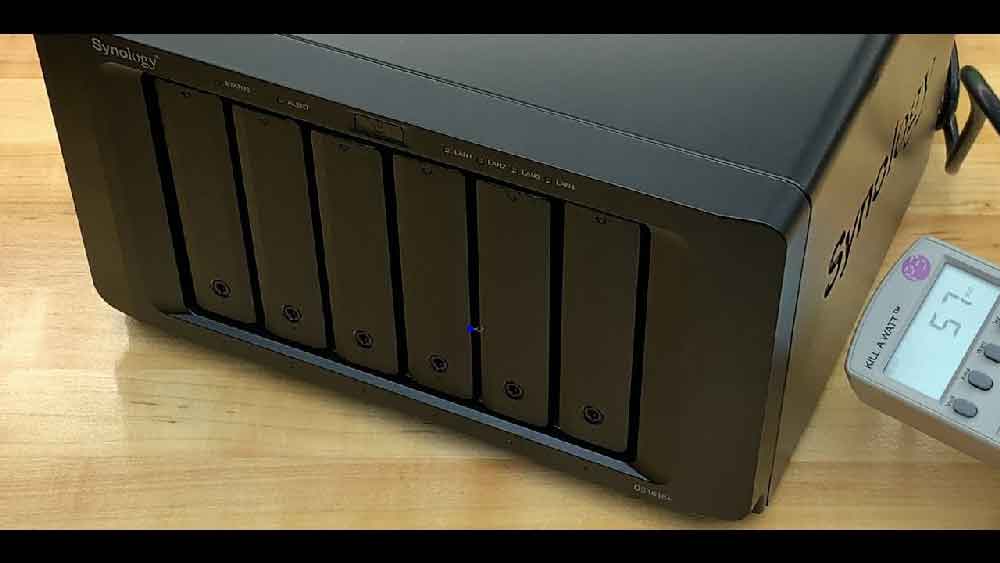 Nowadays, high-end technologies are now available even in the most affordable devices. Just like 10GbE connectivity. Thanks to Synology this technology is now provided in network attached storage. So in this article, we put our focus on the top 3 Synology NAS with 10GbE connectivity. Check them out and find which one is the most ideal for you.

Updated on 26 September 2023
Synology DiskStation DS1618+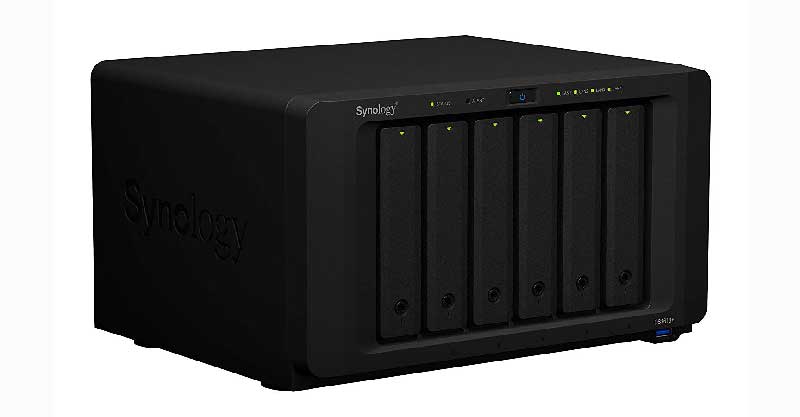 We will start with the NAS 10GbE Synology comprising the lowest number of drive slots. The Synology DiskStation DS1618+ incorporates 6 drive slots that are considered as an incredibly flexible number of drive bays for massive storage capacity.
In addition to that, this NAS is optimized for a work environment categorized as data-intensive. Moreover, it also has a folder or data level data restoration that makes it possible for you to achieve fast and flexible data recovery. Which is only possible because this device carries a powerful quad-core CPU processor that can clock up to 2.1 GHz. And it comes along with AES-NI support for a combination of fast and secured storage solution.
If you are looking for a 10GbE NAS storage that can give you up to 32GB of expandable storage. Then Synology DS1618+ is the best one for you.  As a matter of fact, it also includes 4GB DDR4 memory and an outstanding performance reaching up to 1,550 MB per second for reading as well as 580 MB per second for writing.
Years ago, 10GbE connectivity is only available for high-end data centers and networks. But today, we can now have a taste at this kind of cutting-edge technology. Moreover, thanks to the most advanced network attached storage devices today like Synology.  The DS1618+ is one of the most versatile solutions from the brand that provides not only a flexible and centralized personal cloud for professionals, homes, and businesses. But also, it delivers excellent features as well as applications that enhance productivity and efficiency for those who are utilizing it.
Furthermore, the best thing about it does not actually stop on those things alone. As a matter of fact, this 10GbE NAS storage can install a 10GbE network card. This can provide ultra-fast and ultra-powerful data transmission. Otherwise, you can mount an M.2 SSD adapter card that can render high IOPS caching.
[amazon box="B07CR8RZYY" title="Synology DiskStation DS1618+" image_alt="Synology DiskStation DS1618+" rating="4.4″ image_size="medium" description="6-bay NAS with Quad-Core CPU"]
Synology DiskStation DS3617xs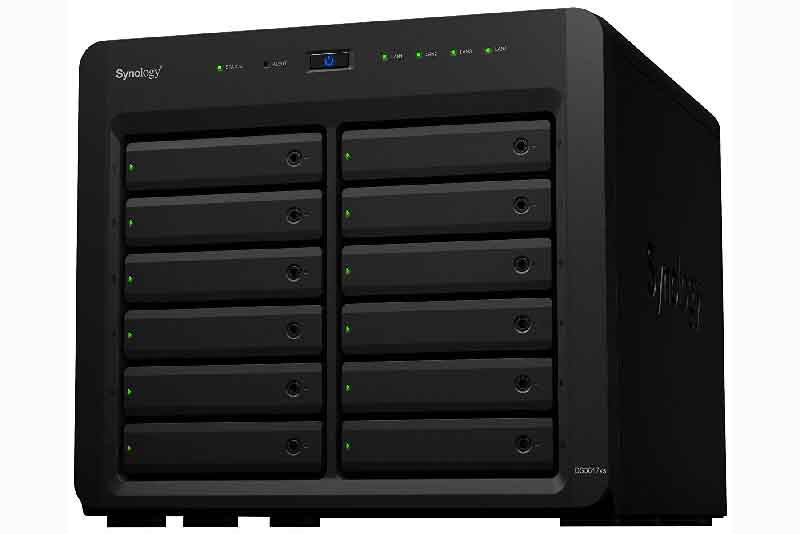 Now for the biggest NAS 10gbe network storage solution in the list, we have here Synology DiskStation DS3617xs. It boasts 12 available slots waiting to eat massive drive disk that can give you up to 48GB.
Moreover, this NAS 10gbe Synology device claims to be reliable and ultra-high-performing NAS solution best for large-scale businesses. Besides, it has great storage scalability that can provide the storage capacity demand of every large business. But always take note that a storage solution for this critical purpose must also include a bunch of protective features that can ensure the safety of your business data.
Knowing this, Synology has equipped this NAS with an intuitive interface that provides a seamless way of sharing, synchronization, and collaboration of files. This is along with keeping overall control of your critical data in a centralized and secure environment. It is also reassuring to know that it also includes a hardware encryption engine that applies a stronger layer of protection for your data.
Moreover, you can combine two DiskStation servers to make a single high-availability cluster if you want to ensure business continuity. With this, you will be able to ensure that your service and data will remain active for your users and employees to access. Most especially in unexpected times where servers go offline.
[amazon box="B01MSTCXPN" title="Synology DiskStation DS3617xs" image_alt="Synology DiskStation DS3617xs" rating="4.3″ image_size="medium" description="12-bay NAS with Quad-Core CPU"]
Synology DiskStation DS1817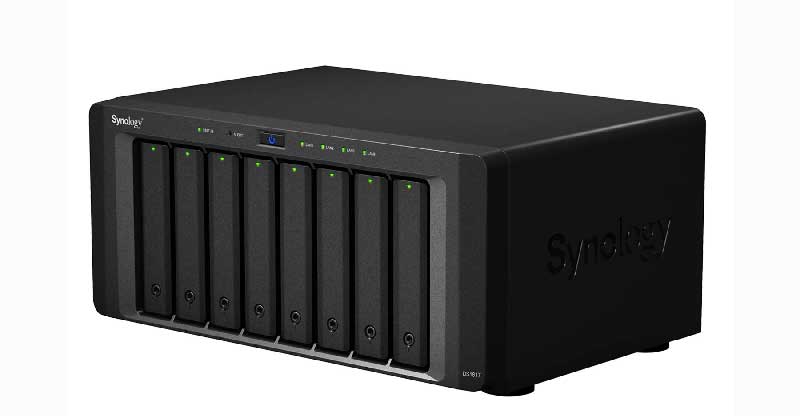 If you are looking for the best NAS 10gbe performance device, this 8-bay Synology DiskStation DS1817 solution might get you interested. Besides, it has highly flexible scalability that is needed for businesses and by professional creative that requires a huge storage capacity to house different types of digital contents.
More so, looking under the firm chassis of this NAS is a robust quad-core CPU processor with a clocking speed of up to 1.7 GHz. More so, it can provide up to 739 MB/s writing and 1,577 MB/s sequential reading performance needed for better productivity and efficiency. If you want to maximize the capacity of the storage you have. This Synology NAS is one of the best choices you can have. As a matter of fact, it features Synology Hybrid RAID that is specially designed to enhance every storage volume deployment. Making it simple, easy, and fast.
More so, in addition to its 2GB ports, it also includes a built-in dual 10GBE LAN ports which make it capable of providing astounding data transfer rates. It is also considered as a bulletproof backup because of its reliable, secure, and affordable characteristics. This shows that Synology really knows how to advertise data protection in the most enticing way.
Besides, this sleek NAS is more than just simple storage. It is compatible with a long list of hard drive brands and it incorporates features that make it easier to centralize and manage digital contents for better storage experience.
In line with this, Synology equips it not just with the group and native users management. But also, integrates existing office infrastructure seamlessly and smoothly. That is actually thanks to its support for Windows Active Directory, Windows ACL, as well as LDAP services.
On the other hand, it also includes the Central Management System for larger deployments that provides a single-pane-of-glass type of admin console. This can allow you to manage multiple Synology products in batch via instantly setting up and tasking policies . This is to apply settings to a particular group of servers. As a result, you will be able to reduce costs as well as the time you shed on maintenance.
[amazon box="B071K9J4MS" title="Synology DiskStation DS1817″ image_alt="Synology DiskStation DS1817″ rating="3.8″ image_size="medium" description="8-bay NAS with Quad-Core CPU"]
Final Verdict
As a conclusion, all of these NAS 10GbE Synology products are highly flexible and high-performing. Moreover, the only difference relies mainly on the number of their hard disk drive slots. This is the most common thing businesses and individuals prioritize. Since we have highlighted the 10GbE connectivity comprised of these storage solutions and the sleekest capabilities they have. Therefore, It's up to you now to choose which one is compatible with your desired performance. Moreover, make the most out of it. Have you decided which one is ideal for you? leave us a comment and let us know your thoughts about these 10GbE NAS storages.