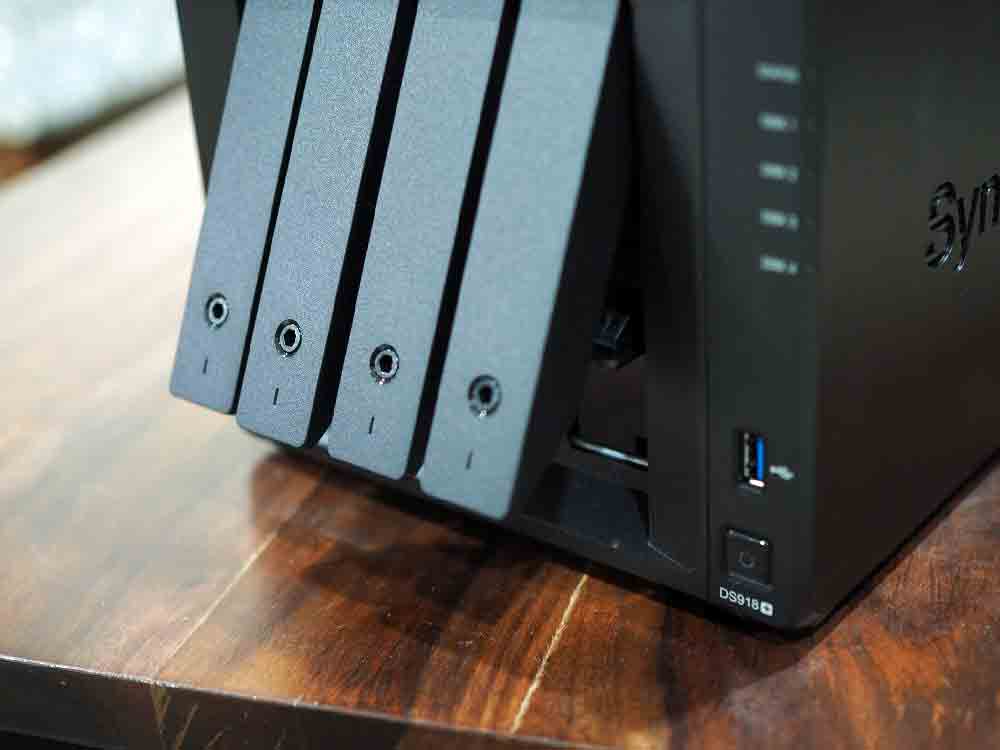 Since Network Attached Storage devices are long been known to render 24/7 robust storage solutions for business and homes.  It attracts our interest to test the best Synology NAS for home surveillance. Are you curious about what we found out? Keep reading and what you will about to discover will surely amaze you.

Updated on 27 September 2023
Synology DiskStation DS918+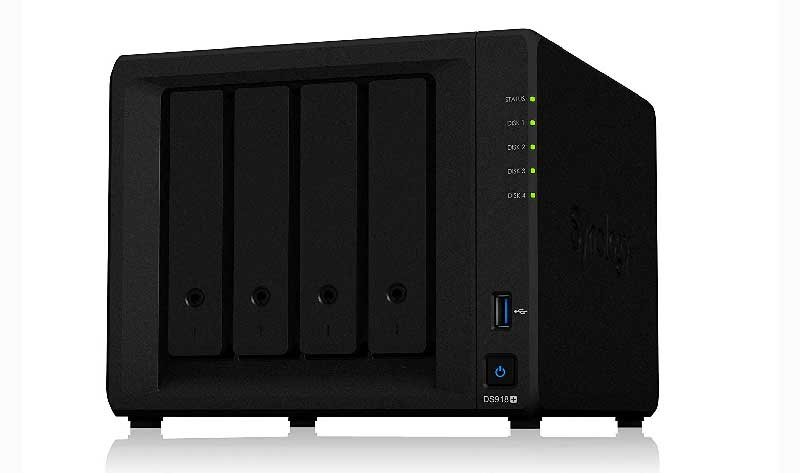 The first Synology NAS surveillance camera compatible device we reviewed is the DiskStation DS918+. It is a 4-bay Network Attached Storage with an overpowering quad-core CPU processor. It can deliver ultra-fast performance plus whopping scalability. With this NAS you will be able to expand your storage capacity for up to two times.
All home surveillance systems require a reliable storage solution that can centralize the demanding file sizes of the surveillance footages captured every day. And since surveillance footage is essential, in fact, critical to keeping, a NAS that features multiple security capabilities is the most ideal to utilize.
In line with this, the DiskStation DS918+ includes AES-NI hardware encryption engine that provides makes it a bulletproof backup. Knowing this, will you still doubt storing your important home surveillance files in this robust Synology NAS security camera friendly device?
Aside from that, the Synology NAS surveillance station app also provides an intelligent method of monitoring. Like so, it delivers a useful set of video management tools. This includes managing different IP cameras in addition to live streaming. Moreover, it also includes the integration of Input and Output modules along with other sleek tools that can essentially aid you to keep all your important files in one place.
In utilizing home surveillance, there are times when you require sharing footages either for legal use or any other types. For this reason, you have to choose the right NAS with great files sharing and syncing capabilities such as in DS918+. It supports various network file sharing protocols such as AFP,  CIFS, NFS, FTP, and a whole lot more.
[amazon box="B075N1Z9LT" title="Synology DiskStation DS918+" image_alt="Synology DiskStation DS918+" rating="4.5″ image_size="medium" description="4-bay NAS with Quad-Core CPU"]
Synology DiskStation DS418play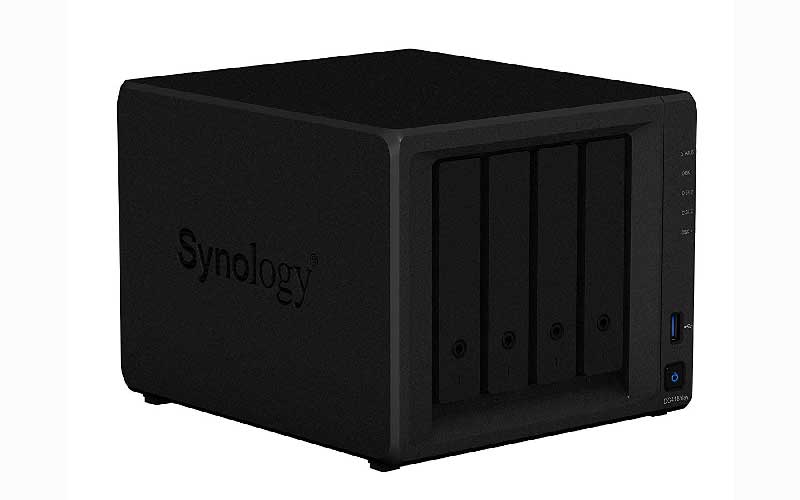 Another 4-bay NAS in the list is the Synology DiskStation DS418play. In one close look, this simple looking NAS in black firm chassis is almost the same with the DS918+. Not only that this NAS boasts 4 drive slots but it also has the same arrangement of ports in front of its case.
But with our great curiosity, we have found out the sweet difference between the two.  And what is it?  Well, it is their completely different CPU processors.
While the DS918+ comprises a quad-core processor, the DS418play downgraded to a dual-core Intel J3355 that is slightly weaker than the latter. But don't worry, that won't be a problem with its performance. In fact, this NAS is perfect for homeowners who seek for a storage solution for their surveillance systems but with a cheaper price.
Network Attached Storage devices are actually ideal to cater to home surveillance systems. Most especially that we are now living in a wireless world getting along with people with so much wireless needs. Moreover, there are a lot of reasons why you must utilize a NAS instead of hard drive and among other storage devices for home surveillance. And that includes better accessibility.
With DS418play, you will be able to store files in one place even if you are not physically there. Likewise, you can access those files anywhere as long as you are connected to the internet.
[amazon box="B075ZNKCK4″ title="Synology DiskStation DS418play" image_alt="Synology DiskStation DS418play" rating="3.9″ image_size="medium" description="4-bay NAS with Dual-Core CPU"]
Synology DiskStation DS218j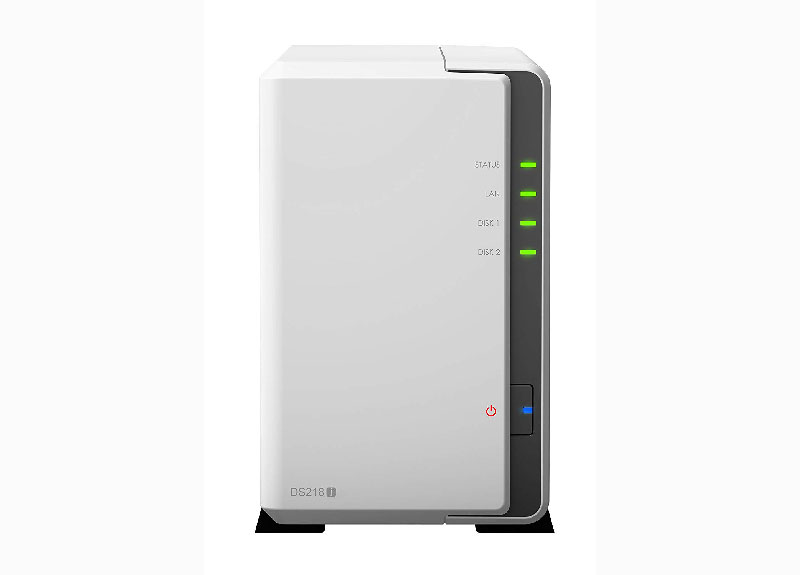 If you only require a NAS device for your small home surveillance needs. Better opt for this affordable NAS than the first two storage solutions we have reviewed. The Synology DiskStation DS218j only includes 2 drive slots that are flexible enough for you to get up to 8TB of storage capacity if you populate it with two massive 4TB drives.
On the other hand, it can perform more than 113MB per seconds for reading. And includes the excellent DiskStation Manager that will definitely make your Synology NAS experience in good order. As a matter of fact, it includes useful capabilities that can allow you to turn this storage solution into a home media hub other than for home surveillance alone. With this, you will be able to stream movies seamlessly as well as TV shows, view pictures, MP3s  to your most favored devices including your Apple TV, Roku players, Samsung TV, DLNA devices, Google Chromecast, and more.
Another thing you might find excellent about this device is that it features QuickConnect. This can enable you to link through the simple address that you can customize. This can help you to automatically access media as well as work files using either Mac, Windows, and Linux computer or Laptop. Aside from that, you can also use your mobile devices with no surprise additional charge to shock you along the way.
In addition to that, it also provides a wide range of useful mobile applications. These can enable you to have fun with your multimedia library. The best thing here is that you can use it whenever and wherever you are as long as you are connected to reliable internet.
This Synology NAS surveillance camera compatible device is one of the most ideal things you must opt for. It is especially if you are just starting or planning to start a secured home. Aside from that, you will be able to maintain great control over your data. As well as ensure that all your files are safe. It is because of the great set of reliable security features it has. As a matter of fact, this NAS is not just a reliable storage solution for backup files. But also a high performing file sharing and syncing solution.
[amazon box="B076G6YKWZ" title="Synology DiskStation DS218j" image_alt="Synology DiskStation DS218j" rating="4.2″ image_size="medium" description="2-bay NAS with Dual-Core CPU"]
Final Verdict
Since there is a long list of Synology NAS surveillance station supported cameras. It is a wise thing if you check if the devices we have included in this review. Check if they are also compatible with the cameras included in your home surveillance systems. More so, all of these storage solutions comprises the basic things every home surveillance NAS has to offer. But since all of these are unique. It is better if you choose the right one that can provide the ideal combination of specs and features that can help you better with your home surveillance needs.