QNAP has been delivering better and greatly improved productivity through its best NAS with 10GbE connectivity. It is been known that 10GbE or 10 Gigabit Ethernet is important for all businesses. All kinds that require high bandwidth needed for fast backup and restore as well as for virtualization. Now, here is the top 3 QNAP 10GbE NAS with built-in 10 Gigabit Ethernet connectivity. Learn what we found out about them.

Updated on 25 September 2023
QNAP TVS-1282T3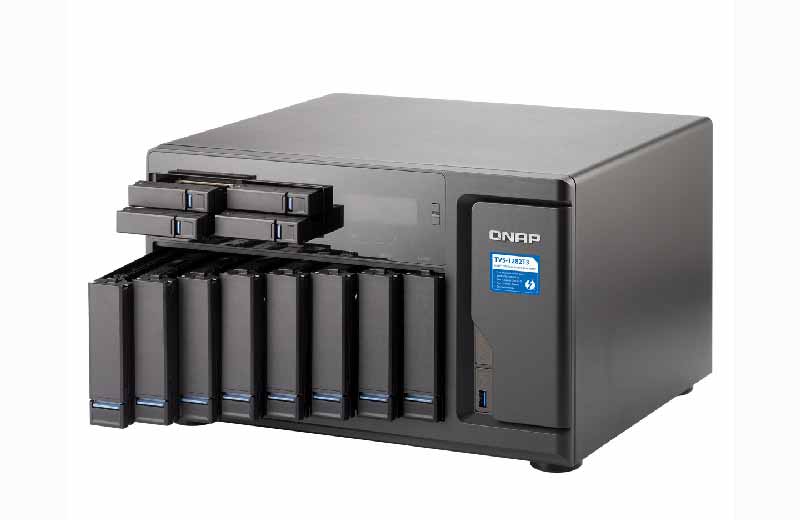 10GbE connectivity provides great speed for a better file transfer efficiency. This is the reason why we have tested the ultra-high speed QNAP TVS-1282T3. If it can really meet the expectations of many of this high-end feature.
In this QNAP 10gbe NAS review, we prioritized unraveling the specs and capabilities of the 12-bay NAS from the said brand. While having a lot of drive slots for greater scalability. It also carries the stealth 7th Generation Intel Core Kaby Lake CPU processor that can burst up to 3.6 GHz. It is equipped with a 64GB RAM, two 10Gbase-T, and four Thunderbolt 3 iSCSI port.
The TVS-1282T3 is a high-performing Thunderbolt NAS that is ideal to use for a seamless 4K media collaboration. With its unique and powerful combination of specs and features, this NAS is capable of providing utmost efficiency. Let alone that it offers a lot of extra expansion drive slots wherein you can populate with multiple massive disks to acquire at most 64GB of usable storage.
On the other hand, this QNAP 10GbE Thunderbolt NAS provides a one of a kind experience. Most especially that it provides an effective triple solution including NAS/Thunderbolt/iSCSI in a single compact device.
Its four Thunderbolt 3 ports work to allow seamless team collaboration between a maximum of 4 Windows/ Mac devices. Like so, its higher bandwidth brought by 10GbE connectivity allows seamless 4K video transfer as well as smooth online editing. This storage solution is one of the definite must-have for all individuals and businesses who require faster file sharing and greater file storage.
[amazon box="B071DG3MYC" title="QNAP TVS-1282T3″ image_alt="QNAP TVS-1282T3″ rating="3.9″ image_size="medium" description="12-bay NAS with Quad-Core CPU"]
QNAP TVS-872XT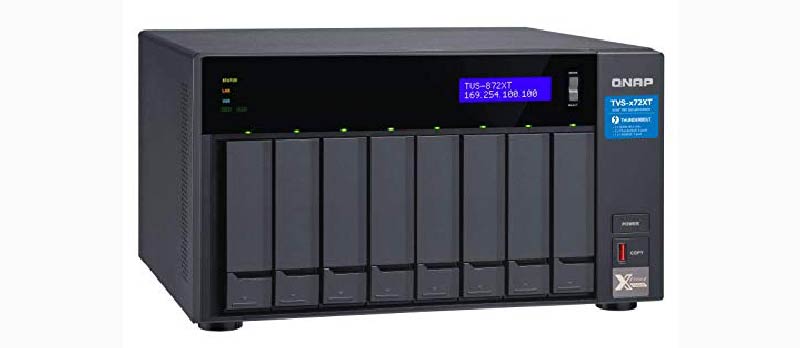 Among QNAP TVS series, QNAP TVS-872XT shows breakthrough performance. One of the reasons is that it incorporates the high-end 10GbE connectivity as well as some clean additions like M.2 PCIe NVMe SSD slots and Thunderbolt 3 ports. This QNAP 10GbE Thunderbolt NAS is equipped with an 8th Generation i5 Intel Core CPU processor that allows it to provide a super-fast file transfer speed. And because these incredible features combine together, we are now able to combat heavy workloads as well as transfer files smoothly using a single high-performing NAS which is none other than the QNAP TVS-872XT.
In addition to that, it also allows smooth editing and displaying of 4K videos in surprisingly real-time. And with its M.2 SSD support along with its ability to install a powerful graphics card, this QNAP NAS can make highly scalable working environment and boost your performance. This can result in better collaboration and ultra-fast file sharing.
Moreover, this QNAP 10Gb NAS is powered by high-quality components that provide optimum performance, scalable storage capacity, complete mu
If I were to emphasize two of its sleekest features it would be speed and its support for collaboration and backup. First of all, it has a fast connectivity thanks to the combination of 10GbE and Thunderbolt 3. With this, you will be able to back up the files on any of your devices directly on this NAS in a blazingly fast way.
On the other hand, its ability multimedia features, and many other functionalities of NAS. This is to allow greater creativity among users. It also includes two USB Type-A 3.1 ports, a 16GB RAM, two M.2 slots, a 4K HDMI 2.0 port with 60Hz frequency, and a whole lot more.to work as robust backup and collaboration is all thanks to QNAP's support for file sharing protocols throughout  Mac, Windows, and more operating systems.
[amazon box="B07JXZ2PXJ" title="QNAP TVS-872XT" image_alt="QNAP TVS-872XT" rating="4.5″ image_size="medium" description="8-bay NAS with Quad-Core CPU"]
QNAP TS-453BT3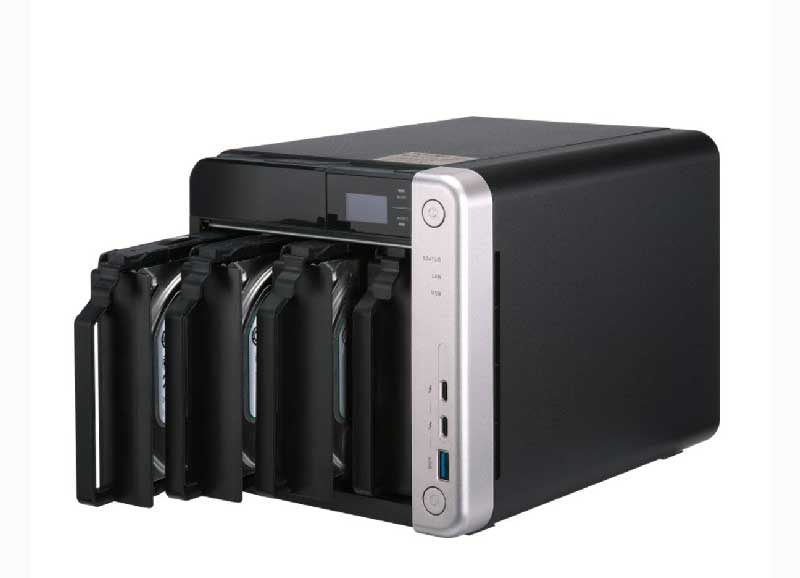 Among the three best NAS with 10gbe built-in connectivity. The 4-bay QNAP TS-453BT3 is still the best when it comes to speed and affordability. This storage solution is ideal for Media  Studious and Creatives who require a blazing fast NAS to centralize their important files.
The TS-453VBT3 is now boasting a new and better look. It is because it now has an OLED panel along with two buttons that feature capacitive touch. Almost similar to the two storage devices we have in this QNAP 10GbE NAS review. This NAS also has Thunderbolt 3 ports, 10GBASE-T connectivity, and M.2 SATA SSD caching. But the obvious difference why this 4-bay NAS is significantly cheaper than the earlier QNAP devices we have in this list relies on its CPU processor and the number of drive slots.
On the other hand, the simple look of this NAS might fool you. It is because it actually has wide-ranging useful features that provide great efficiency and productivity to its users. And of course, security is important so it is quite notable that this device also boasts a well-protected environment through RAID configuration.
The all RAID configuration types are supported by this NAS. For this reason, you will get to experience great flexibility in arranging the right data protection level for your data.  This storage solution also offers excellent synchronization and file sharing. It is because it supports NFS, SMB, and AFP that can allow you to instantly share data. As well as files to Linux, UNIX, Mac, and Windows devices.
One of the most amazing things about this affordable NAS is that you can use it for Plex Server. It is due to the perfect media experience it can provide. QNAP's NAS can work from day to night. Even without the need to off it every day just like how it is with a PC. For this reason, you will be able to access your multimedia files online all the time using this NAS. Moreover, it acts as your personal cloud that you can access remotely every time you want. As long as you are connected to the internet. You will be able to check your saved files even If you are far away from home.
[amazon box="B0768N5J5Q" title="QNAP TS-453BT3″ image_alt="QNAP TS-453BT3″ rating="4.1″ image_size="medium" description="4-bay NAS with Quad-Core CPU"]
Final Verdict
QNAP is one of the best brands in the NAS industry. It provides a comprehensive set of specs and functionalities that delivers an incredible experience. Most especially in terms of storage capacity and speed. So among these QNAP NAS with built-in 10GbE connectivity, which one interests you the most?