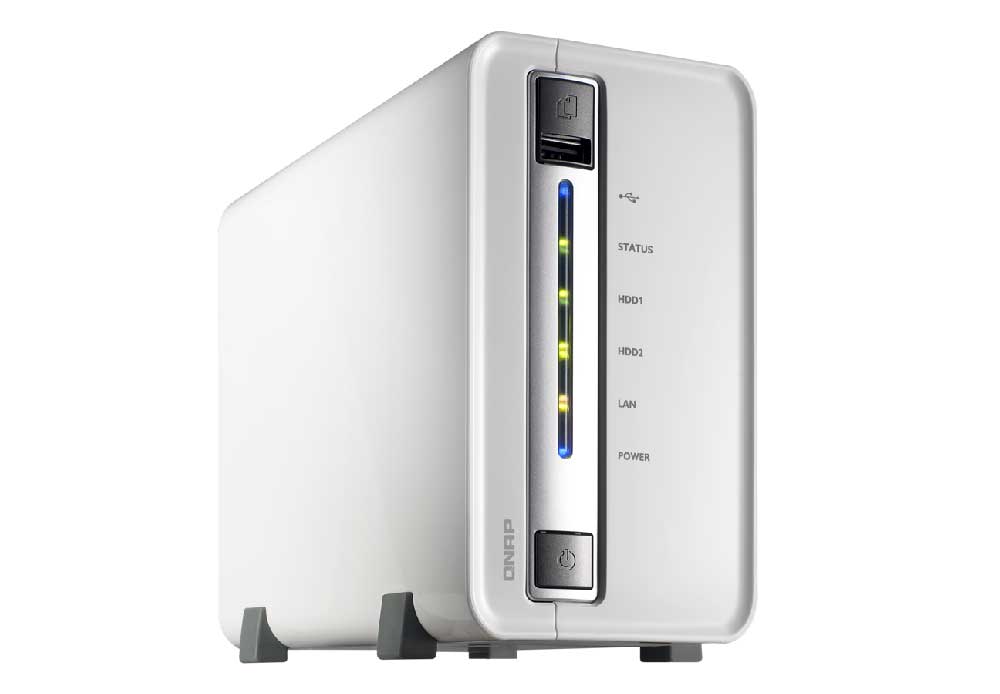 One of the best things about product reviews is that it provides insights for consumers. In this QNAP NAS review, you will about to receive insights that include which product is the best for a particular purpose or which NAS unit offers a lower price. And in line with this, we have here three of the top best QNAP NAS with a price tag under $200. A lot of consumers will definitely love these powerful yet affordable storage solutions.

Updated on 29 September 2023
QNAP TR-004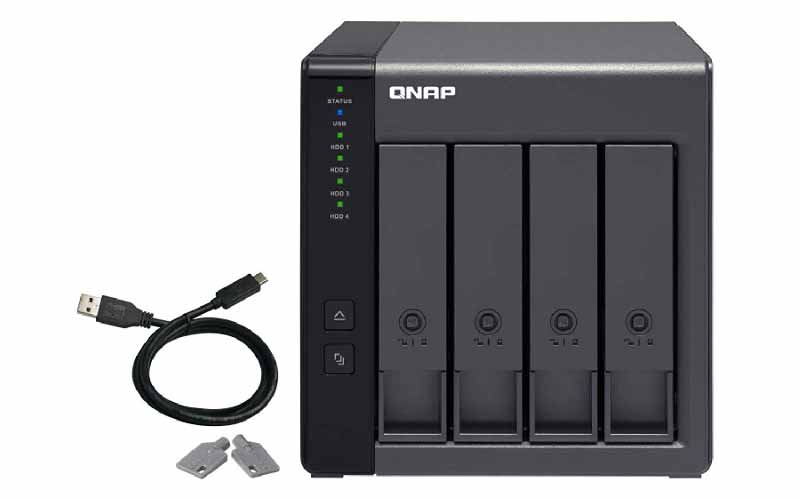 The first product we have in this QNAP NAS review is the QNAP TR-004 that boasts great storage expandability through its 4 drive bays. This NAS is capable of working as a Direct-Attached storage device that allows direct access at its stored contents through a USB connection
In line with this, TR-004 sports a versatile Type-C USB port which is a component known for providing fast data transfer. Moreover, it provides four available 3.5 inch SATA drive bays at Gpbs. At the same time, it supports a wide variety of RAID configurations including RAID 0, 1, 5, JBOD, as well as individual disks. This allows you to store a massive number of data and files while simultaneously ensuring that your data is protected against unexpected drive failures.
Since we are talking about affordable QNAP NAS server devices that you can actually get under $200, we are glad to inform you that all of the above features and specs are offered in a bundle for only $199. I know most of you will be happy about it.
On the other hand, this affordable NAS is enhanced with hardware RAID that is made easier through the QNAP External RAID Manager.  It is supported on Windows and MacOS and you can use it to easily configure any RAID configuration you like.
[amazon box="B07K4RC7X9″ title="QNAP TR-004″ image_alt="QNAP TR-004″ rating="3.8″ image_size="medium" description="4-bay NAS and DAS with RAID"]
QNAP TS-231P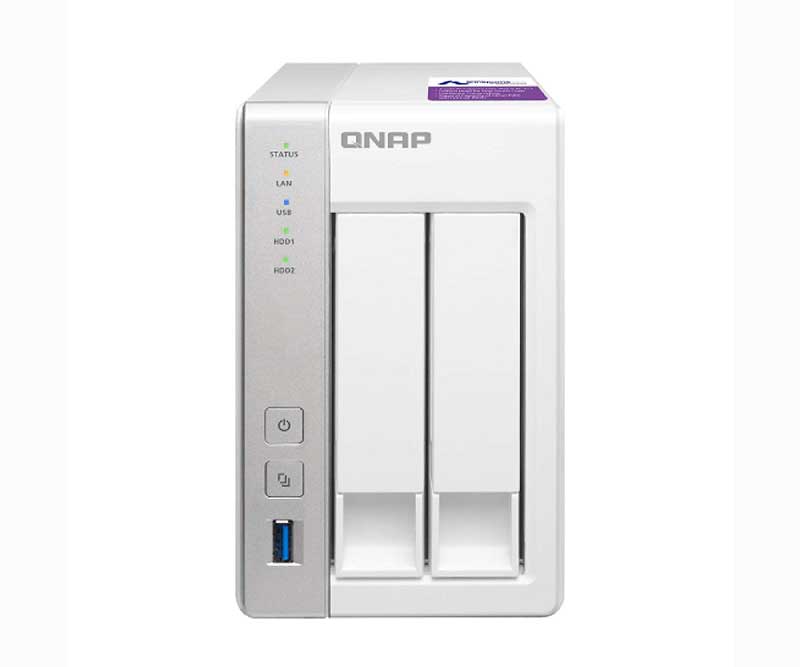 If you only need a 2-bay NAS that is powerful and easy to utilize, here is the QNAP TS-231P that you can get for only $162.52. This NAS is ideal for home offices and small offices and it has a great backup, remote access, synchronization, and home entertainment capabilities. With its several feature-rich applications available, you will definitely achieve the best level of efficiency and productivity you need in order to meet the daily demands of your workload. This includes the Notes Station that allows you to create digital notes in a totally secured cloud as well as share your works with friends and colleagues.
In addition to that, this QNAP NAS setup includes QmailAgent. This application centralizes the management of your email accounts and provides a backup for all your important emails. Like so, it has Qcontactz that also centralizes the way of storing and managing all the contact information you collect.
These applications along with more unique and useful apps are offered in this affordable QNAP NAS drive device without any extra cost included. As a matter of fact, this storage solution is actually considered cost-efficient not only because of its under $200 price but also due to its free inclusions.
Besides, QNAP is one of the most respectable brands in the vast market of high-end storage solutions. Therefore, it is safe to say that this NAS is just another secure and reliable storage that you can trust.
In line with this, the QNAP TS-231P offers extra data security through RAID. In a wide array of QNAP NAS server, this unit also supports this incredible security feature that provides robust protection on your data and files.  It also incorporates AES-256 bit encryption, IP and protocol access control, two-step verification options, snapshot support, and a whole lot more.
[amazon box="B01N78FRVZ" title="QNAP TS-231P" image_alt="QNAP TS-231P" rating="3.6″ image_size="medium" description="2-bay NAS 1GB RAM with RAID"]
QNAP TS-212-E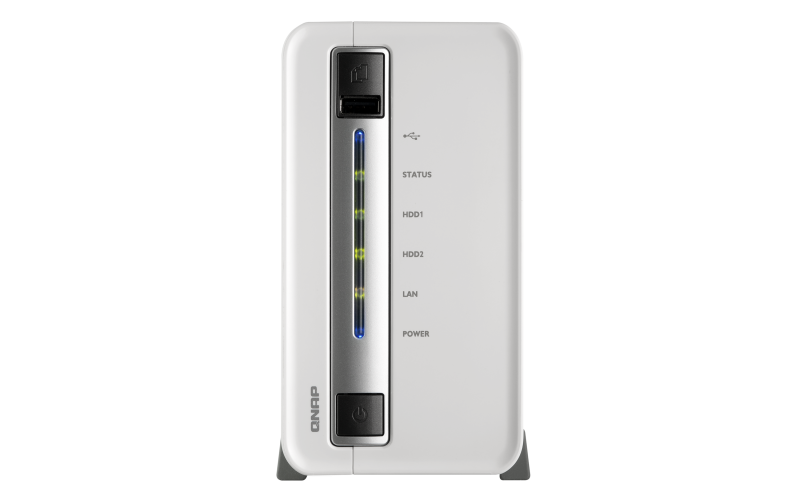 The QNAP TS-212-E is a 2-bay QNAP NAS server that carries only 256M RAM. Apparently, it sports the lowest RAM for a NAS that I have ever reviewed in our entire NAS testing. But don't get fooled, because it actually has incredible features that transform it into a small office must-have.
The most obvious thing that users will love about it is its intuitive operation. This is the brought by zero learning that is included by the all-new QTS Turbo NAS operating that it runs. As a matter of fact, the familiar multi-tasking and multi-window design ability of this sleek operating system enhance the operational efficiency of this storage solution. More so, the significantly intelligent desktop renders a wide range of innovative features. This includes graphic Dashboard, multiple desktops, main menu, drag-and-drop icons, smart Toolbar, and personalized wallpapers.
Actually, learning how to use this NAS comes easy. Unlike other high-end devices that have a complicated design, the QNAP TS-212-E is simple but comprehensive. Aside from that, there is a great sense of freedom with this QNAP NAS server. It includes no constraints which are in perfect contrast with the limited storage capacity offered by public cloud services.
This QNAP NAS offers large-capacity private cloud for those who need better storage to house their data and files. But in addition to that, this device establishes secure centralization and organization of your collection. This is important.
For those individuals who are always on the go, this QNAP NAS setup is perfect for you. Whether you are in a coffee shop or on a bus. You will be able to access your files as long as you have internet connection. This capability is enabled by the brand's myQNAPcloud service. This allows remote access to the NAS.
Furthermore, this storage solution sports Dropbox-like file sync into devices. Therefore, if you think Dropbox isn't enough to handle your storage demands, then better switch with this private cloud today.
[amazon box="B00GWD0H5M" title="QNAP TS-212-E" image_alt="QNAP TS-212-E" rating="3.4″ image_size="medium" description="2-bay NAS 256 MB with RAID"]
Final Verdict
Cost is one of the main reasons why businesses and individuals. Those who require a better storage solution don't consider buying a NAS device. However, if shedding some extra bucks will improve your efficiency and productivity. Then it is worth investing. Besides, we have here these three cost-efficient QNAP NAS that you can actually get under the price of $200. Moreover, these storage solutions incorporate effective combinations of applications, operating systems, specs, as well as features that can boost your performance. Do you think these QNAP products include the one you need? Send us your thoughts by dropping your feedback in the comment section.