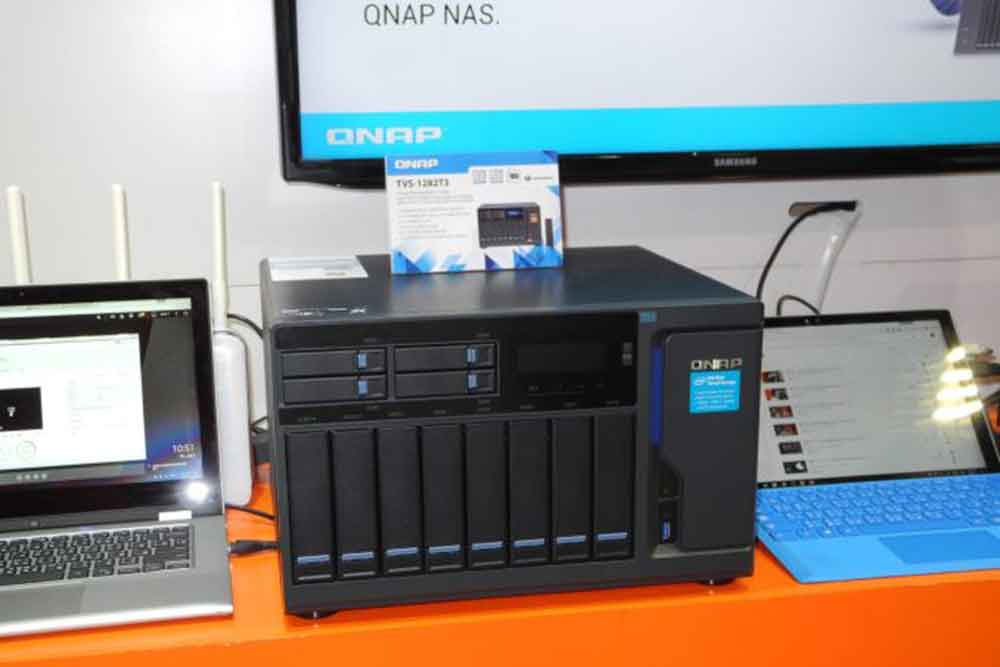 Updated on 4 December 2023
One of the most particular purposes of NAS drives is for multimedia. So, for today. We will bring three of the top 1080p and 4k media server NAS that are utilized for smooth and high-quality disk backup and video playback. Whether it is for easy viewing and cataloging of your photo library or frictionless playback of your music albums. These NAS devices are the best choices you can have. Now, scrutinize them one by one and see if which storage solution pleases you the most.
QNAP TS-453Be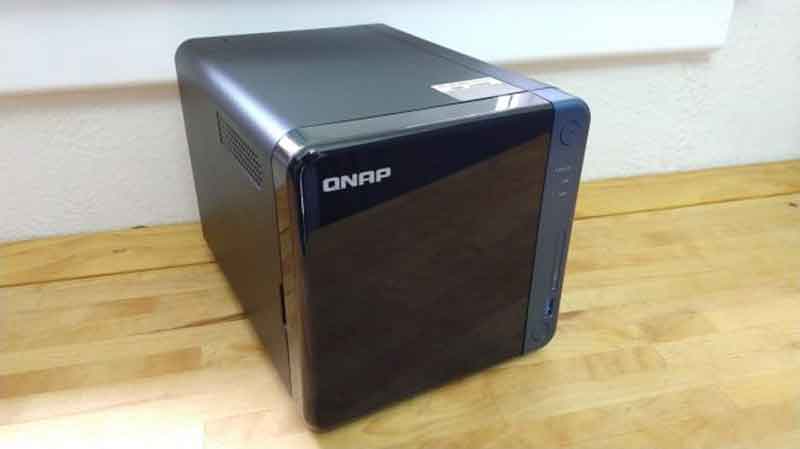 There is no wonder why this NAS 1080p and 4k multimedia server is ideal for home use. QNAP TS-453Be is a compact and high-performing storage solution that can be enhanced with a wide range of PCIe cards.
For starters, the QNAP TS-453Be is a 4-bay professional network attached storage that is powered by a high-performing quad-core processor. Moreover, it features an expandable PCIe that is ideal for SOHO or SMB.
In addition to that, this NAS includes offline as well as on-the-fly video transcoding so you can connect different devices and access your multimedia contents all at the same time. What it does is that it will convert the format of your files so you will be able to access them smoothly and with high-quality in any kind of devices.
More so, it exercises the complete potential of its PCIe slot using its M.2 SSDs together with Qtier. This application works by moving the latest data you used to the sleekest SSDs on your NAS device. This is to provide better and more efficient Hybrid HDD/SSD solution.
Since you are looking for the best 1080p and 4k multimedia NAS, QNAP offers better compatibility over different connections such as Google Chromecast, Roku, Amazon Firestick, DLNA, AppleTV, and a whole lot more. You can use this storage solution not just to backup your favorite movies and songs but also make all your streaming moments easier and worthwhile.
[amazon box="B07BB7NR2H" title="Synology DiskStation DS918+" image_alt="Synology DiskStation DS918+" rating="4.5″ image_size="medium" description="4-bay NAS with Quad-Core CPU"]
Synology DiskStation DS918+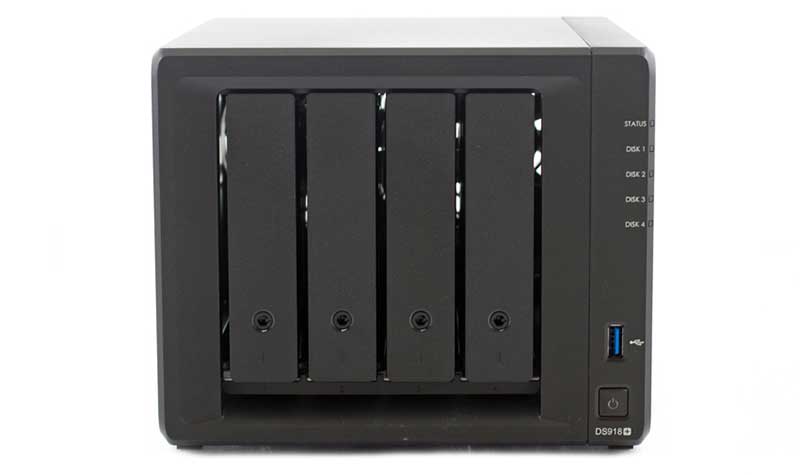 The second 1080p and 4K multimedia NAS we tested is none other than Synology DiskStation DS918+. With its sleek ability to transcode 2 4K streams at about 30FPS. This Synology 4k multimedia server provides both robust specs and the most advanced network-attached storage operating system.
It includes 4 drive bays and two M.2 NVMe slots. Plus, it features 1GbE connectivity that provides enough bandwidth speed for a fast file transfer, restores, and backup.
Aside from that, this NAS is specially designed for medium and small sized businesses who are in need of a storage solution that can deliver accurate and outstanding performance. It is also ideal for home use specifically for families who need expandable storage for their growing media library. This network attached storage is also perfect for easier and smoother multimedia playback that every movie junkies will love.
Looking under its chassis you will find the robust quad-core Intel Celeron J3455 and a 4GB RAM. You can actually expand its RAM for up to 8GB. Its RAM can deliver a maximum of 225MB per second read as well as 221MB per second write speeds. This will be used for encrypted files through AES-Ni hardware encryption engine.
Considering that this storage solution is capable of transcoding two channels of 4K videos. This Synology 4k multimedia server is the best fit not just for movie junkies. But also for every professional creative who require massive capacity and smooth 4K transcoding features.
Besides, it provides high-quality and hassle-free video playback on different devices such as on HD TVs, mobile handsets, digital media players, and computers. Another thing that you will like about it is that it comprises the Btrfs file system which is known for its strict data protection and relevance for those needing a NAS for data management.
This NAS covers a full 24/7 smart security solution for those who are utilizing a security system. Whether it is for home or office, this NAS offers not just massive storage but a scalable storage solution that can keep and protect a whole library of surveillance footages.
This is also to ensure that your files are controlled and safe so Synology equipped this NAS with a solid and bulletproof backup that you can surely rely on.
[amazon box="B075N1Z9LT" title="Synology DiskStation DS918+" image_alt="Synology DiskStation DS918+" rating="4.5″ image_size="medium" description="4-bay NAS with Quad-Core CPU"]
QNAP TVS-882BR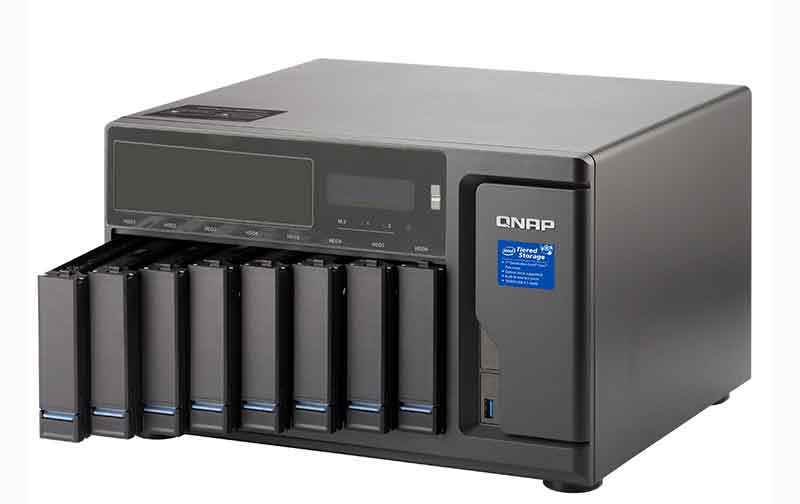 For burning and backup of disc, this Blu-ray and RDX backup 4K media server NAS is the finest you can ever find. It is powered by a multi-core 7th generation Intel 14nm processor that makes this network attached storage a powerhouse of efficiency.
To start with, the QNAP TVS-882BR includes a 32GB RAM that you can expand up to 64GB. Like so, you can find 4 LAN ports and 1 built-in 5.25 inches Blu-ray disc burner in this NAS. This is where you can burn disks for better and long-lasting data backup.
The 5.25 inches SATA expansion bay is where you can install an appropriate RDX docking station or a Blu-ray disk drive. This is where you can burn all the content of your NAS device on a single disk. You can do this using a popular disc authoring software namely Nero. This solution is for long term storage as well as supports easier file sharing for teams.
In addition to that, this 1080p and 4k multimedia server NAs also supports QRM+ unified remote server management, container and virtual machine applications, QvPC technology, and storage for virtualization. It also has triple HDMI output that enables direct disc playing using Linux Station. Apparently, this makes this NAS perfect for movie streaming as well. All in all, the most notable capability of this 4k multimedia server NAS is to enhance collaboration among teams or groups. Let alone that it is incredibly easy to install and quick for sharing and backup.
[amazon box="B074VLM6YL" title="QNAP TVS-882BR" image_alt="QNAP TVS-882BR" rating="4.1″ image_size="medium" description="8-bay NAS with Multi-Core CPU"]
The Final Verdict
There are three things that you need to consider when buying a 1080p and 4k media server NAS. This includes capacity, access, and playback. Among the three NAS devices that we reviewed. The best pick in terms of capacity is the QNAP TVS-882BR given that it has 8 drive slots. On the other hand, QNAP TS-453Be is the best for its easy accessibility. Lastly, we commend each NAS for their great support for smooth playback. But we love how Synology DS918+ combine it with bulletproof data protection. This provides security over your files from sudden data loss.