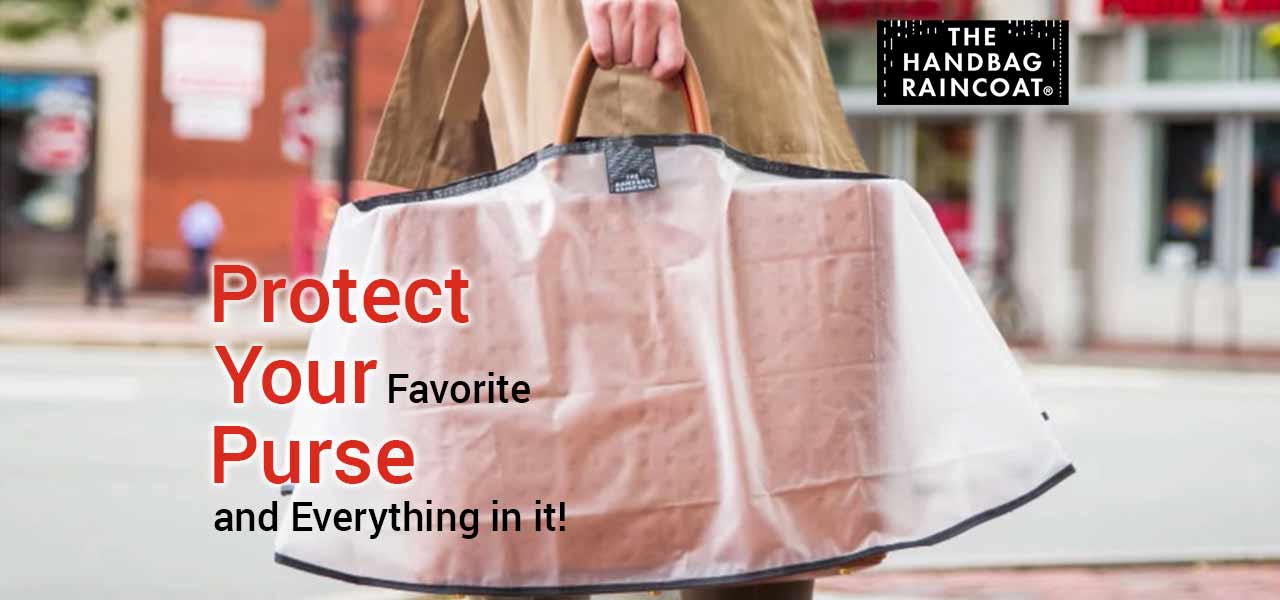 I could imagine how every woman takes care of their precious handbags like it is their own baby. It is even more when the ones they have is a designer bag that cost a huge amount of fortune. However, everything new will soon be old and that was irrevocable. But the thing is, we can actually protect the handbags we have. And prolong its life and that is through bag rain cover called the Handbag Raincoat. Make it yours.
A handbag itself is not the only subject to ruin if we talk about the hazardous weathers we can NEVER forecast accurately by ourselves. As a matter of fact, you might be more worried about its contents that might include your favorite designer makeup, smartphone, important documents, and identification cards and more. Which is why don't be caught unprepared any longer and take the amazing bag rain cover known as Handbag Raincoat with you always.
Updated on 3 June 2023
The Handbag Raincoat? What is it?
Have you heard about a plastic skirt that can fit perfectly over your bag? That exactly describes the new bag rain cover we got here. This stylish plastic bag rain cover acts as a protective exterior from the hazardous weather or elements that can ruin not just your bag but also the valuable things inside it. Like so, you might find the word plastic cheap but mind you, this genius rain protector comprises a high-grade opaque plastic slip designed to perfectly cover most of the medium-sized purses. Not only that, but it also comprises a Velcro top that closes around the straps of your purse. This prevents rain or snow to damage the interior of your bag.
Do you still remember those days when you have to watch the day's weather forecast first in order to confidently choose the bag you are about to use? With this amazing bag rain cover, all of those days will be gone in an instant. No more unprepared days nor totally rain-soaked handbag. You can now be out and about with no worries with this simple yet powerfully helpful innovation.
How Does It Work?
Expensive things are NOT always durable, in fact, they can be incredibly fragile too. A good example of this is designer bags. These things are so expensive and fragile that you have to protect it like a child always. Most of the time, designer bags comprises leather, fur, suede, or silk materials on the outside that can be easily damaged by dirt and water. Once touched by rain or snow, it can leave permanently marred or discolored. And that means you will lose a lot of money in an instant or a bag that you can never have again. But there is another worst thing that can ruin not just your bag but your day too. If water gets inside your unprotected bag, that means huge trouble for you. It is especially if you have important things inside it. More so, trust this new rain protector to keep your lovely bag and its content to stay lovely and secure as is.
This sleek bag rain cover can be easily utilized and what you only need to is to slip it over your beautiful purse. After that, secure the inside of your bag and its contents by closing the Velcro across the top around the straps in a tight way. Just like a normal raincoat that we use to protect ourselves from rain and snow, this cool bag rain cover also works the same way. In fact, it does not only protect your bag against rainwater but also from sand, snow, and dust. The moment you put it over your bag, all of these elements can no longer penetrate. What actually happens is that it will all roll just right off the high-grade plastic which leaves the bag and everything in it safe and dry. It can fit your medium-sized purses with its 33 inches L X 13 inches H measurement.
Imagine Oprah and Ellen Showing a Thumbs-Up
This cool and very fashionable product is a really smart innovation, in fact, even Ellen Degeneres and Oprah Magazine have approved this with the Handbag Raincoat review. In the famous Oprah Magazine, it is said that this newest bag rain cover is definitely a style problem solver. Well, who can't say that it is not? Obviously, it is a fashionable way to protect bags that can NEVER let you go out of style. Its opaque high-grade plastic material is designed well to protect your designer bag. And this is without having to compromise beauty and your own unique style.
Also, if you are watching the Ellen Show and you have heard what Ellen Degeneres said to Kym Douglas at the time she introduced this clever raincoat bag cover, you will surely get one for you at that very moment too. The famous TV personality says that this easy to use bag rain cover is a GOOD IDEA. Yes, she approved its concept and in fact, she looks amazed as she said it.
Moreover, to show that this amazing product is worth investing in your money and time, we would like to boast that there are some of the reliable media where the Handbag Raincoat review is conducted. Explaining how this product is effective and definitely a must-have, media like Insider, Good Morning America, Bustle, Buzzfeed, Oprah Magazine, The Ellen Show, and Huffington Post included this coolest rain protector on their recommended items.
Use It in 4 Steps
Ease of use is one of the things we are looking for a handbag protector cover. More so, check how this sleekest rain protector can provide you that. It will just take 4 easy steps for about 5 to 10 quick seconds for you to give your bag absolute protection. Check them below.
Step1: When it rains or snow, pull out your Handbag Raincoat from its tiny carrying ouch.
Step2: At the top of this sleek handbag protector, pull the 2 tabs apart in order to release the plastic protective Velcro closure and then create the top hole for entry.
Step3: You have to place the lightweight rain protector just perfectly right over the top of your bag. Meanwhile, position the handle across the top entry hole.
Step4: Make sure to line up the pull tabs correctly and securely reclose the Velcro closure to seal the top entry hole of your bag. In this way, you can guarantee that your bag and its contents are totally safe from water to seep in.
A Protective Cover That Would Never Get in Your Way In
Well, some of us may think that it would be hard to get and put things inside the bag if a plastic raincoat is securely covering it. However, this sleek rain protector is not what most of us imagine. As we can see, the Velcro top closure of this outstanding purse raincoat prevents water from entering the interior of the bag. Without it, water will surely get inside and ruining the contents of your bag. Moreover, that is not the only cool thing about this safe closure. It is because Velcro top also has a design that can make it easier for you to get your hand inside your bag. Like so, it helps you get what you need easily. To do this, you just have to pull the tabs apart nicely at the top of this amazing bag protector then get your things in a quick second. No sweat nor hassle included.
Things You Will Love About This Sleek Item
Best for Small and Big Purses
With its 33 inches width and 13 inches length, you can fit small to big purses and use it all the way. So, try it on your carry-all handbags, small crossbody bags, and all sizes in between.
Lightweight and Compact
Most of us hate to bring umbrellas and anything that we might need just in case of an emergency. It is because of the fact that it will just make our bags heavy and that it can get in the way. Good thing that the new stylish bag rain cover is amazingly lightweight and it has a compact design that makes it easy to carry and ideal for everyday use. With these features, you can now be ready at all times and never let your bag get caught in bad weather conditions at all.
It Keeps Your Bag Fashionably Protected
As you can see, this amazing item will never make your bag cheap nor get you out of style. In fact, it offers protection and beauty at the same time. With this lovely innovation, you can now leave those grocery bags behind when rain suddenly pours on your area. Likewise, you can now free yourself from using your coat to hide your bag from snow. Match your bag perfectly with protection that will never make you cheap and unfashionable. This outstanding bag rain cover boasts a water-resistant opaque plastic material. Moreover, this can perfectly help people see the beauty of your designer bag through. Its design and color will surely be visible.
Protect Your Things in an Affordable Price
To conclude this Handbag Raincoat review, people love how this amazing bag rain cover offers a combination of beauty, security, and affordability in one. To place your order you can visit their official website. In fact, one raincoat only cost $15.99 each. And that is a great deal for a useful bag raincoat like it. Furthermore, you might also love to share it with your friends. Besides, it is a perfect gift for every woman who loves handbags more than anything else.
Buy Now
Handbag Raincoat: Review
This stylish plastic bag rain cover acts as a protective exterior from the hazardous weather or elements that can ruin not just your bag but also the valuable things inside it. Like so, you might find the word plastic cheap but mind you, this genius rain protector comprises a high-grade opaque plastic slip designed to perfectly cover most of the medium-sized purses.
PROS
Durable
Affordable
Fashionable
Secure