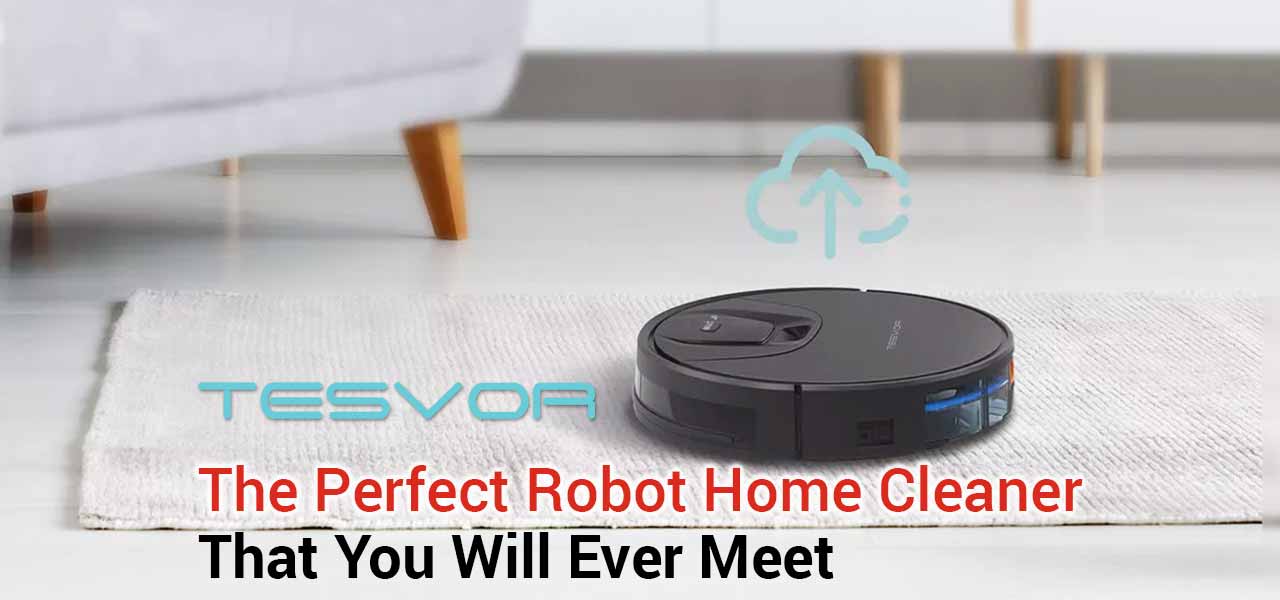 Vacuums are one of the easiest tools to clean various surfaces but most people are complaining about how monotonous and boring it is to use it for cleaning. More so, we are now in a fast-paced generation that cleaning with a traditional vacuum alone is not enough. For this reason, people are now switching to robot vacuums that work wonderfully and quickly compared to the existing cleaning tools we utilize. In this Tesvor robot vacuum review, we will allow you to learn about the robot vacuum of the future and that is none other than Tesvor robot vacuum. So, are you ready to plunge head first into the future of cleaning?
Updated on 27 November 2023
Getting to Know Tesvor
Tesvor develops efficient robot vacuums with intensive smart planning and sleek designs to help people create a cleaner and smarter living environment. They commit themselves into building a robot brand that will lead the global market through the high-quality technology they provide. Tesvor owns various advantages on technology, cost control, and quality assurance in the industry of vacuum robotics. More so, the company holds a strong R&D team comprising more than 100 competitive and excellent members that include engineers.
This team has developed different navigation technologies such as Vslam and Eslam that are advanced and proven when it comes to functionality. All in all, Tesvor delivers high quality and incredibly cost-effective products that possess industry-leading tech for all consumers. They believe that an excellent robot vacuum must be capable of covering the overall needs of your home as much as possible, as well as showcase deep cleaning while saving effort along the way. An excellent vacuum robot has to reflect the intelligence and excellence of a robot.
Furthermore, Tesvor is a smart and unique brand that provides the most reliable robot home cleaner that you will ever meet. Just like how people differ from looks to act, every Tesvor robot vacuum has its own design and features that define the way it works. They provide dependable support to every consumer with their 24/7 customer service.
If you want to a robot vacuum today, chose the place that provides a 100% security for every transaction. In Tesvor, you can avail outstanding packages and global shipping depending on the amount of your order. Buy your own robot vacuum now!
Tesvor Robot Vacuum
In the last few years, Robot vacuums become one of the most needed cleaning devices that are perfect whether it is for home or business establishments. Well, we can easily get the reason why because using its simple and hands-free operation, robot vacuums can independently clean the dirty areas with efficiency and quality.
Today, more and more people love it and people are switching to this high tech cleaning device. But to give you more idea, we will review two of Tesvor robot vacuum. Here they are.
Tesvor x500
In the market of robot vacuum, Tesvor is recognized as a new player. They manufacture quality vacuums and offer them at the most affordable prices you have never imagined. This leading brand of the Chinese company Shenzhen Tian launched the Tesvor x500 robot vacuum which delivers solid cleaning performance using its advanced navigation control features that are most particularly seen on higher priced robots.
Look at the following main features of x500 in which we have listed below:
Wi-Fi Control – This sleek Tesvor robot vacuum is boasting modern controls that you can utilize using an application. Using voice command, you can ask it to start cleaning and stop as needed.
Streamlined Air Duct – Through the streamlined air duct of x500, you will be able to experience more efficient dirt suction directly from floor to filter.
Smart Mapping – x500 is definitely a must-have device and it is applicable to everyone. For an under $200 tech, this robot vacuum cleaner is the only one you can find that features patterned cleaning which is truly amazing.
If you are opting for a robot vacuum that is loaded with a wide range of features, the most ideal product for you is just right across your screen. Tesvor x500 comprises numerous tools that can help to keep your floors squeaky clean always.
3 Stage Cleaning Tools
When it comes to design, you can find the Start and Pause button on top of the device that provides you the ability to easily launch x500 to cleaning mode. It is 2.9 inches in height and 13 inches in diameter which only weights 3 lbs. More so, it utilizes a three-stage cleaning system such as Smart Cleaning, Edge Cleaning, and Spot Cleaning that includes tools such as V Shaped Roller Brush, Dual Side Brushes, Brushless Motor, as well as Streamlined Air Duct. To explain more about these, you can read the following:
V Shaped Roller Brush – in robot vacuums, this brush style belongs as a standard. It is the most effective and excellently low-cost tool you will ever find.
Dual Side Brushes – this style can keep every edge and corners of your house dust free. This is one of the most common tools that works together to remove pet hair and dirt.
Brushless Motor – with less maintenance and less noise, brushless motor is one of the most important things in a robot vacuum. Moreover, its battery can last up to 100 minutes.
Streamlined Air Duct – for optimum cleaning performance, Tesvor ts500xw  includes streamlined air duct for effective and powerful dirt suction that goes straight from the floor to the back of the vacuum filter.
These things aren't the only ones that can satisfy the inner clean freak in you. As a matter of fact, this tiny robot includes high-end anti-collision and drop sensors that allow it to run and navigate safely. With these features combined with the Gyroscope Navigation of Tesvor, you can now cover as much of the dirty areas as possible in just a short period of time. It creates S motions by moving back and forth while cleaning and mapping floors using an accurate and genius precision.
Tesvor ts500xw is the only robot vacuum cleaner that features gyroscope navigation. Using this advanced feature, this cleaning device can automatically adapt to every plains and turn of your home. This proves that this robot vacuum works with intelligence and excellence combined.
Additionally, Tesvor ts500xw delivers autonomous one-key plan system. In this feature, the x500 automatically plots the path for different cleaning and records the cleaned paths. This way, it can excellently navigate to work on areas that are not yet covered that makes it attain up to 95% cleaning coverage compared to random cleaning which only covers 60%.
Smart Cleaning – systematical mapping and cleaning.
Spot Cleaning – single area focus/ spill for minutes.
Edge Cleaning – pick up hair and dust by moving along baseboards and walls.
With its Wi-Fi connectivity, you will be able to control this device through voice command. Tesvor x500 is compatible with Google Home Voice, its intended App, and as well as Alexa. Using its intended app, you are allowed to utilize its smart features which are to customize, direct cleaning, schedule, select cleaning modes, know vacuum malfunction cause and monitor cleaning sessions with any device that runs Android and iOS.
Why Do You Need One?
If you have never considered buying a robot vacuum before, this Tesvor robot vacuum review will make you think about it. The reason why you need one relies on the range of benefits you can reap the moment you utilize the device. Moreover, learn the things you can get from Tesvor robot vacuums so you'll know the reason to buy yours today.
Hands-Free and Fully Automated Operation
If you have a problem physically, the hands-free cleaning of Tesvor x500 is the best solution to help you out. This sleek Tesvor robot vacuum is the perfect cleaning device not only does it improve your daily cleaning routine, but it also does that without exerting much effort and strain on your side. The only thing left to do is to simply hit its Start button so it can begin cleaning your home.
Scheduled Cleaning
In this world full of busy people and overwhelming tasks, Tesvor robot vacuum can help to cut your loads in cleaning without requiring you to neither move nor supervise. More so, if you don't have time to clean your house let us help you out. You can click the button below to visit and buy from Tesvor today.
Smart Cleaning Operation
You can get a sleek and expensive robot vacuum that includes gyroscope navigation but not in an affordable unit. This fact makes Tesvor ts500xw the only under $250 robot vacuum that includes this intelligent surface adjusting mechanism. Who says you can't utilize a powerful and high-end device without shedding many dollars? Well, now you know that you can.
Adjustable Settings
The intensity of cleaning needed in one-floor area is different from another. Therefore, an excellent robot vacuum has to be adjustable and adaptive. Knowing this, Tesvor equipped their product with simple yet useful adjustable settings. Wherein users are allowed to set their preferred cleaning mode.
Low Maintenance
Manual vacuums require more effort and cost in maintenance than robotic vacuums. In fact, the latter is mostly made with high-grade materials that can last up to how many years. In terms of cleaning Tesvor x500, you only need to remove the contents of its container and clean its filter. However, you can always buy a new filter by visiting Tesvor's official website.
Durable/ Long Lasting
Tesvor robot vacuums are durable and long lasting. It is made of high-grade materials that can withstand the labor of cleaning. Even  if it cleans continuously for a long period of time. While most robot vacuums are intended to last for years, Tesvor is a new player in the game that is ready to lead and dominate.
Smart Home Connectivity
Smart gadgets are gradually brought in to the mainstream. And just like most of the devices today. Tesvor x500 includes smart home connectivity to make simple cleaning smarter and better for you. Connect it in your home Wi-Fi network to allow you to control it remotely.
The good news here is that, you can use any kind of Android and iOS device to install its intended application where you can easily do anything to achieve your desired results. Use this smart vacuum to clean all the floor areas in your home without having to be there.
How to Buy It?
For only $189.99, you can now utilize the most affordable robot vacuum that includes high-end features that you can only get inexpensive brands. Tesvor equips all of their devices with the most useful tools that can help all users get a cleaner home in the most excellent price. To visit their official website you can click the button below.
Additionally, you can also find all of the things you need to make the most out of it on their website. In there, you can find a wide range of various accessories. That you might need in utilizing this smart cleaning device. This includes a Magnetic Strip Tape to set boundaries where the robot vacuum has and doesn't have to clean. Explore their best packages now and get the best robot vacuums and accessories in the best prices ever.
Final Thoughts
As a conclusion, we all know that there always are some individuals who really hate that vexing task of cleaning. To the point that they skip cleaning schedules and risk not just their health but their comfort as well. While some have the budget to hire people to clean their homes. There are also individuals who lack the budget to pay for such things. This situation is where we need the help of high quality and efficient robot vacuums. When it comes to power, reliability, and efficacy, Tesvor is more than eligible to consider as the best place for you to purchase your own smart vacuum device. Not only that they offer it with an excellent price. But also with features and tools that you can only get in most of the expensive robot vacuums today.
There is no need to think twice, visit Tesvor while the best offers last.
PROS
Wi-Fi Control
Smart Mapping
pick up hair and dust
Compatible with Alexa, App, and Google Home Voice
Made with Durable Materials
Hands-Free Cleaning