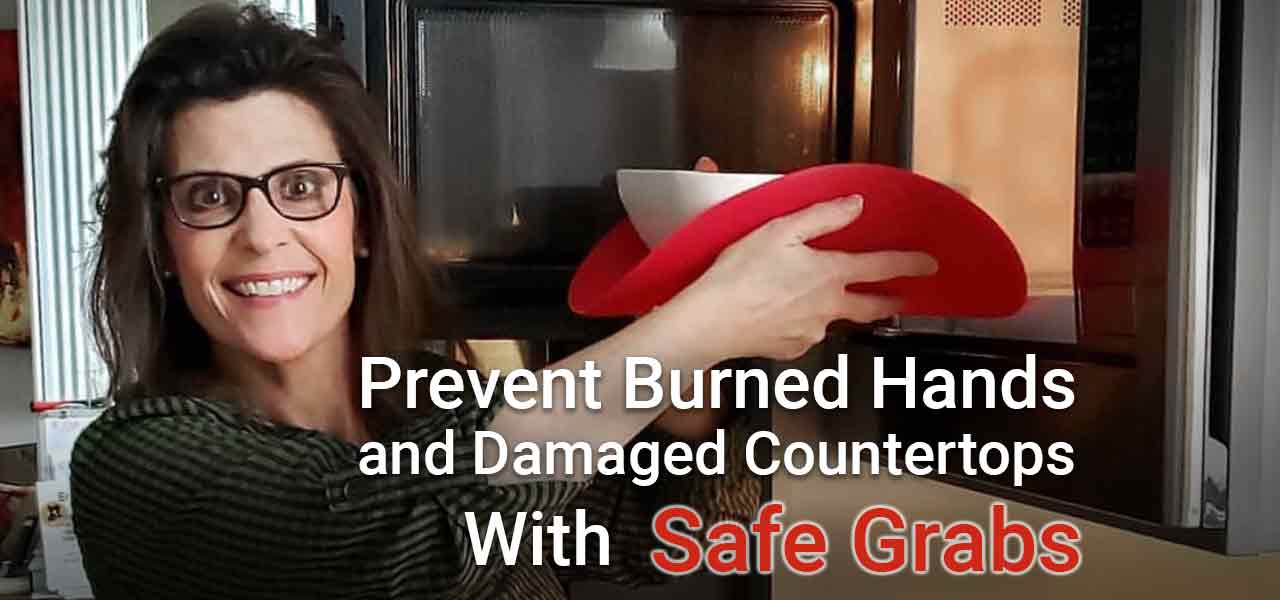 Let's face it. Kitchen accidents happen more frequently than you think. Maybe you tried to take out a bowl of reheated soup from the microwave and then burned yourself. Or perhaps you used a potholder to handle hot food and singed your hand in the process. With its flexibility, great design, and heat resistant features, the maker of silicone Safe Grabs says you can forget about these kitchen disasters. In this Safe Grabs review, let's see how this product holds up to its promise.
Buy Now
Handle food safely with Safe Grabs!
Stop getting burned trying to take out hot food from your microwave. Try this gadget now, risk-free.
Updated on 29 November 2023
Be safe when handling food
Your home is supposed to be the safest place on earth. Unfortunately, entirely preventable mishaps occur when you handle food. Even when you use a cloth potholder, a hot mug could still slip and spill on the counter or you. Taking out food from the microwave is often a risky task since cloth holders do very little to protect you from the heat.
Besides, dishes labeled "microwave-safe" can still be intolerably hot. So you have to wait before taking them out of the microwave. Without adequate protection, what you get are scalds, burns, a lot of broken utensils, and time wasted.
The Safe Grabs microwave mat intends to set the bar high in food handling, and I'll tell you how.
Discover Safe Grabs Silicone Mats
Safe Grabs as seen on Shark Tank, are marketed as heat-resistant and food-grade silicone mats that ensure you don't get burned when you grab hot food.  You can use the mats to replace your old trivets, placemats, jar openers, food covers, pot holders, or splatter guards. The silicone material prevents slippage of any kind, making sure you don't drop a dish.
This gadget also has a patented design of elevated circular ridges that guarantees heat is evenly distributed before absorbed by the silicone. As a result, when you take any hot dish out of the microwave, the silicone Safe Grabs remains unusually cool to the touch.
These mats are round-shaped and sold as a bundle, each measuring 10″ and 12″, respectively. Each mat is microwavable and able to withstand heats until 450 degrees Fahrenheit. Furthermore, each mat is made of food-grade silicone, making it 100% safe for food handling.
For those who crave variety, the mat comes in six attractive colors: True Red, Ocean Blue, Purple, Orange, Grey, and Beige.
How to use Safe Grabs microwave mat?
Using this revolutionary microwave mat is easy. Place one mat in the microwave before placing your dish on top of it. And you can also put one on top of your dish to avoid splatters.
When you're done cooking, just lift the mat from below, to protect your hands from potential burns. Transfer the mat with your dish safely to the table, instantly converting them into a placemat.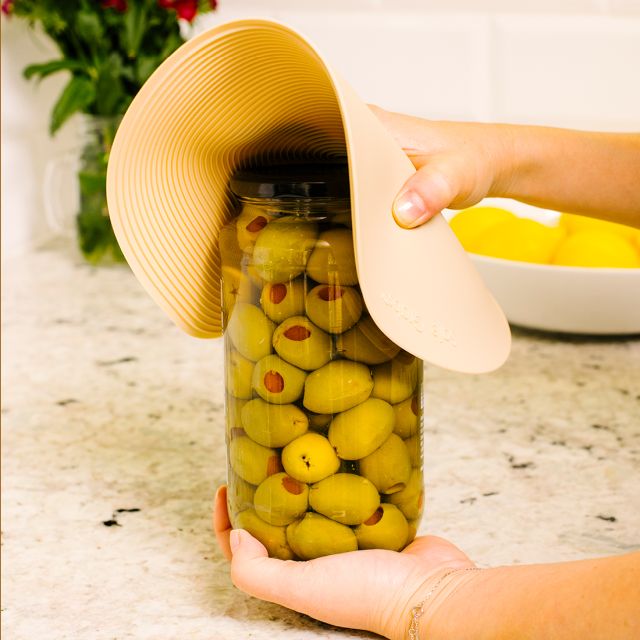 Other than food handling, the mat has other uses. Indeed, you can use it to open jars and bottles, cover a bowl inside the refrigerator, grab hot stuff from the oven, or just protect your furniture from your curling iron.
Benefits and advantages
In this Safe Grabs review, let me tell you about where these mats score high.
Multi-functional
There's more than one way to use the silicone mat. Aside from lifting hot dishes out of the oven, you can use these mats as food covers, funnels, placemats, trivets, pot grabbers, and even jar openers. With so many uses in the kitchen, the mats' multi-functionality is a huge plus.
Comes in Many Colors
Any kitchen aficionado knows how vibrant colors can light up one's mood. The silicone mat comes in six color schemes. In my opinion, the more color choices a brand offers, the better. So, this ticks another box for us.
No-Fuss Cleaning
As much as possible, our kitchen materials need to be easy to clean. These silicone mats are non-stick, so cleaning them is a breeze. You can wash them directly or stick them in the dishwasher without hassle.
Easy Storage
If you need to set aside this gadget, all you do is store it in your microwave. That way, you can rewarm soup or food conveniently.
Fridge-Safe
Keeping fresh food safe inside your fridge is important. You can use the silicone mats as dish covers to preserve food. Simply place the mats on top of the dish to do the job.
Great Jar Openers
Opening jars is no joke. A lot of people, myself included, struggle hard to open jars sometimes. With the mats, you can quickly and safely open jars due to the silicone allowing for a tight grip.
BPA Free
Nowadays, you need to be extra careful of the materials your water bottles or drinking cups are made of. Seeing a "BPA-free" label on any dish gives the reassurance that it's safe to drink out of. Not only is the silicone Safe Grabs food-grade, but it's also BPA-free, too.
Portable
The mats are designed not only for kitchen use. They're perfect for use in any occasion and location.
Users' Safe Grabs reviews
I read about it in a Safe Grabs review. I'm clumsy in the kitchen. I have every kitchen accessory there is, but I haven't been able to find a potholder where I could stay away from burns. The Safe Grabs microwave mats are really something of a miracle.
I like how tidy and neat my microwave oven because of the Safe Grabs Shark Tank. I use it as a splatter guard and it really does its job well. Kudos!
I bought the silicone Safe Grabs microwave mat a month ago, and I've told my friends all about it. I wish there were more colors to choose from! When I bought them online, I only got to choose from three!
Safe Grabs Price and money-back guarantee
The silicone mats seen on Shark Tank are not inexpensive as far as other mats go. And you can probably find cheaper alternatives. But in my opinion, the price is worth it., especially with our special offer including a discount and free delivery in the US.
Where to buy Safe Grabs? We'd recommend you to order them online to get the best possible deals.
Conclusion
Wrapping up this Safe Grabs review, these silicone mats are a smart and handy way to kiss kitchen mishaps goodbye. With its excellent design, heat resistant features, and versatility, this silicone placemat delivers on its promises.
PROS
Heat-resistant
Easy to use
Performs a number of functions
Food-grade and 100% safe
CONS
Not the cheapest silicone mat in the market