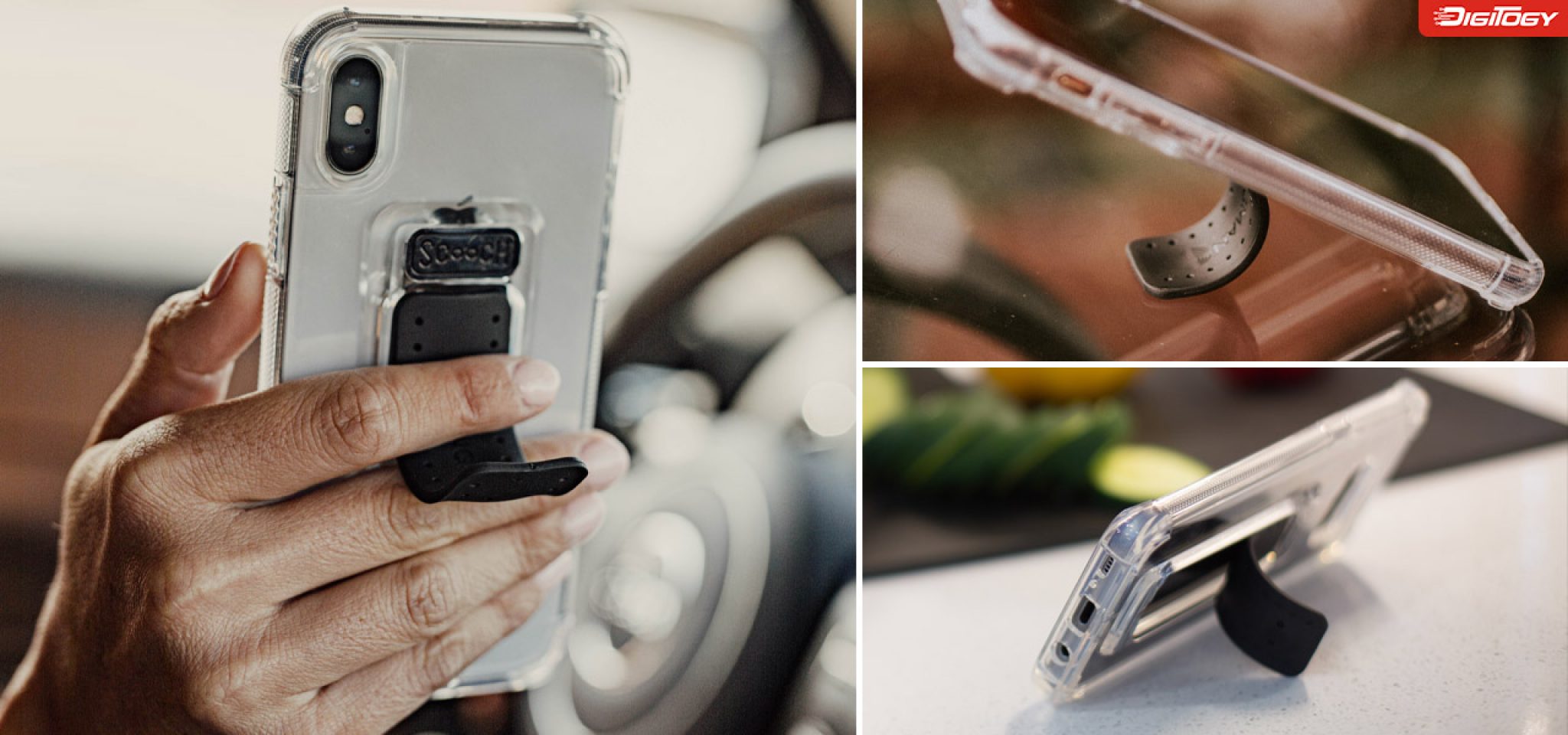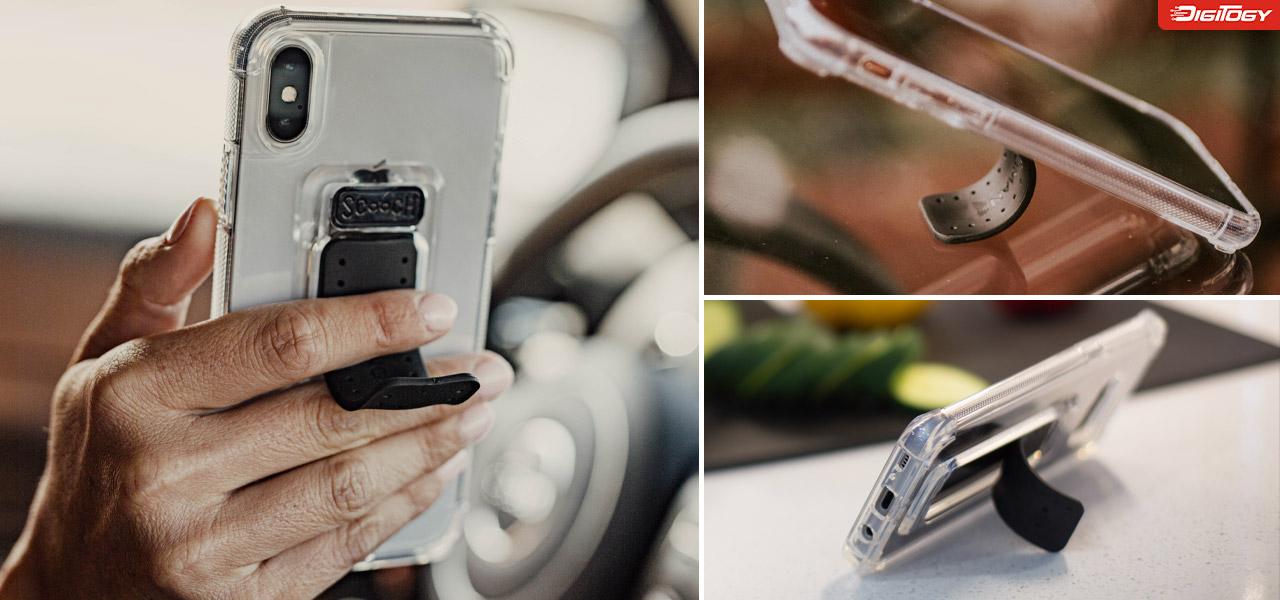 There are a lot of smartphones that cannot be held with a single hand let alone typed with. That is why some people buy cases with rings at the back. This is to ensure that their hands can better grip the phone. Unfortunately, cases like that make your phone get bulkier.
The Scooch Wingback offers an alternative solution. Similar to pop sockets, the Scooch Wingback provides a grip for your phone, but with an added cool factor
Continue to read our review to learn more about Scooch.
Get Discount here
Get Scooch Wingback with 25% Exclusive Discount
Make your phone more functionality with Scooch Wingback. Check it out now to get 25% Discount.
Updated on 25 September 2023
What is a Scooch Wingback Grip?
Before we start this scooch wingback review, we must understand what the scooch phone grip is all about. The Scooch Wingback is great because it doesn't make your phone feel bulky. So you won't have to worry about dropping your phone when streaming , driving, taking, or jogging down the street.
PROS and CONS Of  The Scooch Wingback Universal
There are a lot of advantages that come with purchasing the scooch wingback universal smartphone grip. One of the advantages is the stable portrait and landscape mode it provides for you. The scooch wingback universal kickstand also deploys nicely which makes it very convenient to use. The wingback also works excellently well when it is used in the car.
However, there are a few cons that you should note about this phone stand. Nothing is perfect and the scooch wingback is not perfect. One of the cons of this phone stand is that it does not allow wireless charging. So, if your phone has wireless charging capabilities, you will need to remove the scooch wingback before placing your phone on the charging pad. The scooch phone also can't be moved from one phone case to another.
The Scooch Wingback universal smartphone grip emerges and may be inserted into most horizontal air vents without a car mount. For enhanced stability in your car, the scooch wingback phone grip can be linked with the Scooch compact yet powerful magnetic holder because it is also magnetic. With just one hand, you can access every area of your screen.
Additionally, the Scooch Wingback phone grip has an adjustable clamp that keeps your phone firmly in place as you take selfies from various angles. Therefore, this is the phone grip you need to purchase if you want to take the perfect selfie.
This pop-up phone grip can be your greatest buddy if you're one of those people who enjoy utilizing their smartphone as an in-car navigation system. No need to be concerned about any unpleasant motions or vibrations when driving and navigating through various roads and tracks—just put it on your car's horizontal air vent mount.
Features
If you've gotten this far in the Scooch Wingback review then you might as well continue to know the awesome features of this amazing product. Below are a few noteworthy ones.
With the Scooch Wingback's firm hold, you'll never drop your phone again. Instead, take advantage of improved selfies and images, which are easily accessible from any screen corner, without worrying about costly mishaps. So this pop-up phone grip has you covered whether you want to master multitasking or enhance your selfie.
The Scooch Wingback's adhesive is so powerful that it can adhere to almost any case or material and won't tear off. Additionally, you can remove it from your device if necessary.
One of the biggest features is the fact that it allows both horizontal and vertical viewing. The Scooch Wingback universal is the ideal phone kickstand. When you need it, it's there, and when you don't, it's out of the way.
You can enjoy the best view possible for both horizontal and vertical viewing thanks to Wingback's cleverly curved design. It can be utilized for video conversations, browsing news feeds, watching movies, and any other task requiring a hands-free viewing environment.
Rugged Design and Compatibility 
The sturdy kickstand on the wingback bends since that is how it is intended to, so don't be concerned. It won't crumble. Instead, the incorporated metal spring increases longevity and functionality. Rubber and shatterproof polycarbonate plastic are used in its construction.
A versatile magnetic device— the scooch wingback may be used with practically any phone, cover, or mount. On their website, Scooch also sells a universal magnetic automobile mount in addition to the Scooch wingback grip.
The scooch phone grip fits right into your pocket. It is less than a quarter inch thick and fits very well into the pocket. The ingback is also designed with road safety in mind. Remain focused on the road with both hands on the wheel. The Scooch Wingback grip can instantly transform into a car mount by sliding into the vents of your air conditioner, where it won't move.
Now, while keeping both eyes on the road, you can easily check GPS navigation, make hands-free calls, and manage your playlist.
Where Can I Buy The Scooch Wingback?
It is recommended that you buy the scooch wingback from the official website. This is because you are most likely to get it at a discount and you are sure of getting an original product.
Additionally, you can occasionally receive offers for a cheaper price or better discounts if you purchase many items. You can visit their website to view the most recent scooch wingback pricing and promotions. Scooch wingback offers a 30-day money-back guarantee and is returnable and exchangeable. For $4.99 on the scooch website, you can purchase the "Scooch Warranty Program – Case Replacement" and receive a replacement Wingman, Wingmate, or Wingback product.
Payment Options
Pay for your orders using VISA, Mastercard, Amex, Discover, or other credit cards. For faster delivery, use digital payment methods like Gpay, PayPal, or shopPay.
Money-Back Guarantee
Scooch phone grips come with a 30-day return policy. If you're not satisfied, return the product within 30 days for a refund (excluding shipping fees). Package the item with its original packaging and include the order number and packing slip. Email support@scoochcase.com for a return label, then ship the product to Scooch's return address. Scooch will review the returned product and determine if a refund is appropriate.
Promotions
Take advantage of Scooch's current promotions: new users receive a 15% discount, and various packages have discounts of up to 40%. A single package is now $14.99 (25% off), a pack of 3 is $39.99 (33% off), and a pack of 5 is $59.99 (40% off).
Best Way To Install and Use Scooch Wingback Grip Universal
Thanks to this Scooch wingback review, you now have a basic understanding of the strength and weaknesses of the Scooch wingback universal. But how can it be installed? Read on.
The installation of the scooch wingback universal only takes a few seconds. Use a moist cloth to begin cleaning the cover, followed by a dry one. Remove the adhesive liner, align the scooch wingback universal in the center of the phone, and press down for a few seconds after cleaning the area.
The scooch phone grip will adhere to any phone and phone case because of its incredible strength. Be careful not to use too much effort when removing, it since the powerful adhesive may crack the glass backing on more recent phone models.
This amazing product will change the way you use your phone. Because of its elasticity, it won't fracture or break under pressure, so you may remove it from your case without difficulty if necessary.
You can use the Scooch wingback universal phone grip by sticking it to your phone case using its powerful adhesive strength. When you want to use the Scooch wingback, you can press the spring and it will pop out. With the Scooch phone grip, you can hold your phone normally but more securely. The Scooch wingback universal prevents accidental drops. It is also an innovative two-way kickstand that allows you to pop your phone horizontally for streaming videos and vertically when you are scrolling through social media.
Scooch Wingback Reviews from users
As a potential customer of the Scooch wingback, I know you are probably wanting to hear what other users of this product have to say. This is because customer reviews are the real experiences shared by actual users of a product. So, we checked the internet and found out what people are saying about the Scooch wingback. We concluded that customers are satisfied with the product and the service.
You need to check out the wingback before you buy it for the pocket carry. Scooch wingback won't, however, unintentionally pop up in your pocket or feel big due to its sleek design and dependable deployment mechanism.
In the case of unfavorable evaluations, we discovered that some users noted that the Scooch wingback has a small gap between the grip and the phone, through which sand and debris can readily enter.  A client also noted that the Scooch wingback isn't for people that are rough because the wingback isn't rugged.
An additional user reported that the glue came free. It's vital to note that your phone or case being unclean or oily is the main cause of wingback losing its adhesive properties. Therefore, be sure to install it correctly.
Below are some Scooch wingback reviews from previous users:
"I had my doubts when I wanted to buy the scooch wingback because of all the bad experiences I've had with phone cases. Fast forward to two months after and I'm recommending this product to my family and friends"

"This is by far the best phone stand I've ever used! 10/10"

"I wish it could be a bit more rugged due to the nature of my job. But, I will still definitely recommend this product"

You might be the next in line to share your scooch wingback when you make your purchase.
Alternatives to Scooch Wingback
If you're searching for a phone accessory that offers enhanced viewing experiences, consider the GoDonut phone stand. This innovative stand can prop up your phone at 45, 70, and 90-degree angles in both portrait and landscape modes. It's also designed with patented FLEX technology to keep your device from toppling over.
While the GoDonut (Mini) starts at the same price point as the Scooch Wingback at $14.99, some of the other designs may come at a higher cost. You can learn more by reading a review of GoDonut.
Scooch Wingback FAQs
Here are answers to some of the most commonly asked questions about this popular phone grip and stand.
Is Scooch Wingback Good?
Yes, the Scooch Wingback is a sleek and functional phone accessory. You can attach it to most phone and tablet covers to use as a stand and holder. It can also serve as a car mount and even supports laptops. Plus, it offers landscape and portrait viewing options.
In addition, the Wingback is sturdy, long-lasting, and has a strong adhesive to prevent your device from falling.
Is the Scooch Phone Grip Fake?
No, the Scooch phone grip is not a fake product. Many people have used it with positive results, providing support for their mobile devices. Additionally, the manufacturer offers a 30-day money-back guarantee in case the product doesn't meet expectations.
Where is the Scooch Phone Grip Made?
The Scooch phone grip is manufactured in China and is the product of Scooch, LLC. It is designed and decorated in the USA.
Is the Scooch Phone Grip Legit?
The Scooch phone grip has registered trademarks for Scooch® and Wingback®. It is backed by a one-year warranty and eligible for a 30-day refund with proper returns process. You can also register for the guarantee for extra protection.
Does the Scooch Phone Grip Work?
Yes, the Scooch phone grip is a highly functional accessory, serving as a grip, stand, and car mount all in one. Its slim design does not obstruct the appearance or functionality of your phone and even allows for more convenient landscape and portrait viewing. Overall, it provides better grip and flexibility compared to many other phone holder options.
Final Thoughts
Whether you are looking for improved phone ergonomics or you just want to have a better phone grip, the Scooch wingback universal is the way to go. You may have been suffering screen cracks and have been looking for a phone grip that will save you trips to the phone technician now and then. Vertical and horizontal viewing of the Scooch phone grip is also an advantage.
We hope this Scooch wingback review is all you hoped it would be!
Scooch Wingback
Excellent Phone Grip
Scooch Wingback Rating And Summary
Scooch Wingback is a phone grip, stand and car mount all in one. It is designed to work with most phones and tablets, and even some laptops. The device offers landscape and portrait mode viewing, and its strong adhesive ensures a sturdy grip that won't drop your device. Scooch Wingback is made in China and designed in the USA by Scooch LLC. It comes with a one-year warranty and a 30-day refund policy. It has received positive reviews for its ease of use and multi-functional capabilities.
PROS
It comes with dual positioning.
It fits well into the pocket
It is very durable
CONS
It could be a bit more rugged.
It doesn't support wireless charging.