Following the disappointing Q1 profit figure of Samsung, the company is also reported that it is losing its top spot in India. More than a year ago, Samsung has lost to Xiaomi for the top smartphone provider in the country even if it has not directly admitted by the South Korean electronics giant. While it seems that the company is less likely to lose its second place position in India, the new data in smartphone shipment tends to show a weak disposition of the company at the moment.

Updated on 29 September 2023
7.3 Million Samsung Smartphones Was Shipped in India
Based on the report from Canalys, the South Korean electronics manufacturer sent about 7.3 Million units of smartphones in India. This data reflects the first quarter of 2019. Compared to the number of shipped Samsung phones India 2018 during the first quarter. The recent number of shipped smartphones shows a small drop of about 200,000 smartphone units.
The four smartphone vendors in India today are Xiaomi, Samsung, Vivo, & Oppo. With this particular order, the only smartphone brand that ships fewer units of smartphone year after year is Samsung. And what is even worse is that Samsung also lost its market share in India this previous quarter with about a bit less than 1%. Well, 1% is such a big deal especially if we are talking about market shares and big companies.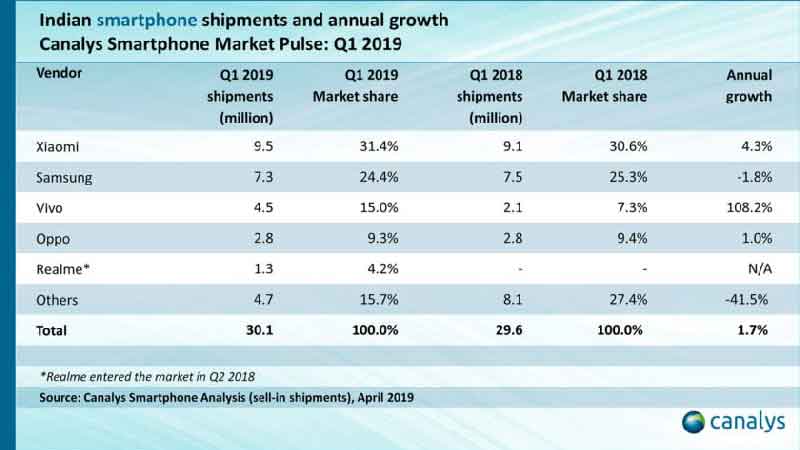 Apparently, the previous, as well as the current troubles of Samsung in India, is an effect of the various woes of the company worldwide. This is the reason why the news about Samsung losing its top position in India is not that too surprising anymore.
On the other hand, India is still a very significant market for every smartphone provider. This is because it is one of the rare markets that shows growth year after year. Which means, it is considered as an opportunity for a huge revenue for all smartphone vendors. Consequently, the decreasing market share of Samsung India phones is totally bad news.
Vivo is Taking Over
For India, the news about Samsung's shrinking market share is not that all bad. Why? It is because the country still has its number one smartphone vendor which is Xiaomi which increased its market share for about 4%. As a matter of fact, it has sent about 400,000 more smartphone units compared to the number it shipped last year.
On the other hand, Vivo is considered the real star in India recently. Based on the report from Canalys, the said phone vendor sent about 2.4 Million more units of smartphones in India compared to its Q1 the year 2018. This shows that it grew by more than 100%. As a result, it market share increased from 7.3 percent to a whopping 15 percent. But this still places Vivo as the third placer in the overall top positioning of smartphone vendors in India.
In addition to that, Realme, a young electronics company, made surprising gains by sending 1.3 Million smartphone units. However, the company wasn't active yet last year so it is hard to compare its Q1 2018 figures to the recent. Samsung India phones price and model are still up in India, no worries, you can actually check out there newest deals in Samsung India official website.