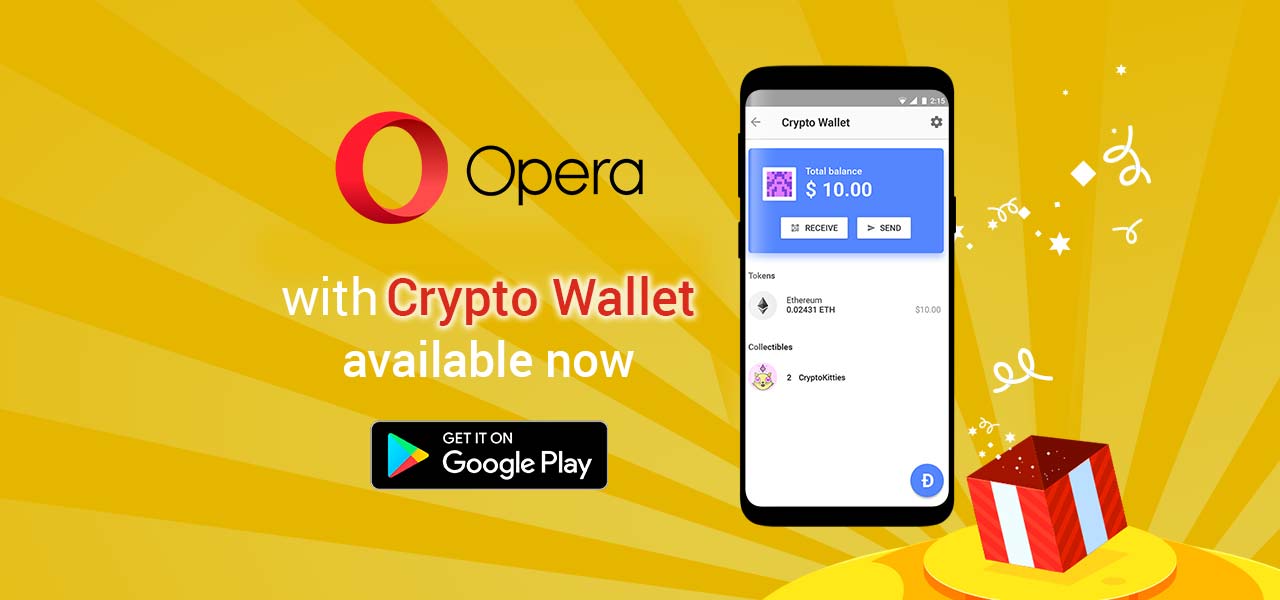 Last July, Opera introduced a safe and convenient way of managing your cryptocurrencies. Simply called Opera Crypto Wallet, this built-in digital wallet works in the background of your Opera browser. It eliminates the need for special apps or browser extensions to be able to access cryptocurrencies. It's now available on Android browsers, after having been a private beta last July. Interested users signed up to test this new Opera cryptocurrency wallet through their website.
If you're into cryptocurrencies, you're probably aware that there are a lot of cryptocurrency wallets out there. Ledger, Exodus, Edge, and MyEtherWallet are a few examples. What sets Opera Crypto Wallet apart from the others is its seamless, user-friendly experience. Since it's built-in to the Opera browser, you can easily switch from checking your balance and surfing the web. It can be frustrating when you're opening your cryptocurrency wallet and purchasing something online at the same time. Crypto Wallet aims to make it as smooth and easy as possible.
Updated on 25 September 2023
Opera Cryptocurrency Wallet Features
Web integration. As mentioned above, Crypto Wallet is built-in to the Opera browser so you can perform transactions while browsing through other websites as well. No need to install browser extensions or use third-party apps, since you can access your wallet from the browser.
Secure system. Crypto Wallet uses the Android secure system lock which makes it easy to log in. You don't have to create additional passwords or PIN for the wallet. You can use your phone's fingerprint or password.
Web 3. According to Opera, Web 3 is the umbrella term for emerging technologies that crosses cryptocurrency with blockchains. With the Opera Crypto Wallet, you can browse and interact with decentralized apps (otherwise known as dapps) on the Ethereum network.
Simpler interface. The Android browser doesn't differ much from the beta version. However, Opera simplified the user interface to become more user-friendly. Since it will be used by a much wider audience, they made sure that it uses less confusing language. Setting up the crypto wallet is also easier and requires less steps.
What else to expect from Crypto Wallet
Charles Hamel, the Opera browser cryptocurrency product lead, says that users will find Crypto Wallet much like paying using digital cash through their phone. They aim to encourage merchants to use cryptocurrencies as a payment method. Through Crypto Wallet, they are hoping that the suspicion on cryptocurrencies will transition to investment. They also want people to invest more in cryptocurrencies and use it for daily transactions.
Opera for Android also supports tokens and Ethereum's ether, as well as crypto collectibles like CryptoKitties. If you're a developer, you'll be glad to hear that Opera has specifically made some improvisations. They added more stability and dapp compatibility so that it works in the browser as intended. They also added that Opera is much more secure than other browsers.
While the Android browser is now available on Google Play Store, the iOS app not their main focus as of now. Hamel says that it's a more challenging and strict environment.