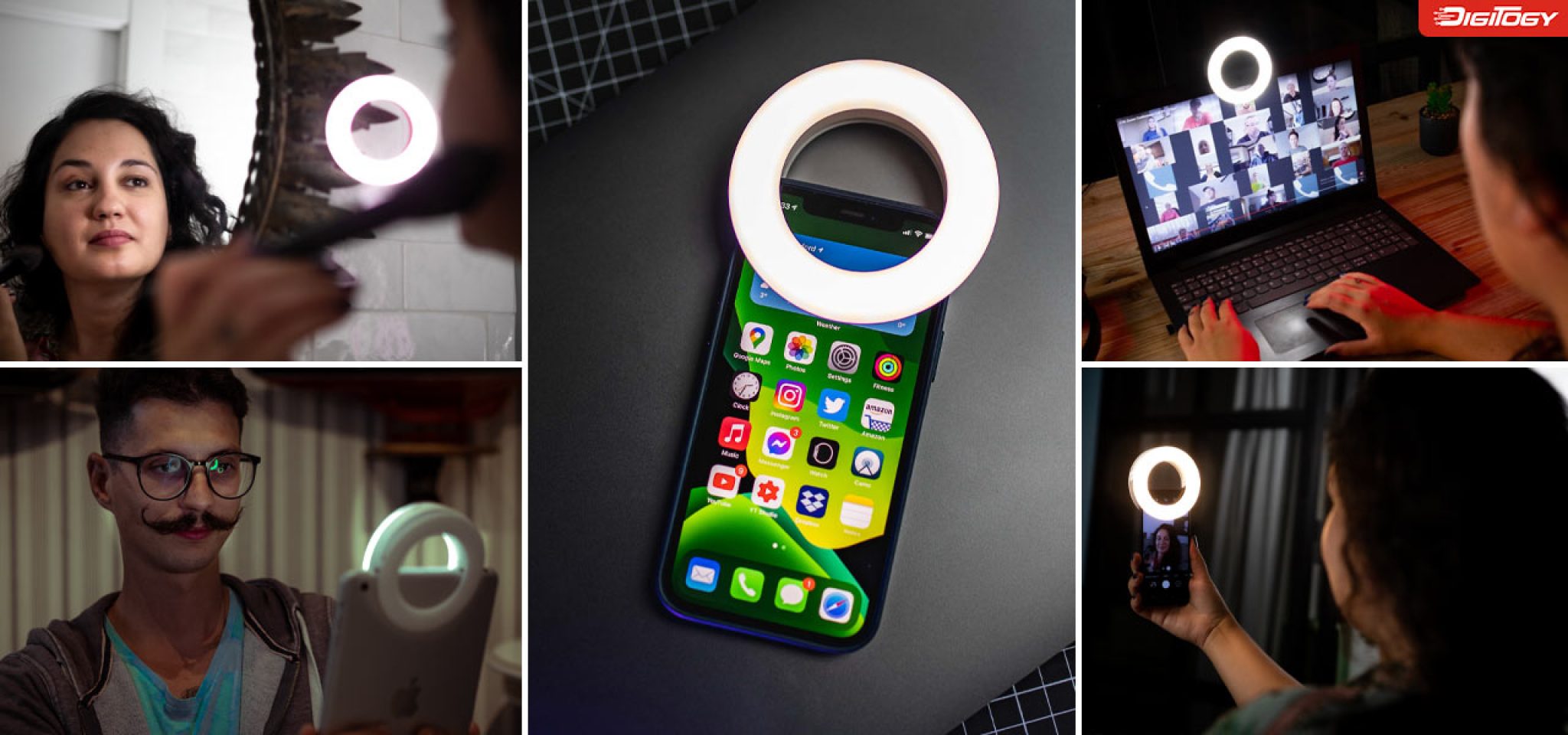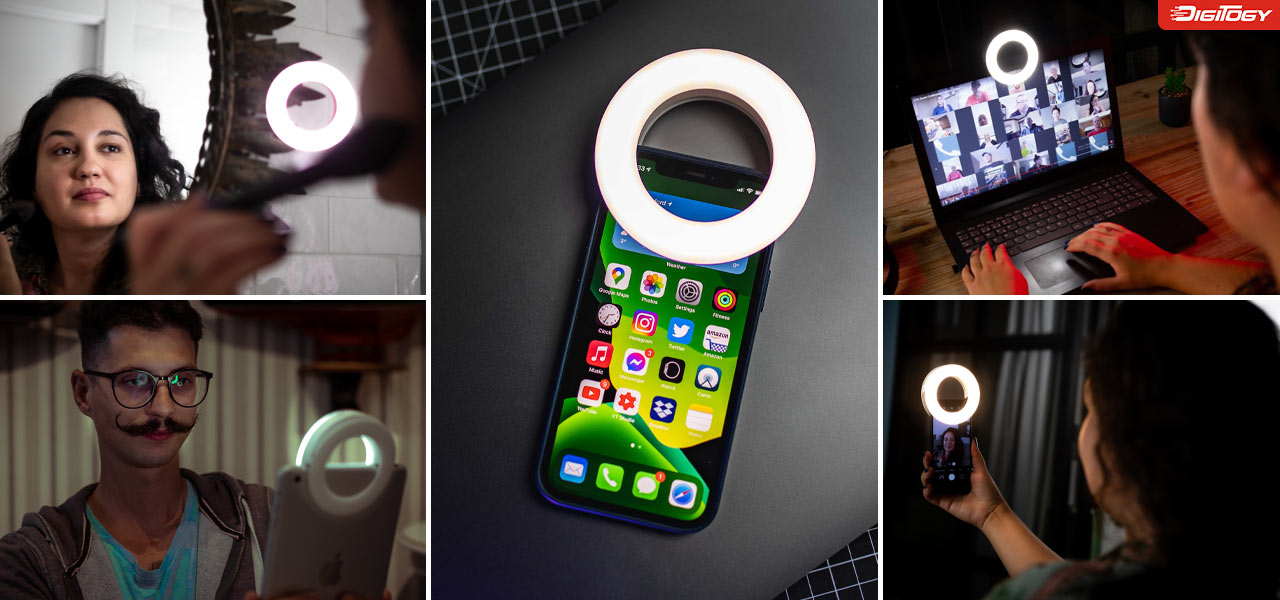 This OlumiRing review is comprehensive and well researched. In this article, you will know whether getting an OlumiRing light is a great investment or not. Have you ever wondered how you can make your photos and videos better?. Or have you ever felt you could do with a little bit of brightness behind your camera when creating content? Read on our OlumiRing review to find out how you can use OlumiRing to enhance your photos, videos, and content.
Buy Now
Look Better On Camera with OlumiRing, a Compact Ring Light
OlumiRing is the ideal companion for content creators to enhance their video. Buy it now and enjoy a brighter and more professional appearance on selfies and video calls.
Updated on 25 September 2023
What is OlumiRing?
The Olumi ring is a compact ring light that has 40 LED lights and a clip that lets you connect various gadgets and objects. While the typical ring light has tripod legs, this product doesn't. You can easily attach it to your smartphone, laptops, or mirrors for clear pictures and videos, video calls during zoom and skype meetings, and clear view while making up respectively. It is ideal for content creators who are looking to create incredibly clear videos for their audience.
Features of OlumiRing
OlumiRing light comes with some exciting features. They include:
Silicon Inner Lining 
The OlumiRing light features a silicon lining for the clip. Generally, the other areas of the Olumi ring are made using plastic. However, the inner area of the clip is lined with silicon. This is the part that will connect the devices.
Clip
It features a hook that is wide enough to secure your gadgets safely and hold them in place. This clip is one of the most outstanding features of this amazing ring light. The main work of the clip is to act in place of the stand. So, it does what the stand does in other models. This makes OlumiRing stand out.
Power Source 
The Olumi ring needs electricity before it can work. While it can be used while it is plugged in, it's not necessary it stays plugged in every time. Just like typical torchlights, you can change them and use them for a long time before they die. Once your Olumi ring is fully charged, you can use it for at least two hours before it goes off.
40 LED Light Bulbs 
The Olumi ring light contains 40 LED light bulbs. 20 of these LED light bulbs are cool while the remaining are warm lights. These indicate the intensity of the light. While the warm lights are bright and are used when much light is needed, the cool lights are not as bright and are only used when little light is needed.
USB Plug 
Each unit has a USB plug. Apart from using it for the ring light, you can also use the USB plug for your adapter or laptop.
Power Button 
The power button is located on the OlumiRing light's body. It is usually next to the USB port. It acts as the on/off switch of the ring light and also controls the light's intensity. The light will come on dimly when you press it briefly. If you press the power button for some time after the brief press, the cool light will come on. The warm light comes on next after another long press. This is the full intensity and capacity of the light.
Softening Diffuser 
This feature helps to prevent eye strains that the LED lights cause. It also acts like HD lighting for various projects.
How Does The OlumiRing Light Work?
Without any doubt, the Olumi ring has various exciting features. It is also incredibly easy to use. You don't need any installation. It works right out of the box. A long press on the power button is all you need to get started. You will love the incredible results you will get.
It also comes with a cable that you can charge using your laptop or USB adapter. So, just get it charged, switch it on, adjust the brightness settings and you are good to go.
Benefits And Advantages 
The Olumi ring has numerous benefits and advantages. Some of them are:
When fully charged, it can last up to two hours before it goes off.
It is incredibly affordable.
It is portable, durable, and lightweight. You can also fit your gadgets into it easily. It's so portable you can store it in a backpack or briefcase
It supports numerous modern gadgets such as cameras, video items, smartphones, computers, etc.
It has three powerful lighting modes that can easily be adjusted to dim, medium, and bright.
It's also water-resistant. So, you don't need to panic if it falls into the water.
User Reviews 
There are thousands of OlumiRing review online. And we were able to get OlumiRing review from users that have bought and used the OlumiRing light. Some of them include:
"It's just the right ring light I need. So unique and different from the rest. My creativity has been at full boost since I got it."
"I bought this ring light for my YouTube. Easily the best investment I have made. I highly recommend it to content creators."
"My videos have become more beautiful because of this light. I love it so much. Planning to order another one for my mum. She wouldn't leave this one."
These are only a few out of the numerous OlumiRing reviews. Many users gave it four and five stars. And they agree it works as advertised.
Price And Money-Back Guarantee 
If you want to know where to buy OlumiRing light, we recommend the official website. This is to avoid getting scammed. You will also enjoy discounts when you buy more than one from the website.  One unit cost $24.99, three units cost $59.98, and five units cost $89.97.
The OlumiRing also comes with a 30-day money-back guarantee. This means you are entitled to a full refund if you find any fault in your device within 30 days.
Final Thoughts 
In our OlumiRing light reviews, you can see that it has numerous features which make it straightforward to use. From our OlumiRing review, you will see that it also works right out of the box and requires no installation. It is an ideal choice for everyone, particularly content creators who see this as a great investment and you would get value for the money you spent to buy it. We hope our OlumiRing review will help you make an informed purchase decision.
OlumiRing
Compact Ring Light
OlumiRing Review
OlumiRing light offers an effective way to enhance your photos and videos.
PROS
Reliable built-in protection 
Versatile 
Lightweight 
Can be adjusted 
Portability 
CONS
Need to charge for more than an hour