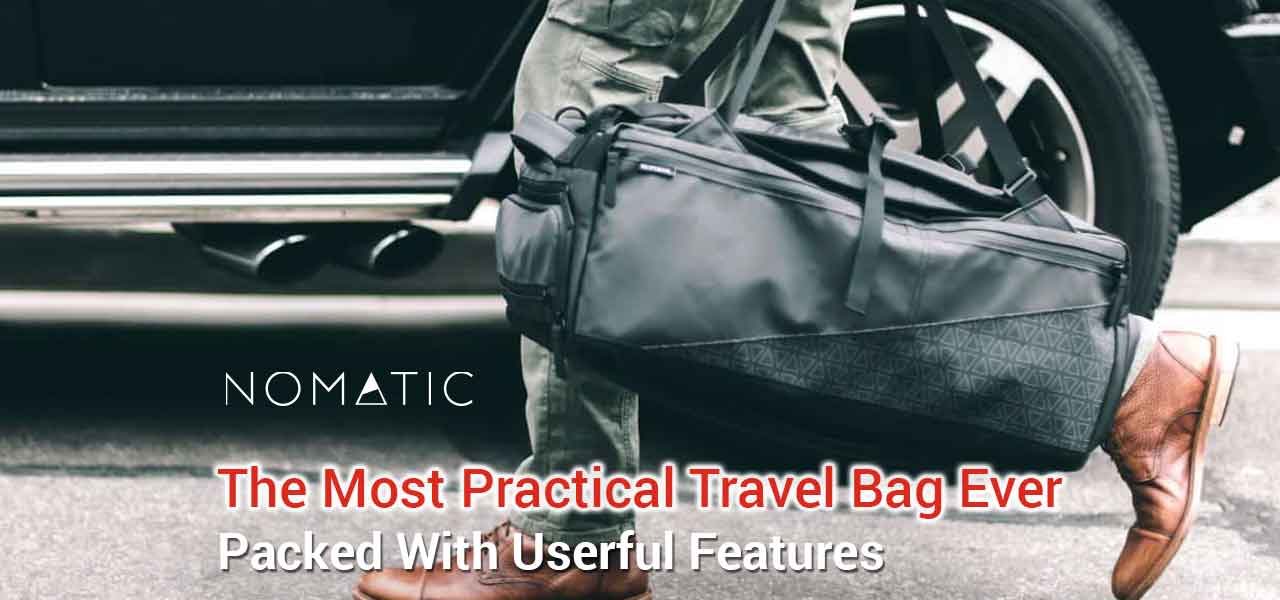 Most of the time, we choose to stay home because we feel more comfortable inside our own abode more than any place on earth. However, cravings to go out and feel the world is undeniably persuading. And so we go for a memorable journey of traveling the places we have never seen before. And since you need to carry several things with you, we will get to know the perfect bag to travel the future. In this Nomatic review, we will find out if this cool travel bag can really do a great job.
Updated on 4 December 2023
Overview
With the stellar success of Nomatic's crowdfunding campaigns, they were able to offer us the most innovative and high-quality Nomatic travel bag. It is designed to be the perfect travel gear to go anywhere and do anything which most people will surely opt for.  Aside from that, their bag received a $5 Million on Indiegogo and Kickstarter combined which is apparently a massive amount. The Nomatic travel bag is compatible as a maximum legal carry on that includes numerous useful features that are extremely unique. You'll definitely love this bag the moment you put its straps on your shoulders.
The question here now is, will you still love Nomatic travel bag after this Digitogy Nomatic travel bag review? While it looks striking and its features are convincingly perfect for all travelers out there, let's make things surer. So, stay tuned and we'll fill all the blank answers for you.
The Nomatic Travel Bag
In Nomatic's official site, you can find the best things a traveler must have. But before you browse their wide array of excellent collection, what you'll see first is their very original travel gear. And that is none other than the Nomatic Travel Bag. Yet, most people are being confused between the travel pack and the travel bag. For that reason, we will differentiate the two latter in this Nomatic travel bag and Nomatic travel pack review.
Looks
In terms of aesthetics, you can observe that the travel bag appears to be a giant sized box that you can carry comfortably on your back. While other bags today include some sort of curvature on their corners, the travel bag of the future doesn't go with that. Well, this definitely makes most of you think about the reason why.
Basically, the brand opts to provide more space on their travel bags so they developed it as a compact travel gear with maximized space to carry more of your things. With this concept, Nomatic is very obvious on their goal. And that is to take advantage of every space and corners to create a better travel companion that can deliver optimum support for unique individuals. Besides, people who love to travel has the same characteristic and attribute in mind when choosing bags and that is capacity. Of course, everyone loves to carry almost everything they need to get the most out of their trip.
Design
What makes Nomatic travel bag the most functional travel bag today is because of its sleek and intelligent design. In fact, the first thing you will notice about it is that it comprises an innovative strap system wherein you can switch to carry it by hand to shoulder. It includes two straps that you can secure together in the center to make it look like the traditional travel bags we use. Moreover, it has two shoulder straps so you can transform it into a huge backpack whenever you want.
From its cool strap system alone, we can guess that their entire design circles in functionality as well. What makes our guess true is when we discovered that this excellent travel gear also includes a foldable laundry bag that hides on top of the bag. It is secured in a zipped pocket so you only have to take it out when you need it.
It also includes a bottle pocket which makes this travel bag so unique and amazing. Actually, we can literally clap the moment we learned about this. Since most of the travel bags in the market today are either equipped with side open pockets where a water bottle fit or none at all. Nomatic travel bag boasts an outstanding zipped bottle pocket that secures and hide your bottle inside. It even includes a shoe compartment. How amazing is that?
Quick Peek on its Design
| | |
| --- | --- |
| Innovative Strap System | Bottle Pocket |
| Foldable Laundry Bag | Ventilated Shoe Compartment |
| Laptop/Tablet Compartment | Socks/Underwear Compartment |
| RFID Safe/Cord Management | Detachable Waist Straps |
| Notebook Pocket | Sternum Strap |
| Fits on Roller Bag Handle | Comfy Handles |
| Fleece Lined Valuables Pocket | Durable and Waterproof Materials |
| Large Opening for Easy Packing | Carry-on-Size of 21 inches X 14 inches X9 inches |
When packing for a trip, some individuals prefer keeping their underwear and socks in a separate pouch. While this seems a very organized and bright solution to keep things better, Nomatic develops a smarter and minimalized way to make packing simpler for you. With their travel bag, you can make use of the spacious compartment beside the bottle pocket to store your underwear and socks in a neater way.
Nomatic Travel Bag is the best way to carry your tablet or laptop on when you go on a trip. While there are bags that are really intended for the task, these can be very unconventional to carry especially when you are going for a long walk and ride travel. Therefore, we find it amazing that the brand offers a travel bag that can accommodate almost everything necessary for a trip. With an intended compartment designed to secure your laptop or tablet, you can now go out and about with more mobility and freedom. No more extras to bulk you up.
For more support, this amazing bag also includes detachable waist straps that you can remove and attach anytime you want. It is also equipped with RFID Safe and Cord management. Plus, an excellent notebook pocket that perfectly fits your Nomatic Planner, sternum strap, comfortable handles, fits on roller bag handle, and fleece lined valuables pocket where you can easily keep and access your things the moment you need them.
In general, the travel bag is made of durable and waterproof materials that measure 21 inches X 14 inches X9 inches. With its large opening, you will be able to pack your things easily and be fully ready in no time. Visit Nomatic today to see more amazing things to include in your travel checklist.
Nomatic Travel Backpack
Look at the two bags below, aren't they look similar? Yes, they really look like the same thing but to tell you, that's Nomatic travel backpack and travel bag. While the travel bag is designed to fit in everything you need for 1 to 3 days trip, the Nomatic backpack is ideal for everyday use. So now, that is the main reason why people say the inside is the most important.
Additionally, Nomatic travel backpack includes an international organizer panel that you can always remove and put back when needed. This organizer panel can secure your portable keyboard, mouse, netbook, folders, and more. This addition makes this travel backpack an ideal everyday companion especially for professionals who needs to travel and commute every day to get to work. More so, if you know a student who needs this reliable travel buddy, you can click the button below to get it today.
The brand also offers Nomatic Wallet that is so simple you would never leave behind. It boasts a slim profile with a built-in pocket so you can easily access your cards. Get it now together with Nomatic Travel Bag to make your trip convenient more than ever.
Nomatic Messenger Bag
All the bags from Nomatic are loaded with features that every traveler needs. Like so, these bags share the same characteristics but these bags are totally unique and different in use. So does Nomatic Messenger Bag.
This bag is quite similar to the laptop bag that is also offered by the brand.  While Nomatic messenger bag poses the entire features of the laptop bag, it comprises more capacity, customization, and some features that the latter doesn't have. More so, it measures 12 inches in height, 16.5 inches in wide, and 5.5 inches thick. And it can carry up to 15 liters with its laptop compartment, front accessories pocket, and main compartment.
There are so much more features to learn about Nomatic messenger bag. Visit their official website to compare their unique bags and see which one fits your needs.
Nomatic Bags are Externally Simple & Internally Innovative
I am not sure if you have noticed this but Nomatic chose to be very consistent on their outer design. Yet, looking inside their products you will be welcomed with all of the excellent innovations that are developed to simplify, minimize, and make the most of the spaces possible to put more things inside. Of course, in an incredibly organized way. You'll definitely feel refreshed to use a functional bag like these.
Is It Perfect For You?
If you want a modern bag that doesn't look so fancy but well-designed, then opt for Nomatic Travel Bag. Besides, more and more people are switching from their old favorites to this because of its sleeker and more advanced features. Nope, it can't cook and dance and anything but what it can do are to carry everything essential for your trip. You'll be surprised when you finally try that everything we are pertaining.
This amazing travel bag is also excellent for those individuals who love to pack light. It can carry up to 30 liters to 40 liters depending on the capacity of the travel bag you buy. Get this bag now to pack your travel list in a lighter load. This way, you'll enjoy your trip more without getting tired and annoyed while carrying a bulky travel bag with you.
On the other hand, you can observe that every Nomatic bag includes a compartment for tech gadgets. For this reason, we do recommend this travel bag for every digital nomad out there. Also for all individuals who see design and efficiency important in choosing travel gears.
Nomatic produces only the products that can inspire the confidence of their consumers. With bags and accessories loaded with the most advanced and useful features, you can now choose to bring only excellence on your unique kinds of journeys.
How to Buy?
By clicking the button below, you will get into Nomatic's Official Site. In there, you can choose the most suitable bag for you and the accessories you needed the most. Every product is offered at the most reasonable price possible. Not only that their products are a good investment due to cost-efficiency and affordability. But also due to the durability and quality of each of them.
You can order from them online and pay online using the following mode of payment:
Visa
MasterCard
PayPal
Discover
American Express
Additionally, you can put your order anywhere in the world and receive it as fast as possible because they ship worldwide. Now, you don't have the reason to search for another kind of travel bag because the best one is just one click away.
Buy in different bundles that include different accessories you might need. You can buy a Nomatic travel bag with detachable waist straps, with shirt organizer, compression cube, vacuum bag, toiletry bag, and more. Like so, you might get a chance to get Nomatic coupon to pay less on your first purchase.
Final Verdict
If you love to stay home but you have to commute every day, Nomatic Travel Bag is the most functional companion you can have for maximum convenience. With its more than 20 advanced features and wide range selection of accessories, you'll definitely appreciate going out and about more than the way you do before. While most of their products makes life on the move way easier, they maintained the standard aesthetics they set to make their products look cleaner and fresher than any other products you can see in the market. Generally, Nomatic is a brand that you can trust when it comes to quality and minimalism. So, are you fond of these characteristics too?
Nomatic Travel Bag Review
PROS
Durable and Waterproof
Functional
Minimalist Design
Excellent Capacity
Pack your things in a very organized way!