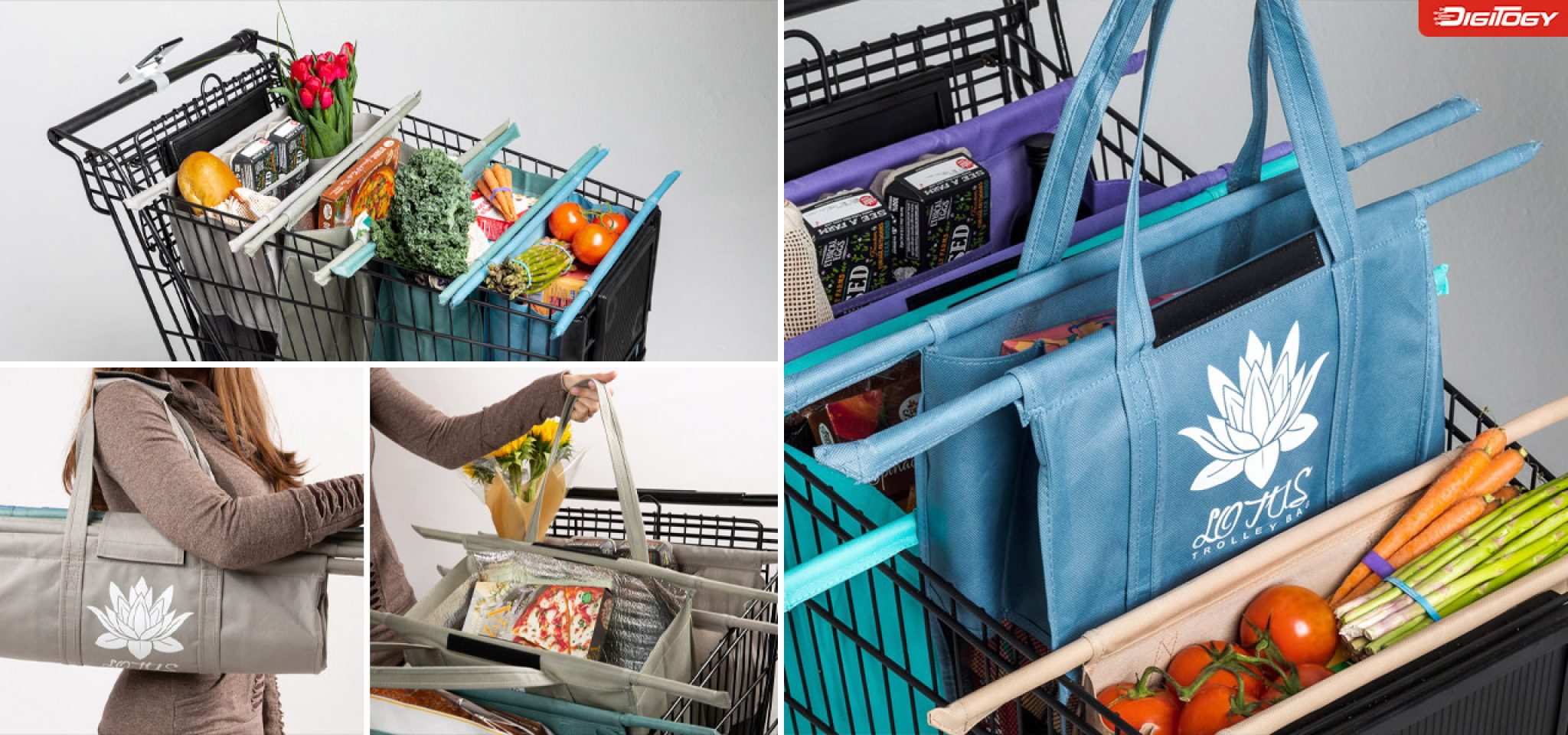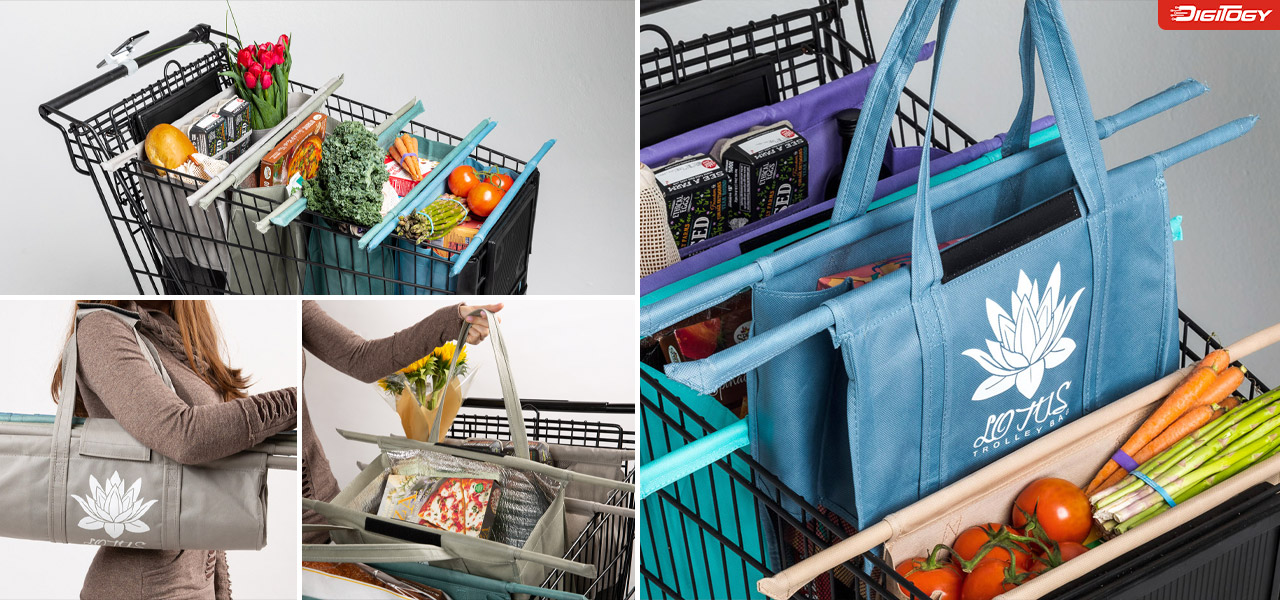 In this lotus trolley bag review, you are going to know everything there is to know about the product and whether it's a good investment or not. Grocery shopping is quite personal and different, unlike other household items. Numerous people would prefer to go to a grocery store to get their groceries than order them online. And this will not go out of trend in the coming years.
However, this contributes to the extensive use of plastic which is raising concern all around the world. Many cities are putting measures in place to reduce the use of plastic and promote sustainable environments. These measures might include the complete or partial ban of plastic bags too. Also, consumers are increasingly becoming aware of single-use plastic bags.
It is now considered normal to carry your shopping bag to local stores every time. Lotus bags have redefined shopping bags for the retailing industry. The lotus trolly bag will always come in handy in every shopping type and improve your shopping experience. Using this bag also means you have contributed to saving the planet by reducing your use of plastic. Keep reading the lotus trolley bag review to learn more!
Buy Now
Beautiful Lotus Bags For Your Shopping
Lotus bags have redefined shopping bags for the retailing industry with numerous benefit for your personal shopping need.
Updated on 29 May 2023
What is the Lotus Trolley Bag?
The lotus bag is a reusable bag you can use for shopping. Its primary purpose is to help you be organized while saving the planet. A lotus trolly bag comprises four durable and eco-friendly bags. You can easily spread these four bags over your shopping cart in an accordion style, which will give you enough space to keep your groceries. A lotus shopping trolley bag also has particular holding areas, including insulated cooler bags, mesh bottoms, wine bottles, interior pockets, etc.
Currently, close to 500,000 lotus trolley shopping bags have been sold. And the number is still on the rise.
Features of The Lotus Trolley Bag 
The lotus trolly bag is becoming increasingly popular because of its exceptional features. And different customers are attracted to these features. They include:
Detachable Support Rods: The lotus trolly bag is not for shopping carts alone.  The detachable support rods ensure you can use them without a cart. Also, you can detach the rods if you want to fit the bag into a small backpack or your purse. Lotus bags also have sturdy velcro strips that make separating the rods easy.
Durable Construction Design: The lotus bag comprises four reusable, durable bags. The durable material of the four bags is double-stitched, and it can hold up to fifty pounds without any issue or tear. The insulator cooler bag is also exceptionally durable.
Mold-Resistant Mesh Bottoms: Many stores like to refrigerate their groceries to keep them fresh for as long as possible. However, these items are susceptible to mold once you remove them from the refrigerator into your shopping bag. Regular shopping can lead to mold infestation at the bottom of your bag, depending on the moisture level. But that's not the case with lotus trolly bags. They come with mold-resistant mesh bottoms, which prevent mold infestation.
Additional Pockets: Lotus trolley cart bags have additional pockets outside and inside. So, you are assured you will not buy extra shopping bags once you have the whole set. These pockets can hold items like stationery, books, snacks, etc.
Machine Washable: You can wash your lotus trolly bag with a washing machine easily. While other eco-friendly bags lose their color and shape after the first wash, the lotus bag will never lose its original color, which means you can use detergent. Also, it will look pristine after washing, and it dries quickly. You can wash these bags as often as you want.
How to Use The Lotus Trolley Bag
The idea behind the design of the lotus bag is to be of service to everyone. The process of putting your groceries inside the bag remains the same whether you are a first-time user or a long-term user. The manufacturers recommend using the four bags in the following ways:
Velcro your lotus sustainable trolley bags to the handle of the shopping cart. Ensure the four bags are left that way until you are ready to shop.
The next step is to spread the bag to accommodate your groceries and items. This is done by pulling the handle on each bag towards you. Spread them in a row.
As you start shopping, sort and pack the items you pick. Place regular items and groceries in an ample space while beverages can be in the insulated bag.
Take your shooting cart to the counter and checkout. You can separate each bag so that the store clerk will not mix your items up. Finally, place each bag where they need to be in your car.
That's all the steps to follow. The lotus trolly bag is straightforward to use.
Benefits of Using Lotus Trolley Bags
From being eco-friendly to affordable, the lotus trolly bag has several benefits and advantages. Some of them are:
Multi-purpose Bags: You can only use lotus trolley bags for shopping carts or groceries.  You can use the people bag to carry your lunch to your place of work. It has insulated pockets that you can use to take your coffee flask. Your offspring can also use the bags to carry stationery or books to the library. You can use this bag for several other purposes.
Decreased Pollution: One plastic bag can take a thousand years or more to decompose, and that's if it's in landfills instead of oceans or rivers. The American population is more than one billion bags in a year and only 1% or less ends up in recycling facilities. Environmental pollution will decrease significantly if the number of people using lotus bags increases.
Long-lasting Durability and Strength: Popular issues with eco-friendly bags include holes and tears at the corner. So, it isn't easy to reuse these bags for long. The lotus trolly bag is not like that due to its unparalleled durability and strength. You will never experience holes and tears when using this bag. And you will also save money.
Lotus Trolley Bag Review From Users
Many customers rate this bag 5-stars, and they all agree that it works just like the manufacturer advertises it. Here are some of the lotus trolley bag reviews from users.
"I am excited to use a product that helps in reversing climate change and saving the planet. And because the lotus bag is eco-friendly, I am satisfied I chose the right product."
"The lotus bag ensures my items are at the right temperature until they get home. The breathable material keeps the groceries fresh, and the insulated bag is ideal for beverages."
"I get numerous compliments anytime I use lotus shopping cart bags. The bags attract other shoppers because they are trendy and beautiful."
Overall, all users agree that the lotus bag is a game-changer and are excited to own a set.
Price And Money Back Guarantee 
Lotus trolly bag's prices differ because you get a discount when buying more than one. The cost of one set is $49.99 plus $5.99 for shipping. While three sets go for $119.98, and five sets are $179.97. The three and five sets come with free shipping. Also, each set of the lotus trolley bags has four bags.
This product also comes with a 60-day money-back guarantee. This means you can request a full refund within sixty days of purchase. This is part of the organization's 100% Love It Guarantee. If you are not satisfied with your lotus bag for any reason, you can ask for a refund within sixty days.
Final Thoughts
In this lotus trolley bag review, we have discussed that the lotus bag is reusable, durable, and eco-friendly. And each set comes with four bags, including an insulated cooling poach, that are better suited for different applications. This bag is a must-have for every household. It will significantly enhance your shopping experience. And you will also be contributing immensely to saving the planet. We hope this lotus trolley bag review will help you make a sound purchase decision.
Lotus Trolley Bag
Multipurpose bag for all your shopping needs
Amazing Product
The lotus trolley bag comes in handy in every shopping type and improve your shopping experience.
PROS
Quality and durable product which is also multi-purpose
Easy to wash mesh bottom
Environmental friendly bag
CONS
You can only purchase this product online