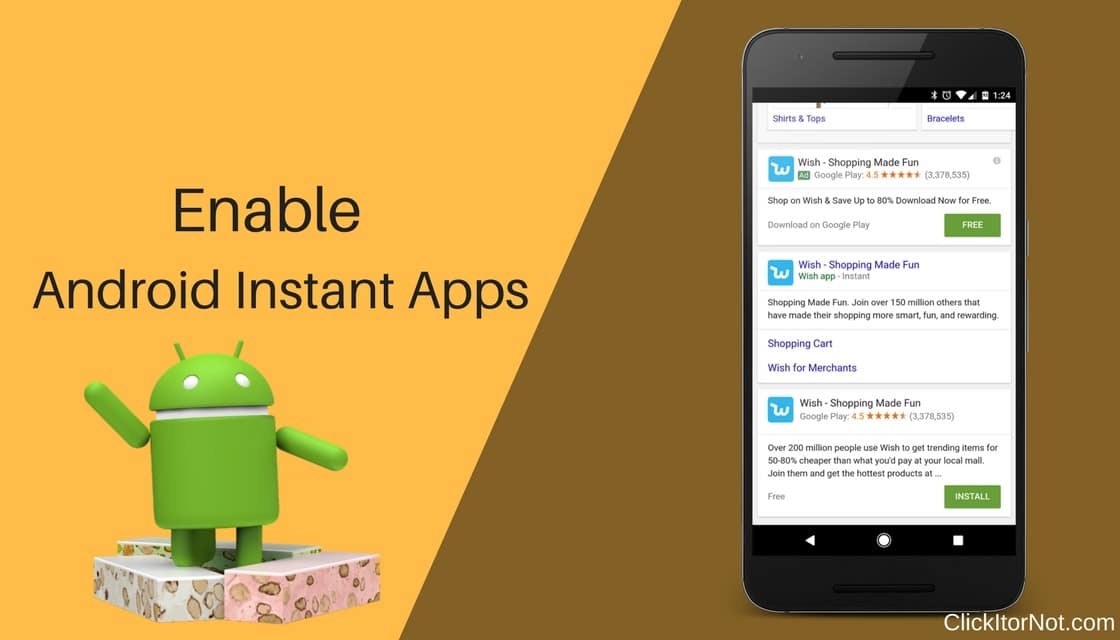 Updated on 4 December 2023
Finally, Google is now rolling out its Instant Apps, but at this moment only selected devices can access these apps. Instant Apps is a Google Technology that provides a nice compromise. It let you access apps that are cloud-based on your device (Android), without requiring the user to install the app from the Google Play Store. Instant Apps saves user's effort and time, but it also permits companies to allow people to sample what's basically their app is about.
An app that is supported by Instant Apps can be downloaded without browsing the Play Store. Just visit a website and you can download the app automatically.
It is accessible to Android phones running Android 6.0 (Marshmallow) or higher version, but it is important that you have a Play services recent version. Millions of Android devices can download the Instant Apps.
To check if your Android phone has an access to Instant Apps, you need to follow the guidelines listed below. But you must enable first the Instant Apps features on your device. This can be done easily.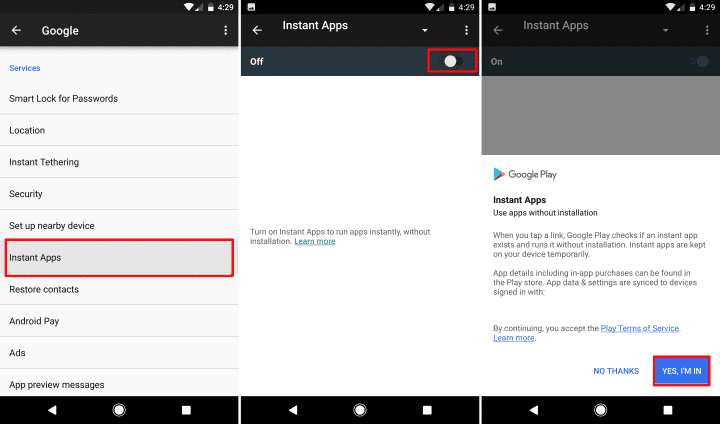 ENABLE INSTANT APPS ON ANDROID DEVICES
Open your device "Setting" menu

Under "Personal' Category tap "Google"

Choose "Instant Apps" under "Services" Category
Note: If you can't search for "Instant Apps", then your Android device does not support Instant Apps.
Set the toggle in "on mode" located at the right part of the screen. Your Google account will appear at the upper part of the device. However, if you owned multiple Google accounts you have to choose only one, this account will be used for downloading Instant Apps.

Read instructions and agree on terms and conditions if you want to have Instant Apps.
Once the guidelines listed above are completed, you can now use and search Instant Apps. Now look for different websites that supported this App. You can easily identify the website that supports Instant Apps by checking the term "Instant" beside the search result.
Instant Apps only supported a few apps such as BuzzFeed, Viki, Periscope, and Wish. However, Instant Apps will have more applications for the upcoming years.  
Below are the listed guidelines on how to use and find Instant Apps.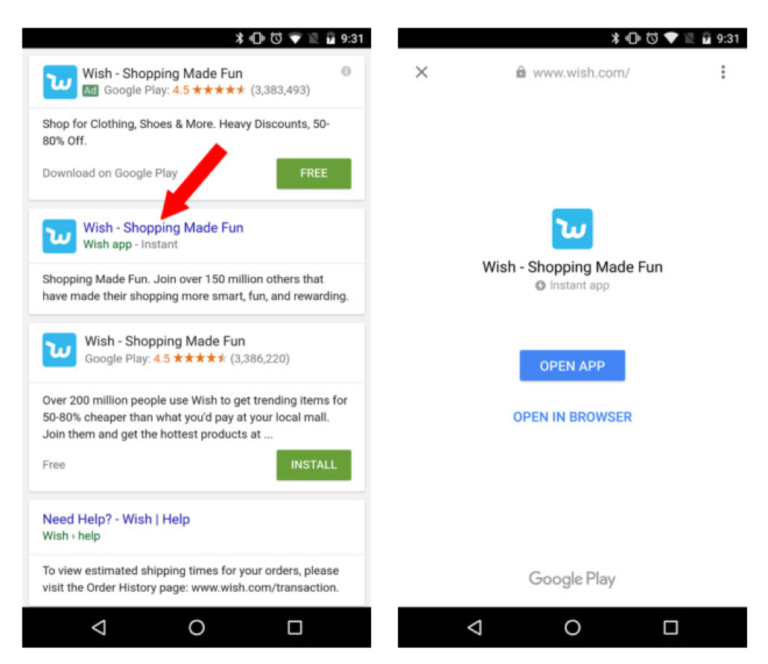 HOW TO USE INSTANT APP ON ANDROID DEVICES  
Search supported app mentioned above (example Wish) in Google using your Android phone.

Once you see the result, look for an app that contains "Instant" word.

Click to open the app.  
If the Instant App was successfully loaded up, the app can be used just like the other applications that can be seen and downloaded via Play Store. The given Instant App example, allows you to browse and order products and manage your account without requiring to install the app in your Android device.
However, you can still install the app on your Android device if you want. Simply pull down the notification shade and choose App Info. Once you tap the button you can now install the Wish app. It also allows you to clear the application's data.
Once you enabled Instant Apps on your device, the overall process seems very smooth.  However, if your device does not support Instant Apps you have to wait more time since the app is gently rolling out.