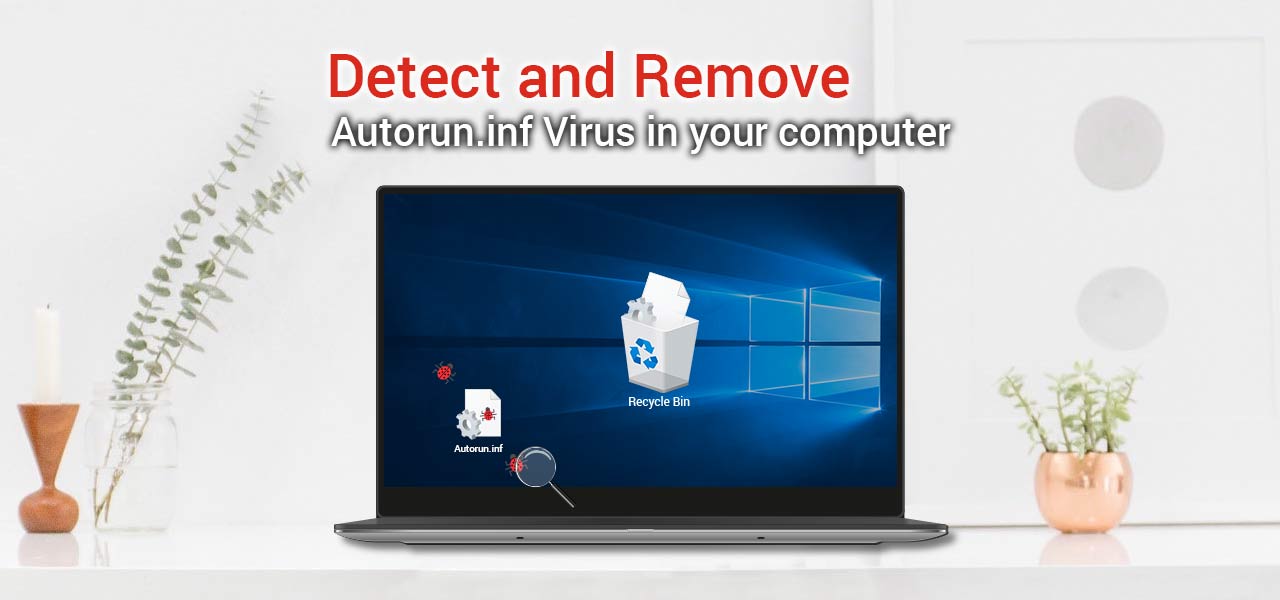 With the fast-paced tech advancements today, there are better and newer devices being launched every month. However, two external storage devices that are still being widely used up to this day are flash drives and hard drives. Be it 2000 or 2019, these external storage devices were and will always be a part of our tech essentials. Unfortunately, these devices aren't exempted from viruses that corrupt it and render it useless. One of the most common viruses that infects it is the autorun.inf file. Luckily, it is possible to remove it with the help of the best antivirus for autorun.inf.
In this article, we will discuss what autorun is, how it works, and how you can remove it using the best autorun antivirus remover.
Updated on 27 September 2023
What is autorun.inf virus?
Have you ever tried accessing one of your computer's drives, but are unable to do so? You might have an autorun virus if that'ss the case. Autorun.inf is a type of malware (a worm, specifically) that spreads to your computer and creates read-only duplicates of itself. It doesn't allow you to access your drives and gives you an autorun menu instead when you click C: or your flash drive. It can infect any storage medium such as flash drives, external hard drives, and computer drives.
Whenever you double-click the autorun file, it will automatically get executed, spread itself throughout the system, and generate multiple copies of itself. The dangerous thing about it is that it could be connected to a malicious website and designed to install a keylogger into your system. It will then steal your data by recording your keystrokes. Thus, your personal information such as emails, passwords, and bank information are at risk. Using the best antivirus for autorun is very important at all times.
How to remove autorun.inf virus
If you think that your computer, flash drive, or hard drive might be infected with the autorun.inf virus, don't panic! There is a solution to this which you can do. First is to manually remove it yourself, and the next is to use the best antivirus for autorun.inf. You can also check out the list of the best antivirus to remove autorun virus. You can get ideas on which one of the best antivirus for autorun to install based on the review.
Manually remove the autorun.inf file
Since the autorun.inf virus is a read-only file, the folder it is contained in will be disabled by the virus. This is done to protect itself. To stop it from initiating its activities once you try to open a drive, just follow these steps. Your goal is to delete the file and restart your system.
1. Open the Start button (the one with the Windows icon) and type 'cmd' in the search box.
2. Click the cmd program to open it.
3. On the window, type this command then press enter:
cd/
4. After that, type the following command and press enter:
attrib -r -h -s autorun.inf
5. Type the following command then press enter:
del autorun.inf
6. For your drive G, type g: then press enter to delete the virus in that drive. Then repeat steps 4 and 5.
7. Repeat step 5 for every hard disk partition.
8. Restart your computer.
Ensuring that the virus is gone for good
Unfortunately, the program that caused the issue will still be in your system. To make sure that it's gone for good, install the best antivirus for autorun.inf that you can find. If you're unsure what to use, check out the suggestions below. I personally handpicked the best antivirus to remove autorun virus for you readers. These are all proven and tested to remove the virus from the root.
Once you choose the best autorun antivirus remover for you, keep it updated at all times. Check the automatic update setting and turn it on. You can also configure it to run scans on its own.
Best antivirus for autorun.inf
Malwarebytes
One of the best autorun antivirus remover that I have ever used, Malwarebytes comes in free antivirus and premium versions. It uses the latest technologies to constantly detect and remove new viruses that are infecting computers today. However, the free version won't actively run in the background while you're using your computer. Rather, it will only activate once you open the software and configure it to scan. Even so, it's a strong antivirus and I highly recommend that you use this one.
Panda USB Vaccine
Specifically made for flash drives, Panda USB Vaccine targets autorun files and removes it immediately from your trusty flash drives. It will block autorun files and prevent it from being read, created, deleted, or modified. This way, your system won't be able to execute it if you try to open the file. Panda USB Vaccine is a free tool and is also considered the best antivirus to remove autorun virus in flash drives.
USB Disk Security
Flash drives are very prone to viruses especially if you insert it into multiple computers all the time. USB Disk Security offers virus detection, removal, and repair options. Once you install it, it will automatically search for autorun files and other viruses that could be infecting your flash drives. If you minimize it, it will still run in the background while you're using your computer. It's fast, efficient, and won't slow down your computer. It's one of the best antivirus for autorun that I have tested.
Bitdefender USB Immunizer
One of the best antivirus to remove autorun virus, Bitdefender USB Immunizer works for infected flash drives as well as CD-ROM. It works very efficiently because it removes the virus even before the virus can access the computer. After it's installed, it will constantly monitor every flash drive that is inserted in the computer. If the flash drive is infected, it will automatically remove the virus then 'immunize' it.
Ninja Pendisk
Another one of my favorites and the best autorun antivirus remover, Ninja Pendisk also protects your drives from being infected by worm viruses. It automatically blocks any virus and Trojan once you insert an infected flash drive into your computer. It also prevents the virus from duplicating itself if you accidentally click the autorun file. Ninja Pendisk is free to download and use by everybody, making it one of the best antivirus for autorun.