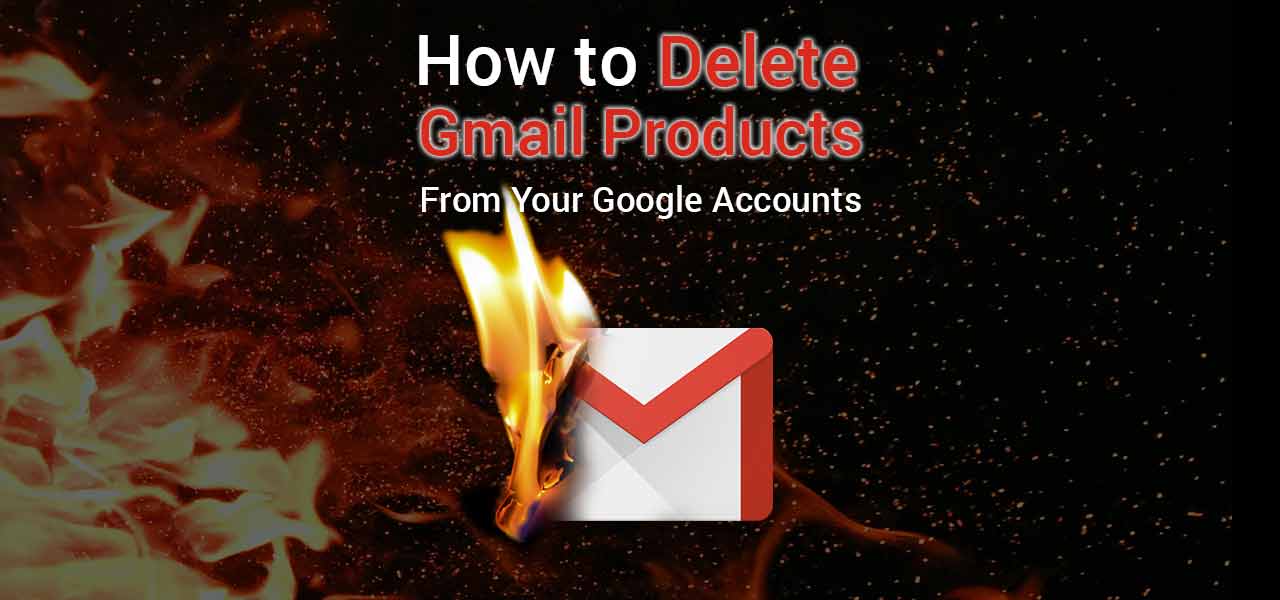 Updated on 10 December 2023
In this guide, you will learn how to delete Gmail account products from your Google account. You will also recognize that your Gmail and your Google Account are not one and the same.
There is huge Gmail following as Google's email platform has dominated the free email account niche. Many people are all for the popular search engine and tech company's free to use email platform, but more recently there is a growing number of people that are boycotting Gmail because they disagree with the way the platform is run.
Of those that are concerned, there are many reasons for them wanting to delete their Gmail account. Some are not happy with the functionality of folders and sorting emails, which is quite hard to use by all accounts. Others say that Gmail is not secure; while, one of the main arguments is a breach of privacy.
Many people are not aware that when they sign up for a free Gmail account, the deal between them and Google is not actually free. There are no monetary transactions as such, but instead, you are paying with personal information about yourself. When someone accepts the terms and conditions, which honestly very few of us actually take the time to read, many of those terms are you agreeing to allow Googe to use personal information they collect about you for marketing purposes.
This means Google can use your information to send you ads that are supposedly tailored to offer you products or services that suit your browsing habits. In fact, every email you send via Gmail is scanned by a spider that takes keywords from your email in order to build a profile of who you are, what your interests are, what your current trending topics are on email and more. All this is used as a powerful weapon for Google to invade your privacy and bombard you with advertisements.
If this is the first time you are hearing about this, then you may be shocked to learn that when you use a free Gmail account, your information is being used for advertising purposes.
Thankfully, you can delete your Gmail account at any time, and it's actually very easy to learn how to delete Gmail account products. However, prior to learning how to delete Gmail account products, there are some precautions you may want to take.
Precautions
Check if you are using your Gmail for YouTube access – you may not be happy if you lose all your liked videos, playlists, etc…
Check if you are syncing your cell phone contacts with Gmail – once you delete the Gmail account, all your contacts in Gmail will also be lost
Your chrome bookmarks and setting may be linked to your Gmail account, and so you could lose these settings when deleting the Gmail account – check to see if you log on to Chrome in settings
Your Google+ account may be very popular and so you may want to consider keeping this by changing the email address associated with it
Check if you used your Gmail to sign up to Social Media sites. There is a good possibility that your Facebook Instagram or Twitter accounts use Gmail as the recovery email address
Make sure you redirect any email subscriptions to a new email address if you have one – this could be newsletters, monthly payments, online gaming websites like Steam
If you are using PayPal, Neteller, Crypto Wallets, or any other e-wallets, make sure that you update the email address before deleting your Gmail account
Gmail does not free up your email address name after you delete the account. If you plan on creating a brand-new account, you will need to use a different username
Make sure that when you are deleting your Gmail account, that you have backed everything you need to back up first. Furthermore, ensure that your Gmail and YouTube accounts are separated. Now you have achieved this, you are ready to learn how to delete Gmail account products.
After You Delete Gmail You Will Still Have a Google Account
The main purpose of this guide is to help you remove Gmail account products. That means It is important to note that your Gmail and your Google account are not the same things. Your Gmail is part of your overall Google account, and therefore your Gmail account itself will remain intact after deletion of Gmail and you will still be able to use Google Drive and Google+ plus have your Google Map locations saved.
Steps To Deleting Your Gmail Account
Now that you have read the perquisites about Gmail account deletion and understand that your Google account will remain intact, let's take a look at how to go through the procedure of deleting your Gmail account.
STEP 1: Sign in to your Google Account
Very simple log on using your myaccount.google.com to access your account. Make sure you use the credentials for the Google account you want to remove Gmail account from.
STEP 2: Navigate to your account settings
When you are on the My Account page, you will need to find the Account Preferences on the right-hand side or towards the bottom of the page. Here you will see the option: 'Delete your account or services'.
STEP 3: Select Delete Products
Click on the option 'delete product'. You DO NOT want to press 'entire account' because this will delete your entire Google suite of products. We only want to remove the Gmail account in this instance.
Enter your username and password again.
STEP 4: Select Delete Gmail Account
You will be presented with all your Google products. The one we are looking for is 'Gmail Account'. Select this and click on the trash can to continue with the remove Gmail account process.
Enter your username and password again.
STEP 5: Enter a New Primary Email Address
Enter a new primary email address for your Google Account if you have one, and then click 'Delete Gmail'. Next, a will pop up asking you to open the email sent to the new primary email address you entered. Just click the "OK, Got it" option.
STEP 6: Confirmation of New Status
On your new email, you will see the confirmation message from google. Click on the link and reconfirm you want to delete your Gmail account. At this point, all you need to do is enter your password and confirm. An email will be sent confirming the deletion of your Gmail account.
As you can see, it is easy to learn how to delete Gmail. Just make sure that in STEP 3 you are confirming that you want to delete a Google product and not your Google account.