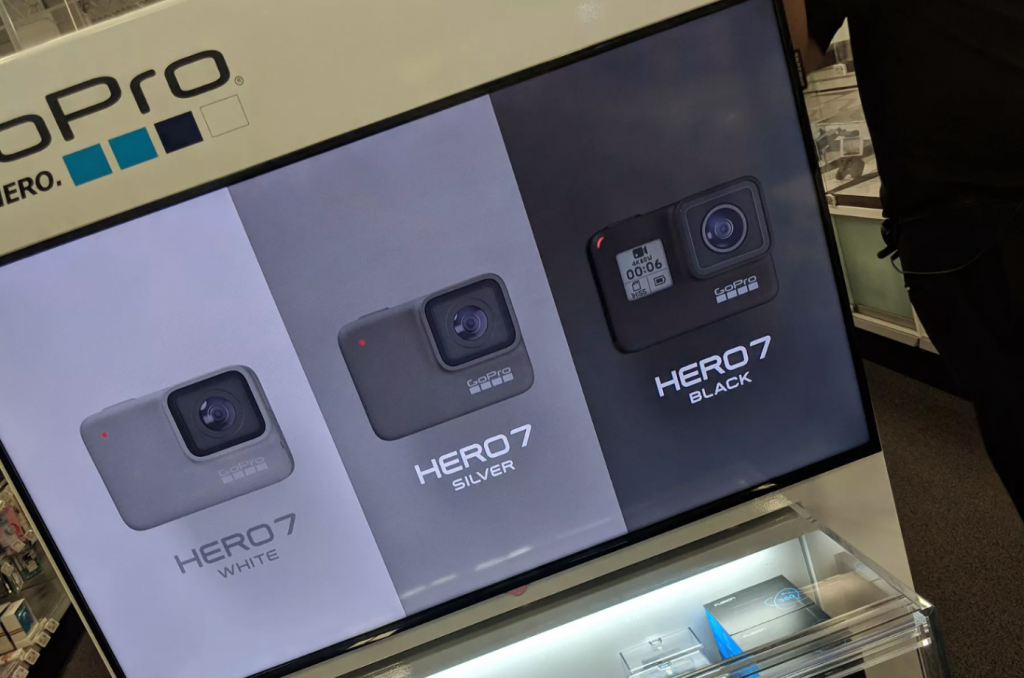 Updated on 28 November 2023
Looks like GoPro's latest flagship had an early reveal in the most unexpected place — at an in-store display. Fans of the famous action camera were treated with a glimpse of the new device and its alleged features, which is expected to be officially announced later this month.
The GoPro Hero 7 leaked images, which circulated online earlier this week, was uploaded by an Imgur user Austin Mittelstadt via Reddit. In the now-deleted post, a camera, which appears to be the Hero 7, can be seen on full display at a store kiosk.
An Early Look At The Hero 7 Camera
Based on the leaked photos, the GoPro Hero 7 comes in three different colors: black, white, and silver. It also reveals some familiar features that previous GoPro models have. These include a waterproof capability of up to a depth of 33 feet and image stabilization.
The alleged GoPro Hero 7 also has two distinct looks. In the photo, the black model appears to have a simple front-facing screen. The other two variants, on the other hand, seem to come without a front screen. Such appearances are strikingly similar with the Hero 4 line, which was released back in July 2015.
Other than that, no other details about the GoPro Hero 7 specs have been revealed. It also remains unclear whether the leaked images are authentic or not.
A Rough Couple Of Years For GoPro
The last couple of years have been rough for the tech company, particularly in its sales. In fact, GoPro was forced to slash its camera lineup to only three models in 2016. The said move was intended to focus its lineup and cut costs.
At that time, GoPro CEO Nick Woodman announced that they will cease the sales of several action camera models and will focus on the Hero 4 line and the Hero 5. It also decided to exit the drone market and put a halt to their Karma drones.
The slimmed down portfolio of products was the result of a 31 percent drop in revenue, which reported to be at $436.6 million. Previous reports also claimed that the said decline led to the firings of several hundred employees, bulk of which were from the engineering department of the Karma drone.
It remains to be seen if the Hero 7 will be able to rebuild the company's standing. So far, no further details have been revealed about the GoPro's latest flagship. Fans of the device will have to wait and see if the new action camera can live up to expectations.