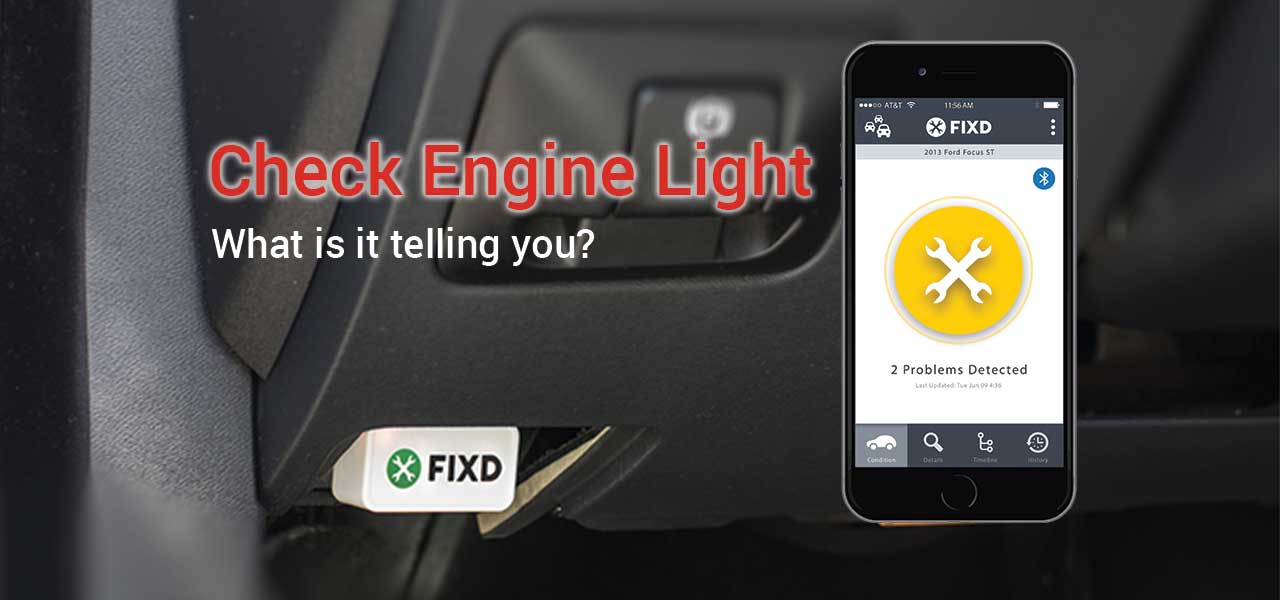 If you have a car, you know that it's expensive to maintain and repair. We all dread the moment when the damn engine check light turns on on our dashboard. Because it means a detour to the mechanics. But what if you could prevent these costly trips to the auto shop? What if you could understand your car, from a little device? There are many FIXD reviews but in this one, you'll get a comprehensive assessment of this revolutionary OBD2 scanner. And I hope you'll find it helpful among all the other FIXD reviews out there.
Get it Now
What is the check engine light telling you? Find out with this device!
Your check engine light is on and you have two choices: Go to the mechanics to find out what's wrong or try this gadget, risk-free, for 30 days.
Discover FIXD car diagnostic
FIXD car diagnostic is the result of a successful Kickstarter campaign that launched in 2014. And it's not simply a little device you can plug in the OBD-II port of your vehicle. It also comes with an app that will help you understand your car and uses Bluetooth to communicate.
But let's go back to the basics: What is OBD? It stands for On-board diagnostics. And it's a vehicle's self-diagnostic and reporting capability. Today, all cars come equipped with a standardized digital communications port that provides real-time data and diagnostic trouble codes (DTCs).
How does FIXD work?
While you can see only the check engine light on your dashboard, an OBD2 car scanner allows mechanics to rapidly identify and remedy malfunctions within vehicles. So when you bring your car to the mechanics, they'll plug their diagnostic tool. And they'll be able to see a detailed report on your car, with a list of all the problems.
Basically, this car health monitor allows you to access the OBD yourself. And within seconds you can know what's going on with your car. It also has a simple description of each problem. So even if you don't speak car, you'll get it easily. It mainly detects check engine lights. And its database includes 6,800 possible causes which can detect and translate the problems for you.
FIXD car diagnostic: Main features
Continuous monitoring
You can keep the car health monitor plugged in at all times. And you'll be able to get notifications on your smartphone automatically if it detects a problem with your vehicle. While it charges with your battery's power, it uses a low-energy mode. However, if you need to leave your car sitting for more than a couple of weeks, you should remove the sensor from your OBD-II port.
Multi-vehicle control
As I said above, you can order several of these adapters – one for each car you have. And you can remotely monitor the health and status of those vehicles from the same car diagnostic app. Downloading the FIXD app allows you to access the live data of your car.
Mileage detection and maintenance reminders
With the sensor plugged in, this car monitor can determine your mileage using an algorithm their team developed. And the car health monitor can send you an alert whenever your vehicle approaches the next recommended maintenance. Maintaining your car properly can save you money in the long run!
Vehicle history
Having a real-time feed of your car's health and issues is great. But it's even better if you can track all the problems because you may discover a recurring issue. You can get the history of problems detected in your vehicle and keep a running log using the FIXD OBD2 scanner along with its car diagnostic app.
Clear the engine light
Finally, and it's the one thing that could convince you to buy it: You can clear the engine light! Of course, this OBD2 scanner won't fix any problem with your car automatically. For this, you need to visit a mechanic or fix it yourself if it's nothing serious.
Is FIXD car diagnostic compatible with my car?
Chances are, it is. Because this OBD2 scanner works with all gas, diesel and hybrid cars from 2006 and newer. And it can connect to any vehicle model year 1996 and newer that runs on gasoline. Finally, it also works with trucks model year 2006 and newer which have a gross vehicle weight rating (GVWR) under 3,500 kg.
If you want to see where your OBD-II port is located, check these popular locations:
How to use FIXD car health monitor?
Simple as pie! I've prepared below a quick step-by-step tutorial to help you get started with ease. And if you have any questions, feel free to contact their support team.
Plug the dongle into your vehicle's OBD-II monitor port
Sync the device with your smartphone app (enter your sensor code)
That's it! From now on you can monitor the health of your vehicle. And if something's wrong, you'll get a notification.
Does FIXD really work?
Check what users have to say about it below in these FIX review:
FIXD Price and where to buy
The last section of my FIXD car diagnostic review, the cost. Because you want to know about the FIXD price, right? The mobile car diagnostic app is free on both the App Store and the Play Store. And the device costs 59 USD, which is affordable for this kind of feature. Because you could save a hundred quid in auto repairs.
Furthermore, if you need one or two extra devices for your other cars or your family, you can get a discount. The second one is 50% off, you can get the third one for free! And you can even try this device risk-free with their 30-day money-back guarantee. Lastly, each device comes with a 1-year limited warranty.
FIXD where to buy?
Not all FIXD reviews will give you a special deal, but this one will. Simply click the 'Get it Now' button to avail.
FIXD car diagnostic unboxing
When you receive the tool, it's in a very nice packaging that will remind you of Apple products. And the device in itself is a white sturdy piece of technology, which reminds me of the old Euro-AV connector for my PlayStation 2.
The app (Android/iOS)
The company developed native apps for Android and iOS. So you can download and install the app either on your smartphone or your tablet.
They've also done a good job with the User Interface (UI). Everything seems to be neat and smooth. And you'll know what to do without the need for guidelines.
Conclusion
If you're tired of being ripped off by mechanics, then this is the solution you're looking for. This OBD2 scanner allows you to understand what your car is telling you when the check engine light turns on. In addition to displaying the error codes, it assesses and tells you how bad the problems really are. So you won't have any bad surprises when you bring your car for a routine oil change.
It's a very accurate car diagnostic tool. Indeed, mechanics use the same data, from the same port (OBD-II), to diagnose your vehicle's health. So, you'll be able to call B.S. on the shady auto mechanics from now on.
Last but not least, anyone can use it. You can install the car diagnostic app and get a diagnostic in a few minutes. And you don't even have to be a car person. The app translates problems into simple terms that anyone can understand. Does it work? Yes! And my FIXD app review, like most FIXD OBD2 scanner reviews out there, is very positive. For me, it's the best car health monitor out there.
FIXD OBD2 Review: Essential!
PROS
Affordable
User-friendly
Accurate readings
CONS
Doesn't actually fix your car!