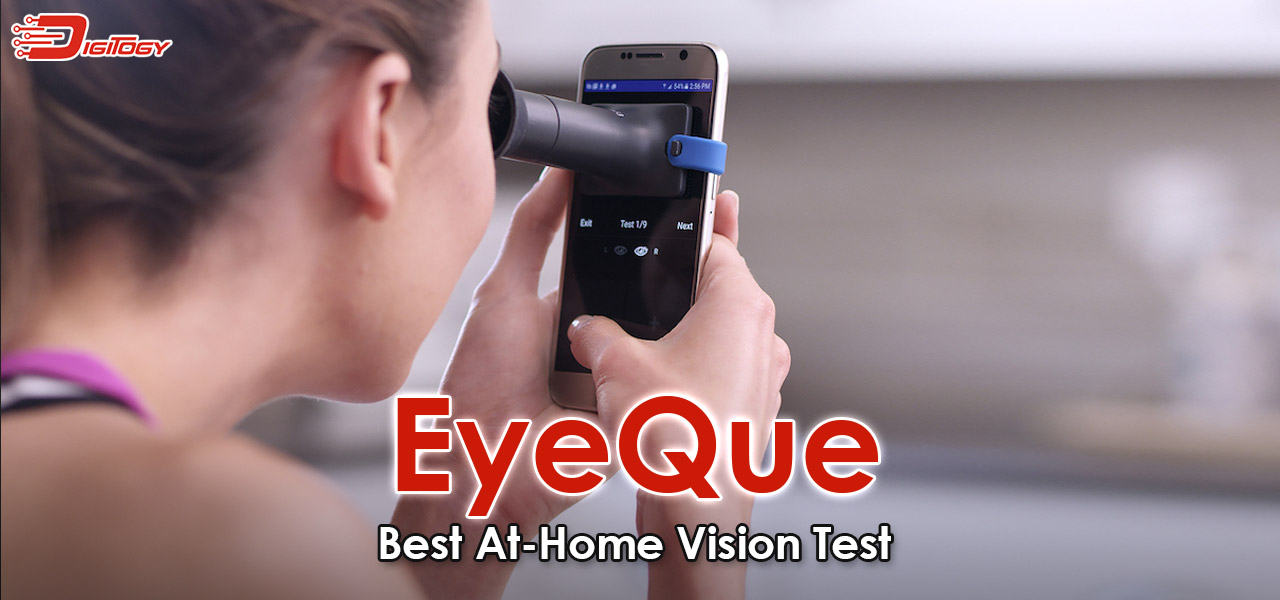 There is now so much we can do with just a few taps in our smartphones. That includes being able to order new glasses online using the EyeQue vision test app. Eye Que is a technology designed by professionals for easy to use, home vision testing. This allows people to measure their EyeGlass Number using the EyeQue Personal Vision Tracker (PVT). The PVT is attached to their smartphone and an app is downloadable for free. After the EyeQue test, you can input the information when you order glasses online. Is this technology the future of eye health care?
Buy Now
Get Your Eye Tested At Home with EyeQue
Try EyeQue for accurate vision checks, with great deals and a 30-day money-back guarantee!
Updated on 25 September 2023
The Dilemma
The frequency of your visit to the optometrist varies depending on your eye condition. For some, it can just be every few years while others, this can be a few times each year. This means setting up appointments multiple times, heading to the clinic, and taking days off at work sometimes. All these entail time and resource costs.
For in-store visits, the optometrist only performs one eye exam. During this one time, you or the optometrist might be having a bad day or your eyes could be exhausted before the testing. Also, lighting or weather conditions might have changed significantly. These changes in the environment can affect the test in vision adding further inaccuracies to the test results resulting in spectacles that may not be fully accurate.
EyeQue Review: The Solution
With this EyeQue personal vision tracker, you don't have to worry about setting up appointments, waiting for your turn, and spending time and gas to visit the clinic or store. You don't need to be taking days off work, too. Why, you ask? Because you can do the EyeQue test at home all by yourself – saving you time and money.
Another great thing with Eye Que test is that you can do this multiple times and during different times of the day to get the best results. Once you get the EyeQue test result, you can upload it on the cloud for online storage and data tracking. You can also easily pull up your recorded information and send it to your ophthalmologist when necessary.
Each order comes with EyeQue Personal Vision Tracker (PVT) that you attach to your smartphone via a safety band, a storage case, and a quick start guide from all the necessary information to legal notices and terms. The app is downloadable free both in iOS and Android devices.
EyeQue Personal Vision Tracker Review: How to Use it
Using this vision tracker for eyesight measurement is pretty straightforward.
Attach the EyeQue Personal Vision Tracker to your smartphone, open the app, and follow the onscreen instructions. The test will require you to adjust the red and green lines using your device.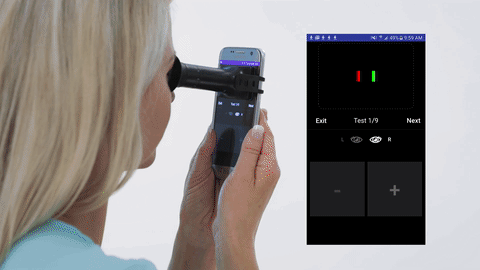 The goal is to align the two and create a singular yellow line.
EyeQue Review: Benefits and Advantages
Convenience
Their products and services revolutionize the way we acquire prescription glasses. You can do so many things with this vision tracker. First you can test, order, and have your glasses delivered to you. Second, you do all of these things through your smartphone. This convenience is worlds away from physically visiting an optometrist.
Accuracy
Regarding accuracy, it uses MIT-patented technology that provides accurate results including the cylinder, axis and sphere readings, necessary in getting the correct prescription EyeQue glasses. As a result of this innovation, over 50,000 customers have used this vision tracker. Around 92% were happy with their new glasses bought with this revolutionary device.
Affordability
The EyeQue Personal Vision Tracker costs $49.99 for a one-time purchase and that EyeQye price is good for the entire year. It's undoubtedly less expensive compared with regular visits to the optometrist, along with other costs.
EyeQue Reviews: Users Speak Out
This EyeQue test has changed my life – for real. I am so happy I bought one! You should, too!

I am really satisfied with the EyeQue test vision checker. I was impressed with EyeQue reviews I read, so I took a chance. It saves a lot of money.

My experience has been mixed with this product, but thanks for letting me give my EyeQue Review. My problems is I find it difficult to use the standard strap to connect the EyeQue test PVT.

While I love the product, I have a colorblind brother and it doesn't work on him. I hope you fix that soon! Thanks for getting my EyeQue review.

EyeQue Test Review: Price and Money-Back Guarantee
What about EyeQue price? The EyeQue Personal Vision Tracker price is $49.99 for a one time purchase. This can even be availed for less if you are buying more than one unit. Additional options include Buy 1 Get 1 at 50% off with $25 in savings, and the Buy 2 Get 1 Free deal with $49.99 in savings.
There is a 30-Day Money-Back Guarantee and easy return for customers who are not satisfied.
Frequently Asked Questions (FAQ)
❓ What is the PVT?
It is a smartphone application to get accurate eyesight measurements. The results can be used to purchase prescription glasses online.
👀 How accurate is it?
The accuracy of the EyeQue personal tracker review test result is based on the cylinder, axis, and sphere readings, necessary to get the correct measurements for glasses.
👍 Does it really work?
Based on customer reviews, it does. Over 92% of customers are proving its effectiveness, as well as positive feedback and EyeQue review from optometrists.
Conclusion
Reviewed here a great product that you can use at home for EyeQue eye test to help you get your EyeGlass Numbers and order your glasses online. It is much cheaper compared to personally visiting an optometrist, and it also frees up your time to do other things.
It is affordable, accurate, and easy to use. In today's modern busy times, it is a great tool to test your vision, while also promoting a form of eye health care.
PROS
Easy to Use
Affordable
Accurate Results
CONS
Safety strap not compatible with all smartphones
Doesn't work for people with color blindness
Paid All Access Membership