Philips takes a brave step in bringing their light products outdoors and in fact, these lights are smarter than before. Today, their new Philips hue white and color ambiance calla outdoor pathway light is selling like pancakes in Amazon along with its mounting kit. However, it is a no surprise because even the famous Ellen DeGeneres expresses her approval with her Tweet saying the Philips Hue Calla gifts are B-A-N-A-N-A-S. Now, let us disclose the best of Philips Hue Calla light and mounting Kit with this intensive Philips hue calla review.

Updated on 7 December 2023
Philips Hue Calla: A quick peek
After its release the year 2012, smart lights Philips Hue remains to be a perfect smart home device all over the world. Moreover, it is almost over six years now. Yet, the multinational technology company has successfully modified and upgraded one of its product formulas in 3 outstanding product generations. These upgrades include the enhancement of Philips light's color brightness, accuracy, the addition of Apple mounting HomeKit support, and lastly, increasing the range of bulbs and luminaires.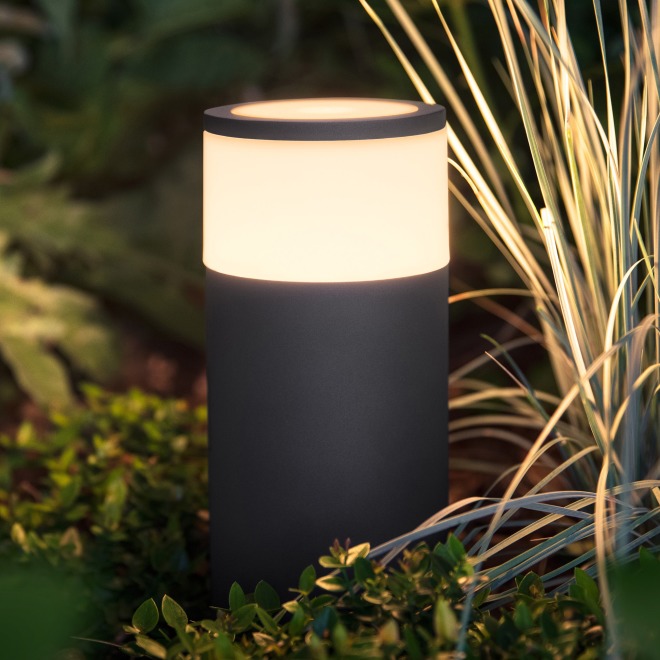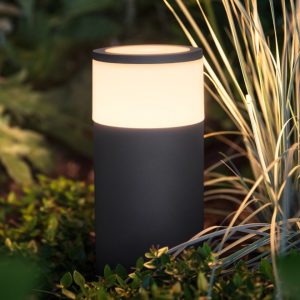 In the long run, while some consumers are already contented with the range of products provided by Philips, there are still others who want to see an outdoor light with this brand. Many homeowners are waiting silently for an outdoor Philips light that can make their gardens and decks merrier this Christmas. And so, the company launched they're first ever Philips Hue Calla outdoor path light for a brighter life outdoors.
There are many things you can do with the Philips Hue Calla. You can either use it to make the mood lighter in your backyard. Or use it just to make your walkways visible at night. Whichever it is, Philips Hue Calla got your back. In fact, we will also disclose the best of Philips hue calla extension to save you time from thinking twice the next time you visit Amazon.
Philips Hue Calla: Price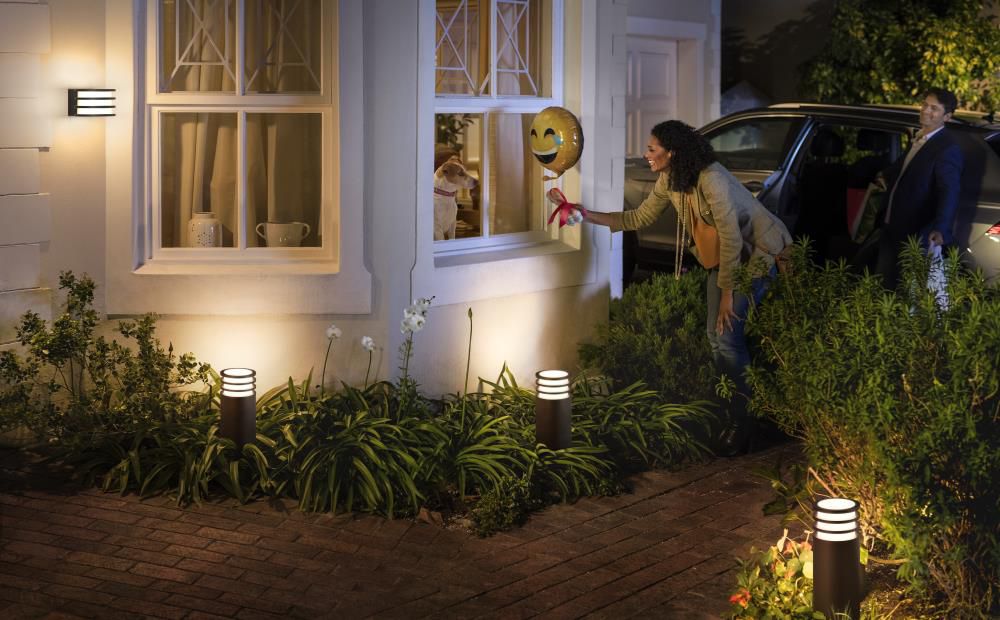 This smart light must be a little bit expensive for an outdoor path light. But, the experience it renders is like buying with your money back. This device will cost you at $130. Moreover, it includes one bollard-style lamp, weatherproof cables, and an outdoor power supply. Just like the previous Philips Hue lights, Calla can also be connected to an indoor bridge Philips Hue through Zigbee. As a result, this allows various smartphone integrations and controls.
For starters, you will have to buy a Philips Hue bridge for about $60 separately. Otherwise, you can get a Hue starter kit in Amazon that works to wrap the hub using more than or two indoor bulbs.
After the installation of its base unit, you can connect a maximum of 5 additional lamps in a linear way using the Philips hue calla extension kit. This kit includes a single extension cable, a light, and lastly, one T-like power connector. The good thing about these devices is the fact that these are UL certified. This means that these high-quality components are certified to be safe even in wet conditions. Not only that, but these are also dust-tight, IP 65 rated, and can skip the danger of jetting water.
Additionally, the Philips Hue Calla integrates a LED dimmable 8W bulb that can support sixteen million colors. Furthermore, it has up to 640 lumens light output. I am personally astounded to know these things about Philips Hue Calla myself. In fact, I can't wait to install one of these in my backyard one of these days.
This smart innovation emits light far brighter compared to most backyard needs in order to show off a decorative lighting accent. Likewise, it is true for pathways too. Enjoy the lamination of these creative lights before this year ends and make the most of this holiday season merrier than before. With this light's 25,000 hours lifespan, you will surely make it happen. Even until next year.
HIGHS
Completely Weatherproof: Great for all type of weather conditions.
Has 16 million variety of colors and easy application control
Easy access to a wide range of Hue smart outdoor lamps
Features a straightforward setup
Stylish conservative design
LOWS
Features a Large transformer
Comprises small screws in silver color: Makes the lamp design cheaper looking
[amazon box=" B07DBN3FSQ" title="Philips Hue Calla" image_alt="Philips Hue Calla" rating="3.4″ image_size="Large" description="Smart Lighting Outdoor Path light system with mounting kit."]
Great Construction against Unexciting Design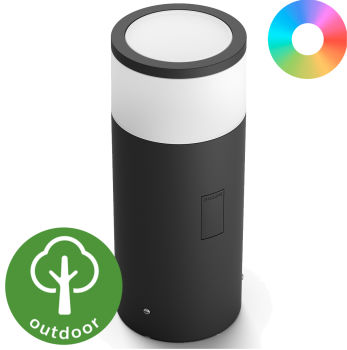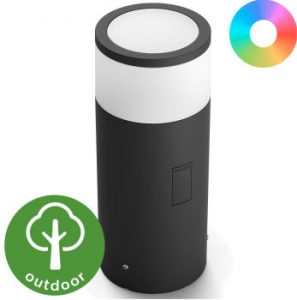 We will not end this Philips hue calla review without seeing disclosing the best and even the not-so-best of its design. The first time Calla was launched, it only displays an aluminum black finish. Also, it comprises a well-built cylindrical compact mini-bollard which rends a high-quality but not that exciting design from Philips.
Although this smart lighting system displays a sleek and well constructed built, its design has no current signs to release newer finishes. This means we won't be seeing other Calla than black anytime soon. Yet, there is nothing to be sad about it. Besides, what most of us want is a device that plays its role with lots of functionality, durability, and more on rendering user convenience. However, style is a significant addition that completes our satisfaction anyways.
Easy Installation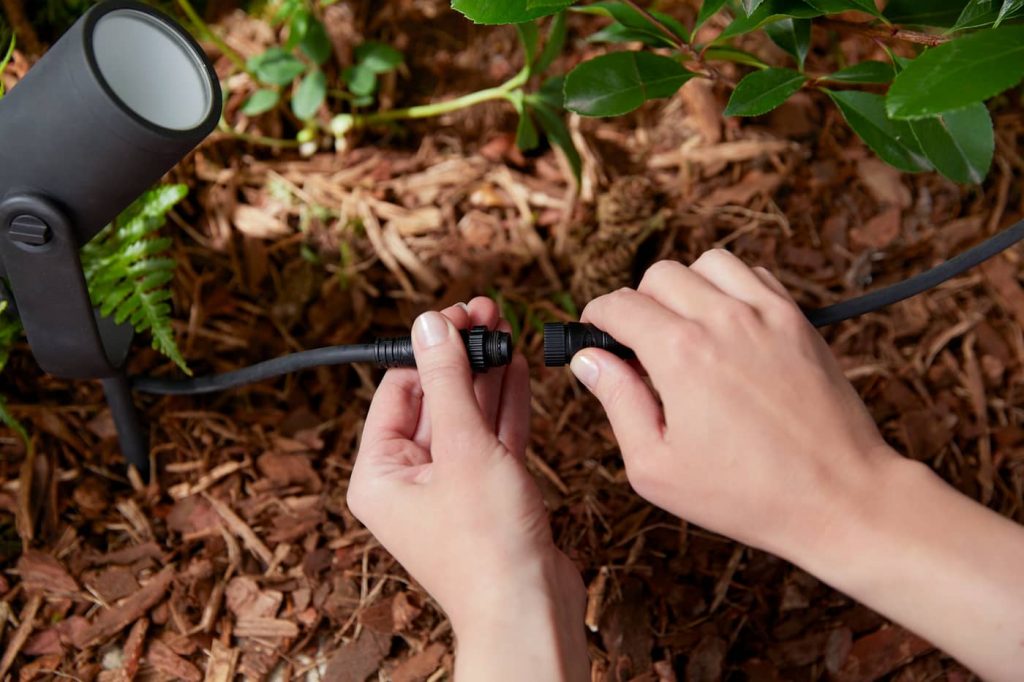 Since it has a straightforward installation process, it will only take a bit of your time. However, you need to plan your lighting and cabling ahead to ensure network and power connectivity during your installation. Moreover, Hue bulbs act as network repeaters for Zigbee. This allows you to set lights with a maximum of 64 ft apart. Lastly, it is recommended for you to install an indoor Philips lamp in a room close the garden to make a secure connection with your first Philips Hue Calla outdoor path light.
Just to let you know, the base unit of Calla's power supply has a heavyweight 18 American Wire Gauge (AWG), 11.5 feet cable, and a 16 feet extension cable which are included in-box. Plus, an added 16 feet cable along with every extension kit. These cables are recommended by the company to bury at least 4 inches under the ground to avoid further damage from garden tools and aerators. However, T-connectors must be placed strictly above the ground.
Final Thoughts
This creative smart device is definitely the best buy. Light up your house outside and reflect the joy and brilliance of your home. These accent lighting will surely make your backyard feel complete.