In every makeup routine, the most important part you must perfect is the application of foundation. It covers the flaws in the skin, changes the tone of it, and create even complexion. For some people. They use their fingers to apply it on their face while others use makeup brushes for a smoother finish. But the thing is, most women are still struggling to hit this part right. This is the reason why we want to introduce you blendSMART foundation brush. The brush that can make all the difference.
Based on studies, most women wear makeup to work as camouflage. Well, women are sometimes insecure and anxious about their looks. So to appear less noticeable, they put makeup on their face. Well, it is sometimes the other way around. Because if you want to stand out, you can use makeup to enhance your look and become stunningly beautiful. But whichever, it is. Here is the excellent brush that can help every woman achieve both.
Introducing blendSMART
blendSMART is a motorized foundation brush that can rotate at the speed of 190 RPM to evenly apply makeup. This mechanism provides the same motion of a Makeup Artist's movement of hand that smoothly and perfectly blends makeup.
The blendSMART brush can give you the natural look you have ever dreamed of. Its rotating brush can provide you with a skin that is so natural that people might think it's a work done with an airbrush. With this, you can now do your foundation with less makeup and less time compared when using manual makeup brushes, sponges, or your fingers. In addition to that, blendSMART foundation rotating brush is the first ever cosmetic brush that has a rotating head. This can gently cover any skin imperfections to achieve smooth and flawless skin.
You can actually enjoy using other brush heads to put on all the different powders, liquid, and quality skin care products you love. Besides, it includes various types of interchangeable makeup brush heads that can allow you to easily switch on one type to another. This makes blendSMART so unique among the makeup brushes in the market today.
Common Results of Using Blending Sponges and Manual Brushes
Whether you admit it or not, using the traditional makeup applicators gives you a hard time in perfecting your makeup. As a matter of fact, we have listed below some of the most common results of using manual brushes and blending sponges that will make you cringe for some reasons. Check them out.
Streaky bronzer lines
Acne breakouts
Skin irritation
Blotchy foundation
Crumby and caked-on powder
If you want to avoid these common makeup mishaps, we highly recommend you to use blendSMART brush today. Not only that it is incredibly affordable and hygienic. But also skilled like a pro in helping you get a smooth and flawless finish. Surely that you'll love this brush the very moment you take it out from the box.
Why Choose blendSMART?
The idea of a rotating brush that can blend makeup into perfection might leave you some doubt. However, blendSMART foundation brush already proves its skill when it comes to perfect blending and now bringing so much relief on its growing number of users. So, while others are still undecided if they will choose the blendSMART brush or not. Here are some of the things you can get from its amazing rotating brush head:
Professional Look
You can now achieve a perfect and smooth coverage to help you complete the professional look you are going for blendSMART foundation brush is ideal to use in every type of skin without the worry of acne breakout or skin irritation.
This revolutionary product can help you get an airbrushed cover no matter what level of makeup skill you have. Not only that, because you can now get the best skin complexion for a professional look without having to use a costly machine on your next makeups session.
Great Coverage with Less Makeup
Some people hate applying makeup because of the unnatural look they get from using traditional tools such as sponge. This is the reason why several women now agree that blendSMART foundation brush is a must-have item especially because it provides great coverage without having to put a lot of makeup products on the face.
We all know that excessive application of makeup products on the face can possibly clog your pores that will further lead to acne and pimple breakout. But what's worse than that is when the foundation gets stuck in your face's fine lines due to using ineffective makeup tools.
Now that a helpful and very innovative product is in front of us. I don't think women will ignore such an amazing product. Through blendSMART, you will be able to avoid using a lot of your favorite makeup products and also save a lot of money along the way.
Save Time, Less Effort
Sometimes, applying makeup can take so much effort and time especially if you are putting makeup for formal occasions and other important events. Good thing we can now apply a flawless makeup coverage with blendSMART while saving effort and time through its excellent rotating brush technology.
Ideal for All Skin Types
I personally avoid using makeup to save my skin from having pimples due to my skin's sensitivity and prone to irritation. But unlike the traditional makeup brushes being utilized today, this rotating makeup brush offers incredibly soft and hygienic interchangeable brush heads that are made of excellent antimicrobial fibers. This is the reason why you don't have to worry about having sensitive or acne prone skin anymore when using this rotating foundation brush.
Easy To Clean
The entire set of blendSMART brush heads are made of premium synthetic fibers that are not only soft and high quality but also very easy to clean. Make sure to keep the brushes you utilize well-cleaned to make sure it has no bacteria.
4 Different Interchangeable Brush Head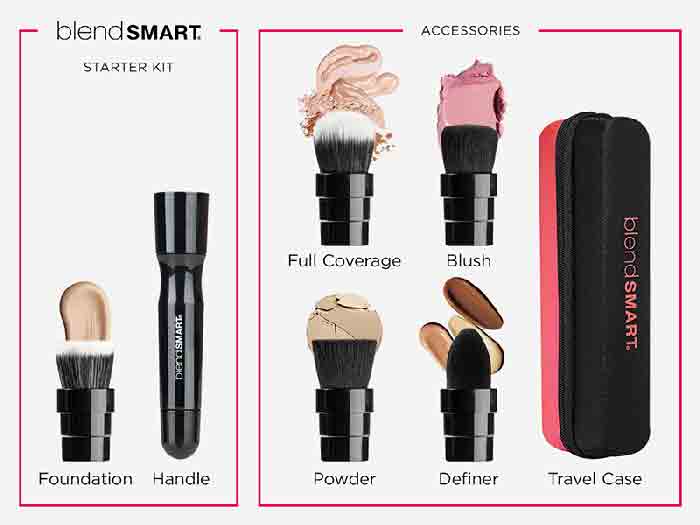 blendSMART comes with 4 different types of makeup brush heads to complete your pro makeup kit. It includes Powder, Full Coverage, Blush, and Definer Brushes that is now available for with 30% off discount when included at checkout. These brush heads are essential for you to get the perfect makeup finish that you want to achieve. Besides, using high-quality makeup brushes helps to evenly smooth out the powder, foundation, or skin product on your face.
1 Year Warranty and 30-Day Money Back
Enjoy a year of warranty on blendSMART's rotating handle and a 30-Day Money back if you are not satisfied with the product you receive. This way, you will get the satisfaction you want without having to worry about investing in a defect product.
How Does It Work?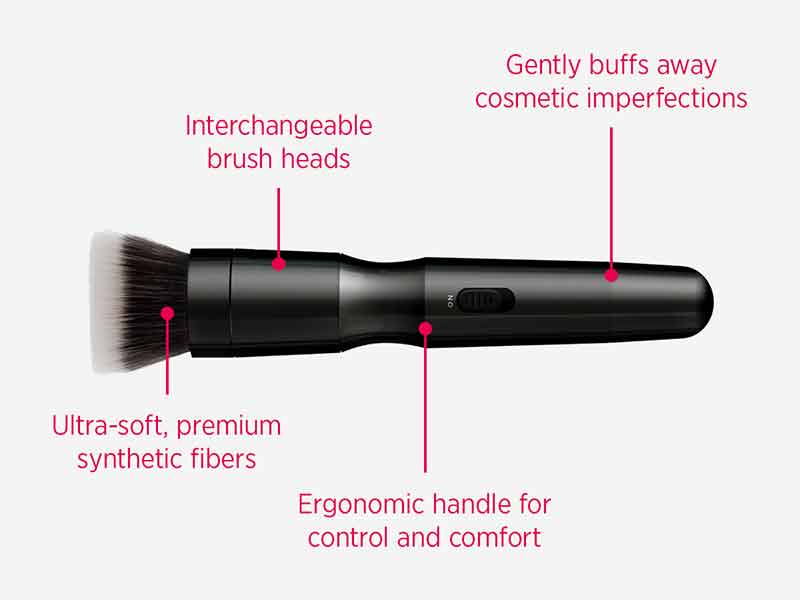 Using the traditional makeup brushes existing today, you have to move the brush in a circular motion on the face to blend the product evenly. But with the use of blendSMART foundation brush, you don't have to exert so much effort and time any longer.
blendSMART is powered by a battery that is hidden on its handle to make the interchangeable brush head spin gently and quickly to create a perfect blend of skincare and cosmetic products on the face. It can spin at the speed of 190 RPM that is specially designed to copy the motion of a makeup artist's hand. Since most of the traditional makeup tools in the market today fail to give us the perfect natural look we want. It is now time to turn to the product that can really provide the result we desire.
Aside from that, sponges use to absorb most of the expensive skin care and makeup products such as foundations, primers, and moisturizers instead of helping the skin to absorb them. While the brushes that are manually used only makes it more difficult to get a smooth, lightweight, and even coverage that is essential to make your look more natural.
blendSMART is available in 4 different brush heads as well as accessories that are offered to complete a smooth and flawless look. Overall the makeup tools I've ever tried before, BlendSmart's patented sleek rotating brush is the only one that truly provides the look and the feel I need. I know most women and makeup enthusiasts will love this revolutionary product due to its great capabilities that delivers amazing results.
People Are Talking About It
If you are curious if blendSMART is good enough, then you must hear from the famous people who are talking about it. You must be surprised to know that the famous Oprah Winfrey even commended this rotating brush because of its greatness. We all know that the TV personality is keen in choosing her list of favorite things yet she declared that blendSMART is a brush that includes total greatness.
On the other hand, Vogue which is a famous beauty magazine stated that this brush is a game-changing product. Game changing in the sense that it really delivers its promise to users that most makeup tools never did. This is more than enough reason to ditch the manual brushes and sponges you are using right now for blendSMART rotating foundation brush.
Other sites where it is also mentioned are Bustle, BuzzFeed, InStyle, People, and the Wall Street Journal.
Is It Expensive?
I'm glad you ask this question so I can answer you with the truth. Every year, the average cost of a woman spends on makeup and skin care products reaches up to $2,800. This only proves that getting this sleek rotating brush for only $59.99 is a great investment and definitely a no brainer. It will help you save money and time, as well as provides gorgeous and natural finish every single time you apply makeup.
So, is it expensive? Definitely not.
Where Can I Get Mine?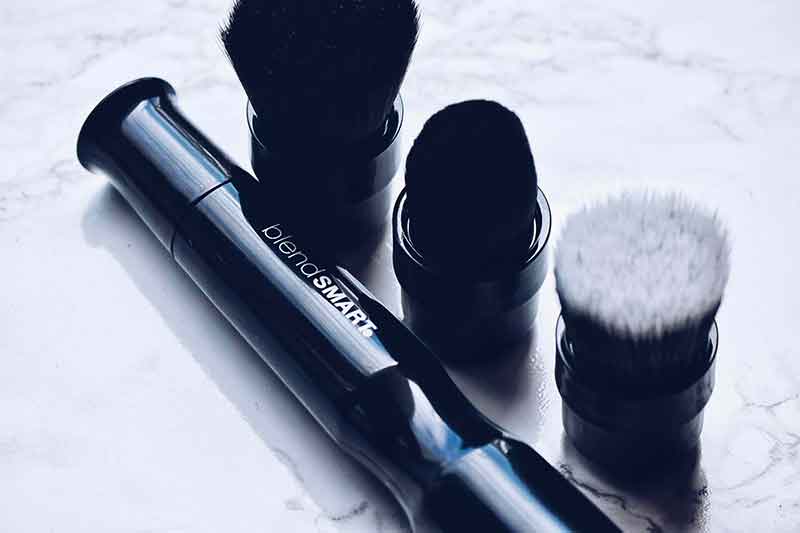 If your hands are itching to have this cool rotating foundation brush, here's what you should do to get it. Just click the button below. Then, decide on which package suits your needs. Afterward, hit the "NEXT" button. And then select the accessories you want to add,  lastly, click "CHECKOUT".
You will are required to fill up the shipping information first to complete your order but make sure to enter data accurately. The fields that you have to fill out are email, your name, address, Apt/Suite which is only optional, City, Country, State, Zip code, and Phone number which also optional. After reviewing if you are entering correct data, click the "NEXT" button. This will complete your order.
If you are curious about what accessories are available on each blendSMART Starter Kit, I can be a little more helpful for you. Just like what I have mentioned above, you will be asked if which accessories you want to include in your order. Moreover, the accessories are categorized into three unique kits.
In the Starter Kit #1, we have the … wait, they are all the same. I literally laughed at this because all of the starter kits have the same set of accessories. This includes the blush brush, definer brush, powder brush, full coverage brush, and a cute travel case for only $17.49 each. Getting them here can actually help you save $7.50 on each item.
blendSMART accepts payment through PayPal, American Express, Discover, MasterCard, Visa, and Shopify Secure. Also, the shipping is free for USA shipping only. Experience the best confidence of having a natural looking makeup using BlendSmart foundation brush starting today!
Final Thought
Makeup is simply essential. However, too many people and not just women put on makeup the wrong way. This makes this art lose its benefits on the wearer. For this reason, I find blendSMART beneficial for those individuals who want to go for less makeup. And achieve a natural look for it is actually the best solution especially for those who are not that expert in blending foundation yet.
If you think that blendSMART is the right makeup tool for you to achieve the flawless coverage and smooth finish you ever dream of. Then it's your time to get this rotating brush. No more pausing, get it while the stocks last.