Sweet talks are not enough as our basis to buy products. And it is especially if the products we are talking about here are extremely expensive and critical like NAS devices. Most of the purchased NAS are utilized for important purposes like handling critical files for a business. While others are used for housing personal files of a person or a group of person. More so, we did the best thing to do. We consult the experts for reliable advice and with that, we present to you the best NAS devices tried and tested by experts.

Updated on 27 November 2023
Expert Tested NAS
Synology DiskStation DS218+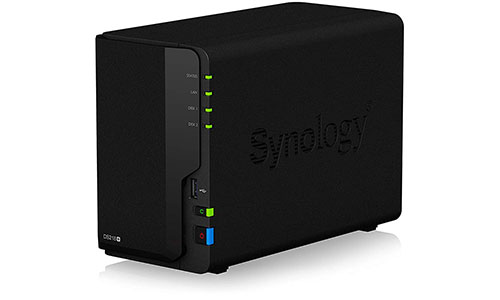 As experts spend lots of hours researching and analyzing NAS devices, they found out that Synology DiskStation Ds218+ is one of the best NAS devices 2019 ideal for those with small spaces. May it be business or for home use, this NAS device has a compact design that allows those with small storage space to place it anywhere. Not only that. Because this excellent NAS device can deliver higher than the average grade of performance and speed compared to other network attached storage devices existing today.
What makes this NAS strongly recommended for those who love media streaming is the very reason that it can nicely handle HD video files. While at the same time rendering high-quality playback for you and your family to enjoy a higher level of media viewing experience. It also has a good quality of built-in data securing measures. This outstanding NAS system utilizes the sleek QuickConnect technology that allows you to access your own files via a secured internet connection.
DS218+ uses a dual-core processor, the Dual Core 2.0 that has AES-NI hardware encryption engine which burst a maximum of 2.3 GHz. Like so, it has a single phase power frequency 50/60Hz as well as 5.4 W HDD hibernation and 17.23 W access power consumption.
However, this NAS device is not recommended for extremely busy environments due to the fact that it utilizes a dual-core CPU. Plus, it does not include hard disks when shipped.
[amazon box="B075N1BYWX" title="Synology DiskStation DS218+" image_alt="Synology DiskStation DS218+" rating="4.4″ image_size="medium" description="2-bay Network Attached Storage."]
Buffalo TeraStation 1200D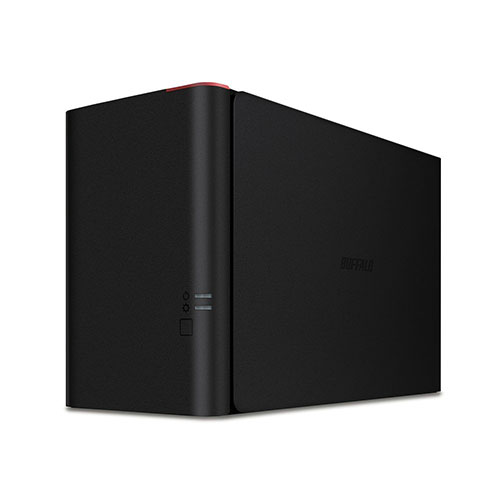 For an excellent NAS system, the Buffalo TeraStation 1200D boasts a great price point. Unlike other NAS brands, Buffalo includes high-quality buffalo hard drives when shipped so you can use it right away. In facts, it is the best network storage that can collaborate with you. It is the best NAS storage for home and small business and it is excellent for professional users that require a trusted RAID-based network data storage solution.
The Buffalo TeraStation 1200D has a very compact design that allows it to fit perfectly in any kind of environment you have. And for a two drive desktop NAS solution, it appears to be incredibly budget friendly and functional. Moreover, you can now merge into an existing network configuration easier than before. Access your files through the internet and use any device to do it and you are about to experience the best mobility ever.
When it comes to security, you don't really need to worry because Buffalo got your back. This reliable NAS has basic data protection abilities included in its system in order to give you a strong base in the area of network data storage protection. The TeraStation 1200 also includes at most 10 free NovaBACKUP Business Essentials for Windows PC and servers licenses from NovaStor as well as Time Machine support so you can backup multiple Mac computers from time to time.
It provides the best real-time synchronous data replication just in case you have to transfer all your essential data from one TeraStation Network Attached Storage to another TeraStation NAS. As a matter of fact, Buffalo made it with ease so you can achieve continuous data protection.
But since we consulted experts to give us advice. They pointed out that this NAS device doesn't include much RAM nor powerful CPU. Therefore, it is only ideal for slightly active environments.
[amazon box="B00ND1L2EQ" title="Buffalo TeraStation 1200D" image_alt="Buffalo TeraStation 1200D" rating="4.1″ image_size="medium" description="4TB Network Attached Storage with Hard Drives."]
NETGEAR ReadyNAS RN424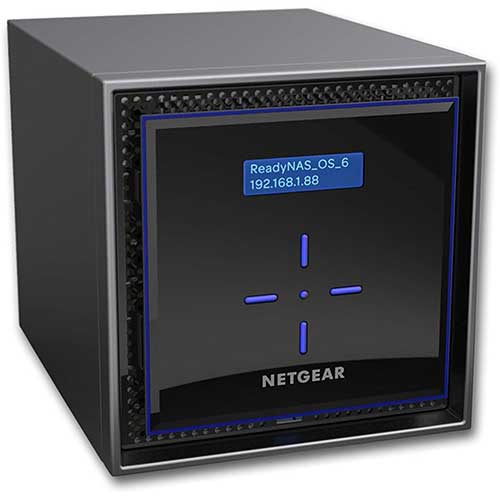 Now, let us get to the last network attached device reviewed by experts. Since every business encounters almost the same challenges. The criticality of data, its increasing amount, plus the demand to access it securely by all the involved users. Of course, at a fast speed equally rewarded for those who are accessing from outside the office and it must be provided by a NAS device.
The ReadyNAS 424 network attached storage device is a 4-bay model. It renders a high-performance solution by delivering high geared data backup as well as access to workgroups. It also includes the industry leading unique 5 data protection levels along with the ReadyCLOUD technology to give you an automated and secured VPN access to your data. If what you need is a NAS system that can provide a large data capacity to house all the important data you have to store. The NETGEAR RN424 has four drive bays to cater to all your storage needs.
Additionally, this best NAS device for home use likewise includes countless built-in features especially added to protect your data. In fact, it even has easy cloud access so you can view, share, or download your files anytime you need. It supports multiple people to access it. Let alone that at max, this NAS device allows 40 people to use it at the same time.
This NAS is the best NAS device for small business. And the most evident advantage that you can tell about it is its design. Because of its squarish look that comprises an aesthetic and very helpful display screen. Meanwhile, testing it would give you even more. Try it you'll get nice storage for video ideal for homes with numerous security cameras.
[amazon box="B01KJ58F4S" title="NETGEAR ReadyNAS RN424″ image_alt="NETGEAR ReadyNAS RN424″ rating="3.8″ image_size="medium" description="4-Bay High Performance Network Attached Storage."]
Final Thought
Each of these network attached storage has its own strength and weaknesses. And we won't really know it. Not unless we ask a great NAS expert that can state us each side of it. Knowing the strengths of a NAS can direct you to the right device that matches your need. On the other hand, learning about their weaknesses can help you find the best. So, are you satisfied with these reviews? Let us know your thoughts about it.