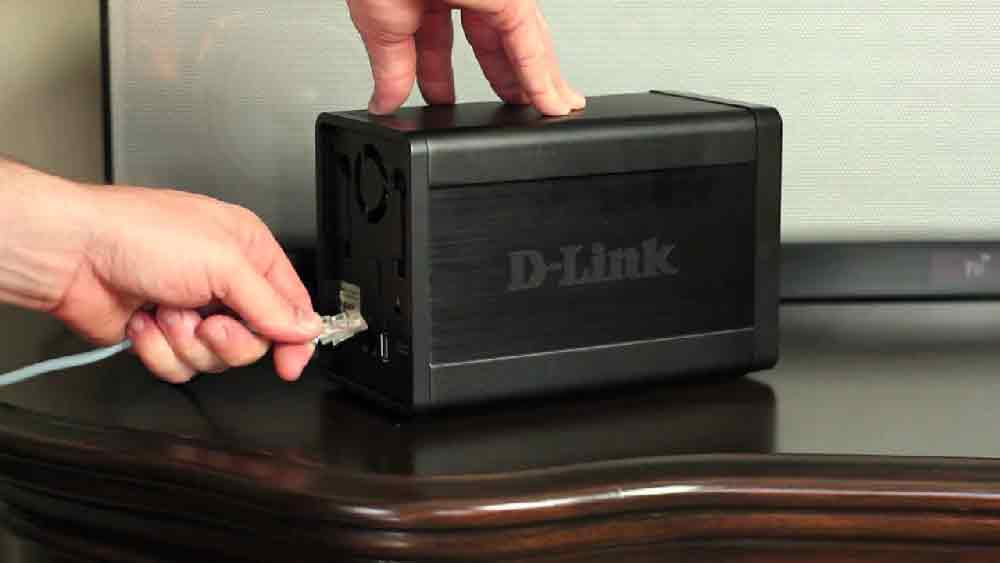 Since it is our first time talking about Drobo and D-Link Network Attached Storage. We specially make this review clear and comprehensive enough to fill you in with what's different or unique on these devices. In here, we have included two Drobo NAS and one D-Link NAS.  This is to give you a quick overview of their specs and features.

Updated on 27 September 2023
Drobo 5N2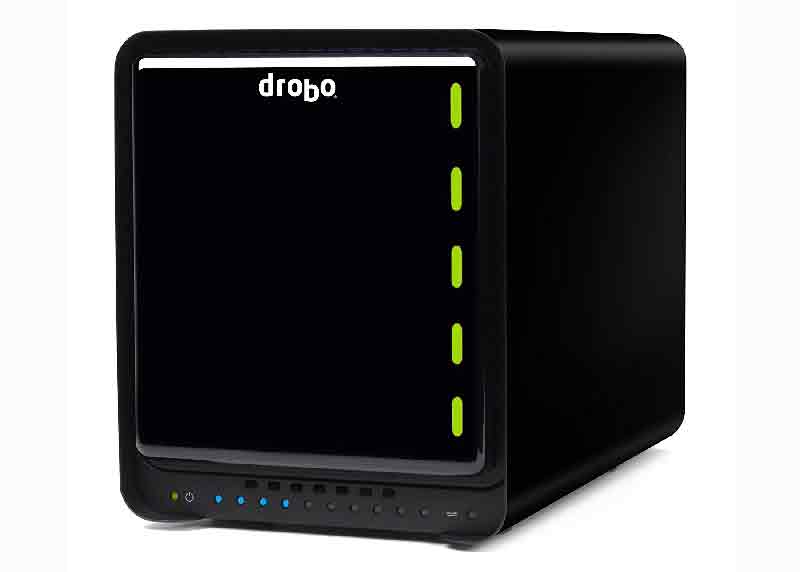 What is in Drobo 5N2 that you have never seen on other NAS before? Well, it might be its simplified storage design that fits every small office and home. This 5-bay Drobo NAS backup is the latest generation Drobo with five drive slots that you can populate with equally huge drives to achieve a massive storage capacity.
The 5N2 renders an unmatched user experience for secure backup, data sharing, disaster recovery solutions, and remote access. Moreover, it is faster compared to its predecessors.  It can also provide a level of automation that is most commonly found on more costly solutions. As well as it keeps the simplicity that is found on every Drobo products.
In line with this, Drobo is also a brand known for its fast and high-performing NAS. But it is also worth noting that the 5N2 is also incredibly easy to use, automatically provides protection against sudden hard drive failure, and expandable. For those individuals who are looking for a centralized place to keep their massive media libraries, this NAS is the most ideal Drobo NAS you must opt for.
Upon analyzing its design, this Drobo storage solution is surprisingly structured with users in mind. You can see it from its tool-less structure that enables hard drives to be mounted even without carriers. As well as its screw-less variable-speed cooling fan.
Moreover, this compact and discreet NAS is specially designed to work perfectly on your desk. Whether it is for a small office or home usage, this device fits well. Not mentioning that you can actually adjust its light and set it to dim or its drives to significantly spin down the moment it is not in use.
The 5N2 also carries two ultra-fast GbE ports. This allows users to experience super-fast file sharing speed that goes smoothly and securely.
[amazon box="B06XGN6L4S" title="Drobo 5N2″ image_alt="Drobo 5N2″ rating="3.8″ image_size="medium" description="5-bay NAS with Gigabit Ethernet Ports"]
Drobo B810N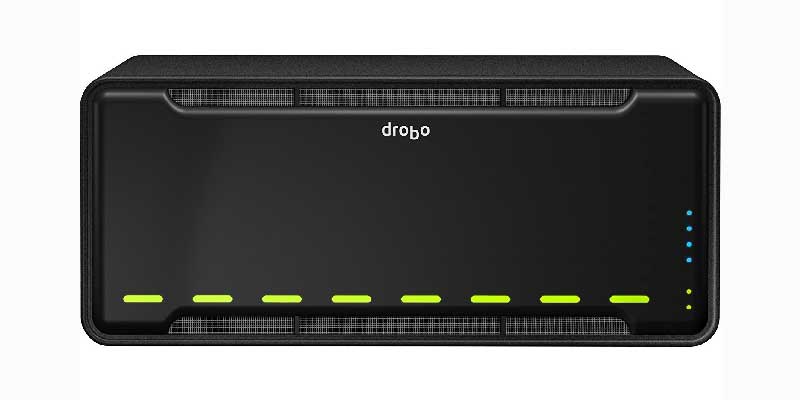 If you are having trouble choosing the best RAID to use for your small business. The simpler substitute that comes from the most innovative products in this Drobo NAS review will definitely help you out. Drobo B810N might look like a plain 8-bay storage solution but there is actually a lot of things that every NAS user will find unique about it.
In line with this, the BeyondRAID technology of Drobo is specially structured for all users who are not tech savvy enough or just don't like the hassle of managing and configuring RAID arrays. As a matter of fact, this technology has surprisingly automated everything you need to do in a manual RAID configuration so you will never have to trouble yourself any more about such things.
Using its Dashboard, you are allowed to create NAS users and also assign read/write access share privileges that will allow multiple users to access the storage. Aside from that, there is a particular thing we love about it which is quite essential for all devices not just in network attached storage and that is its plenty of visual signals. On its drive lever, it provides a status LED in different colors while it incorporates a vertical light bar on the higher right side of the device that indicates its used capacity.
In terms of performance, this Drobo solution performs smoothly due to its quad-core Marvel Processor that can clock up to 1.2 GHz. More so, there is another great thing that impresses us about this hardware and that is its stealth ability to restore a corrupted data. As a matter of fact, it only requires 11 minutes in order to restore complete redundancy into Drobo's remaining drives.
[amazon box="B06WVD52QD" title="Drobo B810N" image_alt="Drobo B810N" rating="5.0″ image_size="medium" description="8-bay NAS with Quad-Core CPU"]
D-Link ShareCenter Pro 1100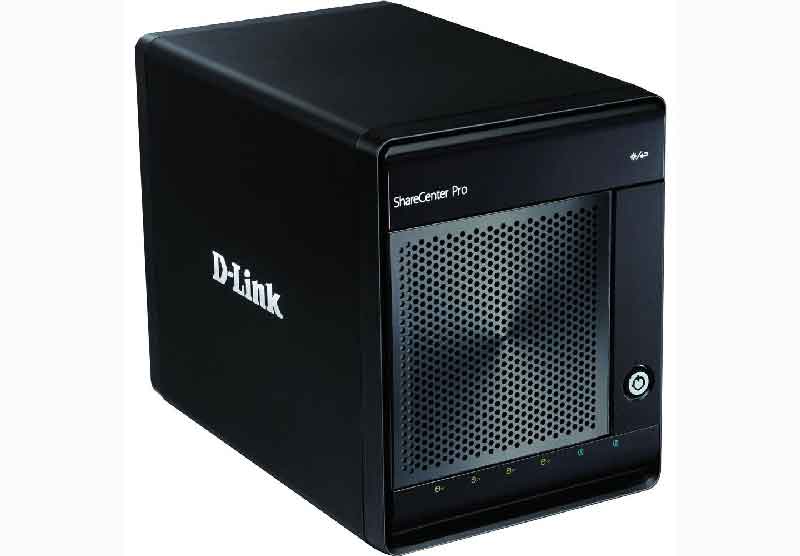 Lastly, we are now going to disclose the things we have found in this D Link NAS storage. If it is your first time learning about this brand, then it is best if you keep up with this review.
The ShareCenter Pro 1100 is a sleek D-Link NAS drive device that boasts 4 drive slots waiting to contain four massive disks for great storage capacity. Moreover, it runs the latest version of firmware for D-Link NAS that is significantly modified from the previous version that runs on the 5-bay ShareCenter Pro 1200.
Looking on its chassis, the D Link NAS storage is mostly composed of plastic. It also includes a front door that can be locked so you can secure and access the power switch as well as the 4 hot-swap 3.5 inches drive bays.
Just like the Drobo B810N, this D-Link network attached storage also offers useful status information. It has an OLED panel that shows the status of the system just above its door as well as status lights that are located below.
Unlike the Drobo 5N2 NAS, D-Link's BB810N is not that silent. Besides, it carries a large rear fan that allows the hardware to have a good airflow but it also creates a slightly audible sound that is neither silent nor noisy. But you have the choice to reduce the speed of the fan if needed.
You can also take advantage of its complete power management features which include the ever useful timed drive hibernation along with the scheduled power off and on.
[amazon box="B00686H8VO" title="D-Link ShareCenter Pro 1100″ image_alt="D-Link ShareCenter Pro 1100″ rating="4.0″ image_size="medium" description="4-bay NAS with Two Gigabit Ethernet Ports"]
Final Verdict
Generally, these three unique networks attached storage shows off Drobo and D-Link's best features. But to make it easier for you. Here are some of the things we can say to give you a hint. If simplicity and speed is the combination you are opting for, Drobo's 5N2 might appeal to you. On the other hand, the Drobo B810N NAS is better if you are looking for easier RAID configuration because of its BeyondRAID feature that instantly configures the right RAID for you. Lastly, the D-Link ShareCenter Pro 1100 is quite excellent in terms of providing users with useful system status. It also has a sleek latest version D-Link NAS firmware that offers easy to use User Interface and more.