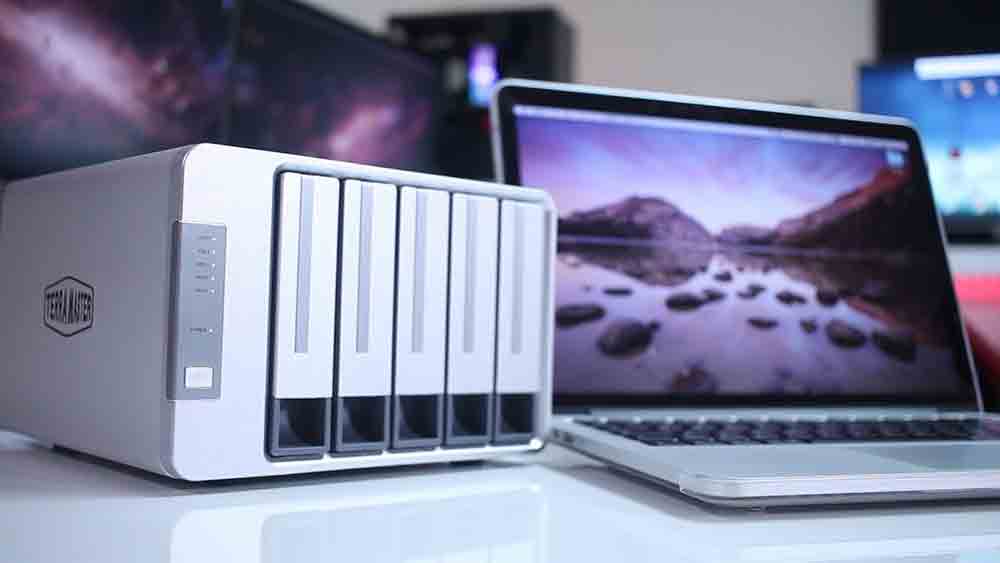 Updated on 10 December 2023
TerraMaster is established as a professional brand that focuses on developing and producing high-end storage products. This well-known brand is up and running for more than 16 years now withstanding the challenges of creating relevant and life-changing storage solutions in the industry. TerraMaster offers network attached storage or NAS. So right now, we will be giving you everything we found out about the brand's NAS devices in this TerraMaster NAS review. See if it can live up your expectations.
TerraMaster F2-221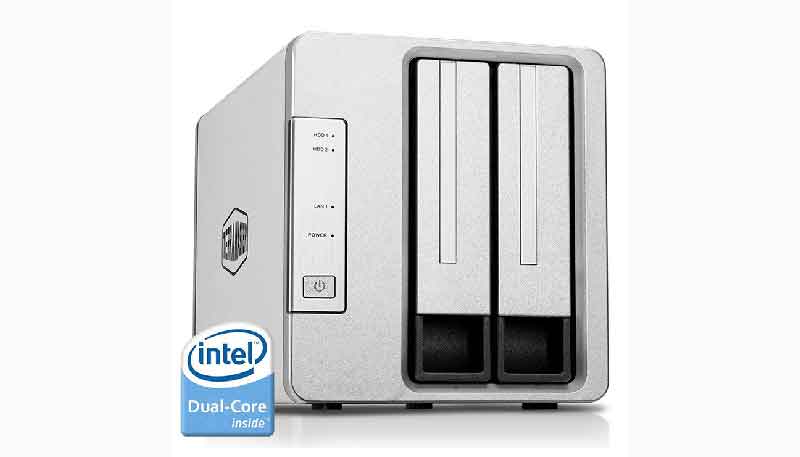 The first NAS we inspected in which we include in this TerraMaster NAS review is the powerful private cloud storage TerraMaster F2-221. It is powered by a dual-core Intel Apollo J3355 processor that can reach up to 2.0 GHz frequency and has 2 hard drive slots.
In terms of its read speed, you will never get dissatisfied again because this NAS can live up your expectations. As a matter of fact, it has a read speed that can reach up to 200MB per seconds and a write speed that can attain the maximum of 190MB per second.
These NAS devices are compatible with AES hardware encryption as well as with 4K HD video transcoding that makes it an ideal TerraMaster NAS Plex. You can also use it for small offices or for home use mostly because it comprises scalable 2-bay drive slots that you can populate with up to 4TB hard drives each. Not mentioning that it has a powerful CPU that can provide the utmost efficiency that can help you get the level of productivity you want.
The most evident thing you can observe on each TerraMaster NAS included on this list is their almost similar outer design. But there is also something inside these NAS that are almost identical, and that is a load of excellent specs and features. Not to mention that they all run the TerraMaster NAS OS that provides a simple and comprehensive UI.
[amazon box="B07JHJHBDH" title="TerraMaster F2-221″ image_alt="TerraMaster F2-221″ rating="3.6″ image_size="medium" description="2-bay NAS with Dual-Core CPU"]
TerraMaster F4-220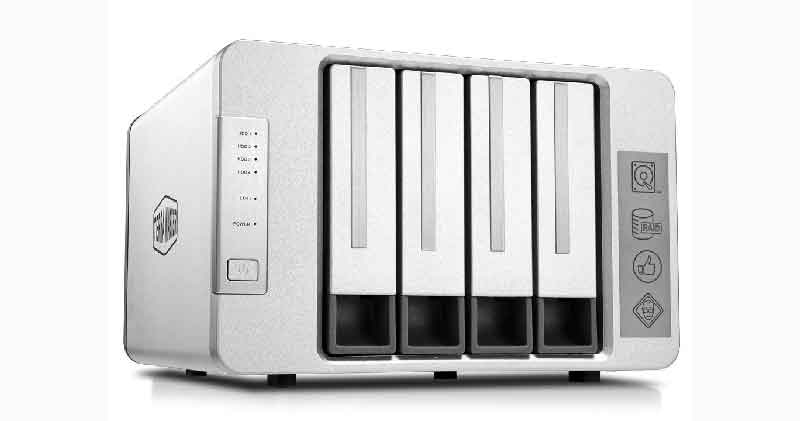 While having an almost identical external design with the F2-221, the TerraMaster F4-220 incorporates 4 drive slots that allow you to expand the storage needs of your growing business. This NAS works as powerful private cloud storage that carries the extreme Intel Celeron dual-core CPU that can reach up to 2.41GHz.
Among the rest of its cool capabilities, the TerraMaster F4-220 excels thank to its operational efficiency, file read and write speeds reaching more than 110 MB per seconds, and its multitasking same time multiple processing capabilities. All of these can help in order to allow you to solve the daily workload you have.
TerraMaster NAS setup is significantly easy and fast. More so, this NAS device is compatible with 3.5 inches SATA drives and 2.3 inches HDD/SSD drives that can allow you to get up to 24TB. In every storage solutions, high rate of stability is very important. For this reason, we recommend you to utilize WD RED or SEAGATE IronWold hard disk drives for this particular TerraMaster NAS.
Additionally, multiple RAID configurations are applicable in it which includes the RAID 0, RAID 1, SINGLE, and JBOD. It also supports 4K H.264 online hardware transcoding that enables the smooth conversion of 4K videos. This way, you will be able to experience seamless streaming using your smartphones, smart TVs, and media players. Even if it doesn't originally come with the support for Ultra HD formats like Roku.
You will also love how the latest TerraMaster NAS OS (TOS 4.0) provides an efficient UI that comes along with useful features. It supports applications such as file server, web server, mail server, multimedia server, FTP server, Rsync remote server, MySQL server, and a whole lot more.
[amazon box="B01G1YI0NC" title="TerraMaster F4-220″ image_alt="TerraMaster F4-220″ rating="3.8″ image_size="medium" description="4-bay NAS with Dual-Core CPU"]
TerraMaster D5-300C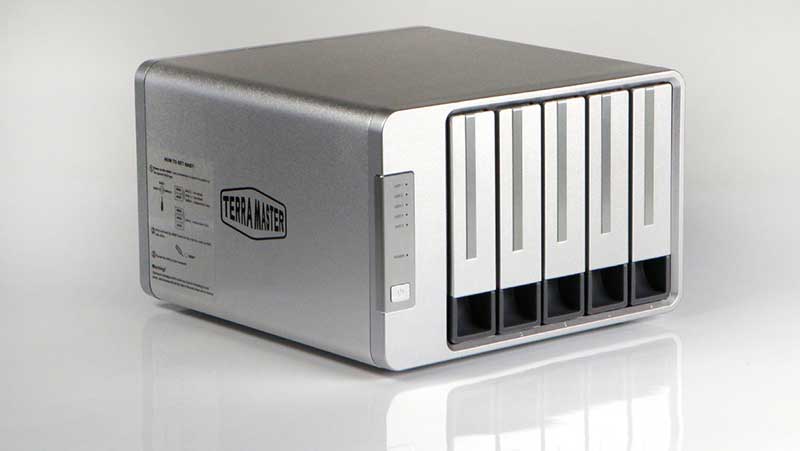 As for the last NAS device in this TerraMaster NAS review, we have here the TerraMaster D5-300C that works as an exclusive 2+3 bay RAID storage. With its generous level of scalability, you can actually get up to 60TB of massive storage capacity ideal for companies and businesses that require a reliable storage solution.
The Single Disk modes for the 1 & 2 drive slots combined with the Single Disk slots for 3 to 5 can allow you to make some significant configurations to this hardware. This will let you achieve a high-performing network attached storage that can meet your daily needs such as maximum storage, strong data security, and a blazing performance that can provide the demanding workload in a busy environment.
Under the RAID 1 which is also called the Safe Mode. You can populate the first two slots with 12TB HDDs. Moreover, if you use the RAID 0 or the Speed Mode. You are allowed to populate the first two with 24TB each and the rest with 12TB each.
This 5-bay TerraMaster NAS is equipped with powerful hardware along with the advanced USB Type C 3.0 connector. This particular component allows this NAS to deliver a superspeed external storage backup that is essential for every storage solution. It is especially that they contain important data that might be critical for a company, a business, or any entity that utilizes the device.
In addition to that, it boasts a transform speed that can reach a maximum of 410MB per seconds intended for SSD or SSHD. The TerraMaster D5-300C is a NAS that comes with as low-noise fan and it is boxed with absolute Aluminum-alloy shell that helps in protecting this high-end storage solution. You can use this powerful TerraMaster NAS for video editing, photo backup, music library, and a reliable storage solution where you can save your business's financial records.
[amazon box="B06ZY6DK8N" title="TerraMaster D5-300C" image_alt="TerraMaster D5-300CTerraMaster F4-220″ rating="3.8″ image_size="medium" description="5-bay NAS with Superspeed USB-C 3.0″]
Final Verdict
To sum it up, each of these TerraMaster NAS setup are equally simple as well as comprehensive. And among these three different hardware, you will be able to get the perfect one that is fit for your needs. Most especially that we have included a 2-bay, 4, and a 5-bay NAS. So, for small to mid-businesses, homes, or home offices, the TerraMaster F2-221 is the ideal storage solution. And if you need more than that, you can otherwise get the high-performing 4-bay TerraMaster F4-220 or the massive TerraMaster D5-300C that can allow you get up to 60TB of usable storage.