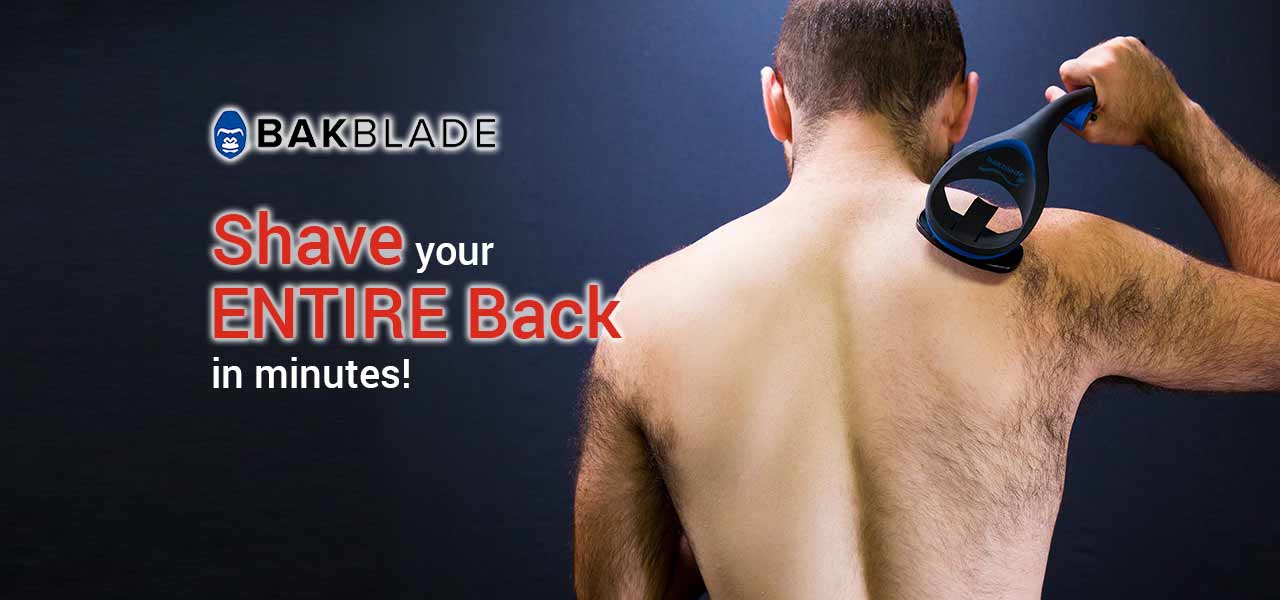 Some men are lucky enough to have less body hair than others. This can be chalked up to genetics and race — generally, European, Caucasian, and Middle Eastern men have more body hair than African, Asian, and American men. Sadly, I have a lot of body hair on my back and especially on my chest, making it painstakingly difficult to remove those in hard to reach places. And I can't ask someone to do it for me. So when I saw the BAKBLADE body shaver, I was raring to try it and see if it works. I know a lot of men who would benefit from this BAKBLADE review.
Being clean and shaven isn't just for aesthetic purposes. Sure, you can definitely impress your date with your spotless chest and back, but shaving has more benefits than this. It helps prevent body odor by eliminating possible breeding grounds for bacteria. It also keeps ticks and lice at bay. And if you're an athlete, a smooth, fuzz-free body will give you a competitive advantage.
This body and back shaver is supposed to allow you to shave your entire body in the fastest, easiest, and cheapest way. It was even featured in Today, CNBC, Business Insider, and Yahoo! News. Shaving my back would require me to become a body contortionist just to reach all the way down (kidding. But not really). So as soon as I saw this body shaver, I wanted to try it out pronto.
Find out if this shaver works well by reading this BAKBLADE review. Keep your eyes peeled for exclusive deals just for our Digitogy readers!

Updated on 28 September 2023
What is BAKBLADE?
Shaving is one of the very few routines that us men do all the time. We do it every single day ever since we hit puberty but finding a good body shaver is difficult. Some are too small and not designed to shave at different angles. Others require electricity or batteries to operate. And don't get me started on razor burns and cuts.
The BAKBLADE 2.0 is an ergonomically-designed back and body shaver to help you have smooth, fuzz-free body. There's no need to resort to painful waxing or asking other people to shave your back for you. The easy grip and adjustable handle prevents slipping and lessens the effort that you have to exert while shaving. Additionally, it can also be used on wet and dry skin without the fear of razor cuts or burns. You can finally change your perception on how to shave your back with this tool.
Features and Benefits
As soon as I saw this shaver, I couldn't wait to try it out. Luckily, I didn't shave yet so I was able to see if it truly is effective for this BAKBLADE review. I have a lot of hair on my chest and back, and quite a bit on my arms and legs. Here are the features that I liked best about this mens back shaver.
S-shaped handle. The ergonomic design of the handle makes it easy to grip. It also allows you to shave hard to reach spots at different angles so no patches are left. This design is patented so no other mens body shaver have this unique shape. I was able to remove all hair on my back plus my arms and legs without straining too much.
DryGlide technology. As much as I want to shave, I despise razor burns and cuts that comes after the process. Even if I use the best-selling shaving cream brands in the market, I still get those painful nicks. So I was glad to know that they invented the DryGlide technology that allows you to shave with a wet or dry body. I tried three variations: I shaved a patch with water, a patch that's completely dry, and a patch with shaving cream. Surprisingly, all three methods worked well and I didn't get any cut in the most sensitive spots.
Removable blade cartridge. The blade housing unit can be removed to shave in areas where it's easy to reach. It fits in the palm of my hand and can easily be held on its own. The blade cartridges houses 3 blades and are also replaceable. Each blade lasts up to 5-7 shaves and you can easily slide out the used ones and put in the new ones.
Foldable handle. I was worried at first about storing the shaver because it's huge and would take up a lot of space in my bathroom drawer. Fortunately, the handle folds in half so I can store it easily. Plus, it comes with a wall mount if you want it to be reachable every time you shave.
No batteries required. Unlike my previous back shaver where I had to purchase batteries to operate it, this back shaver doesn't need electricity or battery operation. I won't have to worry about some parts breaking down over time or spending extra money on battery replacement.
BAKJACKET. Another feature that sets it apart from other shavers is the BAKJACKET. It's a removable scrubbing sleeve that covers the blade cartridges. The scrubbing sleeve is made of neoprene and sponge pad so you can use it to scrub your back and body with liquid soap after shaving. Simply cover the blade cartridge with the BAKJACKET, apply soap on the scrubbing sleeve, and scrub away.
Pricing and Deals
So how much does this shaver cost? It is sold individually at $29.99 each, which comes with 2 DryGlide blades. But if you want the whole set (and save more money in the long run), Digitogy has a special BAKBLADE deal for you. Get the Elite Bundle for only $49.99 with free shipping across the US. The bundle includes the shaver, 1 cleaning brush, 9 DryGlide blades, 1 BAKJACKET scrubber, and 1 wall mount. It originally retails at $64 so you can save a lot if you purchase using our link from this BAKBLADE review.
If you're looking for the ultimate package, you can also get the Elite Bundle Plus. It includes everything in the Elite Bundle but it comes with 21 DryGlide blades. If you avail of our deal, you can get it for only $69.99 instead of the original price of $95. You can't get a deal like that anywhere else!
Overall Review
It's settled — I have my ultimate back razor now. I like how it's big enough to cover large areas at once without leaving patches of hair. The S-shaped handle and grip also allow me to reach down to my back where I can't normally do without difficulty. The BAKJACKET scrubber is a plus too, and I absolutely dig the idea of transforming the shaver into a scrubber after shaving. And if I need a quick five-minute shave, I can use it on dry skin without getting razor cuts. Best of all, it sturdy so it will last a long time with proper care.
Overall, the BAKBLADE 2.0 body and back shaver gets a big thumbs up from me for being handy, versatile, and innovative. After testing this tool for this BAKBLADE review, I immediately loved it and I've been using it since. I highly recommend it and I know it will be worth your money.
Enjoyed this BAKBLADE review? Check out Digitogy for more tips, reviews, and news on the latest gadgets and tech stuff.
BAKBLADE review: Two Thumbs Up!
The BAKBLADE 2.0 is an ergonomically-designed back and body shaver to help you have smooth, fuzz-free body. There's no need to resort to painful waxing or asking other people to shave your back for you.
PROS
Shaves hard to reach places
Can be used on wet and dry skin
Ergonomic handle for easy grip
Lasts a long time
CONS
Blades need to be replaced frequently