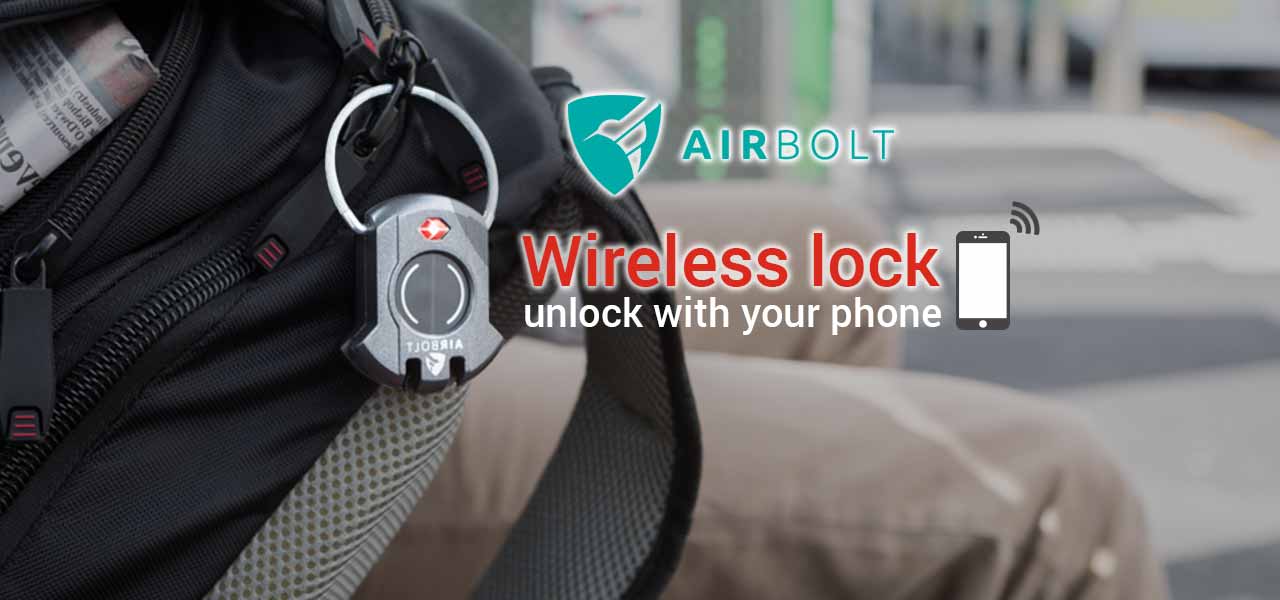 Every traveler's nightmare is losing their luggage at the airport or having its contents stolen. It's stressful to constantly think about your belongings when you should be thinking about your trip. And it's not just with your travel luggage, but also with your bags and lockers at the gym, office, or school. How convenient would it be if there was a way to literally lock your bag without having to lug around keys or remember combinations? Fortunately, nothing is impossible in this day and age. In this AirBolt review, we'll discuss how you can use a smart lock that you can control using the free app.
Get It Now
Keep your valuables safe 24/7 - from your smartphone!
With this intelligent lock, you can easily monitor and protect your belongings. Try it now, risk-free, with their 30-day money-back guarantee!
Updated on 29 May 2023
What is the AirBolt Smart Lock?
The AirBolt lock has received many positive reviews from buyers from its release. It was even featured in Forbes, Mashable, Ubergizmo, SlashGear, The Daily Dot, Huffington Post, and The Daily Beast. It was even hailed as the winner of the 2017 Good Design Award. So I was curious about all the positive AirBolt review and wanted to try it out myself and see if it really is the most intelligent smart lock ever made.
The AirBolt smart lock is a state-of-the-art luggage lock that keeps your belongings safe and secure. Unlike the traditional padlocks wherein you have to bring its keys or memorize combinations, it can be controlled and access from your phone through the app via Bluetooth. So there's no need to worry about losing your keys or forgetting the combinations.
It gives you that peace of mind and allows you to focus on your trip instead of feeling anxious about your luggage.
To use it, you have to download the free app on the Google Play Store and the Apple App Store. You can use it to lock your suitcase, backpack, gym bag, purse, briefcase, locker, and door — basically, anything used for storage.
Plus, the lock works as a tracker so you can locate your bags in case you forget where it is. It's a worthy investment not just for people who travel a lot but for anyone who wants to keep their valuables safe and untouched.
AirBolt Smart Lock Features
Of course, this wouldn't be a genuine AirBolt review without trying it ourselves. I used this nifty smart padlock during the recent holidays and here are the features that I love about it.
Easy phone access
One of the problems that I have is keeping track of the mishmash of keys in my keychain. It currently has different sets of keys for the house, the car, and the motorcycle. It's already mind-boggling enough to try to figure out which key fits which keyhole. And I don't want to add an extra set of keys in there.
Fortunately, it doesn't require keys. It can be accessed and controlled using the free app. I'm less likely to lose it since I always have my phone with me. And if anything does happen to my phone, I have a backup code with me.
One app, multiple locks
A lock for my suitcase? Check. One for my gym locker? Check. One for my backpack? Check. No matter how many of these luggage locks I have, I can keep track of them all in just one app. No need to get confused with which ones for which. This is a great point of this Airbolt lock review!
Proximity alert
This Bluetooth lock also features like an alarm in case someone tries to walk away with your belongings. Thankfully, it didn't happen to me in real life, but I tested it out to see how it does it.
The alarm works well and it sounded as I tested it by directing someone to take my bag and walk away. If the sound of the alarm can't jolt you to your senses alerting you that some stranger is stealing your bag, then I don't know what will.
Share access with friends or family
Sending your baggage to someone else? No problem! Lock it with this travel padlock and grant access no matter where you are in the world. You can configure the security settings and permissions through the app.
AES 128-bit encryption
You've probably heard it in the movies: "As long as it's made by man, any other man can figure it out." Hmm, not really. It's true that anything can be hacked, but this Bluetooth lock is encrypted with AES 128-bit encryption. It's similar to what banking institutions use to guard their money and data. If banks use it to guard money, then you can definitely trust it to guard your suitcase.
TSA approved
All the fancy travel padlocks in the world would be useless if it's not accepted by the TSA. Worry not, because AirBolt Lock is approved by the TSA. Bolt cutters are not involved, don't worry, because the TSA has a unique key that will allow them to open your luggage.
Unlocking notifications
It notifies you whenever your smart travel padlock is opened, how long it was unlocked, as well as the location of where it was unlocked. You can totally track it no matter where it lands and if anyone messes with it. Cool, right?
Rechargeable battery
It's small and it packs a punch, but it doesn't require too much power to function. This Bluetooth lock has a rechargeable battery that you only have to charge once a year. It comes with a micro USB cable when you buy it so you can charge it anywhere.
I definitely had a great time as I was testing it for this AirBolt smart travel lock review. I used it to lock my suitcase as I went home for the holidays and it worked without any mishaps. It makes for a great gift to family members and friends because it's worth every buck.
AirBolt Lock Pricing
Here's an important paragraph of our Air Bolt review!
Each piece of this Bluetooth lock retails at $78.99 plus shipping and handling fees. However, you can get exclusive deals here especially for our Digitogy readers! Buy 2 travel locks and get one free for only $52.66 each with free shipping in the US. And if you buy 3, you can get 2 free at only $47.39 each with free US shipping. You can only get this deal from us!
It comes in various colors such as black, blue, pink, grey, and green so you can choose which suits your style.
Overall rating
I'm rating it with an E for Excellent!
It's definitely useful and smart, and it's perfect for my forgetful brain. It eliminates the need for keys or combinations by utilizing it as a Bluetooth padlock to unlock it.
The tracking feature blew my mind because it keeps a record of when and where the AirBolt Smart Lock was unlocked. And my most favorite part is the proximity alarm.
It has a steep price but I believe it's worth it for a high-tech and heavy-duty lock. For me, it's one, if not the only, one of the best luggage locks ever made and I enjoyed my experience with this AirBolt review.
AirBolt Review: Excellent!
The AirBolt smart lock is a state-of-the-art luggage lock that keeps your belongings safe and secure. Unlike the traditional padlocks, t can be controlled and access from your phone through the app via Bluetooth.
PROS
More secure than traditional padlocks
Sturdy and lasts a long time
Proximity alarm tracks luggage efficiently
CONS
Signal interference slows down app performance