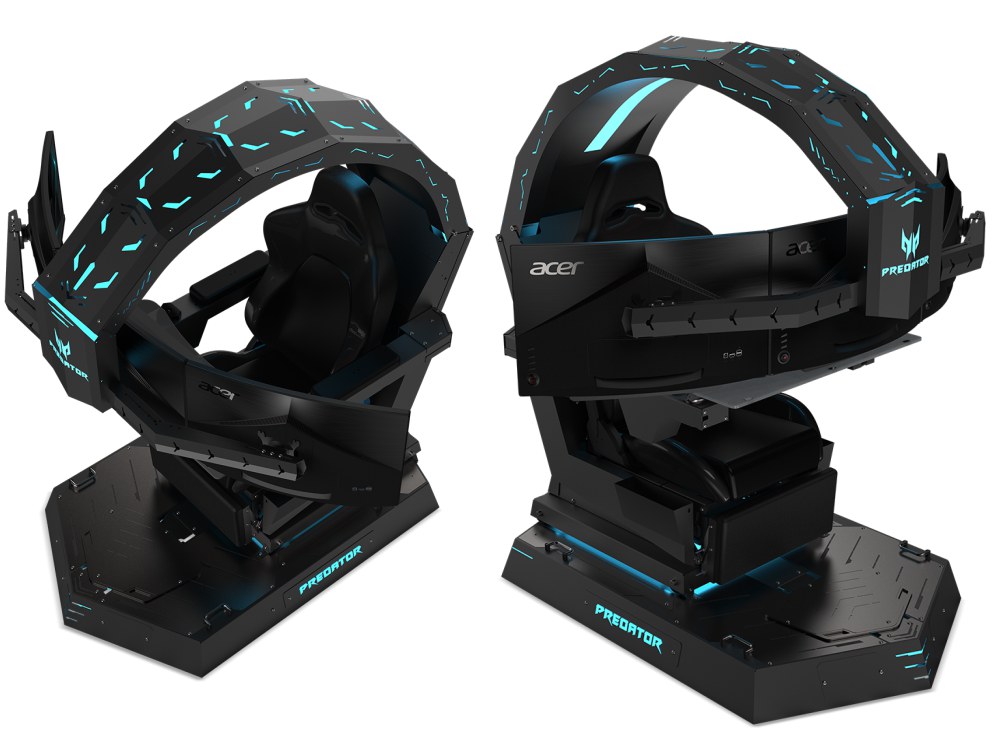 Updated on 2 June 2023
Hardcore gamers and newbies alike can now build an over-the-top gaming den — thanks to Acer's outrageous yet impressive gaming chair.
On Wednesday, the Taiwanese tech giant announced its innovative gaming product at the IFA 2018 trade show. Called the Predator Thanos, the modern-day gaming chair allows gamers to become one with their computer in the most convenient and stylish way.
The Design
Since Acer's Predator line has a reputation of releasing some insane and high-end products, it's not surprising that the Thronos follows the same trend.
Design-wise, the Acer Predator Thronos definitely looks menacing, especially with its bulky structure accentuated by aggressive, sharp lines and neon blue lights.
A closer look by Engadget reveals some of the gaming chair's highlights. It has a massive steel structure, about 1.5 meters tall, which houses a cabin that reclines up to 140 degrees. It even features an ergonomic seat and footrest, allowing gamers to play comfortably.
Gamers can also enjoy up to three 27-inch monitors mounted on the structure. However, it remains unclear if it can be swapped with other displays, such as the 34-inch ultra-wide Predator monitor.
To add more to the experience, the Thronos vibrates, responding to the action on-screen. It's motorized recliner is also capable of tilting back up to a 140-degree angle.
Those who opt to incorporate an entire Predator gaming PC can also do so without much difficulty. There is a space allotted for keyboard, mouse, and CPU — all matches the overall look of the structure.
Despite its spectacular looks and promising features, the Acer Predator Thronos still has its downsides. One of which is its lack of speakers. Gamers will have to connect a separate speaker or headphones to enjoy the game's audio. This seems like an oversight, especially with all the extra features of the device.
Others pointed out that the armrests were fairly uncomfortable. Since they're made out of hard rubber, it might take a while to get used to. The Thronos is also not meant for anything other than gaming. In fact, its retractable desk is covered entirely with a mousepad, making it impossible to use as a space for writing or working.
So far, there's no word on pricing and availability for Acer Predator Thronos yet, but the company promises to announce it by the end of 2018. With the existing trend of the Predator line, many expect the price to be quite steep, especially with all its features.
Other Gaming Accessories
To go along with the Acer Predator Thronos, the company also launched a number of gaming monitors that gamers will be able to use. The Predator XB273K, which boasts a 144Hz refresh rate and 3840×2160 pixel resolution, retails for $1,299.
On the other hand, the Nitro XV273K, which features an IPS panel, 4K resolution, and 144Hz refresh rate, costs about $899. It also uses Acer's so-called Integrated Visual-Response Boost (VBR) technology to reduce the MPRT (Moving Picture Response Time). Both monitors are expected to arrive in North America next year.