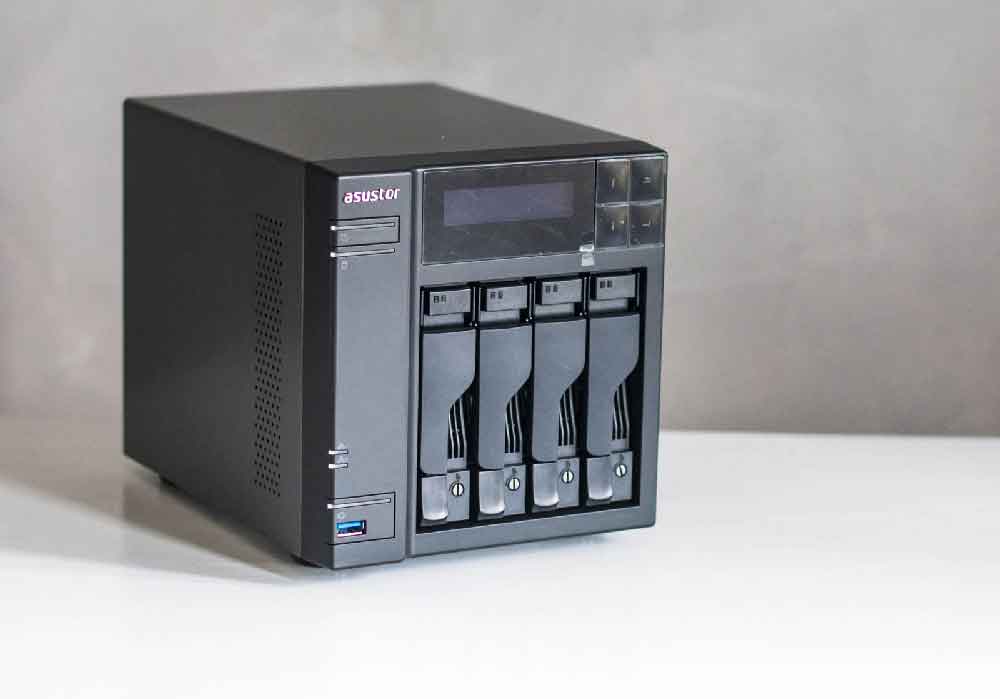 Are you planning to buy a KODI NAS media server this year? We have great news for you. Since network attached storage can be so simple to use when integrated with KODI. It can be a bit daunting to choose the best KODI NAS server that can meet your needs nowadays. For this reason, we will share you three of the best KODI NAS media servers that will surely rock your 2019. Find the one that suits you.

Updated on 6 December 2023
ASUSTOR AS6302T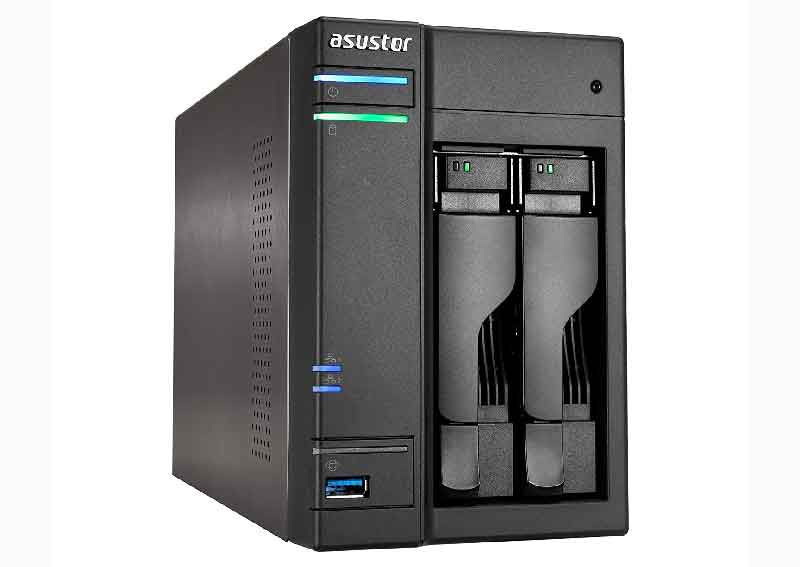 KODI is basically an illegal software that provides illegal access to online streaming resources. As well as services that comprise copyright infringement content. But in this new age where Torrent and PirateBay becomes overly popular among couch potatoes. Various KODI NAS media server are becoming relevant.
The ASUSTOR AS6302T is a 2-bay network attached storage equipped with the robust Intel Celeron J3355 (Apollo Lake Platform) dual-core processor. This processor can clock up to 2.0GHz to 2.5GHz that makes this NAS powerful and efficient.
Additionally, it carries a 2GB dual-channel memory that you can expand further if you want to get the most out of this device. This NAS has an enhanced CPU and GPU that renders complete performance upgrades that makes it excellent for all-purpose it may serve.
With the growing number of devices that utilizes USB type C, ASUSTOR is brilliant enough to equip this KODI NAS server with an ultra-fast 3.0 USB type-C specs along with an HDMI 2.0. You can use its 2.0 HDMI to connect it to your 4K Television. Moreover, it comprises a unique Wake-on-Wan or WOW that provides highly flexible power access and control. The backbone of its connectivity is its Gigabit Ethernet port. More so, it includes two of them.
[amazon box="B072BXGPL2″ title="ASUSTOR AS6302T" image_alt="ASUSTOR AS6302T" rating="3.8″ image_size="medium" description="2-bay NAS with Dual-Core CPU"]
Thecus N5810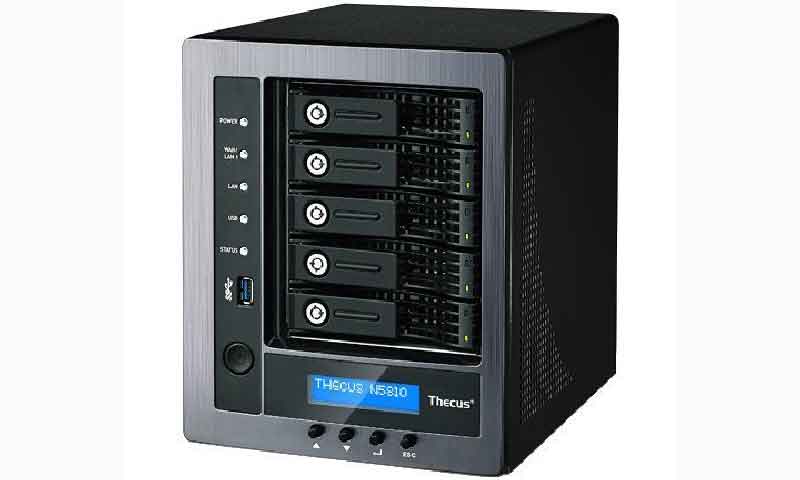 Is it your first time encountering a Thecus NAS? Well, let's fill you in with some of the things we have found with this KODI NAS drive called Thecus N5810.
First of all, this KODI NAS media server is the only SMB NAS of Thecus that includes a mini-UPS battery backup system. It is powered by a high performing quad-core Intel Celeron J1900 and a massive 4GB DDR3. In terms of its processor, the Intel Celeron has a clock speed of 2GHz that can amazingly burst about 2.42GHz. Moreover, its maximum TDP falls just around 10 watts.
On the other hand, its thermal design is significantly amazing for a host processor. Aside from that its J1900 also incorporates a sleek graphics engine that is compatible with HDMI output and audio.  However, its small DRAM capacity is the only limiting factor that we can see about it. But despite that, it delivers a sleek performance that is combined with robust data protection. This is provided by its hot-swap equipped drive bays.
Thecus releases a list of wide-ranging drives it supports. In line with this, users can run more than just one array in JBOD or in RAID 0, 1, 5, 6, and 10. It also comes with five sleek USB ports that the three are USB 3.0 and the remaining two are USB 2.0. While having such ports, this KODI NAS doesn't include any eSATA ports for expansion. It does not expose any PCIe 2.0 lanes either. But since it includes outstanding security features such as snapshot for backup, VPN server, Data Guard, Disk Clone and Wipe, Data Burn, Anti-Virus, Link Aggregation, Mini-UPS, and more. We can safely say that this NAS for KODI  is worth it.
More so, it works as a private cloud where you can centralize your files and access them anytime and anywhere. But aside from that, it also offers the use of public cloud services such as DropBox, Amazon S3, as well as the functionality of the cloud backup called ElephantDrive. Isn't it a great thing to have an additional option even with a solid and robustly secured NAS?
As additional information, this NAS weights about 15.500 lbs. A lightweight and compact design makes this storage solution for a minimalist home and small office.
[amazon box="B01K4TR0OK" title="Thecus N5810″ image_alt="Thecus N5810″ rating="3.9″ image_size="medium" description="5-bay NAS with Quad-Core CPU"]
ASUSTOR AS6404T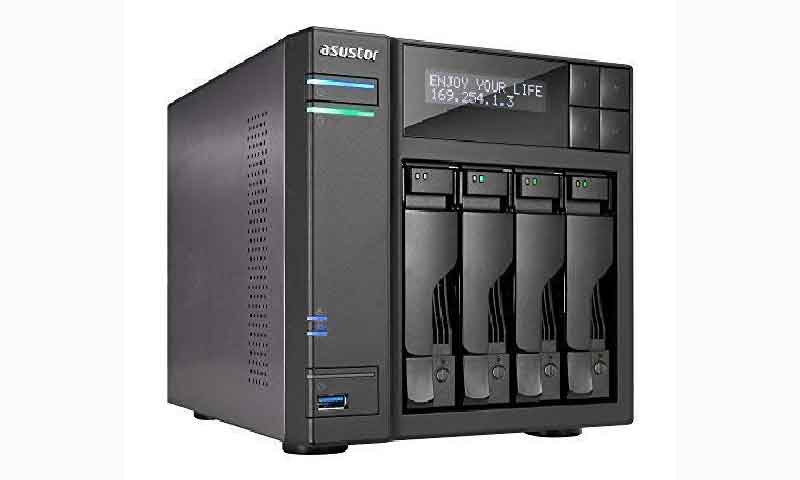 The ASUSTOR  AS6404T is a complete 4-bay NAS that carries the powerful Intel Celeron Apollo Lake quad-core CPU processor. The sixth generation quad-core processor can clock up to 2.3GHz that is combined with an overall performance enhanced by up to 30% compared to the previous generations of Intel Celeron. This allows this KODI NAS server to provide a powerful output day and night. But despite being efficient and powerful, this NAS is surprisingly economical and cost-effective. This makes it perfect for personal and home use.
In addition to that, this NAS includes a built-in Intel High Definition graphics engine. It supports VP9 hardware transcoding as well as HEVC. These two enhances image and multimedia processing performance significantly. It delivers an incomparable fluid usage experience especially for prosumers and professionals alike. It also supports the next generation specifications in HDMI.
The AS6404T features the maximum of 60/50P 4K resolution video that can deliver two times better fluidity of 4K 30P. Aside from that, this KODI NAS setup boasts a seamless file sharing across platforms. With this, you will be able to easily connect all your devices that run Mac OS, Windows, and operating systems similar to UNIX.
The reason why this ASUSTOR NAS is ideal to install KODI is that it can allow you to enjoy fun and thrilling entertainment with its HDMI interface that allows you to connect it with LCD or LED TV. It also includes a wide variety of multimedia apps that you can use to stream your favorites.
[amazon box="B07M62DV36″ title="ASUSTOR AS6404T" image_alt="ASUSTOR AS6404T" rating="3.4″ image_size="medium" description="4-bay NAS with Quad-Core CPU"]
Final Verdict
These three best NAS for KODI are only a few of the wide-ranging varieties of NAS models and brands that cater to this software. In this age where Netflix is life, NAS media servers are becoming increasingly in demand.  On the other hand, more and more people are also turning into Torrent and other sites where they can access movies for free. If you install KODI with these storage solutions, you will be able to live stream your favorite movies online. Not only that because these outstanding NAS also offers seamless streaming and flexible connectivity with a lot of compatible devices.