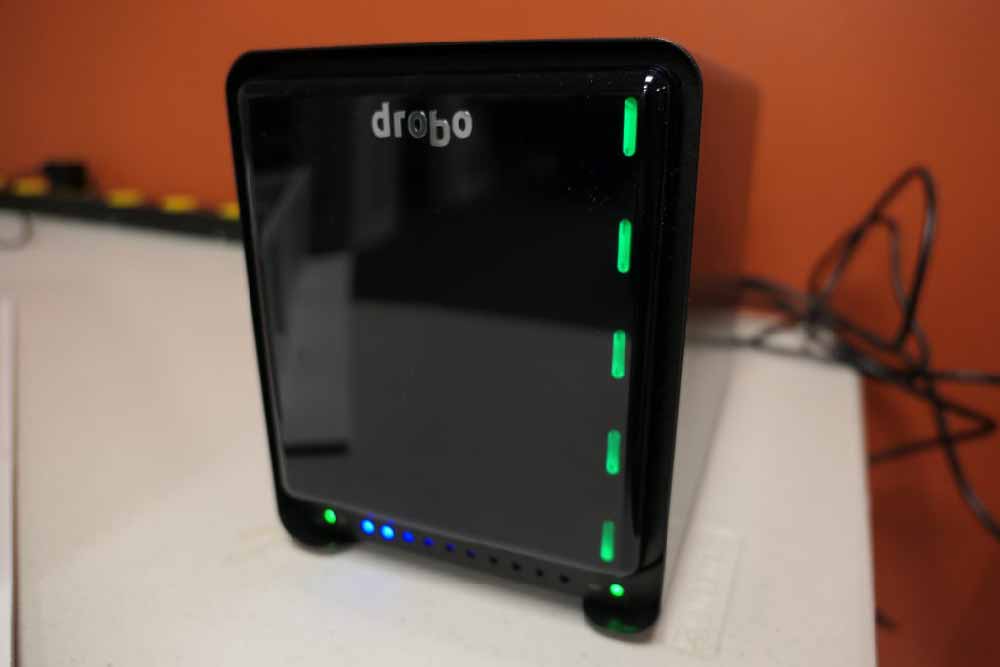 As our NAS review journey continues, we have to go beyond different categories. From brands to capabilities, we will now inspect NAS by their different number of bays. Now we will start with three of the best 5 bay NAS storage 5 HDD slots. See how it goes.

Updated on 27 November 2023
Thecus N5810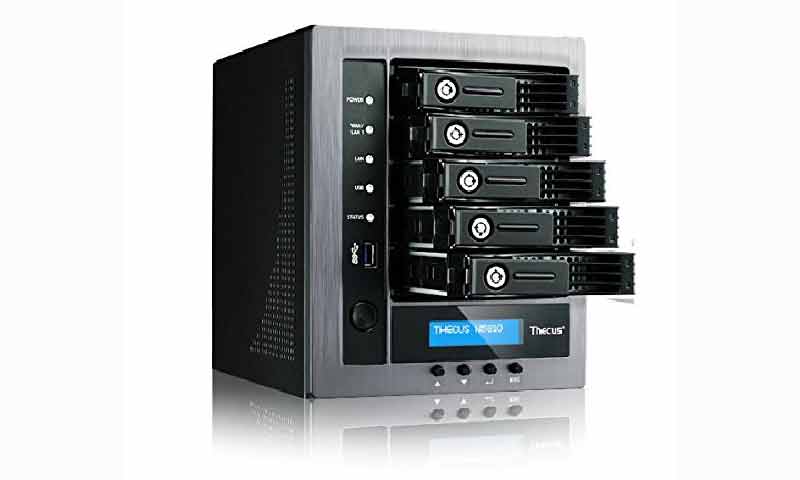 The Linux based 5 bay NAS Thecus N5810 is one of the network attached storage devices we have reviewed which will start our today's list. It carries a quad-core Intel Celeron that can clock up to 2.0 GHz which is combined with the robustness of a 4GB memory that you can max up to 8GB.
As a result of having 5 bay NAS drive, you will be able to achieve highly scalable data and files storage. This is quite beneficial if you are really opting for a massive NAS where you can store important digital contents such as documents, photos, videos, audios, and more. Also, take note that its power consumption is in between 15W – 20W through one HDD.
Since we are now in an era where connectivity is important, our demand for massive storage has also changed. For this reason, Thecus does not only support WiFi but it includes Gigabit Ethernet on this NAS as well. This allows versatility in terms of file access, modification, transfer, and copying.
The Thecus N5810 has a design that renders high scalability, availability, and flexibility. What is more, is that it works like a 5 bay NAS storage and server with its super handy and small built. Actually, this is the best thing about most of the NAS devices today.
In terms of security, it features full RAID functionality. This can help in keeping your critical data and files protected from data corruption and other risks. As a matter of fact, this NAS is loaded with great features that encourage efficiency and productivity for all its users. You can actually download torrents using this excellent 5 bay NAS storage.
To put it briefly, this 5-bay storage solution is ideal for home use. As well as for individuals who are in need of massive storage capacity. But it is also great for small business and home office needing for a robust solution to cater to the daily demands of their operation.
[amazon box="B016MR83FI" title="Thecus N5810″ image_alt="Thecus N5810″ rating="4.0″ image_size="medium" description="5-bay NAS with Quad-Core CPU"]
Drobo FS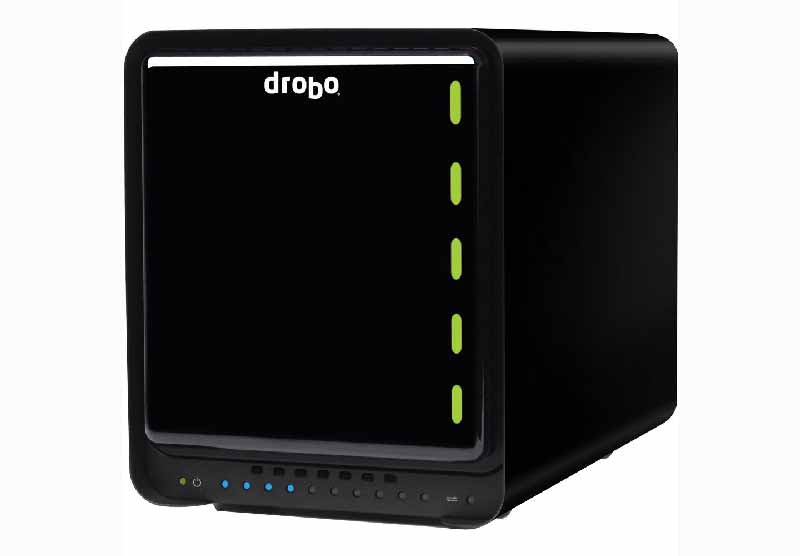 During our Drobo FS 5 bay NAS review, we found out that this compact network attached storage is very easy to set up.  So much that even a beginner can actually handle installing it without the need of assistance.
Moreover, this 5 bay NAS RAID storage solution is the incarnation of the original Drobo. This means that it has similar data protection and drive healing technology that provides incredible security over your data and files. And since it includes ultra-fast Gigabit Ethernet port, this 5 bay NAS storage can now be utilized across a network.
Most commonly, ejecting operational drives out of their slots will automatically lead to data corruption and other issues that mean a total disaster. However, Drobo FS has its so-called BeyondRAID technology that offers data redundancy. This means all of your data and files are stored in multiple drives at the same time so your files will remain safe if one drive fails.
For all who needs a storage solution that can provide great peace of mind. We recommend you to opt for this NAS among other network attached storage devices. Not only that this device offers great storage capacity, but also tough security that everyone needs.
To top it all, hiding inside its sturdy chassis are useful apps. This includes applications such as CTorrent, Firefly, Pure-ftpd, as well as FUPPES. These come handy especially for those who want better and more convenient multimedia streaming. As well as movie download, and a whole lot more. I believe that these inclusions are one of the unique attributes of this 5 bay NAS.
[amazon box="B003GZ828I" title="Drobo FS" image_alt="Drobo FS" rating="4.0″ image_size="medium" description="5-bay NAS with BeyondRAID and Self-Healing Technologies"]
Synology DiskStation DS1019+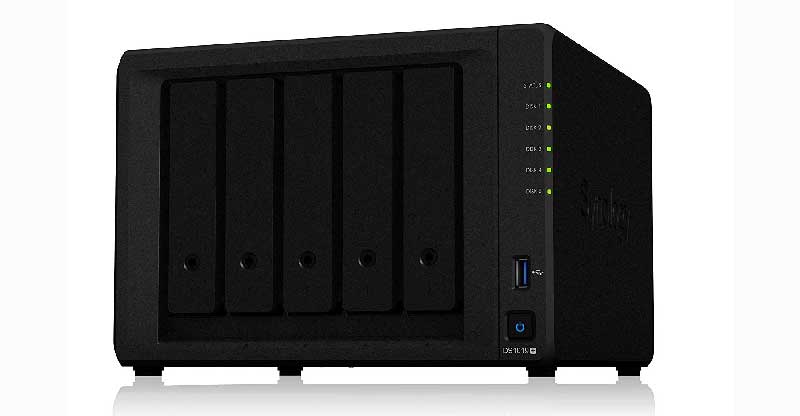 Granted that our today's article is purely 5 bay NAS review. We will end the list with a super-charged 5 bay NAS storage which is the Synology DiskStation DS1019+. The design of this NAS is ideal for advance home users and small businesses alike. Besides, it offers 5 times storage scalability than an external drive. Plus it performs faster through its quad-core Intel Celeron processor.
Aside from that, this compact and sturdy device has two 4GB DDR3L memory. This allows it to provide up to 8GB RAM capacity. This allows you to upgrade your productivity and efficiency which is apparently one of the best things about having a huge RAM.
File transfer and copy speed are also important if you are opting for higher productivity. Most of all if you are in an environment where the demands for speedy processing is also sky high. In line with this, Synology DiskStation DS1019+ supports major file sharing protocols such as NFS, CIFS, FTP, AFP, and more. This allows organizes file centralization and convenient access through any device.
In order to render a bulletproof data and file protection Synology equipped this 5 bay NAS storage with multi-layered security features that are strong enough to keep your important digital contents intact. To cite some examples, it has a multi-version backup, AES-NI encryption engine, and among others.
This 5 bay NAS is also ideal to work as a media server. Being that it is capable of rendering dual-channel h.264 and H.265 4K video on the fly transcoding. As much as I know, this feature allows seamless multimedia streaming through a smartphone, computer, Roku player, Samsung TV, Apple TV, DLNA devices, Google Chromecast, and many more.
Furthermore, it is also an excellent storage solution for smart video surveillance systems. It is because of its flexible storage scalability and powerful processor. Let alone that it has the ability to protect your footages, manage multiple network cameras, stream live camera feeds, and do all of it anytime and anywhere. It also provides intelligent alerts and record management that is sleek enough to make surveillance easier than ever before.
[amazon box="B07NF9XDWG" title="Synology DiskStation DS1019+" image_alt="Synology DiskStation DS1019+" rating="4.5″ image_size="medium" description="5-bay NAS with Quad-core CPU"]
Final Verdict
One of the best things about reviewing different categories of NAS is that it can uncover different capabilities and possibilities that are hiding in our naked eye. Just like today, we have reviewed three of the best 5 bay NAS products that are available in Amazon. It is without initially knowing which one is fit for different purposes. Now, we have gained better insight that is essential to help become wiser consumers more than before. Therefore, may this list help you find the right 5 bay NAS storage that fits your needs the most.