Network Attached Storage and Surveillance is a perfect match. As a matter of fact, Qnap Synology surveillance NAS are two of the best brands that have been providing fully featured and stable CCTV recording, playback, and alerting software platforms in the past years. But in this QNAP NAS review, we will concentrate on 3 of the sleekest QNAP storage solutions that can provide utmost functionality and stability for Home Surveillance Systems. So, here are what we found.

Updated on 7 December 2023
QNAP TS-453BT3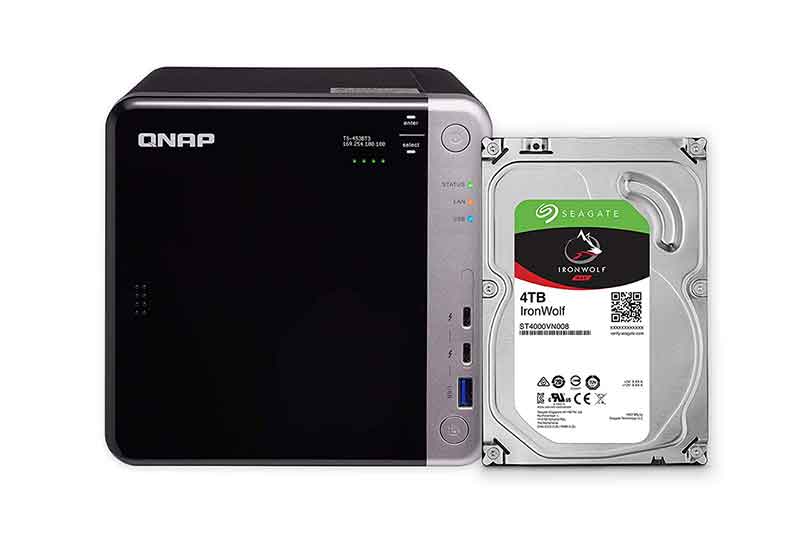 This simple, trendy, and sleek looking NAS is one of the most ideal storage solutions for a Home Surveillance System. It is powered by a robust CPU processor called the Intel Celeron Apollo Lake which is a powerful quad-core processor with a clock speed of up to 1.5GHz. And it can burst up to 2.3GHz which is good news for those people who are seeking to find an ultra-fast network attached storage solution that can meet their needs.
To provide the most useful system information, the QNAP TS-453BT3 shows off its OLED front panel display that prompts system information such as fan speed, CPU temperatures, volumes, and LUN, as well as storage capacities of hard disk drives. Apparently, this excellent display can help to allow you to check quickly the overall status of your system. Plus, it has capacitive touch buttons that are dust-proof which can also allow you to wake up the screen easily and modify network IP settings as well as host password.  You can also restart or shutdown the NAS system using this sleek buttons.
Every home surveillance system must have a reliable storage device to house all footage which will be captured by cameras. And so, this is where this trustworthy QNAP NAS setup arrives.
One of the greatest things about this storage solution is that it has a well-protected centralized house for your data. It features RAID Configuration that is so complete. You will never have to worry about the security of your important surveillance footages anymore. You can expect to get great flexibility to organize or set up a proper level of data protection. As a matter of fact, you can choose from RAID configurations such as (0, 5, 6, 10, 50, 60 + hot spare, and 10 + hot spare). But take note to choose a configuration that is ideal for the number of the hard drives you have.
[amazon box="B0768N5J5Q" title="QNAP TS-453BT3″ image_alt="QNAP TS-453BT3″ rating="4.1″ image_size="medium" description="4-bay NAS with Quad-Core CPU"]
QNAP TS-253Be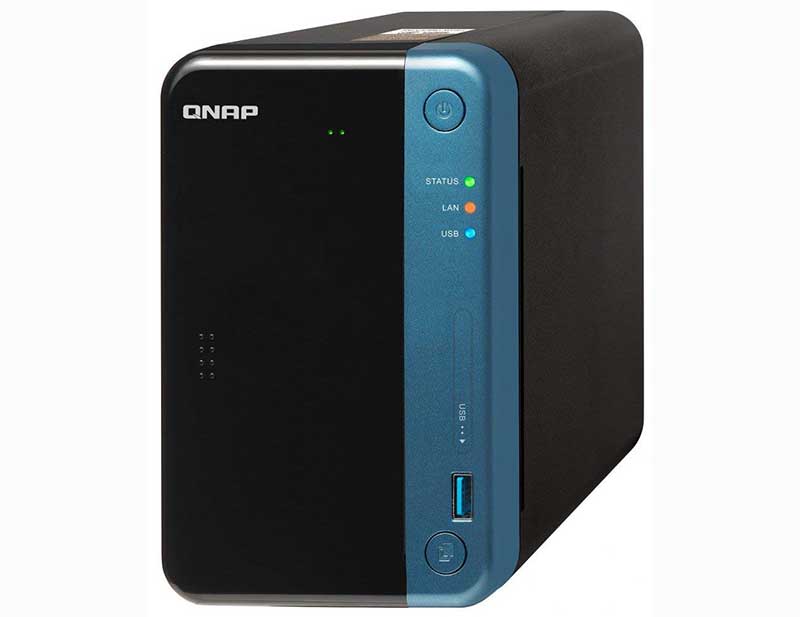 The QNAP TS-253Be is an Intel Powered NAS that includes PCIe expandability ideal for SOHO or SMB. It has the kicks that are needed for great handling of surveillance systems for homes and small offices. What makes it perfect for such task is that it carries a high-performing CPU processor which is the quad-core Intel Celeron Apollo Lake that can clock up to 1.5GHz to 2.3GHz.
An ideal NAS for Home Surveillance must have a high level of storage scalability. For this reason, QNAP TS-253Be's 2 hard disk drive slots are one of the reasons why it is ideal for such purpose. There are times when you want to access your previous home surveillance footages. And for some reason, opening your PC seems to be much harder than using your smartphone. So why not use the latter instead to access everything you need anytime and anywhere with internet connection?
In addition to that, this NAS also includes comprehensive surveillance options enabled by QVR Pro which is an advanced surveillance software. This QNAP NAS camera compatibility reaches more than 5,000 cameras plus it has an intuitive interface for much easier utilization. Not only that because this NAS is covered with robust security protection that comes from its features such as the AES-256 bit encryption, IP and protocol access control, two-step verification options, snapshot support, and a whole lot more.
TS-253Be also has versatile connection compatibility with Google Chromecast, Roku, Amazon Firestick, DLNA, AppleTV, and among others. Level up the streaming experience of your family by allowing them to access a wide range of quality multimedia content on any kind of streaming device they have. Since it features an offline and on the fly video transcoding. You will be able to get a seamless multimedia playback on your various devices.
[amazon box="B07BBHW1NV" title="QNAP TS-253Be" image_alt="QNAP TS-253Be" rating="4.0″ image_size="medium" description="2-bay NAS with Quad-Core CPU"]
QNAP TS-431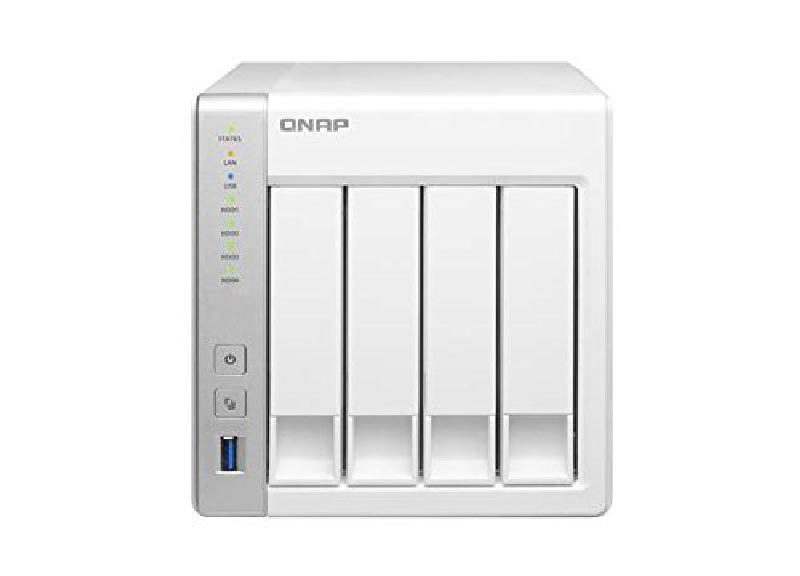 Just like the QNAP TS-453BT3, the QNAP TS-431 also has 4 drive slots for greater storage scalability. But unlike the earlier, this QNAP NAS setup is virtualization compliant.
QNAP Container Station is essentially integrated on this NAS which comes with LXC and the lightweight virtualization technologies of Docker. This makes it possible for you to operate different isolated Linux systems in this NAS at the same time. You can as well download different applications from the embedded Docker Hub Registry.
A NAS for home surveillance must also be efficient. Therefore, this must light up your mood to know that this device supports LAN. But this is not actually the only thing you will see nice about it. As a matter of fact, it supports multiple LAN port- trunking modes. This can allow you to set up link aggregation that can increase the total capability of data transmission as well as failover and dual IP that is needed to ensure business continuity.
Using this storage solution for your home surveillance system is a great idea especially that you can populate all of its 4 bays with massive hard drive disks. Even more, if you really intended to buy a NAS storage that you can use for many years.
The TS-431 is reliable and secure. Plus it supports useful functions that make it ideal for a wide range of purpose. One of the best things that will surely grab your attention is that this NAS is also compatible with PLEX. But it is also a great idea to store high-quality movies on this massive storage solution. Afterward, use the Qfile app in on any of your iOS devices.
[amazon box="B00S0XV1NE" title="QNAP TS-431″ image_alt="QNAP TS-431″ rating="3.8″ image_size="medium" description="4-bay NAS with Dual-Core CPU"]
Final Verdict
Strengthen the combination of your home surveillance system with these sleek and reliable QNAP Network Attached Storage. Choose the cleanest addition that is perfect for your needs. And see which one can really match the requirement of your home surveillance system.