Updated on 9 December 2023
In digital photography, reliable and safe storage is very important. It is especially that most of us utilize advanced camera equipment and sleek photo editing tools that can bulk up the size of images. Moreover, if we take a look back years ago. A single USB stick is considered one of the best storage for photo albums. But today, what we have is much more than that. Look at these 3 Best NAS for photo editing that every photographer must consider.
NAS for Photo Editing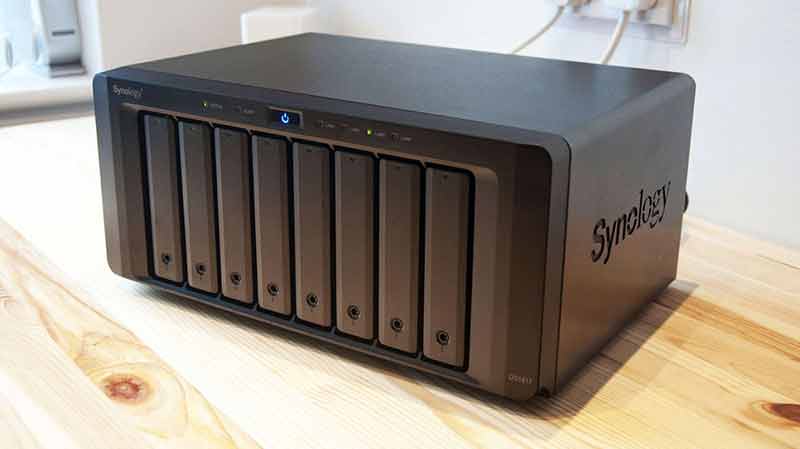 Synology DS1817
At first look, you may doubt why we have included Synology DS1817 on the list. However, it is considered as one of the wisest choices in terms of digital storage for photographers in the past years until today. This NAS is one of the most cost-effective storage that includes 8 drive slots and it is software enabled making it perfect for photo distribution and editing.
Most Mac users love this network attached storage because Synology seems to emulate apple astoundingly well. More so, the brand provides the best NAS storage for photographers due to their huge and scalable storage to accommodate big image sizes with its massive capacity. It can store important business data as well as critical files while providing reliable security and protection for all.
In terms of performance, Synology DS1817 is stealth and powerful. Let alone that has a very reasonable price. Since it includes 8 drive bays plus it delivers amazing rate in data transfer. We can say that this network attached storage is truly ideal storage for photos online.
Additionally, it comprises a built-in dual 10Gbe Local Area Network ports. It also has Gigabit ports, and it supports Link Aggregation for optimum delivery of service and performance in a consistent way. Also, take note that it includes failover functions that can level up your storage experience. With its added data protection and endless storage flexibility, you can easily access and store the photos you are editing with more peace of mind.
[amazon box="B071K9J4MS" title="Synology DS1817″ image_alt="Synology DS1817″ rating="3.8″ image_size="medium" description="8-bay NAS with Quad-Core CPU"]
QNAP TS-453BT3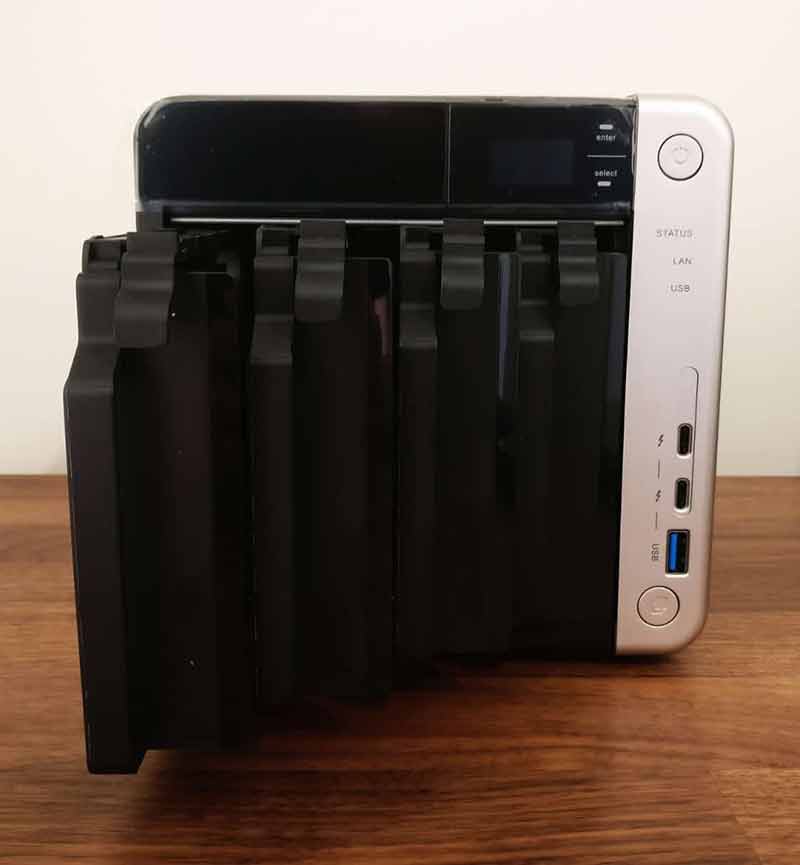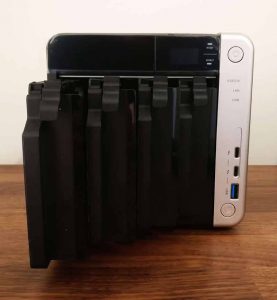 If you are looking for the best digital storage for photographers that can allow you to do live photo editing. The QNAP TS-453BT3 is the answer. This NAS boasts a blazing fast network attached storage that every media studio and creative loves. It features dual 3 Thunderbolt ports together with 10GBASE-T connectivity and M.2 SATA SSD caching. Moreover, it delivers a very ideal storage environment for superfast file sharing and professional collaborative media editing.
In terms of looks, I believe its OLED panel is a very important addition that provides useful feedback for users. This NAS includes two capacitive touch buttons as well and robust hardware features and productivity tools loaded with useful capabilities. It can also support several users using its 10GbE port and 3 Thunderbolt ports and it includes built-in QM2 PCI-e card.
The QNAP TS-453BT3 has a sleek, simple, and trendy aesthetic comprising an OLED rear-panel display. This display showcases system information which includes fan speed, CPU temperatures, volumes, LUN, and the storage capacity of its hard drives. Its buttons are dust-proof and you can use them to wake up the NAS screen easily. You can also host password, modify the IP setting, and reboot and shut down the hardware system.
One of the best advantages of this NAS for individuals who love photo editing is its outstanding file transfer speed. However, it is not only that. With its sleek Thunderbolt to Ethernet converter. You can now access the 10GbE networks using this hardware device which provide convenience and flexibility plus incredibly efficient transfer of data. This also eradicates the need to buy more converters and adapters which is a big money saving.
[amazon box="B0768N5J5Q" title="QNAP TS-453BT3 " image_alt="QNAP TS-453BT3 " rating="4.0″ image_size="medium" description="4-bay NAS with Quad-Core CPU with Thunderbolt 3 Ports"]
Synology DS1681+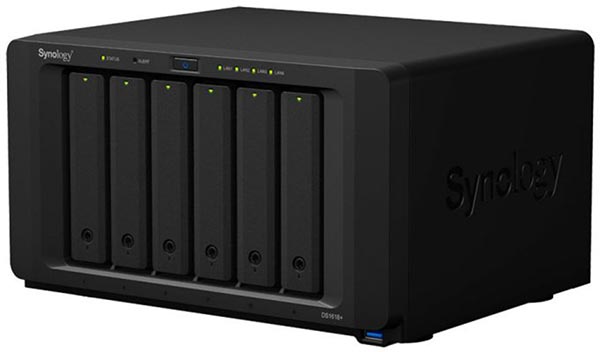 For ultimate storage for photographers, the Synology DS1681+ provides the choice between SDD cache card upgrade and 10Gb network connectivity. Moreover, it is powered by an Intel C3538 CPU together with the best memory options. This NAS also comes with 6 hard drive bays that allow you to upgrade its storage capacity. With this, you will be able to store a set of high-quality photos that you and your team can easily access.
The complete support of Synology DS1681+ for all the main file sharing protocols such as AFP, CIFS, FTP, NFS, among others will allow you to store your files in a centralized manner. The moment you need them, you can easily access the files using different devices even at the same time. This NAS storage for photographers is a wise way to store images. It is especially those you need to be shared from time to time. Since it is accessible as long as a device has internet connection and authority, syncing software and file sharing are now way easier.
Synology DS1681+ is a reliable multi-version backup that can guarantee the safety of your files from ransomware and human-error. Utilizing this hardware device can help you avoid the great disaster that can come up to destroy your files. Like so, this amazing NAS supports Citrix, VMware, and Microsoft Hyper-V. This proves that it is not only ideal for photo editing, but also for different virtualization environments.
If we discuss price, the Synology DS1681+ is the least expensive among the three best network attached storage we found perfect for photo editing. However, these three NAS devices have their own advantages and disadvantages that can affect your decision on which one can satisfy your storage needs. Moreover, in choosing the right one, make sure to check out every feature it has. You must always see to it that the feature you need belongs on its key features so you won't regret buying it in the end.
[amazon box="B07CR8RZYY" title="Synology DS1681+ " image_alt="Synology DS1681+" rating="4.3″ image_size="medium" description="6-bay NAS with Quad-Core CPU"]
Final Thoughts
As time pass by, the resolution of images produced by cameras is significantly increasing. This is the main reason why photo editors and photographers have to utilize a reliable NAS storage. Storage that can protect and house their treasured shots. Moreover, the internet has made things easier today than before especially when it comes to file sharing and communication. With the help of NAS, teams can now easily access the same file simultaneously even if they are distant from each other.