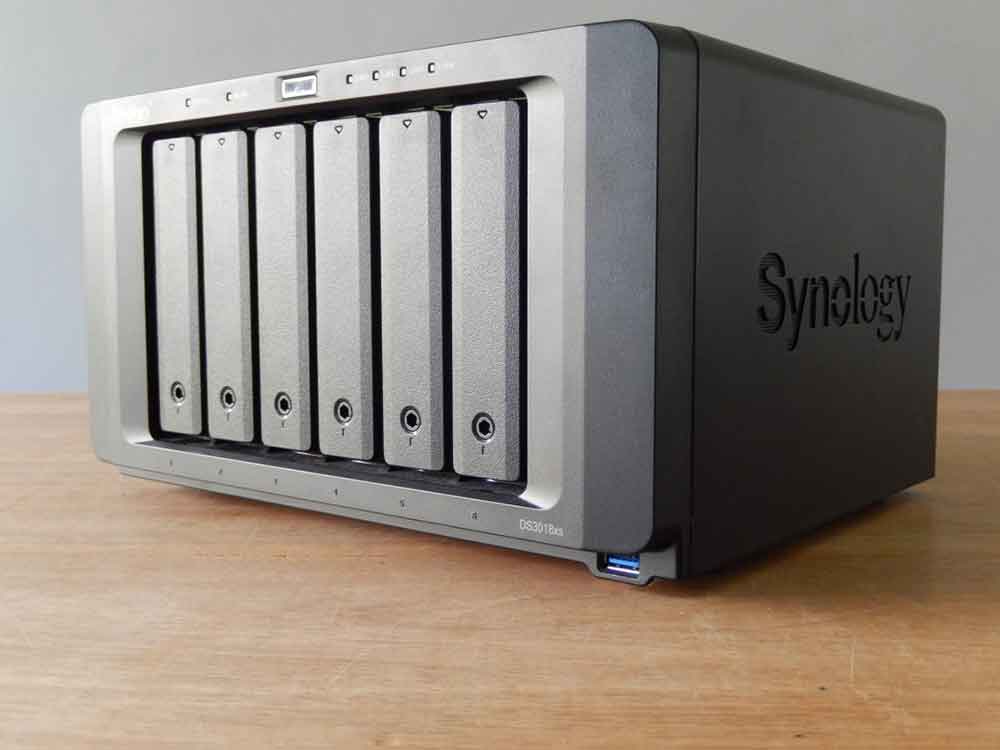 Updated on 25 November 2023
For every Virtualized servers, shared storage is necessary. Most especially if you want to utilize an advanced feature that is offered by virtualization. This includes high availability or the capability to transfer a running VM or virtual machine across different servers. While most utilize high-end Fibre Channel SAN for this particular purpose. We recommend these 3 best NAS for running virtual machines that can cut your cost. And at the same time provides the level of performance you need.
What is a Virtual Machine?
Before we start this review. We must first discuss the basic concept of a virtual machine and the reason why we want a NAS for this particular use.
For starters, a Virtual Machine is a computer emulator that works as software on another computer but in a virtual way. This means it runs just like a real physical computer inside a real computer.
Virtual Machines allows macOS computer users to run Windows machines. Even without having to uninstall the operating system they actually use. As an advantage, they will be able to access various programs that are not available on the current operating system that is directly installed on their physical computer. This makes it easier and more convenient to test new and advanced applications.
In addition to that, VMs are considered as a controlled environment where people can experiment with a new operating system. For this particular characteristic. It is used for running old operating systems in order to access software that is incompatible with the newer versions currently utilized. It also allows multiple users in single hardware by enabling multiple login in and remote virtual machine usage.
Synology DiskStation DS3018xs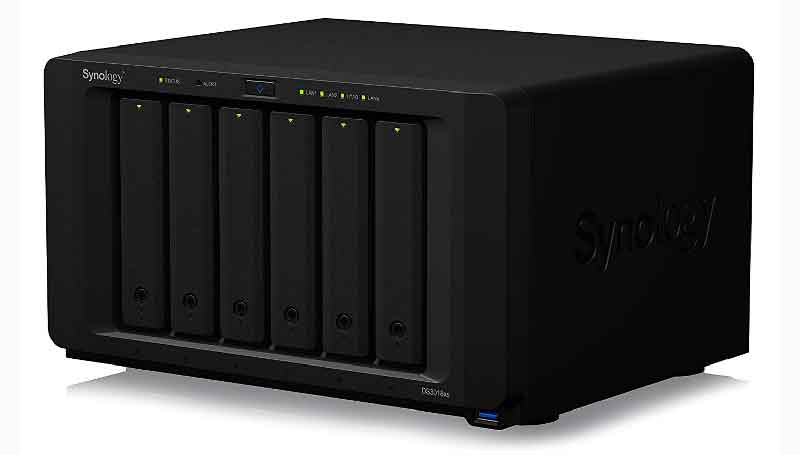 NAS Synology virtual machines are equipped with high-performing virtual machine manager. This supports different VM software such as VMware, Citrix, as well as Microsoft Hyper-V. Moreover, Synology DiskStation DS3018xs is one of the best NAS that serves as a seamless solution for all storage needs combining with useful features that makes it ideal for virtualization environments.
One of the things that we find essential in this NAS for running virtual machines is that it consolidates storage in a centralized and more organized manner. Whilst, it offers high-end specs that make it amenable to provide better and optimized performance. This also makes it capable of supporting iSCSI & NFS, VMware vSphere 6 & VAAI integration, SSD caching, and more.
On the other hand, this Synology NAS incorporates Synology Virtual Machine Manager that makes it easier for users to setup. As well as run different virtual machines like Linux, Windows, and Virtual DSM. If you utilize this NAS, you will get to enjoy an intuitive user interface that provides seamless share, synchronization, and collaboration between you and your team.
This NAS is incredibly simple to setup that you can actually do it yourself for about a few minutes. It also includes tons of applications that you can choose from. So, if you want to use a sleek NAS for running virtual machines that also provides you the ability to access your saved files anywhere, better choose this network attached storage from Synology.
QNAP TS-1677X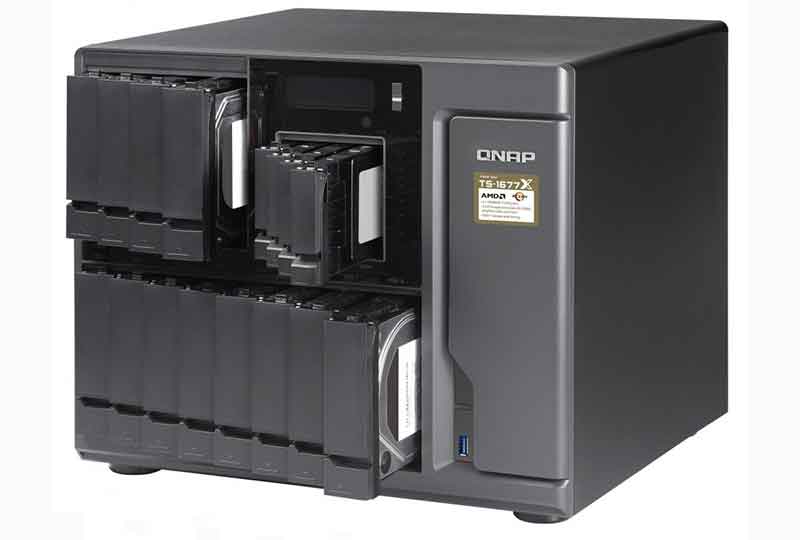 If you are opting for the best NAS for virtual machines that can provide the best performance, QNAP TS-1677X is the one you must take. Among the rest of our today's list, this NAS from QNAP is the only one powered by an overpowering AMD Ryzen processor that provides up to 8 cores/18 threads.
When the AMD Ryzen CPU is integrated with Turbo Core reaching 3.7 GHz frequency.  This can incredibly optimize virtual machine performance. QNAP especially developed this outstanding storage solution with a robust and flexible virtualization deployment that makes it possible to run different VMs smoothly and seamlessly using its built-in hypervisor.
In addition to that, it also includes a 10GbE ports that allow it to serve as convenient storage for whatever local VM servers you utilize. This is not to mention that it also supports VMware, Microsoft Hyper-V, Citrix, and many more in terms of VM backups.
You can also use this best NAS for running virtual machines pretty easy as well as creating and storing VMs. Its reliable security features also help especially that QNAP offers advanced features that are robust enough to deliver stronger and tighter protection over your critical data.  QNAP TS-1677X is equipped with AES-256 bit encryption, snapshot support, two-step verification options, IP and protocol access control, and a whole lot more.
Synology DiskStation DS3617xs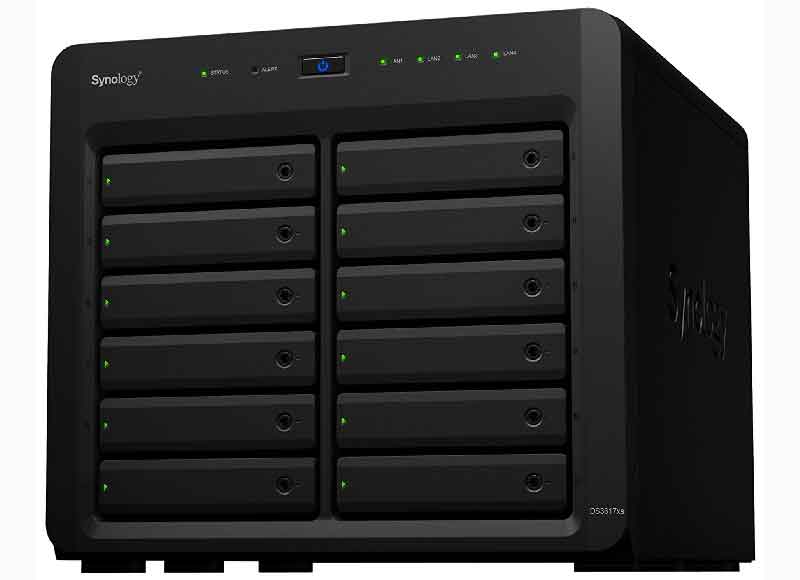 Another NAS Synology virtual machines compliant is the DiskStation DS3617xs that supports Citrix, VMware, and Microsoft Hyper-V. It includes an intimidating 12 drive slots combined with a higher level of power and memory performance. This makes it ideal for those who are in need of a marvelous NAS device.
The Synology DS3617xs is excellent not only in terms of virtualization but also in Business usage. Besides, combining two Synology DS servers into a cluster makes it possible for you to maximize uptime and the availability of service and data for users and employees alike. This NAS for running virtual machines also supports SSD caching, iSCSI & NFS, VAAI integration, and VMware vSphere 6. It also has the Virtual Machine Manager from Synology that can allow you to install and run different virtual machines. This includes Linux, Windows, and Virtual DSM.
Aside from its sleek specs and features. This storage solution also includes the Synology replacement service that delivers advanced and fast replacement in case of a fault. It also comes with 5 years of warranty. Meaning, you will be able to use this network attached storage for a long long time. Enjoy smooth virtualization along with powerful performance using this best NAS for running virtual machines.
Final Verdict
NAS is an ideal solution for running Virtual Machines especially if you want optimized performance. But with a lower cost. Compared to FC SAN, NAS comprises massive storage at a lower price. And it is capable of utilizing an existing Ethernet infrastructure which is similar to iSCSI and FC storage devices. While the NAS devices we included above are VM ready. Also, take note that not all NAS are appropriate for a virtualized server environment. So, if you are planning to use a NAS for running virtual machines. You can consider having any of the three.