For starters, 10GbE connectivity can improve overall network performance with its 10 times greater bandwidth compared to 1GbE. So, for this 10gbe NAS review. We will talk about three of the best NAS with 10GbE connectivity. Besides, the demand for a better and higher bandwidth for faster backup/restore, virtualization, and storage is continually increasing. Therefore, we need to inspect which 10gbe NAS storage is the best solution for our needs.

Updated on 27 September 2023
Three Best 10GbE NAS 2019
QNAP TS-332X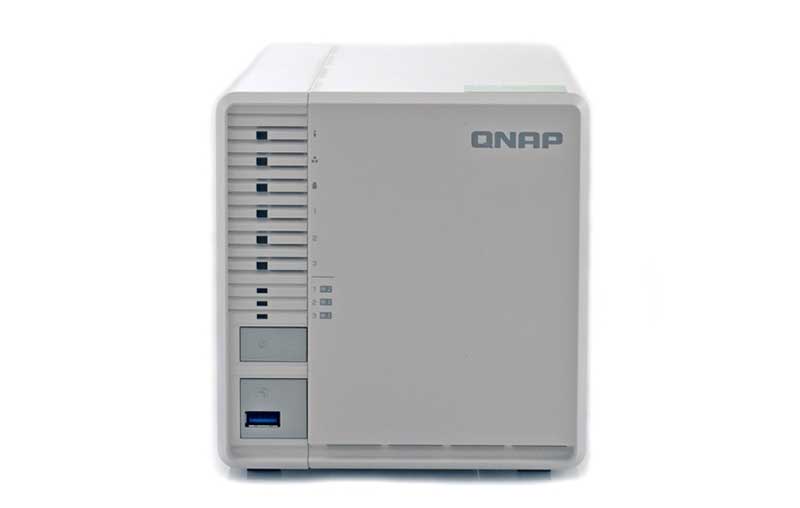 The first 10GbE network attached storage that we examined is the 10gbe NAS QNAP TS-332X. It is one of the multifaceted 64-bit 3-bay NAS of the company that features 3 M.2 SSD slots as well as RAID5 configuration.
This 10gbe NAS storage looks simple, yet, it comprises robust components and powerful features that provide utmost performance for all kinds of users. The fact that it supports 10GbE connectivity makes it an ideal NAS for businesses, creators, multimedia, and more. It also features SSD cashing, three M.2 SATA 6Gb/s SSD Slots, and Auto Tiering that provides sleek combinations of features needed for small business environments.
QNAP TS-332X is a budget-friendly NAS that allows you to create a RAID 5 array on your NAS using fewer disks. More so, it boasts 10GbE SFP+ port along with 3 M.2 SATA 6Gb/s SSD that can enhance your performance. This NAS features a minimalist design that attracts buyers with its high-end specs. As a matter of fact, it includes Download Station that can allow you to download files without the need to use various downloading tools.
Aside from that, QNAP offers a wide range of useful applications that are compatible with any Android and iOS devices. These apps include Qsync, Qfile, and Qphoto that are all handy to use and significantly essential.
[amazon box="B07GVPHQ7B" title="QNAP TS-332X" image_alt="QNAP TS-332X" rating="3.0″ image_size="medium" description="3-bay 10GbE NAS with Quad-Core CPU"]
QNAP TS-832X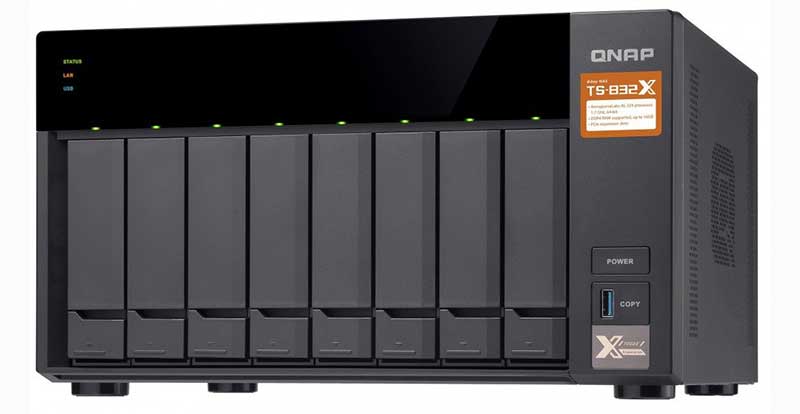 Among the growing number of 10gbe NAS storage today, this 10gbe NAS 2019 from QNAP is one that stands out. It has a compact design with an incredibly affordable 10GbE connectivity. Moreover, it has a reliable internal component that are essential for businesses.
QNAP TS-832X is an 8-bay NAS with built-in SFP+ ports. This works for effectively accelerating sharing huge sizes of files and virtualization. More so, it is a cost-efficient kind of 10gbe NAS QNAP. It includes PCIe expansion to extend its functionality in order to become the most powerful 8 drive bay quad-core NAS in the market today.
Additionally, it runs TS which is QNAP's intelligent, creative, and intuitive network attached operating system. It has different modularized apps and functions and QTS improves management efficiency, multimedia, personal productivity, and so on. Apparently, this makes this NAS capable of providing flexible, easier, and more efficient than others.
In the middle of the increasing threat of ransomware, the block-based snapshots of this 10gbe NAS storage is a feature you can depend on. Timely snapshots will be taken manually or on schedule in order to back up your files to other servers or network attached storage. This is effective especially to provide a strong and complete backup solution.
In terms of design, this NAS is protected with a black all-metal chassis and it features 8 drive bays that you can also utilize for SSD. You can lock these trays and each of them has screw holes provided for unique kinds of media. This NAS is ideal for those who are looking for a 10GbE server with stronger security and protection.
[amazon box="B07CVL2D1Z" title="QNAP TS-832X" image_alt="QNAP TS-832X" rating="3.8″ image_size="medium" description="8-bay 10GbE NAS with Quad-Core CPU"]
Asustor AS4002T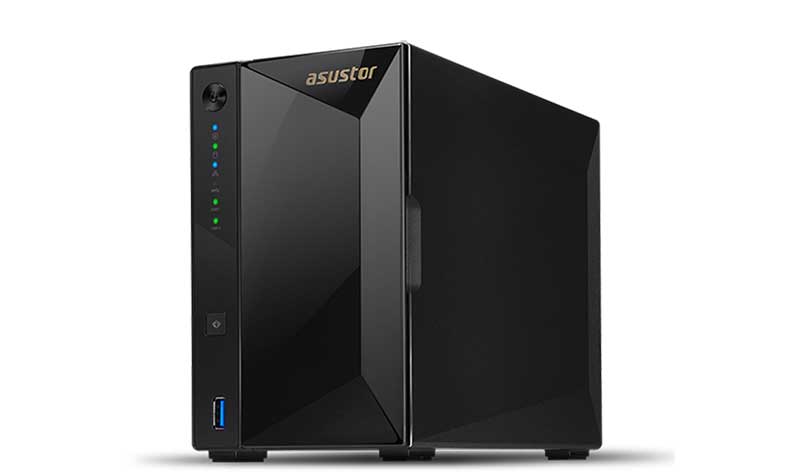 If you are looking for a little bit stylish 10GbE NAS 2019, the Asustor AS4002T is a NAS to consider. It is ideal for home use and it comprises a great number of high-performing components. This includes a 10Gb Ethernet port, fast DDR4 memory, and link aggregation.
We have mentioned that this NAS is stylish due to its sleek diamond-cut exterior that includes a magnetic cover. This is provided in order to deliver easier access to the hard drives inside the NAS.
Like so, this storage solution includes a quad-core Marvell 64bit processor with a frequency of 1.6Ghz. And it is strengthened by ARM Cortex A72 microarchitecture. This component is actually three times better and faster compared to other processors while delivering 75% reduced power.
Apparently, the Asustor AS4002T is the very first lineup of consumer network attached storage by Asustor that includes 10Gbps bandwidth over the network. It has a 10Gbps Ethernet port that utilizes the traditional RJ45 that are completely different from SFP+. This type of connector is the easiest one to find for many consumers and it is incredibly flexible with the variety of Ethernet standards and speeds.
At first look, what you can find in this 10gbe NAs 2019 are two Gigabit Ethernet ports, a USB 3.1 port, and a 10GbE port. However, it does not include any HDMI s well as other audio or I/O ports. But even without those, you will still get to enjoy a high-performing NAS because it is powered by a dual-core Marvell Armada-7020 processor that has a frequency of 1.6BHz.
In addition to that, it has 2Gb DDR4 memory and 512MB flash memory. More so, it utilizes the EXT4 file system that is compatible with JBOD, Single Disk, RAID 1, and RAID 0 configurations. You can get effortless connection to this network attached storage through its ADM 3.0. This makes it easier and faster to configure routers. It also has an intuitive interface thanks to the vibrant and fresh looking UI of ADM. With this, you will no longer have to worry about learning on how to use this NAS because its familiar controls are so much easy to understand.
[amazon box="B07BS332TD" title="Asustor AS4002T" image_alt="Asustor AS4002T" rating="4.5″ image_size="medium" description="2-bay 10GbE NAS with Dual-Core CPU"]
The Final Verdict
Knowing that the growing demand for faster and high-performing NAS devices is so great.  Choosing the best network-attached storage is very crucial. This is the reason why many NAS users take time to research and ask pieces of advice on experts first on which one is the real deal and which one is not. Moreover, above are three of the best 10gbe NAS storage that is proven in terms of functionality and speed. You can actually inspect them for yourselves if these can pass your storage solution standards.