Facial cupping is an old kind of alternative therapy that utilizes suction cups in order to stimulate the healthy glow of muscles and skin. It promotes better circulation of the blood that makes cell repair faster as well as in other kinds of regeneration. But since cupping is known to be an ancient practice, why is it still relevant to us? The answer relies on Lure Essentials, the secret of celebrities to get a glowing and beautiful skin.
In this Lure Essentials glam facial cupping review. We will discuss some of the facial cupping benefits and the best facial cupping tools that you can only find in Lure Essentials. Facial cupping is an ancient art said to be practiced in Egypt and China for a long time. But Lure Essentials developed a better version of this therapy said to be a natural and effective alternative to Botox or any cosmetic surgery.
Introducing Lure Essentials Glam Facial Cupping
This particular set we will review from Lure Essentials is one of the most favorite cupping kits among other facial cupping tools in the market. It comprises the ancient method of facial cupping together with a healthy facial oil loaded with vitamins and omega fatty acids that can rejuvenate skin and increase blood flow.
Lure Essentials offers a unique set that arrives in 4 different cone-shape cups. It includes two cups for the face, neck, lips, or décolletage and two more for your eyes. But aside from that, it also includes an exfoliating brush and a bottle of Omnia Beauty Oil as well as a storage bag.
All the Lure Cups are specially made with premium quality food grade silicone. These are absolutely non-toxic and it is free from BPS, PVS, phthalates, and plastic. This only means that all of them are 100% safe.
Now the question is, "is it possible to get glowing skin in just 5 minutes a day?" Well, the answer is YES. With Lure Essentials Glam Facial Cupping, you can achieve a youthful and glowing skin by using it for only 5 minutes every day. Just make sure to continue using it for better and maintained results.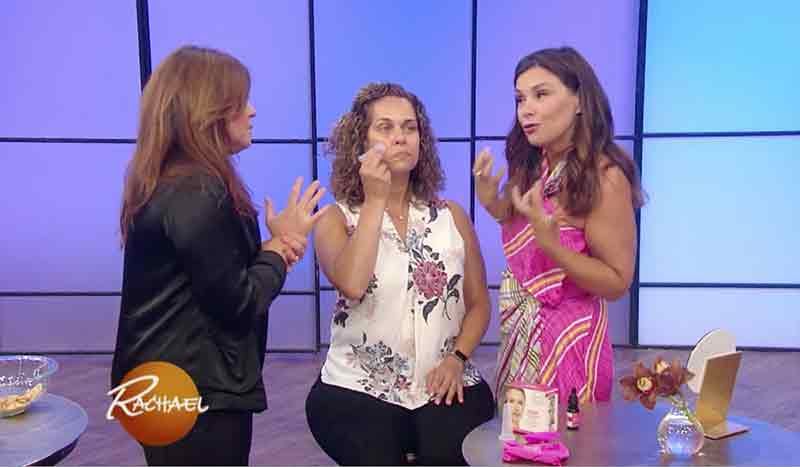 This Lure cupping set is now the favorite topic of all women and men for its great benefits. As a matter of fact, it is even mentioned in Oprah Magazine, Vogue, Cosmo, Rachel Ray, Good Housekeeping. EOnline, and Shape for its promising results. It is a great solution for tired eyes, fine lines, puffiness of the eyes, and it triggers the production of collagen which is an essential substance for the skin. This only means that Lure cupping can help us get a brighter, tighter, and younger-looking skin.
We are not actually commending this product without any basis. Because aside from trying it on our own, we have found out that there are more than 55,000 women all around the world who have also tried it and they were satisfied. Not mentioning that Lure Essentials facial cupping tools are supported by an independent research study.
In line with this, Lure Essentials is  the only brand proven by an independent facial cupping efficacy and consumer perception research study. According to it, there are about 30 respondents who have tested the product for 2 weeks by doing facial cupping for 5 minutes every day with a series of 2 to 3 days every week and their skin significantly improved.
How Does It Work?
Facial Cupping has been utilized in many ancient cultures such as in Egypt, the Middle East, and China. Moreover, this practice requires suction cups to be used directly on your skin pulling gently small sections of the face across the jawline, forehead, cheeks, and a lot more.
In this method, the fascia also known as a connective sheet of tissue under the skin or collagen is carefully stretched. This will result in effective restoration of the skin.
The regular use of Lure cups for facial cupping can lift and tone the face to achieve a more youthful, firmer, and glowing skin. Of course, without the need for painful peels, costly injections, or any invasive plastic surgery.
Additionally, it can tone your face, leave your skin looking younger, glowing, and firmer in just 5 minutes, and relieves sinus pressure and tired eyes. Moreover, it helps in draining all the toxins out from the lymphatic system. All of those in a single Lure Essentials facial cupping set.
How to Use It?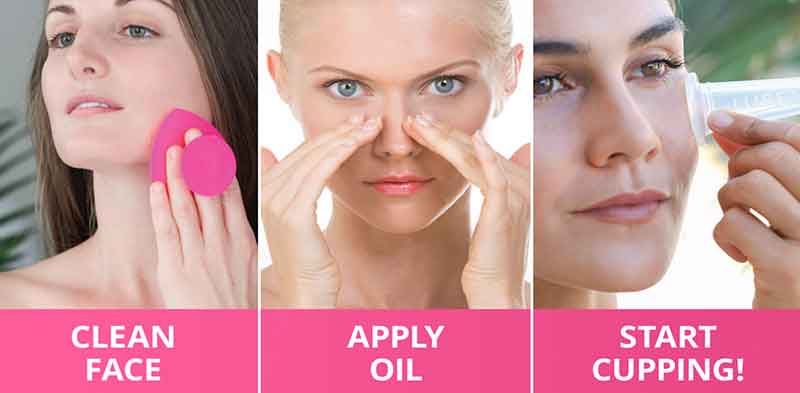 If you are ready to get a younger looking skin, make sure to order your own set of Lure Essentials glam facial cupping now and follow the instructions we have listed below:
Wash Your Face
The first and the most important thing to do before proceeding to any kind of skincare ritual is washing the face. Yes, you have to make sure that your face is free of dust and oils so it can freely absorb all the nourishment from Lure Essentials Omnia Beauty Oil.
To help you get this done right. Wash your face using the soft and squishy exfoliating brush included in the Lure cupping set. You will definitely love how pure your skin will be after using this exfoliator.
Apply the Lure Essentials Omnia Beauty Oil
After washing and drying the face, apply an ample amount of the Omnia Beauty Oil on your neck and face. Afterward, glide the cups easily and smoothly while alternately squeezing, applying, and releasing the suction. This is the most important part that you have to practice. But it is pretty easy to follow so you won't have any trouble using this brilliant product.
But just in case you want to perfect the method of facial cupping. You can watch some of their video tutorials that show how to do facial cupping in the right way. Every cup has its own use so you must also take note of them.
Two Ways to Use Lure Cups
There are two different ways to use your cups that also provides different benefits. The first one is the combination of suction, release, and repeat. The second is sweeping or gliding massage strokes that you have to do in 3 to 5 times in each area.
If you want to get the most out of Lure Essentials facial cupping benefits, make it a habit to combine these two ways of using Lure Cups. This also helps to avoid forming cupping marks because cupping in one area for too long can create these unwanted marks. But if hematoma shows up, don't panic. Just stop cupping until the marks fade away then continue using it again.
You can get the best results of this revolutionary skincare product if you utilize it every other day for only 3 to 10 minutes. Make it a staple part of your skincare regimen to achieve a youthful looking skin with a beautiful glow.
Does It Hurt?
Cupping is mostly thought as painful but it is DEFINITELY NOT. There are cases where temporary itching and redness can be possibly experienced. But this will disappear quickly after the relaxing massage.
To avoid this to happen, always make sure to keep the cup moving from one area to another. While this method can help to spread the nutrients in your face, you can also avoid unwanted skin discoloration.
It is also best if you watch the video tutorials of Lure Essentials to be properly guided on the right way of facial cupping. Since you are doing it at home without the guide of any professional. You have to practice the proper way of its usage to avoid any problems.
Besides, you want to get the right results so you have to make sure that you are following the instructions well. But don't worry. You can always refer to their written guide or the video to get pass through the learning curve.
The Advantages of Lure Essentials Glam Facial Cupping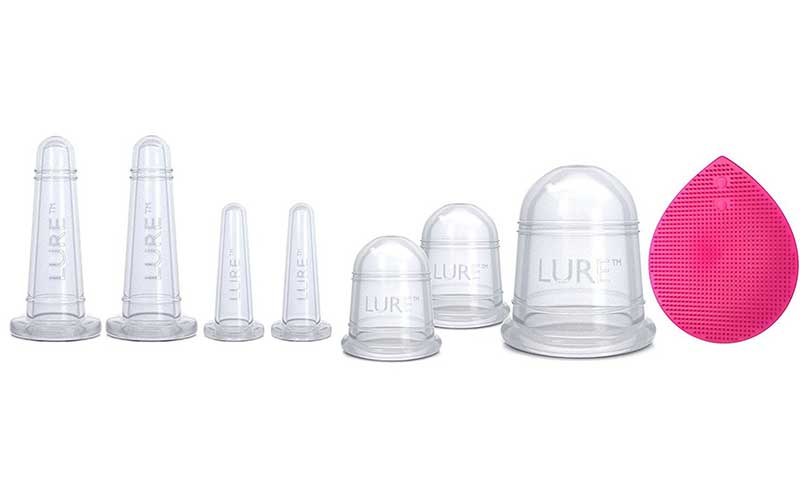 Ready yourself to experience the advantages of Lure Essentials because more than 50,000 people are already enjoying it today.  Check out some of the best advantages you can get and you'll definitely love it.
Regulate the production of oil in the face
Decrease the puffiness of the face and neck
Brighten skin
Relax the tension of facial and neck muscles
Improves oxygen-rich circulation of blood
Triggers the production of Collagen
Makes the Skin Firmer and Stronger
Tone neck. Jawline, décolletage, and chin
Reduces the visibility of fine lines, scars, and wrinkles in the face and neck
Level up the delivery of nutrients in the skin as well as improves the absorption of the product
Aside from these, the Lure Essentials facial cupping set is also easy to use and incredibly durable. More so, the cups are easy to clean and maintain. It is compatible with all individuals regardless of the skin type they have. And very ideal to bring anywhere even when you travel.
This beauty boosting product doesn't require any batteries or charging. Considering its design and materials, your skin is safe with it including the environment.
Is It Expensive?
Most people turn to a spa just to get a premium and expensive facial cupping treatment but here's a tip. You can actually do it yourself in a much cheaper way. Some of us are just too frugal to spend a dime on beauty products and facial treatments. But this one is a great investment especially for yourself.
Painful injections and cosmetic surgeries have a stellar-high price compared to Lure Essentials Glam Facial Cupping. As a matter of fact, a set only costs $35.99 and you can actually save more if you avail the best value package.
Today, Lure Essentials offers great deals in different packages to help you out in deciding which to get for you, your friends, and family. It is actually an ideal gift for your mom and sisters.
The best thing about it is that you can avail a discount from time to time. However, discounts are quite limited so better visit their official website today to check it out.
On the other hand, it includes a 30-day money back guarantee just to assure you that their product is safe and satisfying. It is not because you are likely to return it after a few days. In the middle of using this set, you will be able to see some visible results. That is where you start to love and live with it.
Where Can I Get Mine?
Just as how skincare is important, it is also critical to make sure that the products you use are authentic and safe. Therefore, it is better if you get your Lure cupping set directly on their website where you can find by clicking the button below.
Lure Essentials is widely known to be the only brand that is backed up with an independent research study proving that it is really effective in facial cupping. As a matter of fact, there are more than 50, 000 Lure Essentials users today who are enjoying the wide-ranging benefits of this facial cupping set product.
The Verdict
Facial cupping is a unique method for beauty and skincare that still needs to be widely introduced. Out of Millions of people who seek the best product to improve and correct the imperfections of their face. There are just some who turns to facial cupping benefits.
Some spend thousands of dollars just to get an injection or cosmetic surgery. This is to make their face and neck firmer and look younger. Little did they know that there is a whole lot better way to achieve that? For this reason, we have conducted a review on our own to test and prove if this product is worth recommending. Now that we tasted the result. We are confident to share it with you.
If you think Lure cupping is the best method for you to get a healthy and younger looking skin. Click the button below to make them yours immediately. You will never know when the stock runs out. Besides, more and more people are demanding for this amazing skin care product.