F-Secure Antivirus is owned by a Finnish security corporation (F-Secure Corporation). Who has been in the business of developing antivirus programs for 25 years. Nowadays, F-Secure Corporation has not only been known for their antivirus credibility. But they have also converged the realm of the enterprise as they progressively produce a variety of consumer products.
What is F-Secure Antivirus
The standard package of F-secure antivirus which costs for a very affordable price of £19.95 ($25). For a 1-year license per computer really stood out and attracted our attention until we checked the description. And review the whole package. Our major realization was: it's merely an antivirus protection (and that's it) – important features such as password manager, file shredder, and basic must-haves like banking protection, Wi-Fi protection, as well as browsing protection were all out of sight.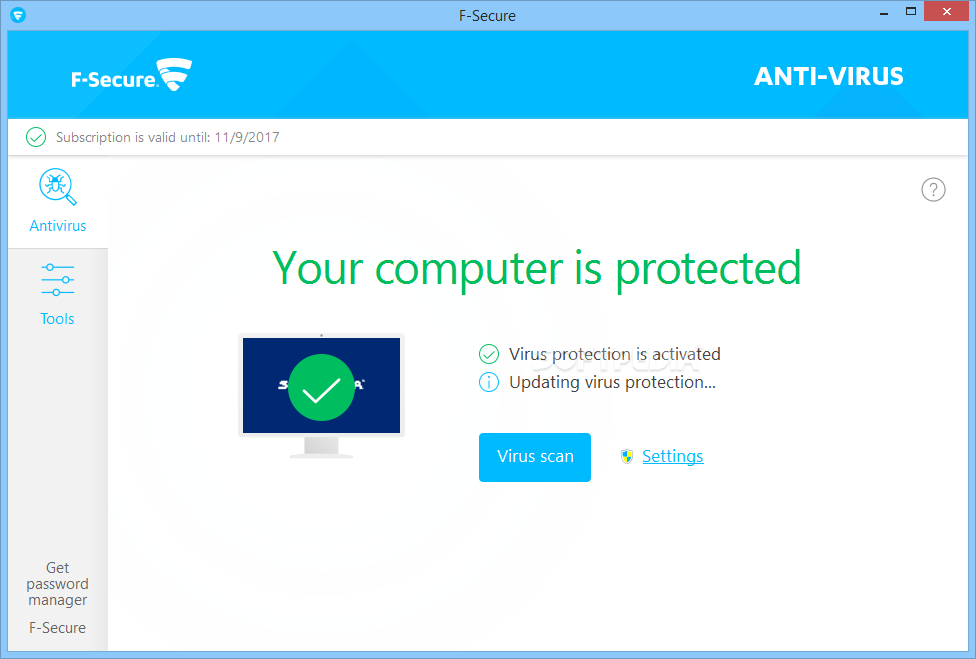 One Dimensional Antivirus Software?
The plainness of F-Secure antivirus might be reasonable if you are an expert user with different programs already installed on your computer like firewall, URL filter, and other basic applications that will secure your computer. However, this antivirus program could be an issue since it doesn't consider the needs of some users, particularly beginners, who are usually looking for a multi-functional application who can do all the job (or most of it, if not all).
Another drawback is its pricing, specifically discounting if you are going to avail in bulk. Its one-year license for $39 (£29.95) for three devices is considered expensive compared to other antivirus packages. Bitdefender, for instance, can do the same job (but without spending a lot) for only $16.26 (£12.51) for all three devices.
Setup
Just like any other antivirus programs. F-Secure also offers a one month trial so the customer can have a firsthand experience of their product. Usually, this free trial is supposed to be one of the easiest things to do before purchasing such a program. But it seems that with F-Secure, it's the other way – you must first register via email address and complete a CAPTCHA in order for you to have the download link, but only that, they will send you a confirmation email with another link on it that you need to click for you to able to get the license key. However, we were not directed to any page with a license key and that confused us. Until we realized that it's primarily for the reason that it is built into a name that is executable. Sounds confusing, right?
Support
Besides that, the rest of the installation went smoothly and the program set itself up without any complications or hassles at all. As we looked through the F-Secure program folder, we have confirmed a 700MB of support files which is only a reasonable size for an antivirus software. Another thing we noticed is that Bitdefender engine is included on its folder which is not a surprise anymore since many companies do the same (and it's actually a good news to see that it's being used)
Features and Protection
F-Secure Antivirus
Affordable anti-virus, anti-malware, and other online threats to ensure safe surfing and safe banking.
Last update on 2020-02-18 / Affiliate links / Images from Amazon Product Advertising API
It's such a surprise to see an antivirus software that is merely an antivirus. I mean if we compare it with other antivirus programs out there, they will surely offer you bonus features just to keep you and show you that you are one of their valued customers. F-Secure, on the other hand, is completely different and if you have two options: one that offers you freebies and extra features with little to no additional cost and the other that merely functions as a plain antivirus, which one will you choose?
Easy To Use
The interface of F-Secure is as straightforward and simple as it works – its main console has only two buttons: (1) Settings and (2) Virus Scan. Basically, when you tap the first, it will direct you to a section where all the configuration settings are. The 'Virus Scan' button, on the other hand, will trigger the F-Secure to run a quick scan, do some necessary actions for whatever threat it detected and also shows its verdict.
Although we said earlier that this software is pretty okay for experienced and expert users. It could not be their thing and they would not go for it as it lacks essential features an antivirus should have. Unlike its competitors, Avira and Avast to name a few. The main console of F-Secure doesn't provide the option to scan a removable drive, not even a custom scan. Other options you can see are just 2 checkboxes: 'Scan inside compressed files' and 'Scan only known file types' that's it. Compared to established antivirus software which offers a variety of scanning, tweaking, and configuring selections.
We think that the only extra (if you'll consider it that way) feature is its ransomware protection feature which basically works to safeguard your files from being accessed by untrusted applications (which is one of the newest features of Windows 10). In spite of that, this small extra feature of F-Secure is worthwhile for users below Windows 10 operating system.
How Great is F-Secure?
Taking everything into consideration, F-Secure guarantees its core antivirus job in the best way – accurate, fast, and reliable. On the other hand, it is not without potential drawbacks lack of other features? including scanning option, Wi-Fi protection, and URL filter just to name some that you might consider if you are looking for a multi-functional antivirus software. Besides that, F-Secure is a smart choice for an antivirus program that will do most of the antivirus functions.
F-Secure Antivirus completed a reliable and exemplary protection with the quick malware detection tests we did. Additionally, judgments of the primary testing labs are also taken into account to fully emphasize its functions.
Final thoughts
F-Secure antivirus is accurate, fast, and reliable. It's cheaper more than most of the top competition and without a doubt. It performs its core purpose which is to protect your computer from getting infected by malware. Be that as it may, because that's all it has to offer, it's only fair to say that it's no more than a plain antivirus software.