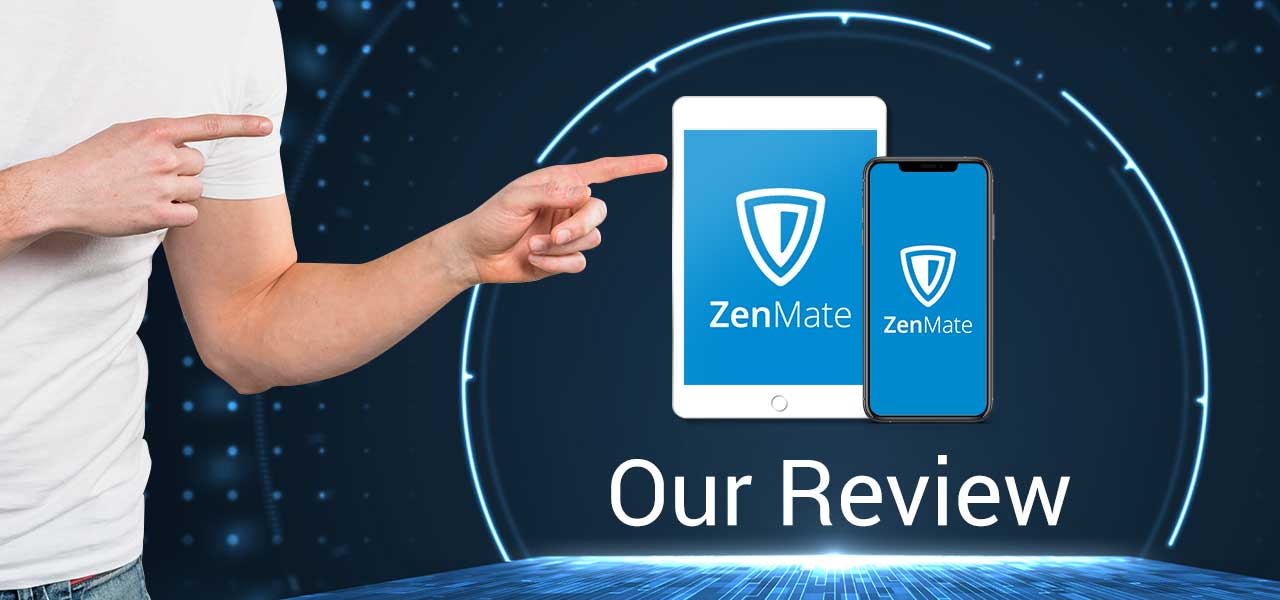 Zen is a pretty relaxing word to hear. Don't you always relate it to stuff like meditating, relaxation, and calmness? Well now, you can add VPN to that list of associations. With all the different and new VPNs on the market, it can be a challenge to pick out one for yourself – most especially if you don't know anything about them. Say no more, because I'm here to help you out with that problem. In this ZenMate VPN review, I'll be giving you everything you need to know about this provider and what it has to offer.
Download Now
A German Virtual Private Network for your online privacy!
Browse the web like a ninja: anonymously and without leaving any trace. Try it 30 days, risk-free.
What is ZenMate VPN?
Namaste? Monks? No, ZenMate is a pretty well-known VPN provider on the internet. It has over 40 million loyal users to date and is only continuing to grow.
It is based in Germany from the company ZenGuard and is more popular in Turkey. It's humble origins started from simple free browser extensions for Google Chrome and Mozilla Firefox. But now, it is able to offer a full VPN service.
What I can say for sure in this ZenMate review is the fact that I like its simplicity very much. There are no bothersome and unnecessary features that make it very pleasing and don't frustrate the user at all.
Is ZenMate safe? I would say so. I mean, it is based in Germany. And if you didn't already know, Germany doesn't requite companies (like ZenGuard) to hand over confidential client information. Countries like the United States have an obligatory data retention law which makes it difficult to promise a service that is safe and away from prying eyes. But not here, ZenMate has got you covered.
Is ZenMate free?
This was probably the first, if not, the second thing that came across your mind when you first read about this ZenMate review. I'm sorry to burst your bubble, but this provider doesn't come for free. Let's face it, nothing good in life ever comes for free anyway.
However, it does have different premium plans that cater to every budget. It comes in monthly, annual, or triennial. The golden rule for VPNs is the longer the commitment, the lesser the monthly fee. So, if you really want to save and get the biggest discount, I'd recommend going for the annual plan. It'll be worth it because once you start using it, you'll want to keep using it all the time. Plus, the annual plan will be worth the money because of the unlimited simultaneous connections.
But if you don't want to waste even a single penny, you can always try out their 30-day money-back guarantee. This is great if you're only planning to use it for a short while or if you're still having second thoughts about getting a full subscription. You can test it out first before fully committing to it.
I'm not sure if you've heard, but before, this provider used to offer free a free plan. But, it has been discontinued and is not available anymore. But, if you don't need a VPN on your mobile devices, you can continue using it for free by installing the browser extensions on your computer.
Just a quick fun fact: ZenMate actually lowered their monthly prices. That's right, it used to be expensive, almost close to Express VPN. But now, they finally reduced it by 20%.
Is ZenMate a good VPN?
In this section of the ZenMate VPN review, I'll be giving a short summary of its details and what makes it a good provider.
| Feature | Value |
| --- | --- |
| Zero-logs? | Yes, your data and identity are safe |
| Works with torrents? | Yes |
| Netflix | US, FE, DE, UK |
| Multi-login | 5 simultaneous connections |
| Covered countries | 74+ |
| Supported OS | Windows, macOS, Linux, Android, iOS |
| Money-back guarantee | 30 days |
| Protocols | OpenVPN (TCP, UDP), L2TP, PPTP |
| Traffic data | Unlimited |
| Encryption | Strong: Military AES 256 bits |
| IP Addresses | Undisclosed |
| Servers | 3,500+ |
What does ZenMate do?
Throughout this whole ZenMate review, you're probably still wondering what this provider can do for you. Well, don't worry, because I will be talking about some of the many activities you can do by using this provider.
Access the Full Netflix Library
You read that right, you can access the full Netflix movie library from anywhere in the world.
Did you know that the only country that has 100% of the entire movie catalog is the United States? Meanwhile, every other country is stuck with much lesser than that. The United Kingdom only has a third of the library, and every country has different access percentages, in fact, it even becomes as low as 3%.
But not to worry, I've tested out if this VPN and I can safely say that it works without a hitch! Enjoy binge-watching all the movies and TV series you want whether you're at home, or on vacation abroad! You can even watch the exclusive extended version of The Hateful Eight.
Torrent Safely
Is ZenMate VPN safe for torrenting? Yes, it definitely is! If you're not one for streaming, and you prefer downloading, then you can still definitely do so with this VPN provider!
Remember earlier when I asked: "Is ZenMate safe?" I said that it is safe because the headquarters are based in Germany. And as you already know, they have strict laws about prohibiting the storing of any client information. This means that they won't keep logs or records about any of your online activities. So, you're safe here.
I also tried downloading some torrent files using its P2P protocol and I was happy with the results. I was successfully able to get my movies without much waiting time and I felt completely worry-free because it doesn't keep any logs.
Simultaneous Connections
If you can remember, I mentioned something about simultaneous connections earlier on in the ZenMate VPN review. If you don't know already, this means you can use this provider on more than just one device.
With only one license, you can connect up to 5 different devices. This means that you can install it on all your devices or even share them with your family and friends. Another way to save money is by getting just one license and splitting the cost amongst yourselves so that you pay less!
Server Locations
It has servers located in more than 30 countries. This is very good to see because it means you have a lot of options when it comes to choosing servers. This also means there are lesser chances of the servers crashing due to being overloaded.
Even though the server number isn't much, it is pretty good because they are smartly placed in popular locations. I have also noticed that it doesn't have as many features as other competitors, but that shouldn't be a big deal for those who simply want a VPN for bypassing geo-restrictions and protecting their online privacy.
Is ZenMate safe?
Now, we have finally reached the part of the ZenMate review that talks about its security features.
1. EverSecure
This is a feature that is specifically unique to this VPN service.
I personally quite like this security feature because it makes sure to connect your device to a VPN server automatically even if you forgot to turn it on. And, it'll keep on working even if you clear it from the apps that are running in the background.
2. Kill Switch & DNS Leak Protection
The Kill Switch is essential in every VPN since it makes sure to cut off your connection once it senses that a third-party is tampering with it. Thereby, completely cutting off the hacker.
A DNS leak protection is something that makes sure all the requests you're sending out from the device only passes through the secure tunnel. This is also essential because sometimes, your data can travel in little DNS leaks which could expose your identity.
I don't know if I've made it clear in this ZenMate review, but I'm really happy that this provider is one that promises not to log any of your activities or information. Paired with the P2P feature, I feel doubly safe most especially when I download torrent files.
3. Location Monitoring
This feature allows you to access local content while still being connected to your VPN. It comes into good use when you're looking for restaurants nearby, or even checking your bank account.
What is ZenMate Windows client?
In this part of the ZenMate VPN review, I'll be talking about the Windows client (interface and settings).
ZenMate Review: Interface
Like I said earlier, I really appreciate how clean and simple the interface is. When you launch it, it'll immediately connect to the fastest server based on your location. But, of course, you can also choose another country if you'd like.
There is even an option for you to add your favorite countries. Simply press on the star icon on the right side and you can quickly select your favorite countries anytime.
ZenMate Review: Settings
This VPN is great for users who are looking for a one-click solution. But if you're more of an advanced user and you have specific needs, then this VPN may not be the one for you. ZenMate can't be configured on a router, and you can't change the protocol or the settings.
ZenMate Mobile Apps
If you've reached this part of the ZenMate VPN review, you're probably wondering where you can get ZenMate.
If you want to use it for free on your computers, you can download the browser extensions on Opera, Chrome, and Firefox. You have unlimited bandwidth, but you can only use it on the browsers and not on any other device.
If you want to use it on mobile, you'll have to splurge and install it on any iOS, Android, Windows, or Mac device. You can also use it with other platforms because it is OpenVPN compatible.
What is ZenMate customer support?
Of course, this provider has its very own ZenMate support. You can contact them through email address if you want to know how to use ZenMate VPN or if you just have a problem. However, they don't have a live chat which means you may not get an answer back right away.
Conclusion: ZenMate VPN Review
Overall, I will say that ZenMate is a great provider. Your private information is secure since it doesn't log your online activity. And, it has a very reliable connection and good security features.
Even though the server number isn't much, it is pretty good because they are smartly placed in popular locations. The location monitoring and EverSecure features were one of my favorites since it made it much more convenient for me to go about my activities on the internet.
PROS
No-log
P2P ready
Location monitoring
EverSecure
Free extensions