Metropolitan Toronto is becoming the VPN hub these days. We already reviewed TunnelBear and recent acquisition SurfEasy, both are from Toronto. Now let's review Windscribe, a medium-sized VPN based in Canada's largest city.
Windscribe is relatively a newer VPN service that created a loud entrance into an already hyper-competitive VPN's world, founded in Ontario, Canada, back in April 2015. This new entrant, Windscribe VPN is providing full access to all the blocked websites; bypassing regional restrictions with a virtual yet anonymous visa to travel from Hong Kong to the U.S. without leaving digital footprints. Download the app – in your favorite screen sign up and begin your digital tour. Strong encryption with transparent privacy policy topped up with easy-to-use, makes Windscribe different from others.
Additionally, it also boasts social network, ad block and website tracking preventions. In the context of the value of money, there is an option for a free account of 10 GB, or get extended features in $9.00/month or get a yearly subscription at $49/year. Don't worry! Windscribe, a far better than an average VPN, has the courtesy to return your hard-earned dollars, in case you don't like their services in first three days of subscription.
| Feature | Value |
| --- | --- |
| Zero-logs? | Yes, your data and identity are safe |
| Works with torrents? | Yes |
| Netflix | |
| Multi-login | Unlimited simultaneous connections |
| Covered countries | 63+ |
| Supported OS | Android, iOS, Windows, MacOs, Linux, Chrome |
| Money-back guarantee | 3 days |
| Protocols | OpenVPN, IKEv2, Stealth, Wstunnel |
| Traffic data | Unlimited |
| Encryption | Strong: Military AES 256 bits |
| IP Addresses | Undisclosed |
| Servers | Undisclosed |
Where is Windscribe VPN based?
Within a couple of years, Windscribe is successfully hosting more than 300 connection servers across 90 cities of 50 countries; some servers vary as per the pricing plans. The service is headquartered at the Richmond Hill, Ontario, Canada; theoretically, Windscribe VPN is out of the American reach, but don't forget that Canada has signed the Five-Eyes surveillance alliance agreement.
Windflix, Windscribe for Netflix
Windflix is the collection of servers offered by Windscribe that allow you to access the UK and US Netflix content from anywhere, anytime, with no guarantees at all. While testing the UK Windflix, we found the pretty decent bandwidth and speed. Streaming Netflix using a VPN is like a cat-and-mouse game, as many useful VPNs were blocked by Netflix, even Windscribe users often complain about Netflix.
Windscribe VPN in China
Windscribeoffers stealth mode, a TCP protocol via Stunnel, that can only be used if all methods fail; handy for China. Since China actively monitors your connection and block DNS requests, in case Windscribe drops in China, you can still configure an IP address manually to access the API for bypassing DNS. Getting API Connectivity error, contact the service provider for an IP address to use.
Is Windscribe Safe to Use?
The prime use of using a VPN is to secure the identity of user on the web. Hence, the question about the reliability and credibility of a VPN user holds significant importance. In our Windscribe review, we put a lot of weightage on the security of the VPN. To answer whether the use of Windscribe VPN is safe or not; we put into consideration the privacy policy and encryption VPN protocols that draw any conclusion. With our expertise and knowledge of the VPN market, we found Windscribe safe to use for browsing and streaming. The encryption protocols used by Windscribe VPN is standard, hence can protect user's identity completely. The VPN company doesn't keep logs of the activity, which is clearly stated on the official website as well. Download Windscribe VPN to your desired operating system or mobile device, and by simply connecting to any of the available server, you can mask your original IP address and add layer of protection instantly.
Windscribe Features
Windscribe VPN Servers
Be in the developed regions like the US, Hong Kong, UK and the Netherlands, or anywhere in the less developed countries like Egypt, Southern Asian and Eastern European countries; you will find Windscribe servers. The diverse network of servers boasts promising servers in all the countries they are advertising officially. Mostly VPNs have a wide range of servers only in the US and Europe and use IP WHOIS to falsify the locations, to make it appear elsewhere.
Currently, Windscribe has 300+ physical infrastructure in 52 countries around 100 cities; isn't huge for a young VPN provider like Windscribe. Free account enables you to access 11 locations, while Windscribe VPN paid plans boast all the available servers locating around the globe. To get the best possible speed, connect to the closest geographical location; more the server locations, better the chances of having good speeds.
Windscribe VPN Logging Policy
Windscribe is yet another VPN that features 'no permanent logs' on their website, but hovering into privacy policy disclosed that the company does collect the data. A VPN provider with limited bandwidth has to record your bandwidth use, so the claim of no logs is not justified. Anyways, let's investigate;
Windscribe claims that the provider doesn't track your internet browsing, like most VPN services. However, it follows the total bandwidth you consume in a month, which resets every month; means no long-run bandwidth tracking. As per the provider says that this to "enforce free-tier limitations as well as prevent abuse."
Also, the company also keeps (just for three minutes) the OpenVPN username, amount of data transferred, VPN server, and the timestamp of your last session on Windscrib's network, but why? Just to "weed out inactive accounts;" this is justified and no data left that could later be requested by the authorities.
Since Canada is a member of Five Eyes surveillance agreement and ISPs in Canada are kept to comply with anti-piracy legislation (Bill C-11), this makes Canada, less than a perfect place for a VPN. So, it's essential for a Canadian-based VPN to have a zero logs policy. As, kept logs could at any time be accessed via a warrant, or may be intercepted via CSIS.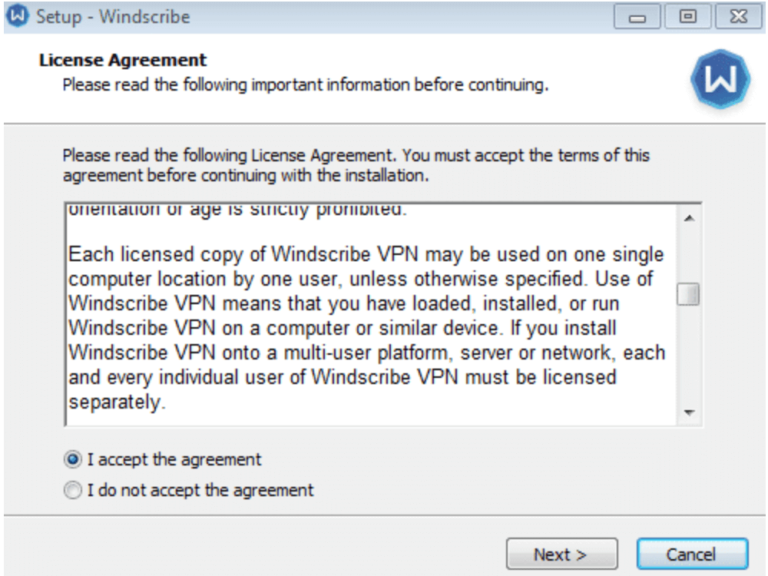 This further implies that the firm keeps an eye on what is happening with every VPN subscription to ensure the number of devices being used at one time. To analyze, the firm maintains IP addresses and connection logs, even shortly. However, later in the EULA, the firm states that the data collected will not be "personally identifiable." Windscribe's logging policy is excellent and fair with the clear yet precisely written privacy policy; allowing us to build trust, leaving no gray areas behind.
Windscribe Encryption Protocols
Windscribe is considered to be highly secure when it comes to encryption, featuring OpenVPN encryption with AES-256 cipher, 4096-bit RSA key and with SHA512 authorization; and yes, the Perfect Forward Secrecy with Diffie Hellman (DHE). All these details are mentioned on the Windscribe's website; other service providers should learn this transparency.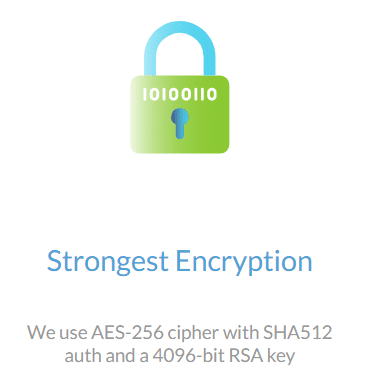 Windscribe is in the process of featuring the IKEv2 protocol to its clients; it's available for Windows and Mac in the new Beta version. You will find this protocol as the default in a few months time, and soon the protocol would be available for Android client as well. IKEv2 is known to be a secure form of encryption that offers excellent streaming speed. Also, the Windscribe VPN software also features IPv6 and DNS leak protection along with clearly explaining which servers can and cannot be suitable for P2P Torrenting.
Cruise Control & Double Hop by Windscribe
Cruise Control and Double Hop are two features offer by Windscribe to grab our attention. Cruise control automatically connects you to the best server closest to you, to optimize speed quality and it also switches server location to bypass geographically blocked content. Whereas, Double Hop, it masks your web traffic even by connecting to a second VPN server, but only in the desktop app; at times it slows down your internet.
Windscribe VPN's Secure.link
Secure.link; an exciting feature of Windscribe that allows you to create short yet secure URLs to any website; you also encrypt the created-links with a password to remain secure between you and the one you're sharing with. This may be helpful if you want to send links to URLs securely, without being targeted.
Windscribe Firewall
Windscribe offers firewall to block your internet activity in case your connection to the server lost; some calls this Killswitch, but Windscribe calls it Firewall, as for them it's the most suitable word for it. Firewall is set to automatic by default, turned on as you connect and inactivates as you disconnect a server; or else set the feature at your will.
Various Connection Modes of Windscribe
Windscribe has a variety of connection modes for you so that you can access the servers using different ports and protocols; you can also use any of the Winscribe's mode while the network is penetrating inspections, which track VPN usage. Select automatic mood to get the suitable mode for you from the following list of available modes.
UDP – The default mode that is the fastest.
TCP – Not convinced by UDP? Get the robust mode, TCP to fight bad connection and slower the speed.
Stealth – a TCP protocol and the best option to use in strict internet restrictions, like in China.
Set your desired mode manually or leave up to Windscribe to decide; you better change the mode in case you're ever experiencing trouble connecting. A VPN supposed to strike a balance between "doing everything" for beginners and hiding advanced settings for advanced users; Windscribe knows the right balance.
Windscribe VPN Speed Test
To test additional servers, we upgraded to a paid version, as we were quickly running out of bandwidth (10 GB). While testing different Windscribe servers, It was noticed that the paid servers were faster than the free servers. Connecting to a paid server in Denmark with baseline connection of 100 Mbps, the download speed was 30.19, and the upload speed was 9.16 Mbps.
To compare, we test Windscribe's US East server (a free server); the download speed was about 2.7 Mbps, and the upload was only 5.4 Mbps. Overall Windscribe performed like a mediocre VPN service with no DNS leak while testing for 12-hour constant connection with one reconnection on the way. The slower speeds could be possible due to server congestion or other uncertain factors. If you want faster speeds, we prefer you to go for paid servers rather than the free ones or consider an alternative VPN.
Windscribe VPN Apps
Download and run the 16MB installer file to get Windscribe in your preferred device, select your desired language and check the terms and conditions to set up your account, using username and password. Don't worry! Providing email address is not mandatory.
Finally, select your suitable plan and mode of payment; it took less than 3 minutes to get my first Windscribe connection. Windscribe offers applications along with support for the devices and platforms including;
OS – Windows, Mac OS, and Linux
PDAs – iOS, Android, Blackberry
Browsers – Firefox, Chrome, and Opera
TV – Amazon Fire TV/Fire Stick, Nvidia Shield, Kodi
Routers – DDWRT and Tomato
Windscribe app for Windows
The Windscribe Windows client launches its dark blue easy-to-navigate and intuitive interface as soon as the installation ended. Its appearance easily beginners to get the VPN going; scrolling down the page and explore all the features of Windscribe on the same screen. To gain the in-depth knowledge of all the essential features, hover over 'learn more' present underneath on all the elements presented on the front interface. On the top-right, you will see a flag, which represents the language being used, and on the bottom-right, you will see a constant icon of live chat, opens as you click.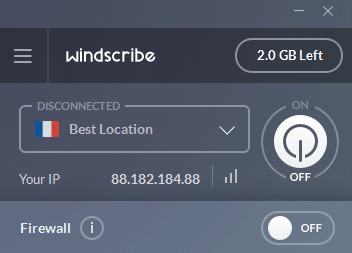 Be its features, pricing, get started, support, login or signup; find everything right in front to get the quick access.
Windscribe VPN app for iOS
Windscribe has a small interface for Mac users; the dark-blue moveable window pops up on the screen with a prominent on/off button to connect or disconnect. Pushing the button opens the main window including a world map and connection details. To get the possible connections based on your geographical region, click on your current location.
The three-line hamburger-shaped icon in the top left leads you to the Preferences section, here you can customize Windscribe; set the service to launch as the system starts, or opt automatic protocol selection, you cannot customize the encryption techniques in the client.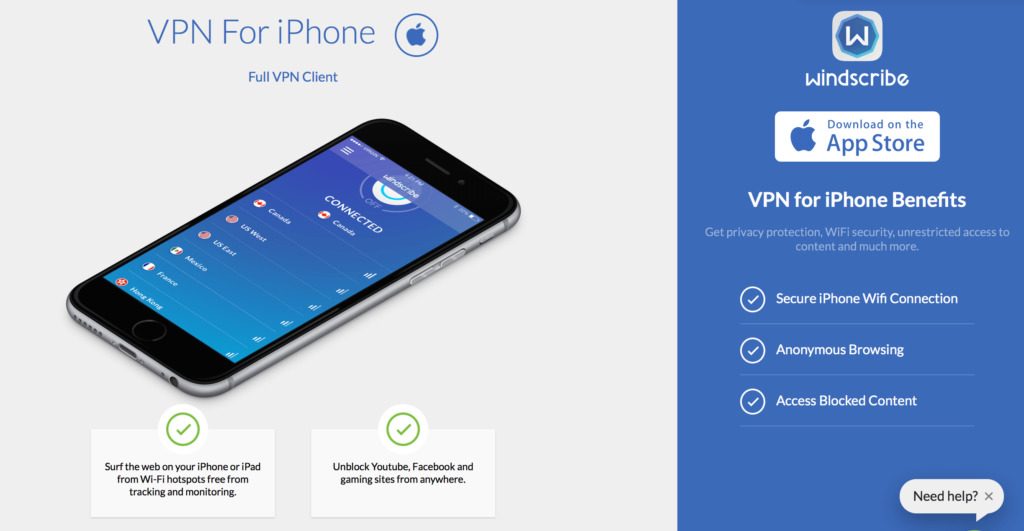 Create your proxy server from the Share section and stream video or music with an unencrypted server from the Proxy tab. The client has Debug tab that lets you examine the program's log file. Sounds tech-tech? The website has explainers to clear your tech-related curiosities. The client preference section is different than other clients; the option is present in the VPN settings section.
Windscribe app for Android
The interface on both iOS and Android is relatively same with on/off buttons and a list connection points. The Windscribe's Android app is more detailed-oriented, with an ability to select between TCP and UDP, along with the port selection. While testing the client, one server (Windflix, U.K.) showed up inactive, tried twice but didn't work. Don't forget that Windscribe lacks Android client; it's only possible via manual configuration; the native client is on the way.
Windscribe Browser Extensions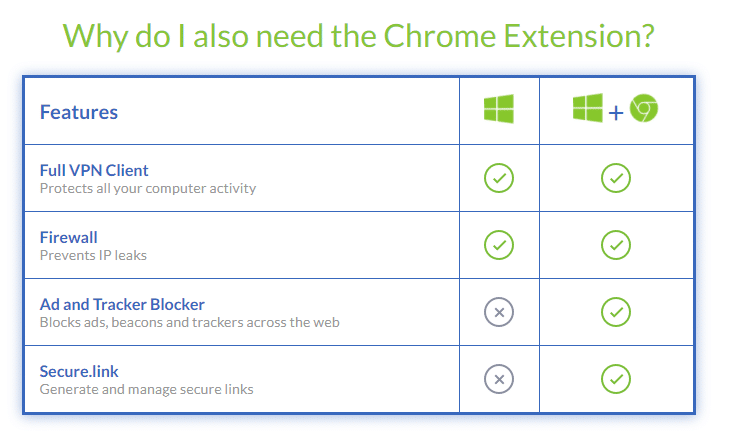 Other than the desktop and iOS client, Windscribe has extensions to install in your favorite browsers; Chrome and Firefox. The Windscribe Chrome extension is incredibly similar to its desktop counterpart; toggle the VPN on or off, and opt 'Cruise control' to connect whichever country you wish.The best part of both extensions is the added security perks that are there to fool the prying eyes, the most prominent features is the ad-blocker that perform multiple functions including;
Untraceable – to block ad trackers and beacons.
Anti-Social – to blocks social media domains (buttons).
Some other browser extension features are:
Proxy Time – This sets the browser time to the proxy server you connect.
Split Personality – This rotates your user agent, that theoretically protect you against browser fingerprinting
Cookie Monster – a cache-cleaner.
Windscribe Customer Support
Windscribe offers all the support options including; FAQ page, setup guides, support ticketing system, and a 24/7 live chat to solve your queries right away. The setup guides offer detailed enough to understand all the itsy-bitsy areas to gain the entire knowledge of a VPN, available for all the supported platforms. Want more? Use step-by-step setup guide topped up with screenshots.
Talking about the rich FAQ page, it has answers to both fundamental questions and high-tech queries, with no glaring errors. Can't find the answer to your query? Connect to their live chat and get an instant response or sends a support request to the Windscribe support team. You don't need to register yourself to contact Windscribe; you need to use a fake Windscribe username on a ticket to successfully ask a question. We were responded instantly, and the answer to our query received within 24 hours.
Windscribe also has a blog section that can easily be accessed from the main screen; you will find the updated blogs mostly about privacy and security related news.
Windscribe VPN for Torrenting
Apart from streaming geo-restricted content, torrenting is the next big reason we invest in VPN services. Windscribe allows torrenting, but not all servers are good to go. Once you start browsing, you'll see a crossed out P2P icon next to some of the locations; these servers can but are not suitable enough for torrenting, as per the company's recommendations.
Windscribe VPN Pricing
Like all other VPN, to protect your anonymity with Windscribe, you need to create an account so does choose a plan. To start off, we recommend you to go for a free account and give their services, spin for an unlimited time, only if you're a light user or occasional traveler. Otherwise, the 2-10GB of bandwidth will end before you realize it.
To thoroughly enjoy the whole experience go for the Pro version of the service; it will not only eliminates all the barriers but also allows you to access three times more server locations than the free account. Pay $9 and Become a Pro member for a month or pay $49 and forget internet restrictions for a year. If you're an avid user, go for their special plan that cost $89 for two years, this would cost $3.70 per month; isn't interesting?
Ordinarily free account comes with risks and problems, but not in the case of Windscribe's free account. It offers access to their 11 well-known servers and 10 GB Bandwidth/month with single device connections. Want more data in a free account? Invite friends and earn 1GB/month for each friend or Tweet about Windscribe and earn 5GB/month. You don't need to use your real credentials to sign up for Windscribe, not for even paying for subscription; You can pay with your credit cards, PayPal or Paymentwall or remain anonymous and pay in Bitcoins.
In short, Windscribe VPN is;
Windscribe based in Canada offering transparent VPN services to privacy-conscious users. The honestly-presented privacy policy is their asset that is attracting users globally. Windscribe is free and as well as paid, depending on your usage; the free version is quite slow and has restrictions, but useful to evade censorships. For data-intensive tasks like torrenting, go for their pro plan.
The Unlimited plan provides blistering speeds with unlimited connections. Although the US server performed a bit slower than the one in Denmark but was fast enough to stream HD content. Keeping the bi-yearly plan into consideration, the pro plan is competitively affordable yet effective. With the assurity of privacy and OpenVPN encryption, this VPN is worth considering. Windscribe has connections in more than 53 countries, with an array of only 300+ servers with excellent yet unspectacular performance. The service offers a firewall, ad-blocker but no encryption customization.
Windscribe VPN Alternatives
Windscribe VPN review highlights all the amazing features that the company offers along with the major improvement that is required to further excel in the market. Although, the company has so much to offer, but there are players in the industry that offers better features than Windscribe. Below are some of the best alternatives to Windscribe that you may consider checking.
Windscribe VPN
Windscribe has something to reckoned with. Windscribe free VPN service is by far the best topped up with zero logging policy, unlimited simultaneous connections and Netflix/torrent compatibility, isn't enough to give it a spin? Not really, due to slow speed and absence of Android client.
PROS
300+ servers in more than 50 countries
Strong OpenVPN encryption
IKEv2 encryption for faster speed
Exclusive feature-rich browser extensions
Free VPN service with 10GB/month
Torrent and Netflix friendly
Unlimited Simultaneous Connections
CONS
Part of five-eyes surveillance
Contradictory 'no logs' policy
Slow speed