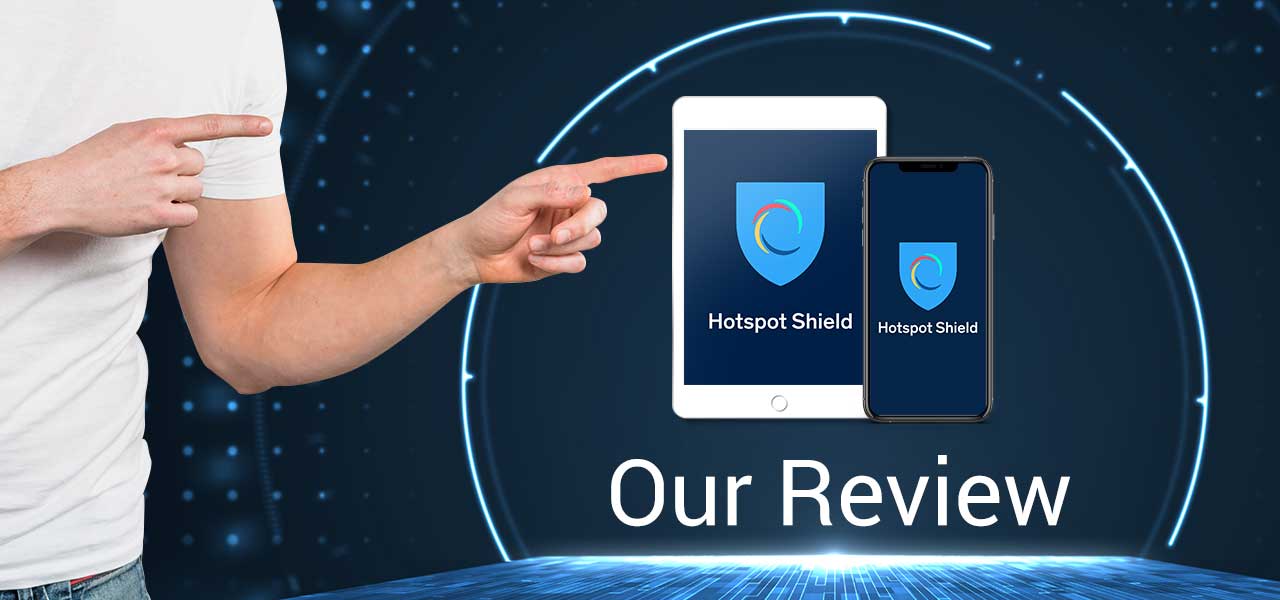 What is Hotspot Shield VPN? This provider is actually famous worldwide for its outstanding and reliable service. Over the years, it has accumulated over 600 million users that are completely satisfied by their fast speeds, and easy-to-use service. It actually started out as a free VPN provider but now, they only offer free trials. But, it is understandable since it has grown quite a lot since then. Is Hotspot Shield safe? Although their headquarters are situated in the United States, is it really reliable? Keep on reading to find out the answer.
Download Now
The easiest way to secure your digital life!
Don't let the price stand in your way: You can use their premium plan for 7 days, for FREE!
AnchorFree Hotspot Shield VPN: Great for Beginners
Hotspot Shield VPN is actually from the company called Anchor Free which is based in Zurich, Switzerland and in Redwood City, California. Their team is highly diverse and complete with engineers, leaders, entrepreneurs, and technology investors.
Before anything else, I just want to applaud this provider for providing such an easy-to-use service. I know this because my friend, who is definitely not experienced in Virtual Private Networks, is one of their most loyal users. He told me he simply subscribed to the provider because he easily found it on the Google search results. After going through some of the HotSpot Shield free VPN reviews, he was hooked and downloaded the software right away. He was able to make a decision right away because it's super easy to get Hotspot for free. After that, he's been using it for years. The same goes for the rest of the 600 million users.
My first impression of their company was its amazing market strategy. If you've noticed, they focus on casual users. They targeted people who don't really want to know how a VPN works. All that matters to these casual users is if the VPN can protect their privacy and unlock websites.
These types of users just want that extra layer of protection for when they're browsing online or going through social networks. So, HotSpot made sure to let their clients know that it's great for everyday use. Since naive beginners are the primary target of hackers and online snoopers, this is a perfect way to start leveling up your privacy.
Hotspot Shield premium even has a native app for almost every device available on the market! So, you can easily find and download this on any operating system you may be using. You can get a HotSpot Shield for Windows, Apple, and on almost any mobile device. And, did I mention that it is super easy to use? You don't even have to connect it to a server every time you use it. The app will automatically do it for you!
Is Hotspot Shield Free?
Earlier on, I mentioned that AnchorFree HotSpot Shield used to be a free service. That's right "used to", as in all in the past, and not anymore. But don't worry, if you're looking to save on a couple of dollars, you still can. They actually offer a free trial on their website. For 7 days only, you are free to use the VPN however you want. But, if this is too short of a time for you, you should definitely try out their money-back guarantee which is good for 45 days. Then, you can really test out Hotspot VPN in all its glory.
Other than those free options, Hotspot Shield premium comes in different packages and payment plans. They have different prices depending on whether you get the 1-month, 6-month, 1-year or 3-year plan. And, the golden rule in picking VPN payment plans is "the longer the commitment, the cheaper the monthly fee". If you sign up for the 2-year contract, you'll be able to save 70% off the regular monthly deal! You can easily pay using any of the major credit cards.
And, one license can be used on up to 5 different devices at the same time. So, you'll definitely be getting your money's worth since you can even share it with your friends and family.
Summary of the Details
| Feature | Value |
| --- | --- |
| Zero-logs? | Yes, your data and identity are safe |
| Works with torrents? | Yes |
| Netflix | US |
| Multi-login | 5 simultaneous connections |
| Covered countries | 80+ |
| Supported OS | Windows, MacOS, iOS, Android, Linux, Smart TV |
| Money-back guarantee | 45 days |
| Protocols | Catapult Hydra |
| Traffic data | Unlimited |
| Encryption | Strong: Military AES 256 bits |
| IP Addresses | Undisclosed |
| Servers | 3,200+ |
What to Use It For
If you need some help on how to fully utilize your VPN subscription, here are a few suggestions:
HotSpot Shield Torrent
The VPN Shield is actually torrent-friendly. If you prefer having your movies downloaded and ready to go right away, you can still do so with this VPN provider. Since users have unlimited bandwidth, you can download as much as you want! Also, HotSpot has a zero log policy. Basically, they promise not to keep any logs or records of your activities. So, you don't have to worry about getting in trouble for torrenting. Don't believe me? Feel free to check out other VPN Shield reviews.
HotSpot Shield Netflix
Of course, this provider can get you access to the full US movie library regardless of where you may be at the moment. So you can watch the extended version of the Hateful Eights! However, it can't access the UK library so this may not be the best to use for people who constantly visit the UK.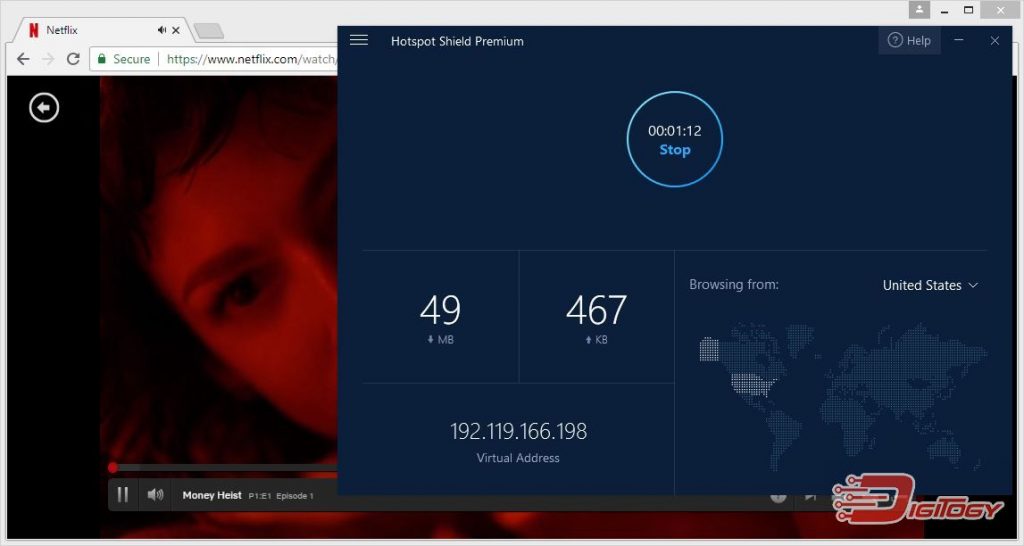 Notable Aspects of AnchorFree HotSpot Shield
Here are some of the aspects that I think you'll want to know about. Keep on reading to see what it has to offer.
Clean Interface
Like I kept on mentioning earlier on, it is extremely easy to download and set up AnchorFree HotSpot Shield premium on your device. You don't need any configuration, you just have to connect it with one click. I was definitely impressed with how fast the latest version of the software was able to connect to the servers.
It automatically connects to the US server as soon as you open the software. And, if you want to do it yourself, you can simply press the Start or Stop button whenever you want.
You can also change your server location whenever you want. It also allows you to check on the amount of data you are uploading and downloading. Pretty sweet right? Whenever the VPN or internet connection is disrupted, it'll alert you with a bright red banner that appears across the screen.
Settings
The settings are unfortunately kind of limited. You can't really do much to change the protocol. However, it does enable the IP leak and Unsafe Wi Fi setting by default – which is great. This means that they were able to think ahead about the users that may not have any idea about this. It would've been nice to see them do the same with Kill Switch also.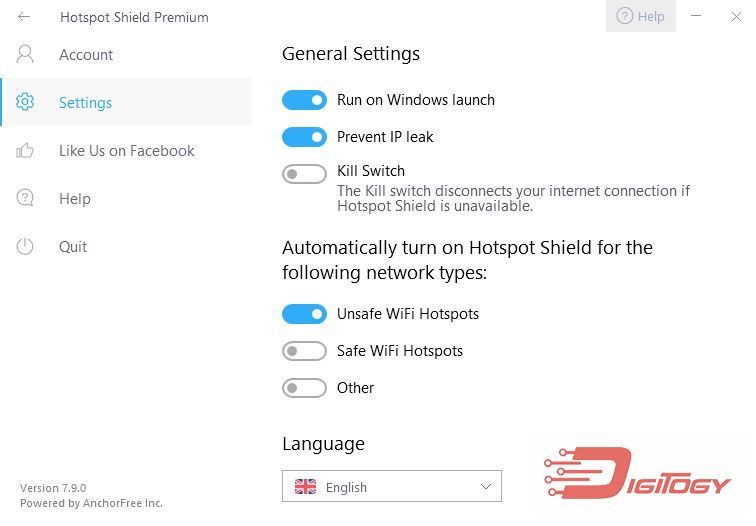 Features of Hotspot Shield VPN
In this part, I'll be elaborating on some of the HotSpot Shield premium features. Is Hotspot Shield safe? What is Hotspot Shield security features? We'll get to the bottom of these questions in a bit.
Catapult Hydra
This feature is actually unique to HotSpot Shield premium since they patented it themselves. It serves to improve your device's performance when you are communicating long-distance by compressing your data. Because of this, you can easily use the software and you won't have to wait for a long time when establishing a VPN connection.
And, if you're trying to find out how this works, I'm afraid you'll be disappointed. They didn't share any information regarding technicalities but they did say that the performance advantage is because of how the payload is delivered inside the secure tunnels that run between the client and the server.
Kill Switch
This is probably the most important feature all VPNs need to have. Even though it's not automatically enabled in the settings (like I said earlier), it is important that all HotSpot Shield premium users enable it right away.
It works by cutting off or killing your VPN connection whenever it detects it is being tampered with by third-parties. No, this doesn't mean the VPN is bad, this actually happens to a lot of the best providers a lot. The Kill Switch is there to keep your data secure and private in times of emergencies like this.
IP Leak Protection
This feature is already activated by default so, there's no need to worry here. It basically prevents your device from sending requests that could potentially pass through small 'leaks' in the encrypted tunnel. Without this, you would still be browsing the internet with your information out in the open.
What is Hotspot Shield App?
If you can remember, I said that you can get the AnchorFree Hotspot Shield app on almost all devices. This includes iOS and Android devices. You can easily find it in both the Google Play Store and the Apple App Store. If you want it on your computer, it is also available for both Mac and Windows.
And don't worry if you're not so tech-savvy. The app is very simple and easy to navigate around. Even if you're a newbie, you won't be struggling to connect to a VPN server.
Customer Support
Of course, it should have a customer support service. So if you ever run into any problems (which is highly unlikely), you can simply contact their live-chat tech-support. However, it doesn't operate 24/7. They also have an email you can try out which really helped me out with my issues. But before you try any of the two, I recommend checking out their FAQ page. There you can find information about how to set up your software, how to use, it and even how to uninstall it.
Wrapping Up
In conclusion, I'd say that AnchorFree HotSpot Shield is pretty solid. It's great for newbies who still have no idea how VPNs work because of its simple and easy to navigate interface. On top of that, it even has a free trial and a money-back guarantee. So even if you're having second thoughts, you can try it out without losing anything.
PROS
Fast
Affordable
User-friendly
Torrent-friendly
Netflix-friendly
CONS
Network limited to 25 countries
No advanced options