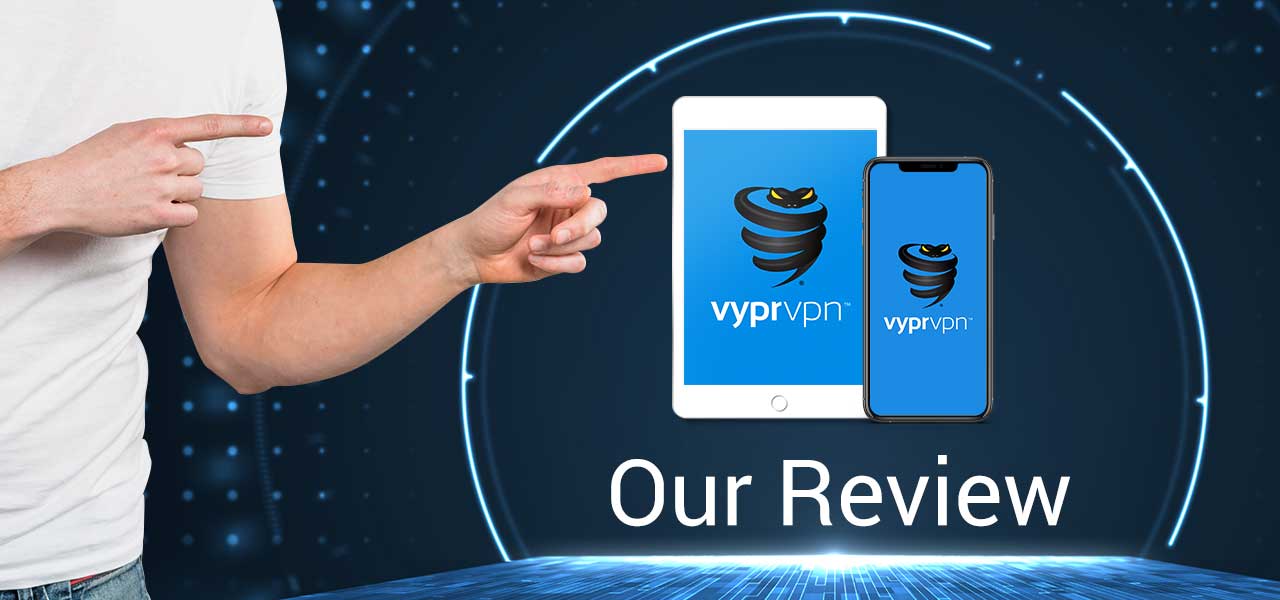 Transparency, user-privacy, no third-parties, no logs, are you looking for these features in a VPN service? Do you encounter these problems with your current VPN service? Do you want to avail of these services as well? Or are you thinking about subscribing to their plans? This is our VyprVPN review. Read this before you subscribe.
Subscribe Now
Have a safe and secure browsing experience with VyprVPN
Are you frustrated about geo-blocking in your area? Do you want a safe online presence when you work? Luckily, VyprVPN is here. subscribe to this Swiss VPN service that values security and anonymity above everything else.
VyprVPN Review: About the VPN
This VPN service came from a company named Golden Frog from Switzerland. Over the years, the company has experienced some major changes. In fact, because of such renovations that the company has progressed as 100% no logs VPN provider with a Public Audit Verification.
Over the years, the company has experienced a decent amount of major improvements thereby establishing the brand as a trusted VPN provider and a proponent of internet security. Accordingly, the company gravitates toward three core values namely: security, reliability and quality service.
Ultimately, when it comes to security we don't allow such claims to go unchallenged. That's why we created our own VyprVPN review. As a matter of fact, with privacy, security, geoblocking, price, and value for money issues, we just want to give you the best advice possible.
Is it safe? Is there a possible leak of my personal information when I subscribe to a VPN service? Does it block any threats like Trojans, keyloggers, Bots, etc. from entering my device?
We all want a safe-secure browsing experience. In other words, we don't want anyone to know about our online activities especially if we have confidential information. Trust and credibility are the two foundations to succeed in business, therefore, there shouldn't be a trade-off.
As we know, the internet, as useful as it is, it's not a safe place and VPNs are not designed to make it safe. However, it works like two people working with trust and confidence with each other and keeping every discussion and work details on to themselves. In the event of leaked information, the relationship is compromised.
For this reason, we created our own VyprVPN review. We try to uncover everything you need to know. Read before you subscribe.
VyprVPN Discount, Plans and Prices: Is there a VyprVPN free Trial?
When you subscribe to the Premium category, you'll also get the full capacity of Chameleon technology, one of VyprVPN's best features. Moreover, the service also allows up to five simultaneous connections, unlimited bandwidth, and access to all their servers around the world.
However, if you're just a beginner and you only want something of lesser benefits, they also offer the standard / basic category. This option allows three simultaneous connections but you're not allowed to use the Chameleon technology.
Fortunately, all plans come with a 3-day VyprVPN free trial plus the 30-day refund functions more like a 30-day risk-free trial because you can cancel any time within that allotted time.
Does the VyprVPN coupon work? Yes. Watch out for VyprVPN coupon and the VyprVPN discount and avail up to 49% off or 3 months free use of their services.
Detail Summary
| Feature | Value |
| --- | --- |
| Zero-logs? | Yes, your data and identity are safe |
| Works with torrents? | Yes |
| Netflix | US, UK, FR, CA, AU, DE |
| Multi-login | 5 simultaneous connections |
| Covered countries | 73+ |
| Supported OS | Android, iOS, Windows, MacOs |
| Money-back guarantee | 30 days |
| Protocols | WireGuard, robust VPN,IPsec, OpenVPN, Chameleon |
| Traffic data | Unlimited |
| Encryption | Strong: Military AES 256 bits |
| IP Addresses | 200,000+ |
| Servers | 700+ |
VyprVPN Review: Using the VPN
Subscribe to a VPN service for your streaming geo-restricted sites, torrenting and much other online stuff that you need a safe secure and browsing experience. Luckily, VyprVPN discount is still available and they're offering up to 81% off with VyprVPN coupon.
VyprVPN Netflix
Despite Netflix's blocking on most VPN services, it still works seamlessly with Netflix. Because of that, you might need to check which of their servers allows them to do so. Because of its reliable speed and superior network capabilities, it also becomes one of the best choices for other streaming services.
The US servers work like a charm, however, EU servers like UK, Canada, and the Netherlands are blocked.)
Torrenting
The company has a new policy regarding torrenting. Unlike in the past where they discouraged any form of Copywrite infringement, wherein they use these logs to uphold DMCA notices to offenders and close accounts of repeat offenders. However, with their updated log policy, they are now officially allowing torrenting.
Moreover, it works well with almost all major devices like Android, iOS, Windows, Mac, and Linux. However, there are no extension browsers for Google Chrome, Safari, or Internet Explorer.
Unfortunately, it is not compatible with TOR, The Onion Browser, and any other third party proxies.
The features
VyprVPN Review: The Most Transparent Company
Another feature that stands out is that the company is very transparent. With a lot of VPN companies available today, you'll only find a handful who places their owner's information, policies, operations, and many other things on their website.
Recently, it has been featured by the Center for Democracy and Technology for meeting its standard on transparency and trustworthiness.
Regarded as the most transparent company, VyprVPN discount is still available. They are offering 81% off with the VyprVPN coupon.
Their own servers
VyprVPN offers one of the most extensive server networks. It consists of thousands of servers across over 70 countries. Additionally, they are one of the few VPN companies that host and write their DNS and servers. With privacy, this is a great feat.
In other words, they are not sharing data and infrastructure with a third party. Meaning, they are the only ones who have access to their user's information.
Probably one of its best features is they own 100% of their servers. What does this mean?
Self-owned servers are more secure compared to rented servers because they don't share with another data center or any third party customer which prevents third party logging. (Rented servers are usually logged by data centers.)

Because it's self-owned, they have full control which means superior performance and better security.
Accordingly, the company is essentially distrustful of third parties because of the risks involved with customer privacy and security.
Although they don't have as many servers as their competitors, they are is more focused on quality and security. To say the least, they still have a decent number of server locations in the world.
VyprVPN Chameleon Protocol
VPN blocking is getting very common especially today because of government and institutions' campaign to heighten its security against any form of online threats. Because of these growing security measures, VPN services are the most likely affected.
This is often the case in countries like China, Russia, Turkey, Iran, and other countries in the Middle East. Also, institutions like schools and universities and corporations as well.
Fortunately, they offer an exceptional self-developed feature called Chameleon protocol. In other words, this is an exclusive OpenVPN protocol that uses 256-bit encryption to mix with regular internet traffic thereby beating geo-blockings and restrictions that were put in place.
This protocol is the secret behind why this technology is one of the best choices to use in countries we mentioned above.
No Logs
As we mentioned earlier, the company wants to establish its brand as a No Logs VPN service provider. In fact, in November of 2018, they were able to do just that. Here are some interesting facts: (This is in contrast to some outdated reviews online.)
The company worked together with Leviathan Security Group in Septemeber 2018 to become to reach its goal of becoming a no logs VPN service provider.
It was in November 2018 that they released the audit results that proved its claim.
Here's they're position on logs.
Kill Switch
The kill switch is a security feature that blocks all connections whenever there is a connection drop. This means that all traffic is blocked whenever you change servers. This ensures that no data packet can escape.
It gives you the assurance that if you were disconnected from one of their servers, every activity will automatically shutdown. This will prevent you and your information from any leaks.
DNS leak protection
Here are the results when tested in a Windows app: No leaks were found in a Windows client. It's mainly because of the IPv6 blocking which was implemented since October 2015. (The same results were also found when used on a MacOS.)
According to another VyprVPN review, after extensive tests with this VPN, the results showed no leaks and other security issues, especially with Windows and macOS.
Nat Firewall
Along with the automatic kill switch, it comes with a Nat Firewall that blocks malware and other malicious traffics. it works like a packet filter on your VPN connection. Otherwise known as Network Address Translation, it also helps your router's single IP address transform into multiple private IP addresses.
Benefits of NAT Firewall:
Protects your home network against malicious traffic and malware.
Prevents hackers from accessing your system.
It blocks inbound traffic unless it's part of your outgoing traffic.
Windows Client
A new cleaner interface
Along with security, the client app is simple and easy to use. You will not have difficulty navigating through it. Almost everything you need is located in the hamburger menu.
Usage is one of the areas where it really shines. According to another VyprVPN review, it agrees with our own results: this VPN service tops the simplest and smoothest categories.
After agreeing to the Terms and Conditions, the app will be downloaded to your device and you'll be brought to the home interface which is very easy to navigate. From there, you can access the settings menu like changing your connection, and tunneling protocol, otherwise known as DNS.
To say the least, VyprVPN test results show that it has successfully passed.
Settings
This VPN is easy to set up. Despite, what device you use, they offer dedicated apps for all major operating systems. Along with its straightforward installation process, it also comes with setup guides to help you go through the settings.
VyprVPN Review: Other Applications
Supported Devices
VyprVPN supports all major devices: Android, iOS, Windows, Mac, and Linux. Additionally, it has the capability to make your router, Apple and Android TVs incognito.
Unfortunately, they don't offer browser extensions for Google Chrome, Safari and Internet Explorer as well. In addition to this, it's not compatible with Tor and other third-party proxies.
Use it on a router
This is one trick in using a VPN service. You can connect many devices without exceeding your connection limit. This is mainly because the VPN counts your router as a single device but all the devices connected to it will still be able to use all of its benefits.
The router app simplifies the installation and setup. One main advantage of the app is you get to select how you want each device to connect on your network.
It allows you to switch between VPN protocols (PPTP, OpenVPN 160-bit / 256-bit and Chameleon, you can connect to different servers available in your network. and it offers full protection for all your DNS requests.
Customer service
According to another VyprVPN review, the company has improved a lot with their customer service support. Unlike before that have to wait for 14-hours before they get a response, this time, you can get a response within ten minutes.
Correspondingly, they are offering 24/7 live chat support or you can send them a ticket. To say the least, this is the area where they have made a lot of improvements. Their customer support team has been helpful, responsive and fast to act.
Try VyprVPN free trial for 3 days.
Conclusion
For the most part, this is what we have seen with our VyprVPN review:
It's a high-quality VPN service, fast, secure, easy to use, and reliable. Because they have self-owned servers, they were able to eliminate third-parties which paved for the highest standard for data security. Fortunately, you can create a VyprVPN free account since the company allows the VyprVPN trial. All plans come with a 3-day VyprVPN free trial and a 30-day money-back guarantee and the VyprVPN coupon.
Their no-logs policy is publicly audited so it's best for users who value their privacy. Furthermore, they have reduced prices that sweeten the deal. You can subscribe to the basic plan or the premium one – with the Chameleon protocol. Here's another good thing these plans come with a 30-day money-back guarantee.
If you want really big discounts they are offering VyprVPN coupon or VyprVPN discount code that give up to 80% off.
PROS
Works with Netflix
Comes with a 3-day free trial
Tough Encryption
Zero DNS leaks
Does not keep logs
CONS
Anonymous payment not allowed